Trees play a vital role in the environment, providing habitat for wildlife and offering numerous benefits to communities. Native trees are particularly important in this regard, as they are more resilient to adverse conditions and better able to support local wildlife.
Dead trees are also an important resource for wildlife species. Deadwood provides shelter, food, and other benefits in every stage of its decay. As dead trees decompose, they enrich the soil with vital nutrients that nourish microorganisms and neighboring plants. Dead trees offer a haven to raise young animals like opossums or squirrels. Check out some of our most wildlife-friendly trees native to North Carolina below.
1. American Holly
American holly (Ilex opaca) is an evergreen tree that grows to around 40 feet in height. It has an upright pyramidal shape with horizontal branches and waxy, dark green leaves. This species of holly is native to the central and eastern regions of North America, where it commonly grows in woods or along streams and river banks.
American holly produces small greenish-white flowers in the spring and early summer, followed by red berries that ripen during the fall. The bright red berries really stand out against the glossy foliage throughout winter, when many other trees have lost their leaves.
American holly creates a great cover for songbirds, while wild turkeys, quail, white-tailed deer, and squirrels eat the fruits. Additionally, American holly provides nectar for pollinators such as bees and butterflies. It is a favorite larval host plant for Henry's Elfin butterfly larvae from February to May each year.
2. Black Cherry
You can find black cherry trees in all parts of North Carolina. They grow best in full sun and moist, well-draining soil, but they can tolerate partial shade or drier soil once they mature. Black cherry trees reach 60-80 feet tall and have long branches that hang in an arch. 
The black cherry tree has white flowers that bloom in April or May and glossy leaves. The bark is orange-brown, and the leaves have bronze fur on the backside of the veins. In fall, the leaves turn yellow and then fall off the tree.
The black cherry tree is important for wildlife in North Carolina because it produces dark purple berries that songbirds, wild turkeys, quail, deer, and other small mammals eat. It is also the host plant for as many as 450 insects, including tiger swallowtails, red-spotted purple, and spring azure butterflies.
Black cherry can add beauty and interest to any garden. Some parts of the tree are poisonous to humans, animals, and horses, so please plant where it will not pose a threat.
3. Carolina Silverbell
Carolina silverbell is a deciduous tree or shrub native to North Carolina. It grows best in moist, well-draining soil in partial shade but can adapt to full sun conditions. Provide extra watering when it's hot. This tree is not a fan of drought.
Carolina silverbell produces clusters of bell-shaped spring flowers, attracting hummingbirds, bees, and butterflies. The flowers are followed by brown drupes that contain seeds eaten by wildlife. The dark green, toothed leaves turn yellow in the fall before dropping off.
Carolina silverbell is the host plant for several butterflies and moths, including mourning cloak, eastern tiger swallowtail, and red-spotted purple butterflies. This tree makes an excellent addition to any pollinator garden.
4. Cherry Laurel
Cherry laurel is an evergreen tree or shrub native to the southern region of North America. It grows best in the Piedmont and Coastal Plain of North Carolina. Cherry laurel is dense and round, typically reaching 10 to 20 feet high, but can grow up to 35 feet. It responds well to heavy pruning and does best planted in full sun and moist, well-draining soil. Once established, it is tolerant to salt exposure and drought conditions.
Cherry laurel blooms in late winter or early spring. The white flowers are fragrant and attract pollinators. The pollinated flowers turn into dark purple drupes that are eaten by wildlife. They are a special favorite of raccoons and songbirds. Cherry laurel leaves are evergreen and glossy, and the dense canopy provides excellent nesting sights for birds. The tree can be used as a hedge or windbreak.
5. Chickasaw Plum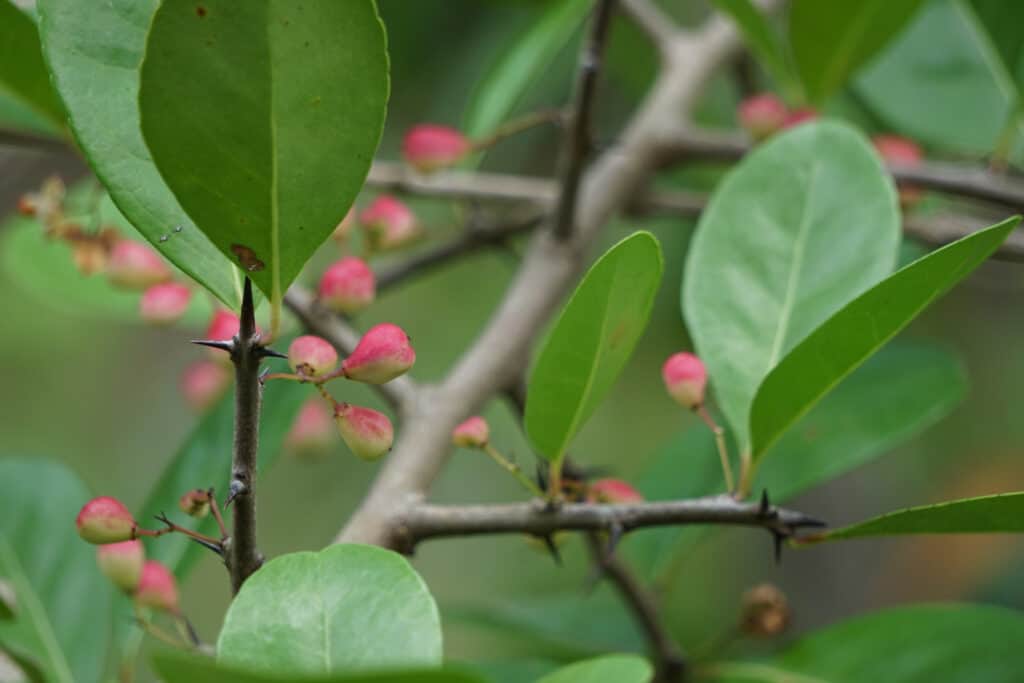 The Chickasaw plum is a medium-sized deciduous shrub native to North Carolina. It has a clumping habit and often sends up suckers to create dense thickets. It prefers dry to moist, well-drained soil in full or partial sun and grows 15 feet high.
In early spring, the Chickasaw plum produces clusters of five-petaled white flowers with yellow or red stamens, which attract various pollinators. The leaves serve as a host for many butterflies, including red-spotted purple and coral hairstreaks. The red or yellow fruits provide nutrition for songbirds, turkeys, quail, deer, and other wildlife. Chickasaw plums are an excellent addition to any butterfly or wildlife food garden.
6. Eastern Hemlock
Eastern hemlock is an evergreen coniferous tree native to North Carolina. Its needles are flat, opposite, and glossy green with white undersides. The pollen cones of the eastern hemlock form clusters on the branch tips. The light brown, oval seed cones contain both male and female reproductive organs. This feature helps keep the species alive for future generations. In addition to providing food for wildlife, it also provides important thermal cover along streams, keeping amphibians and fish warm during cold winters.
Eastern hemlocks are popular for wildlife to inhabit in North Carolina. Red crossbills and small mammals, such as mice and voles, feed on the seeds of the trees. Ruffed grouse and white-tailed deer also enjoy eating the foliage or buds of these evergreens. In addition, many songbirds find insects tucked away deep within their ridged bark while searching for food. Eastern hemlocks provide much-needed sustenance to our native wildlife and birds, making them an important part of North Carolina's natural environment.
7. Eastern Red Cedar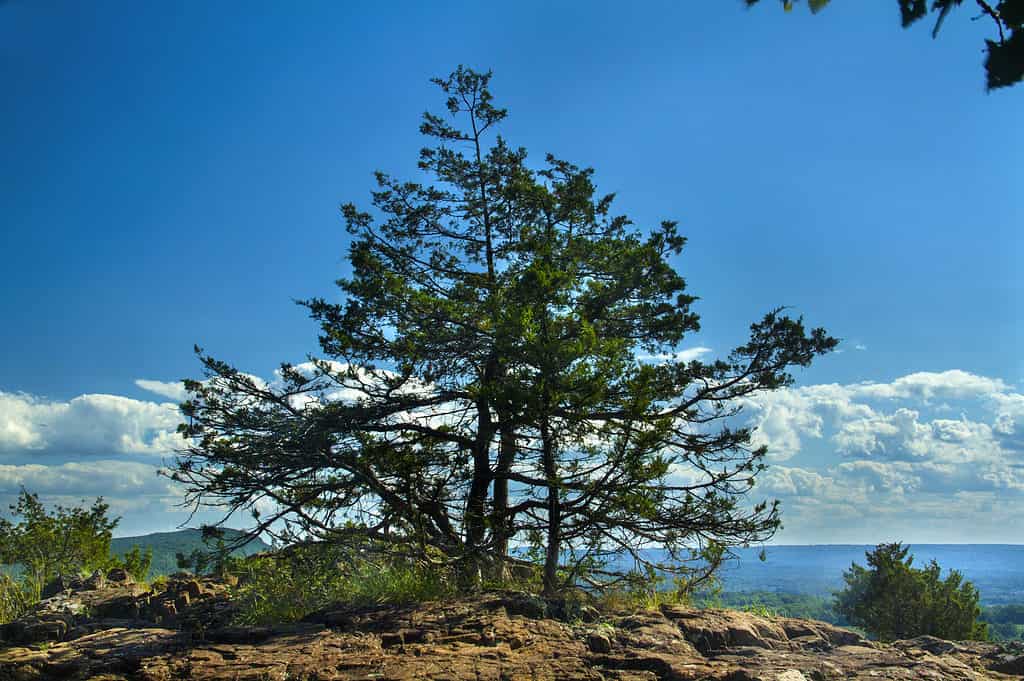 Eastern red cedar (Juniperus virginiana) is an evergreen tree that reaches 30–70 feet in height. It has thick foliage and is actually a juniper, not a cedar. Native to North Carolina, its range extends into 37 states, and it grows in many habitats, including pastures, prairies, and woodland edges.
Eastern red cedar grows best when planted in full sun. Its notable feature, however, is its ability to withstand tough garden conditions, whether extreme heat and drought or prolonged freezing temperatures. This species is salt tolerant, which makes it great for coastal regions or areas where roads are frequently salted.
In spring, inconspicuous cone-like flowers and clusters of small pollen-bearing cones are produced. They are followed by pale blueberries that persist until late winter, providing food for wildlife such as cedar waxwings. The leaves are sustenance throughout the year for insects like the juniper hairstreak, whose larvae use red cedars as their host plant.
8. Flowering Dogwood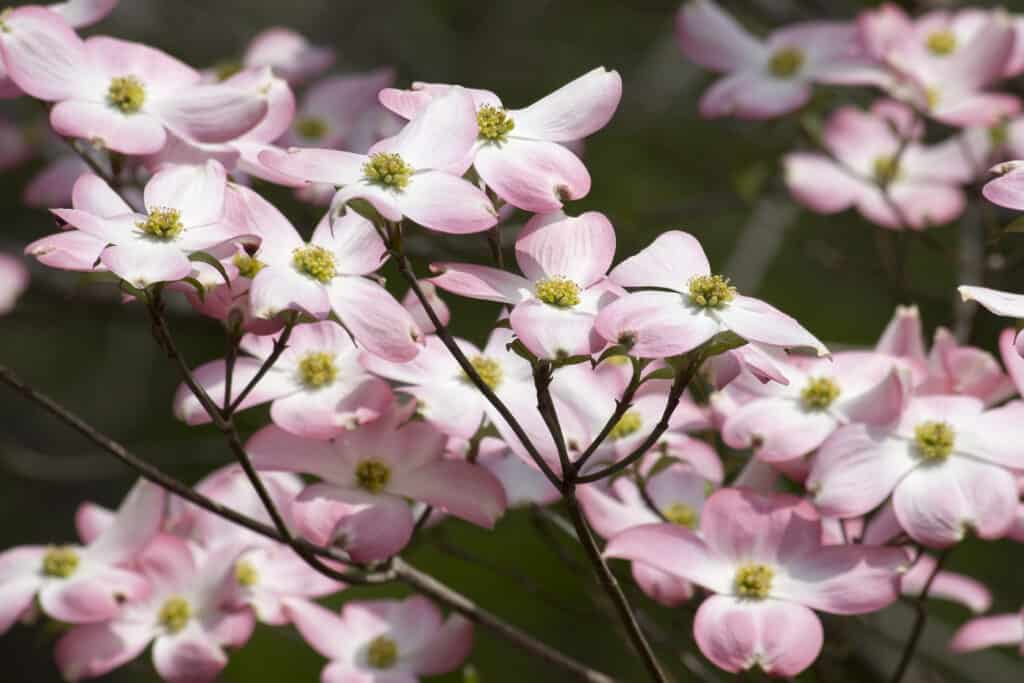 Flowering dogwood (Cornus florida) is a deciduous tree that grows in all three regions of North Carolina. It is commonly found in moist woods, slopes, or woodland edges as an understory tree. It is typically 15 to 25 feet tall, with a pyramidal growth habit that often appears flat-topped or layered. Furthermore, it thrives and flowers best when planted in full sun and prefers moist soils with lots of organic matter.
In spring, you'll find large white bracts encircling its cluster of greenish-yellow flowers that provide excellent pollen and nectar for pollinators such as bees. These flowers then morph into red fruits during summer and are eagerly consumed by wildlife like turkeys, squirrels, foxes, black bears, and many species of birds. The leaves turn from green to red-burgundy in fall—making them both attractive and an exquisite food source for insects like the spring azure.
9. Fraser Fir
Fraser fir (Abies fraseri) is a beautiful evergreen tree native to the southern Appalachian Mountains. It grows in high elevations in the mountains of North Carolina. It is a popular Christmas tree due to its fragrant and long-lasting needles.
Fraser fir trees reach upwards of 30 to 55 feet tall when mature and have a symmetrical and conical shape. They grow at 4,000 to 6,700 feet with well-draining, moist soils and can tolerate full sun to partial shade. However, these species are intolerant to high heat, which limits their range in North Carolina.
When Fraser fir cones ripen, they open up, releasing their seeds and scales before falling off, leaving only the woody core behind. Flower buds usually open up during the early summer months.
The Fraser fir is a great habitat for birds and small mammals. It provides pollen and nectar for insects and seeds for mice, rabbits, and grouse. Songbirds often build nests in the trees, which offer shelter from predators or inclement weather. Even when the tree has been cut down, its decaying stumps still harbor insects that become food sources for woodpeckers and flickers. This versatility makes the Fraser fir an important part of any wildlife refuge or conservation area where it is present.
10. Hackberry
Hackberry trees are a great choice for urban areas due to their lovely round canopy and ability to reach heights of 30–40 feet. This tree is tolerant of partial shade, poor soils, urban pollutants, and wind, making it an ideal option for many gardens.
In spring, the hackberry flowers range from pale yellow to green. The fruits on this tree persist well into winter and serve as a food source for hungry wildlife.
The dark green leaves also provide cover and places to raise young while hosting the larvae of several butterflies, such as mourning cloaks and American snout-nosed butterflies. Hackberry is an excellent deciduous tree native to North Carolina that provides numerous benefits for wildlife!
Summary of the 10 Great Trees Native to North Carolina
Explore this list of the most wildlife-friendly trees native to North Carolina:
| Rank | Trees Native to North Carolina |
| --- | --- |
| 1. | American Holly |
| 2. | Black Cherry |
| 3. | Carolina Silverbell |
| 4. | Cherry Laurel |
| 5. | Chickasaw Plum |
| 6. | Eastern Hemlock |
| 7. | Eastern Red Cedar |
| 8. | Flowering Dogwood |
| 9. | Fraser Fir |
| 10. | Hackberry |
---
The Featured Image
---