From trout-stocked streams in the mountains to the banks of the scenic Mississippi River, there are many prime fishing spots in Arkansas. Beaver Lake in the NW corner of the state has excellent striper fishing, while Bull Shoals in the Ozarks is a great place to catch largemouth bass. Let's look back at some of the record-breaking fish that have been caught in Arkansas with three breaking the hundred-pound mark! Here are the 10 biggest trophy fish ever caught in Arkansas.
10) Brown Trout: 40 pounds 4 ounces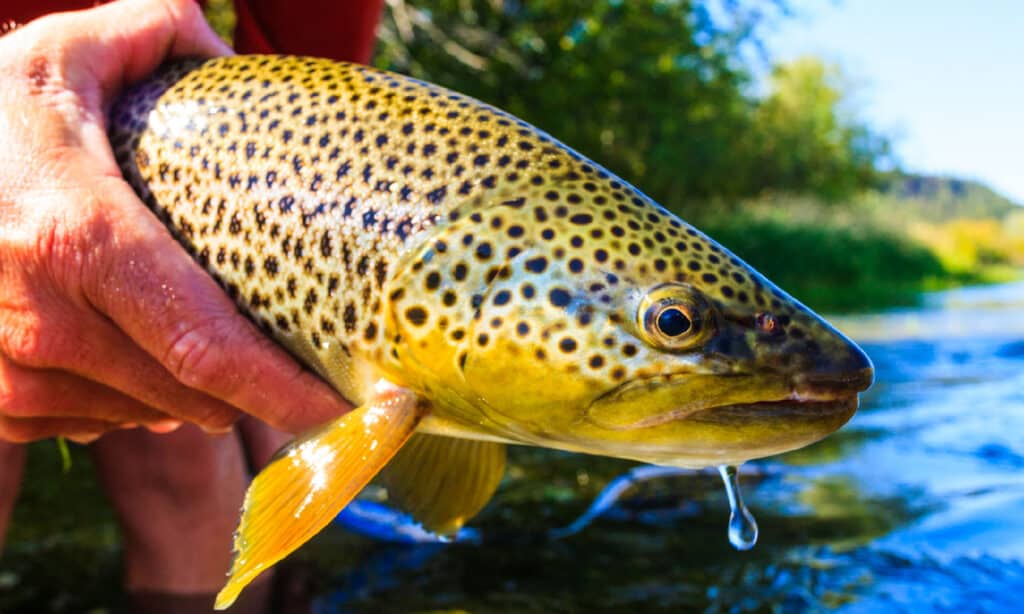 Arkansas is known for its excellent trout fishing. They stock 1.5 million trout each year at many locations throughout the state including the White River, Oachita River and Little Missouri River. The state record rainbow trout and cutthroat trout were both pulled from the White River, but the biggest brown trout, at 40 pounds 4 ounces was caught on the Little Red River. The Little Red River starts at the dam at Greers Ferry Lake and flows diagonally across the state, then meets up with the White River.
Howard "Rip" Collins holds the record dating back to May 9, 1992. His catch is also recognized as a world record in the line-class category, being the biggest brown trout in the 4-pound-line-class!
9) Freshwater Drum: 45 pounds 7 ounces
Freshwater drum are a common fish in the US and are in most lakes and rivers in Arkansas. For trophy-sized drums, you can try the Mississippi, Arkansas River, and White River. The biggest freshwater drum ever caught in Arkansas was caught in Lake Wilson, which is not necessarily a hot spot for fishing. It is a small lake about 90 miles SE of Little Rock. Chuck Piker of Hamburg, AR was fishing on Lake Wilson on July 7, 2004, when he bagged a 45-pound 7-ounce drum. Think about a 40-pound bag of water softener salt and compare that to this good-sized catch! That is a hefty fish.
8) Bigmouth Buffalo: 50 pounds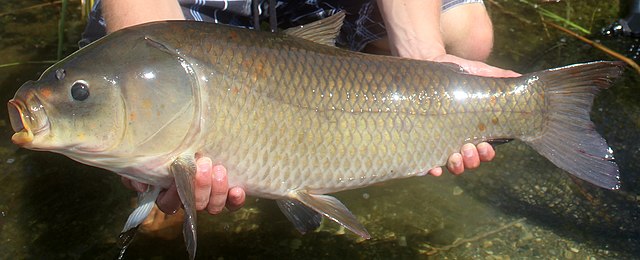 Right at the 50-pound mark is a bigmouth buffalo fish caught by Tony Worm on the Craig D. Campbell Lake Conway Reservoir (Lake Conway for the locals). Lake Conway was the first lake built by the Arkansas Fish and Game Association and is a large popular lake just north of downtown Little Rock. Worm's 50-pound bigmouth buffalo was caught on September 10, 2007, and the record still stands.
7) Striped Bass: 64 pounds 8 ounces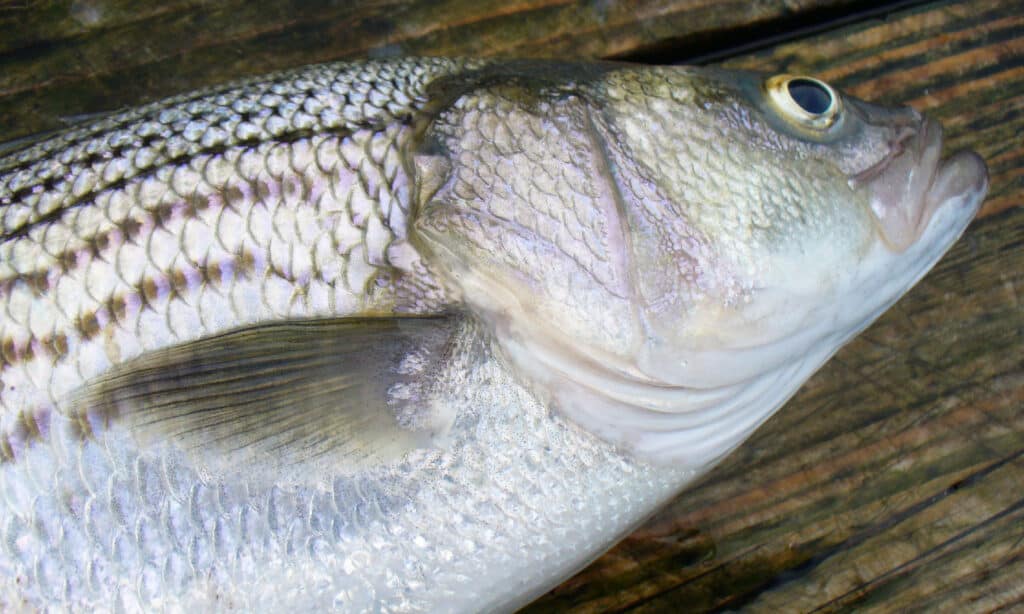 Striped bass (or "stripers") are a popular sport fish for anglers. Beaver Lake has a reputation for producing trophy-sized stripers and Jeff Fletcher was lucky enough to catch the biggest. He was fishing on an area of the Beaver Lake Tailwaters on April 28, 2000, when he snagged a striper that was more than 50 pounds. The official weight of his striped bass was 64 pounds 8 ounces. Beaver Lake is in the far NW corner of Arkansas in the Ozark Mountains. This beautiful area is a popular vacation spot as well as the host of several fishing tournaments. Read on to find out what other trophy fish on our list were also caught in Beaver Lake.
6) Smallmouth Buffalo: 68 pounds 8 ounces
Smallmouth buffalo and bigmouth buffalo fish are very similar in shape and size but they do differ in their mouth shape. The smallmouth buffalo's mouth is oriented downward and the bigmouth has its mouth facing forward. Both are abundant in Arkansas waters and the biggest one ever was caught in Lake Hamilton by Jerry Dolezal. On May 15, 1984, Dolezal was out on Lake Hamilton, which is just south of Hot Springs when he caught a 68-pound 8-ounce smallmouth buffalo.
5) Flathead Catfish: 80 pounds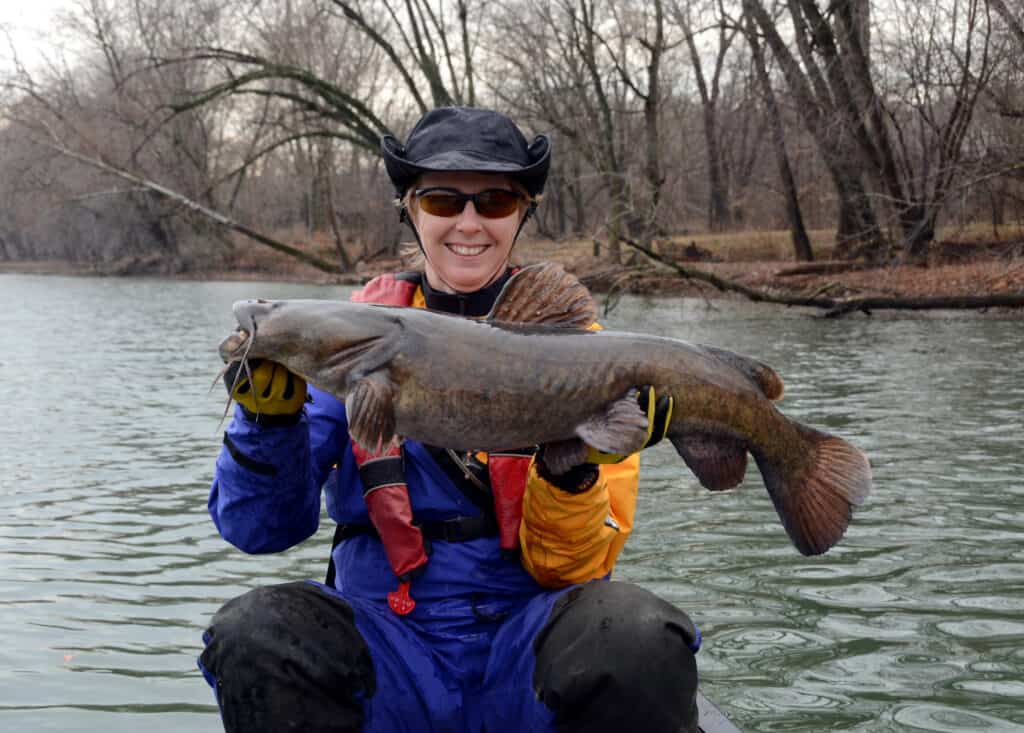 The Mississippi River is an excellent spot to find trophy-sized catfish in Arkansas. The three main catfish in the US are channel, flathead, and blue catfish with the blue cats usually being the biggest. Sure enough, the record-breaking flathead catfish is an impressive 80 pounds but still smaller than the biggest blue catfish in the state.
The record flathead was caught by Wesley White on October 28, 1989. It would make for a great story if White had caught his flathead on the White River, but that was not the case. He snagged his trophy catfish on the Arkansas River. Another one of our top 5 biggest fish was also caught on the Arkansas so keep an eye out for that one too!
4) Black Buffalo: 92 pounds 8 ounces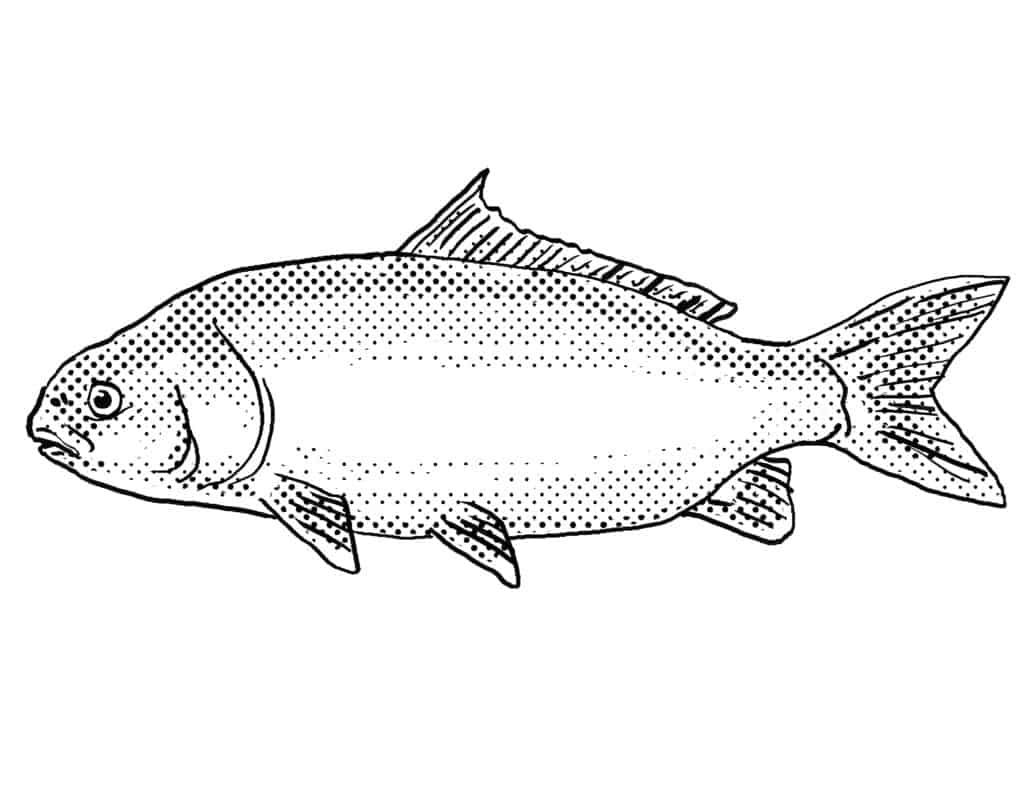 Another buffalo on our list is a black buffalo that was almost a hundred pounds. A 92-pound 8-ounce black buffalo was caught on Lake Maumelle by Kenny DeLuca in the spring of 1984. On May 15, DeLuca, who was from Berwyn, Illinois, reeled in this big black buffalo. Lake Maumelle is just on the other side of the Arkansas River from Lake Conway. If things are not biting on one lake then it is just a short 35 min drive to hop on the other for better luck. DeLuca certainly found luck in his favor when he caught this black buffalo.
3) Blue Catfish: 116 pounds 12 ounces
Now we are on to fish over the hundred-pound mark. The first is the classic blue catfish. You know we mentioned catfishing on the Mississippi, well this is where the Mississippi did not disappoint. On August 3, 2001, Charles Ashley Jr. caught a blue cat in the Mississippi that was 116 pounds 12 ounces! Ashley, who is from Marion, AR, and two buddies were fishing along the stretch of the Mississippi downstream from the Interstate 55 bridge when he hooked this big one and fought it to their boat. They had it weighed on a certified scale and learned it was the new record-breaker!
2) Paddlefish: 118 pounds 9 ounces
Paddlefish are unique-looking fish with a long paddle-like snout. They also get quite big, with some reaching more than 100 pounds. The biggest paddlefish ever caught in Arkansas was a 118-pound 9-ounce fish caught by James C. Johnson. This is the other trophy fish that was caught on Beaver Lake. This record is one of the most recent records, set on August 27, 2020. Johnson and a friend were out in the Starkey part of Beaver Lake, they were actually looking for striped bass but snagged this enormous paddlefish instead. It measured 69 inches long (including its paddle snout). Quite a catch!
1) Alligator Gar: 215 pounds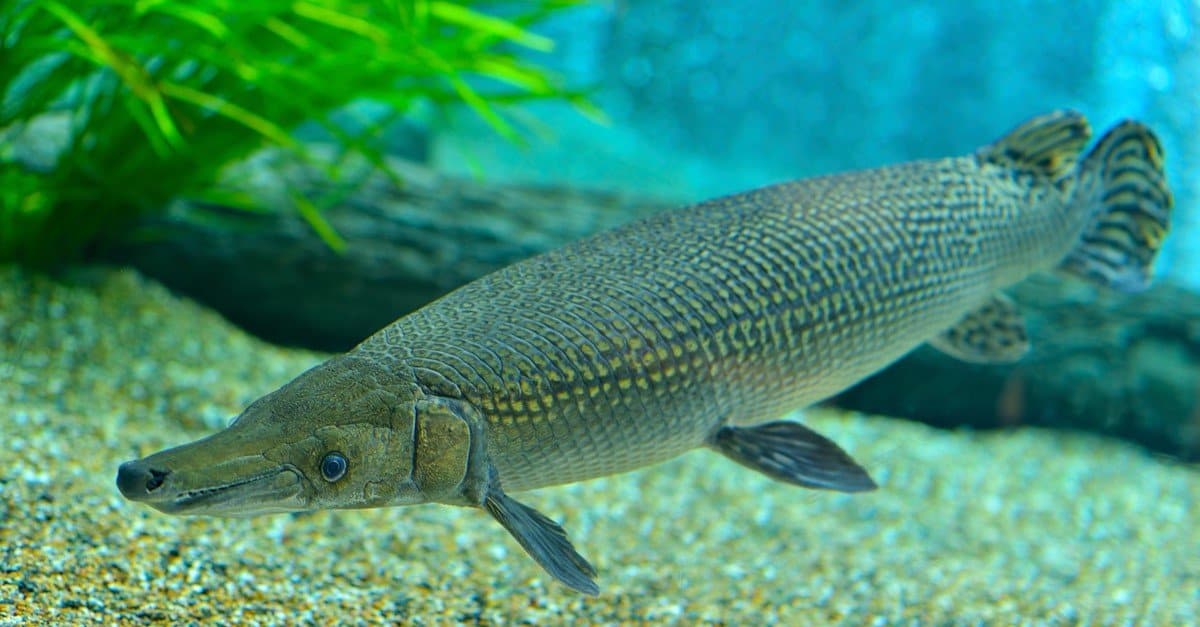 If a hundred-pound fish is an impressive catch then a 200-pound fish must be twice as impressive. What kind of fish gets to be 200 pounds in Arkansas? The alligator gar. The biggest gar in the state, and the biggest trophy fish ever caught in Arkansas was a 215-pound alligator gar. Alligator gars are long, heavy-bodied fish with an alligator-like snout. This is a long-standing record dating back to July 31, 1964. Alvin Bonds from Clarksville, AR caught this state record breaker on the Arkansas River.
The Arkansas River also flows through neighboring Oklahoma, so how do the fish over the border compare? There are two Oklahoma state records that were pulled from the Arkansas River and while they are the biggest of their species, they are clearly not the biggest fish in the pond. The biggest shovelnose sturgeon was caught in the Arkansas River and weighed 1 pound 10 ounces and the biggest Goldeye was 2 pounds 8 ounces. So no rivalry there but the biggest alligator gar ever caught in Oklahoma was bigger than the biggest one in Arkansas. Caught on Lake Texoma, the alligator gar was 254 pounds 12 ounces, beating the Arkansas record by 39 pounds. Now you know the targets for your next big catch!
Summary of the 10 Biggest Trophy Fish Ever Caught in Arkansas
| Rank | Fish | Size |
| --- | --- | --- |
| #1 | Alligator Gar | 215 lbs |
| #2 | Paddlefish | 118 lbs 9 oz |
| #3 | Blue Catfish | 116 lbs 12 oz |
| #4 | Black Buffalo | 92 lbs 8 oz |
| #5 | Flathead Catfish | 80 lbs |
| #6 | Smallmouth Buffalo | 68 lbs 8 oz |
| #7 | Striped Bass | 64 lbs 8 oz |
| #8 | Bigmouth Buffalo | 50 lbs |
| #9 | Freshwater Drum | 45 lbs 7 oz |
| #10 | Brown Trout | 40 lbs 4 oz |
---
Sources

Arkansas Fishing Records, Available here: https://www.agfc.com/en/fishing/state-records/
Arkansas Online, Available here: https://www.arkansasonline.com/news/2020/sep/08/beaver-lake-paddlefish-sets-state-record/
Arkansas Online, Available here: https://www.arkansasonline.com/news/2014/jun/01/tales-arkansas-biggest-catfish/
Wildlife Department, Available here: https://wildlifedepartment.com/fishing/state-records