↓
Continue Reading To See This Amazing Video
Mississippi has many distinct types of landscapes and water bodies, including prairies, marshes, barrier islands, woods, rivers, lakes, ponds, and coastal dunes. It is not unexpected to hear that Mississippi is home to various animals, given its vast range of settings. Over 84 kinds of reptiles and more than 426 bird species may be found in this southern state.
In addition, the Mississippi River is home to more than 120 different fish species. But the state's variety of ecosystems does not end there. Coastal Mississippi boasts 62 miles of coastline with 200 different types of fish to catch. Freshwater, brackish water, and saltwater fishing are all available statewide. Thus, it is unsurprising that massive fish have been caught in the state, and one is even a world record! Below, we list 10 of the biggest trophy fish ever caught in Mississippi.
10 Biggest Trophy Fish Ever Caught in Mississippi
1. Swordfish – 309.9 lbs.
During the Mississippi Gulf Coast Billfish Classic, one of the nation's biggest annual saltwater fishing competitions, a man from Mississippi caught the swordfish that set a new state record. The fish was hooked up by Captain Donny Jackson Jr. and his crew 200 miles west of the tournament's port in Biloxi, MS, and they battled it for around five hours. The fish had to be corralled onto the deck of their 39-foot boat by all five of the men on board. The fish was 6 feet 8 inches long and weighed 309 pounds, 9 ounces. The previous record, which was caught in 2017 and weighed 242 pounds 8 ounces, was destroyed by this one.
2. Bigeye Tuna – 203.9 lbs.
In 2011, Chip Temple was fishing from "Jasper Town" when he caught a giant 203.9-pound bigeye tuna that eventually became Mississippi's state record for that species, blowing away the previous 92-pound, 2.88-ounce record. The bigeye tuna has a rapid growth rate and can grow up to 5.5 feet in length. Anglers typically catch them when they weigh between 100 and 200 pounds.
3. Blue Catfish – 131 lbs.
Eugene Cronley, of Brandon, according to the Mississippi Department of Wildlife, Fisheries, and Parks, caught the 131-pound blue catfish on April 7, 2022, in the Mississippi River close to Natchez. The previous rod-and-reel record, held by a 95-pound fish caught by Dakota Hinson in 2009, was surpassed by Cronley's catch. It is also bigger than the 101-pound blue catfish taken in the Mississippi River near Natchez in 1997 by a team of two fishermen.
4. Blue Marlin – 1,054.6 lbs.
When angler Barry Carr on Sea Wolff hooked a 1,054.6-pound blue marlin during a competition in 2002, he broke the charts for the Mississippi and the Gulf of Mexico. This beat the previous Mississippi record of 917.4 pounds held by David Pippen of Miss Orleans in the tournament's first year. With a typical length and weight of 11 feet and 200 to 400 pounds, the blue marlin is among the largest Atlantic marlins and one of the largest fish in the world.
5. Yellowfin Tuna – 236.6 lbs.
Four Mississippi fishermen spent March 30, 2020, yellowfin tuna fishing in the Gulf of Mexico. Although they only received one yellowfin bite, it set a state record! Mike "Mikey" McElroy III successfully grabbed a 236.6-pound yellowfin tuna, breaking Mississippi's previous record by 31 pounds, following a battle that lasted more than five hours. Anglers typically catch yellowfin tuna that range in size from 32 to 43 inches and 25 to 60 pounds.
6. Longnose Gar – 48 lbs. 1 oz.
The largest longnose gar ever discovered in Mississippi was 60 inches long and 48 pounds, an ounce in weight. The enormous gar was captured by Don Henson, who got in touch with the Mississippi Department of Wildlife, Fisheries, and Parks, who then confirmed the gar as a new state record. It was also a world record, which MDWFP officials discovered upon checking with the Fresh Water Fishing Hall of Fame and Museum. 
7. White Crappie – 5 lbs. 3 oz.
One of the most popular game fish in North America is the crappie, and many fishermen hope to get a huge slab of one. The white crappie that holds the current world record was captured more than 60 years ago. Fisherman Fred Bright captured this enormous fish, weighing 5 lbs. 3 oz., in 1957 at Enid Dam in Mississippi. The fact that this world record has remained unbroken for so long is not surprising given the rarity of white crappie weighing more than 5 pounds in particular.
8. Alligator Gar – 327 lbs.
Fishing along the Mississippi on February 14, 2011, fisherman Kenny Williams captured a large fish in his nets. When he eagerly pulled it up, he was expecting a buffalo fish, but he got a huge alligator gar. He had to drag the fish onboard for over thirty minutes. Williams' capture was measured and found to be 8 feet, 5 inches long, and 327 pounds! Williams gave the Mississippi Museum of Natural Science in Jackson his catch, which is now on exhibit there.
9. Flathead Catfish – 77.7 lbs.
Flathead catfish have a maximum size of 4 feet and 90 pounds. The heaviest flathead catfish record in Mississippi weighed 77.7 pounds and was caught in the Mississippi River. Matt Bingham, a catfish angler from Memphis, was sick of fishing in the same section of the Mississippi River and decided to travel to Tunica in April 2012. After making that adjustment, he discovered a 77.7-pound supersized flathead catfish, and it was one of his best decisions yet.
10. Common Carp – 74 lbs.
The 74-pound common carp Curtis Wade caught in 1963 at Pelahatchie Lake holds the Mississippi Rod and Reel record. This is the biggest carp ever caught in the United States with hook and line. Most nations classify a common carp weighing 15 to 25 pounds as an average-sized fish.
Up Next:
Sea Monsters! The 10 Biggest Trophy Fish Ever Caught in Montana
River Monsters: Discover the Biggest Fish in the Mississippi River
Was the Mississippi River Really Home to a Massive 736-Pound Catfish?
Discover the Largest Alligator Gar Ever Caught in the Mississippi River
---
The Featured Image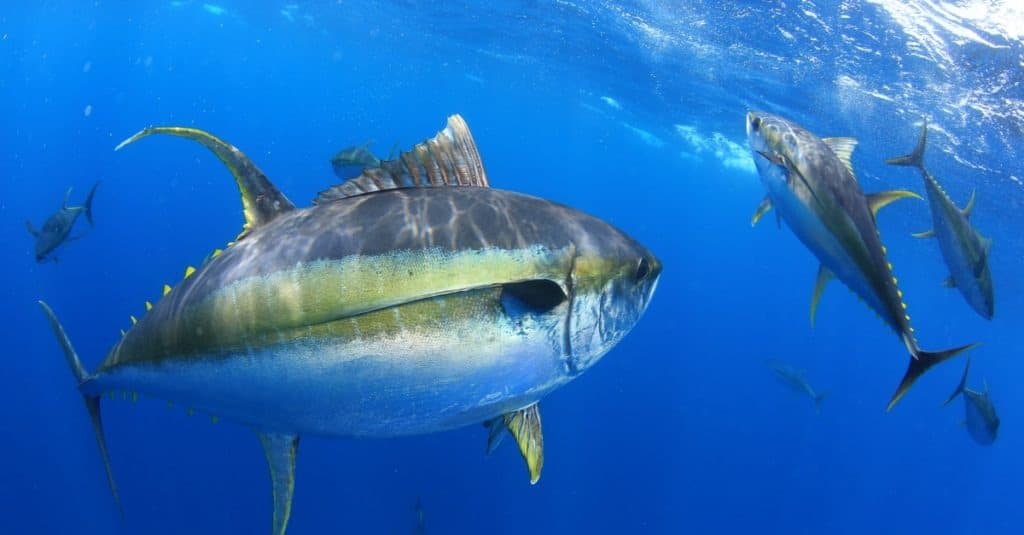 ---
Sources

eRegulations, Available here: https://www.eregulations.com/mississippi/fishing/freshwater/state-record-freshwater-fish
Mississippi Gulf Coast Billfish Classic, Available here: https://mgcbc.com/state-records/#:~:text=Mississippi%20State%20Saltwater%20Fishing%20Records%20Set%20During%20the%20Mississippi%20Gulf%20Coast%20Billfish%20Classic&text=Weight%3A%20309.9%20lbs.&text=Weight%3A%20242.54%20lbs