Anyone who has gone fishing knows how exciting it is to catch a fish, especially a large, perhaps record-breaking one. Utah has Blue Ribbon streams and beautiful mountain lakes teeming with pan-sized brook trout. At the same time, it is the territory of several massive fish. Utah is famous for its Great Salt Lake; however, the lake does not house many fish. After all, the lake's salinity is too high for most species to flourish. However, that is hardly the only body of water in Utah, and the state provides several options for big fishing. Have you ever wanted to see the largest trophy fish captured in Utah? This article uncovers the 10 biggest trophy fish ever caught in Utah and other fascinating facts.
1. Brown Trout – 33 lbs. 10 oz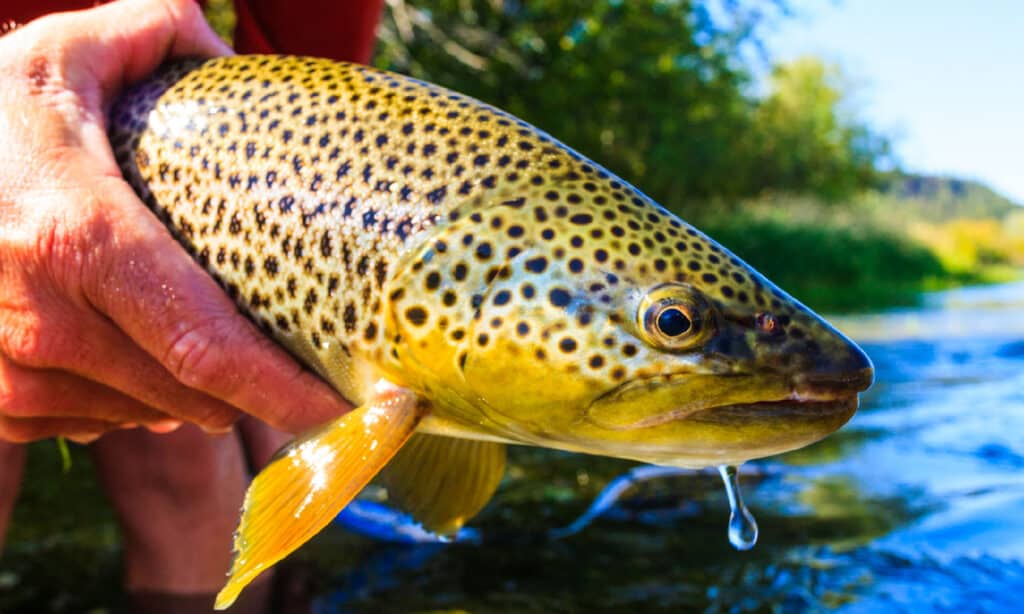 Brown trout are more tolerant of warm water than brook or rainbow trout. Individual brown trout range in size from 7 to 14 inches in total length and weigh between one and five pounds. In Utah, the state record for this species belongs to Robert Bringhurst, weighing 33 pounds and 10 ounces. He was fishing in Flaming Gorge Reservoir when the state-record catch occurred in 1977.
2. Channel Catfish – 32 lbs. 8 oz
Although they are more commonly found in freshwater, channel catfish can survive in saltwater and brackish water. The average size of channel catfish in most waterways would be between two and four pounds and around 12 to 24 inches. The largest channel catfish caught in Utah weighed 32 pounds 8 ounces. This record was made in Utah Lake and has been held by LeRoy Mortensen since 1978.
3. Cutthroat Trout – 26 lbs. 12 oz
Semi-anadromous cutthroats often spend two to five years growing in freshwater before migrating to saltwater. Depending on where the fish is captured, mature sizes range from four ounces to six pounds. A non-native cutthroat weighing 26 pounds and 12 ounces set the oldest state record in Utah, 92 years to be exact! The giant fish was caught by Mrs. E. Smith while fishing in Strawberry Reservoir in 1930.
4. Largemouth Bass – 10 lbs. 2 oz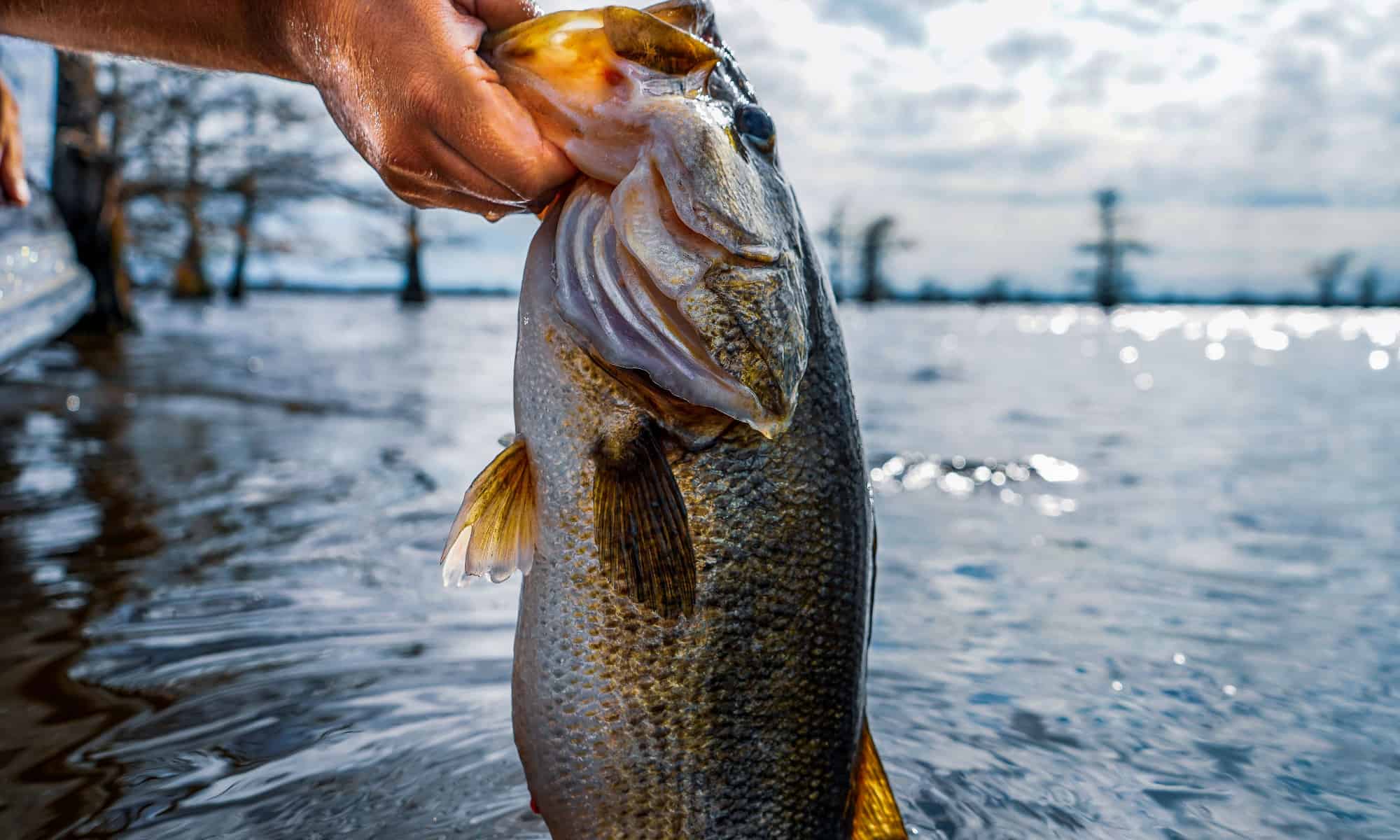 Largemouth bass can be found in various types of water, including freshwater and brackish water. They prefer slow-moving, big rivers or streams with peaceful grounds. Most largemouths in Utah weigh between one and three pounds, although it's not uncommon to capture a fish weighing up to five pounds. Double that size, and you've got the state record! In 1974, Sam Lamanna was fishing in Lake Powell when a 10-pounder 2-ounce fish bit the bait.
5. Splake Trout – 17 lbs. 4 oz
Splake trout are born in freshwater and can dwell there their entire lives or migrate to saltwater at some point. Splake trout grow faster than either parent species and can reach weights of up to nine pounds, with some reaching up to 20 pounds. Stacy S. Willden set the state record in 2006 when she caught a 17-pound 4-ounce splake in Fish Lake.
6. Striped Bass – 48 lbs. 11 oz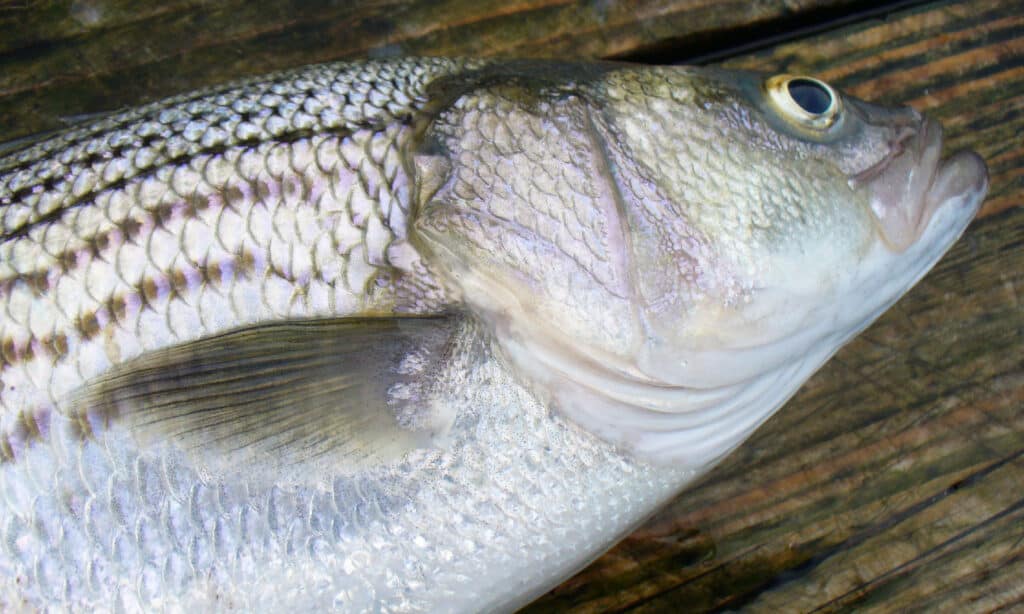 Striped bass are anadromous fish that can survive in fresh and saltwater. Striped bass typically weigh 10 to 30 pounds and grow 20 to 35 inches long. However, they can grow much larger throughout their 30-year lifespan. The current striped bass record in Utah was set in 1991. Travis T. Jensen caught the fish at Lake Powell, measuring 48 pounds, 11 ounces.
7. Tiger Muskellunge – 33 lbs. 9 oz
To begin, let's clear up some misconceptions concerning tiger muskies. The tiger muskie is a carnivorous mix between the real muskellunge and the northern pike. It lives in freshwater and can be found throughout Canada, the Northeast, and the Midwest of the United States. Like other hybrid species, tiger muskies are considered to exhibit "hybrid vigor," which means they develop quicker and stronger than the parent fish and are less vulnerable to disease.
Trophy specimens weigh approximately 30 pounds, and their primary diet consists of fish and small birds. Due to the struggles involved in catching them, the tiger muskie is known as the fish of 10,000 casts. That's why Kelly Parry's catch in 2006 was pretty impressive. Parry's tiger muskie measured 33 pounds, 9 ounces, and was caught at Pineview Reservoir.
8. Walleye – 15 lbs. 9 oz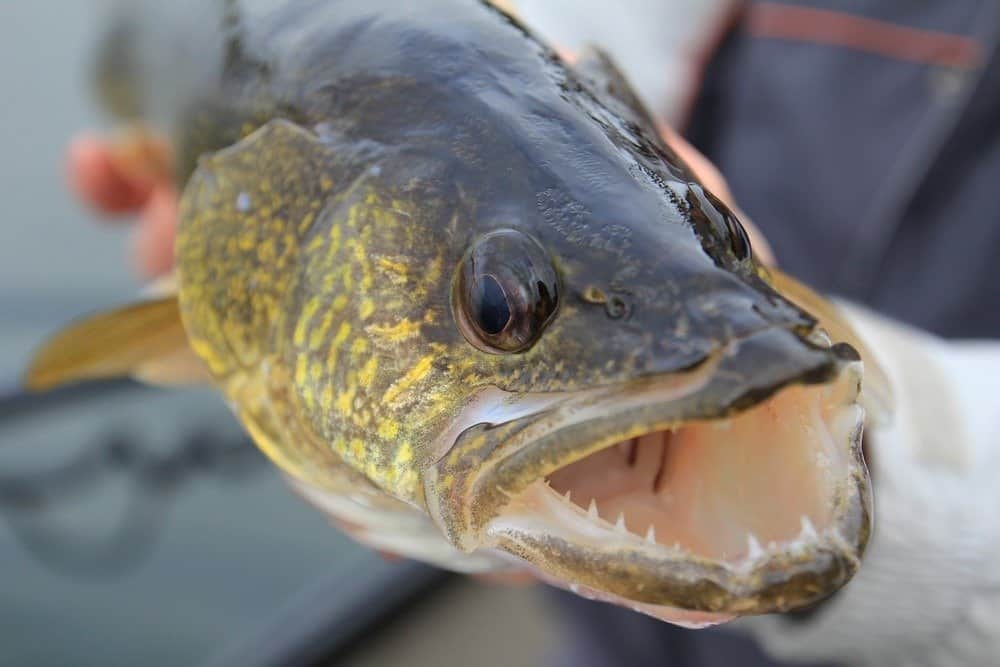 While the usual size of a walleye is between 15 and 20 inches long and one and three pounds, they can grow to lengths of around 35 inches and weigh up to 25 pounds. A few specimens have even surpassed the 30-pound mark, although this is not the case in Utah. The largest walleye on record was caught in 1991 by Jeffery Tanner on the Provo River, weighing 15 pounds 9 ounces.
9. Wiper (Whiterock Bass) – 16 lbs. 8.32 oz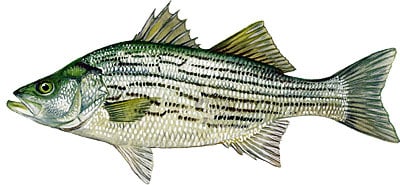 If you fish in Utah, you should learn about wipers. These fish are a sterile combination of white and striped bass. The name "wiper" is a mix of white and striper, and while "hybrids" are more widely used in some regions of the country, the Utah Division of Wildlife Resources (DWR) prefers wipers. Wipers abound at Newcastle Reservoir. The state record has been established here four times and will most likely be set again. Hunter King set the newest state record in 2022 with his wiper weighing 16 pounds and 8.32 ounces.
10. Yellow Perch – 2 lbs. 11 oz
The yellow perch is semi-anadromous, meaning it dwells in freshwater or brackish rivers and spawns in small, shallow freshwater streams. The average mature length of a perch is 4 to 10 inches, with a weight of 4 to 10 ounces. Ray Johnson holds the state record with his catch weighing 2 pounds, 11 ounces, and he caught the fish in Yuba Reservoir in 1984.
Up Next:
The 5 Best Fish to Catch in Utah This Summer The Top 10 Waterfalls in Utah That Will Take Your Breath Away (With Pictures)
Sea Monsters! The 10 Biggest Trophy Fish Ever Caught in New Jersey
More from A-Z Animals
---
The Featured Image
---
Sources

, Available here: https://wildlife.utah.gov/record-fish.html
Utah Game Fish Records, Available here: https://www.bestfishinginamerica.com/utah-game-fish-records.html
KSL, Available here: https://www.ksl.com/article/33281463/5-biggest-game-fish-caught-in-utah#:~:text=State%20record%3A%2051%20pounds%208%20ounces&text=The%20official%20state%20catch%2Dand,exceeding%2046%20inches%20in%20length.