Have you ever glimpsed the breathtaking majesty of a bald eagle in the wild? It's one of the most magical moments a person can experience in nature. This winged giant is an iconic symbol of freedom that's woven into the history of the United States of America; it's no wonder that the bald eagle has endlessly captivated bird lovers' hearts over hundreds of years! During the winter months, the great state of Texas plays host to many bald eagles nesting and raising their eaglets surrounded by the beauty of the diverse landscapes of the Lone Star State. Here are the 15 best places in Texas to see bald eagles in their natural habitat.
1. Lake Livingston
Location: East Texas, near Livingston
Best Time to Visit: Winter and early spring
Viewing Tips: Look for eagles near the dam area
Located in the middle of East Texas, and positioned between the Davy Crockett National Forest and the Sam Houston National Forest, Lake Livingston transforms into a perfect winter wonderland as November brings the first signs of the season. This is the time when bald eagles complete their annual cold-weather migration south. These marvelous birds must be attracted to the lake's brilliant water and the provision of an abundance of fish. 
2. Lake Conroe
Location: Near Houston, Texas
Best Time to Visit: Winter months
Viewing Tips: Explore lovely nature parks and lakeside hiking trails
Take a short drive north of the lively city of Houston and you'll discover Lake Conroe is another captivating spot for eagle enthusiasts. When temperatures drop, newly migrated eagles soar high above the more than 150 miles of shoreline. There's even a small island called Bird Island, where bald eagles gather, creating a magical scene that could easily be a part of one of Houston-native Wes Anderson's films.

3. Lake Buchanan
Location: Near Burnet in Central Texas
Best Time to Visit: November to March
Viewing Tips: Bring your binoculars and wake up with the birds for early morning action
Bald eagles don't just visit Lake Buchanan, they nest here! Nesting season begins in late fall and continues through early spring, and this is when the lake comes to life with bald eagle activity. Known for its superior fishing, you can watch with your own two eyes as eagles swoop into the water and catch their own striped, largemouth, and white bass or catfish that call the waters of Lake Buchanan home. Spending time in nature here will certainly deliver breathtaking opportunities for eagle-watching encounters as eagles embrace parenthood and their adorable eaglets.  

4. Caddo Lake
Location: Straddles the Texas-Louisiana border
Best Time To Visit: Late fall to winter
Viewing Tips: Join a guided tour for the best chance to spot bald eagles
One of the greatest locations in all of Texas to see bald eagles year-round is Caddo Lake. Visit during the winter months to experience the extraordinary wonder this eagle sanctuary has to offer. Home to one of the largest protected wetlands, this flooded forest is occupied with ancient cypress trees. Their gnarled roots, immersed in dark lake waters, create an enchanted backdrop that evokes an out-of-this-world feeling as you discover bald eagles in their natural habitat.
5. Toledo Bend Reservoir
Location: On the Texas-Louisiana border
Best Time to Visit: During the winter months
Viewing Tips: Rent a shoreside cabin along the reservoir for scenic views of bald eagle fly-bys
Located on the beautiful Sabine River between Texas and Louisiana, bald eagles have long tapped into the lush 185,000 acres of the Toledo Bend Reservoir. In 2016, 25 bald eagle couples, who mate for life, were reported nesting within the safety of the pine tree forests. Surrounded by this massive man-made reservoir, the State Fish Hatchery located here welcomes a vibrant array of migrating birds to come and dine, so birdwatchers and eagle lovers will surely find endless inspiration.
6. Galveston Island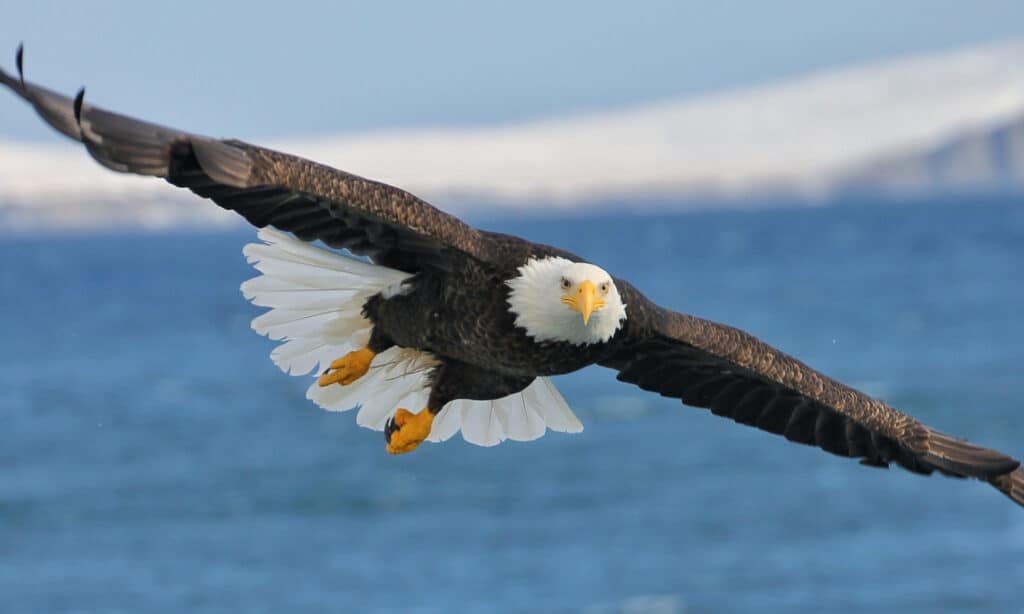 Location: Just off the Gulf Coast, south of Houston
Best Time to Visit: November to February
Viewing Tips: Maximize your chances of spotting these magnificent creatures when you rise with the sun (and don't forget your binoculars!)
Just south of Houston, this undisturbed seaside retreat, located along a major migration route, brings wintering bald eagles to their happy place between November to February each year. Take in their remarkable 6 ½ foot wingspan as they soar over the Gulf of Mexico. It's famously known as the "Fishing Capital of Texas," the waters surrounding Galveston Island are chock-full of aquatic life, making it a popular haunt for fishing enthusiasts and a variety of feathered friends.
7. Lake Travis
Location: Near Austin, Texas
Best Time to Visit: If you haven't guessed yet, winter is the prime time for eagle sightings in Texas!
Viewing Tips: Consider taking a boat tour for an extraordinary perspective
Another Texas man-made reservoir, this one known for its snake-like resemblance on a map stretches for more than 60 miles along the Colorado River in Central Texas. The many coves and secluded islands found on this lake make it a top-nesting nook for bald eagles to hide away. Humans can dine at the Oasis restaurant on Lake Travis and watch as bald eagles and herons fly against a spectacular sunset view.
8. Lake Whitney
Location: North Central Texas, near the town of Whitney, Texas
Best Time to Visit: Bald eagles and other wildlife are most commonly spotted during the winter months
Viewing Tips: Explore the lake trails and pay close attention to the elevated vantage points that provide excellent opportunities to find bald eagles perched in trees along the shoreline.
Lake Whitney has a lot to be proud of with its vast system of scenic nature and hiking trails and hosts 225 miles of shoreline. As you explore, you'll likely spot bald eagles surveying the ground below in search of their next meal, while perched high above in bald cypress trees (ironically named after the bald eagle!). The lake offers a stellar food source for these radical raptors, attracting tons of other migrant wildlife creatures with its combination of open water, tall trees, and a thriving fish population. 
9. Lake O'The Pines
Location: Tucked away in the Piney Woods region of Northeast Texas
Best Time to Visit: You guessed it, the colder months of winter when bald eagles have migrated south!
Viewing Tips: Early morning viewing is recommended for increasing your chances of spotting a bald eagle out on the hunt for its next meal.
Lake O'the Pines is pretty much famous for its tall pine trees and stunning landscapes that make it a fantastic spot for bald eagle mamas and papas to settle down for the long winter and raise a family. Like many Texas lakes, this one is also a man-made marvel that was built for water control, supply, and recreational purposes (necessary in the heat of a Texas summer!). Because the lake is home to a variety of fish species from largemouth bass to catfish and sunfish, it has easily become a favorite fishing hole enjoyed by both human and feathered fishermen alike.  
10. Sam Rayburn Reservoir
Location: The Piney Woods region of Southeast Texas near Jasper
Best Time to Visit: Winter and early spring
Viewing Tips: Consider bringing along a spotting scope – this sightseeing tool will allow you to enjoy the most remarkable close-up and detailed views of bald eagles and other wildlife.
Serene surroundings and towering pine trees create the perfect atmosphere for a magical bald eagle sighting just upstream from the Big Thicket National Preserve. But the secret of this location isn't just in the birds, it's all around them! With its peaceful landscapes and copious birdlife, the Sam Rayburn Reservoir is a hotspot for birdwatching from bald eagles to ospreys, herons, egrets, and more!
11. Lake Somerville
Location: Southeast Texas, near Brenham
Best Time to Visit: Winter and early spring, of course!
Viewing Tips: Hike the trails of Lake Somerville State Park for epic eagle sightings
Lake Somerville is part of a multi-reservoir system in Southeast Texas that connects the Nails Creek and Birch Creek lakes by a narrow channel creating a larger, single body of water. A camping utopia, Lake Somerville State park and Trailway surround the lake offering the perfect spots to set up camp and take in all the beauty of the lake and its wildlife. Home to both local and migratory birds, if you happen to set up camp beneath a bald eagle's nest in early spring, you'll be in for a most memorable experience.  
12. Brazos Bend State Park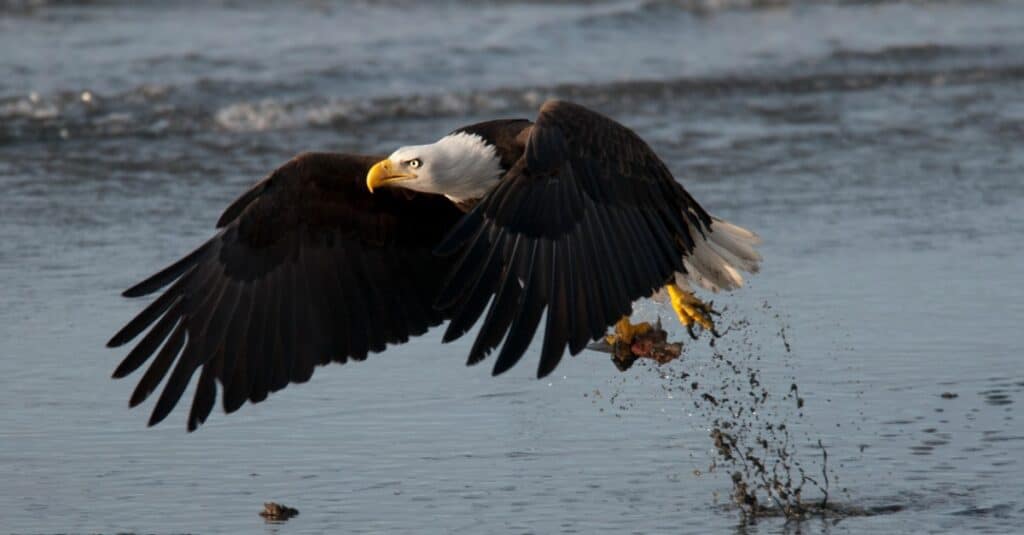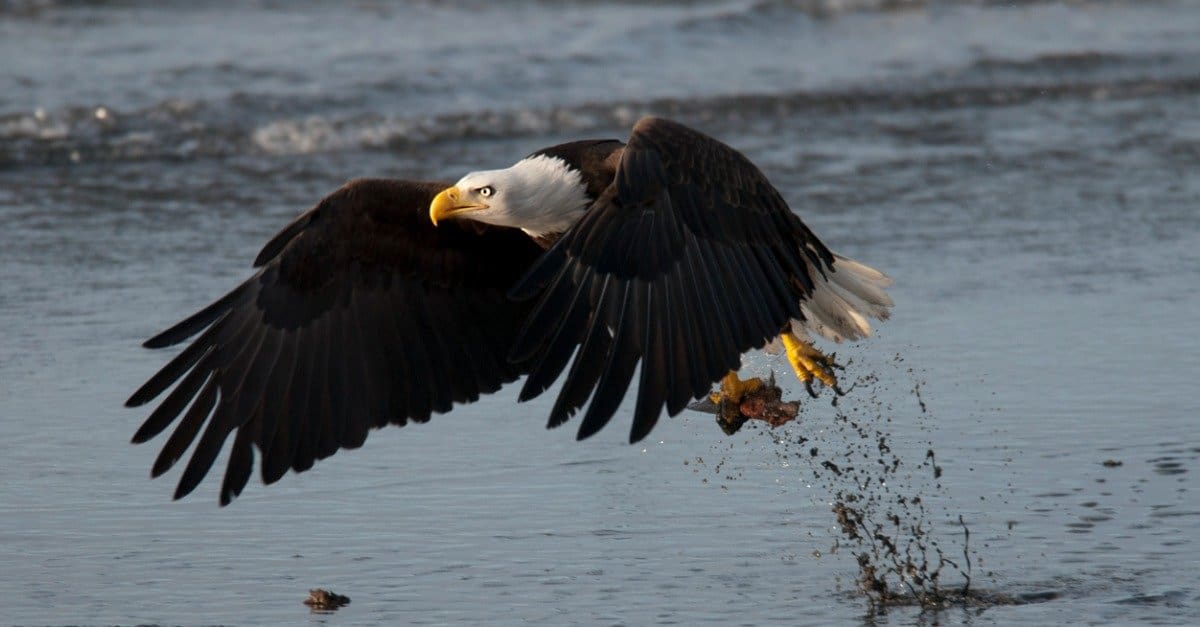 Location: Near Houston
Best Time to Visit: Cooler temps of winter bring the promise of more wildlife activity
Viewing Tips: Make the most of your visit when you explore the park's boardwalks and trails. 
Our next stop in satisfying your eagle-eye is not too far from Houston in Brazos Bend State Park. Bayous and cypress trees invite bald eagles to stay a while, and can be spotted year-round! Magic moments happen every single day with permanent residents like these. Surround yourself with the vibrant birdlife here and make unforgettable memories regardless of the season. A slight warning: Be cautious of alligators! This park is home to one of the most visible populations in the great state of Texas, so while you've got your head in the clouds keep your feet on stable ground.
13. Trinity River National Wildlife Refuge
Location: Southeastern Texas, not too far from Houston
Best Time to Visit: The refuge offers extraordinary wildlife viewing experiences year-round, but for the best chance for eagle sightings, you'll want to plan your visit during the cooler months of fall and winter when migrating residents have moved into the area. 
Viewing Tips: You'll want to take advantage of the guided eagle-watching adventures offered for the ultimate eagle-joy experience!
If secret gardens are your thing, you'll love the Trinity River National Wildlife Refuge in southeast Texas. This peaceful stretch of protected land encompasses more than 25,000 acres, allowing bald eagles to fly worry-free thanks to the outstanding conservation efforts of the fine folks working at the refuge. If you're curious to learn more about the vital work happening in this migratory bird hotspot, the refuge offers lots of family-friendly educational programs and guided tours for visitors of every age!
14. Choke Canyon State Park
Location: South of San Antonio
Best Time to Visit: Outdoor enthusiasts love this park all year long, but the prime time for eagle sightings is of course during the winter months.
Viewing Tips: Guided eagle-watching tours offer a chance to catch the eagle action and make friends with expert guides who can make your experience unforgettable.
If bald eagles were like the American senior citizen snowbirds of the north, Choke Canyon State Park would feel like visiting West Palm Beach, Florida between November and February. The strong sound of eagle's calls can often be heard breaking the hushed quiet of the park, and hearing them is only the first part of the exciting eagle-tainment you'll experience. Don't forget to bring your binoculars, you're sure to see a nest of eagle parents tending to their precious eaglets.
15. Emory, Texas
Location: Rains County in northeastern Texas
Best Time to Visit: Late fall through early spring will put you in a good position to see eagles living their best lives.
Viewing Tips: The friendly locals of Emory are always willing to talk about eagles. They offer up their insights and recommend hidden gems. Plus you might make a new friend!
Each year since 1995 thousands of eagle lovers from every corner of the country become friends of a feather when they flock to Emory, Texas to catch sight of the great bald eagle. For more than 25 years the city of Emory has been officially named the "Eagle Capital of Texas" by the Texas Legislature as part of conservation efforts to protect and preserve the lives of American Bald Eagles. Lake Tawakoni and Lake Fork are two popular nesting and feeding areas within the city where bald eagles like to hang out, along with more than 260 other species of wild birds. This is a can't miss eagle-tastic destination for anyone who dreams of seeing these birds at their most magical moments. Book a bus or boat bird-watching tour and let your heart take flight!
The photo featured at the top of this post is © PHOTOOBJECT/Shutterstock.com
---