New York State has much more to offer than the massive metropolis of New York City. New York State also has some incredible nature. With over 7,600 freshwater lakes, reservoirs, and ponds, this region is a haven for fishing enthusiasts seeking an unparalleled experience. As if that weren't enough, New York also boasts stretches of two of the majestic Great Lakes, adding an extra dimension to the fishing adventures. 
In this article, we'll go over 10 of the best fishing lakes in New York.
1. Lake Ontario
Lake Ontario is the smallest of the Great Lakes, but it is by no means a small lake! This lake offers an exceptional fishing experience in New York that should not be underestimated. However, it is essential to prioritize safety due to the lake's vastness. It is crucial to have a boat capable of handling challenging water conditions. 
Trolling is the preferred method of angling on Lake Ontario due to its size, allowing anglers to deploy multiple rods (up to three per person) with different lures set at various depths. This technique covers a large area, increasing the chances of locating active fish.
Lake Ontario, spanning over 7,320 square miles, is the 13th largest lake in the world and is a haven for sport fishing enthusiasts. With an impressive variety of fish, such as salmon, bass, sunfish, trout, and crappie, anglers have plenty of options. Whether you prefer shore fishing or venturing out on a boat, canoe, or kayak, the lake's 726 miles of shoreline offer lots of opportunities for exploration.
For the ultimate fishing experience, head to Niagara Bar, widely regarded as the best fishing spot on Lake Ontario. Here, you can enjoy year-round fishing for coho salmon, brown trout, bass, and walleye. If you're specifically targeting Chinook salmon, plan your trip between mid-August and mid-September when they gather to spawn.
Apart from fishing, Lake Ontario offers a range of popular activities for everyone. You can indulge in swimming, boating, hiking, and bird watching, making it a versatile destination for outdoor enthusiasts.
2. Lake Champlain
Spanning 271,000 acres, Lake Champlain holds the distinction of being the lowest point within the expansive Adirondack mountains. Situated on the northeastern border of New York State, this vast lake has exceptional fishing opportunities. 
The lake boasts a remarkable diversity of fish, with over 80 species inhabiting its waters. This abundance of warm and cold-water fish establishes it as one of the finest fishing lakes in New York as well as the United States.
Lake Champlain's landscape comprises various islands, fertile weed beds, bays, and rocky reefs, offering a picturesque backdrop for fishing enthusiasts throughout the year. With nearly 600 miles of shoreline and over 100 miles of deep trolling channels, the lake provides ample space for fishing adventures. 
While it is recommended larger boats are recommended, anglers can also access certain areas with smaller craft, canoes, and kayaks. Public access points and boat launch ramps are conveniently available on both the New York and Vermont sides.
This renowned bass fishing haven hosts numerous tournaments annually, drawing anglers from far and wide. On the New York side, you'll find over a dozen marinas offering services such as fuel, supplies, and dining. For those seeking a camping experience, there are several campgrounds and RV parks along the water's edge.
Lake Champlain's diverse ecosystem supports many fish species, including catfish, sauger, bass, crappie, trout, sunfish, walleye, perch, muskie, pickerel, pike, and sturgeon. 
3. Oneida Lake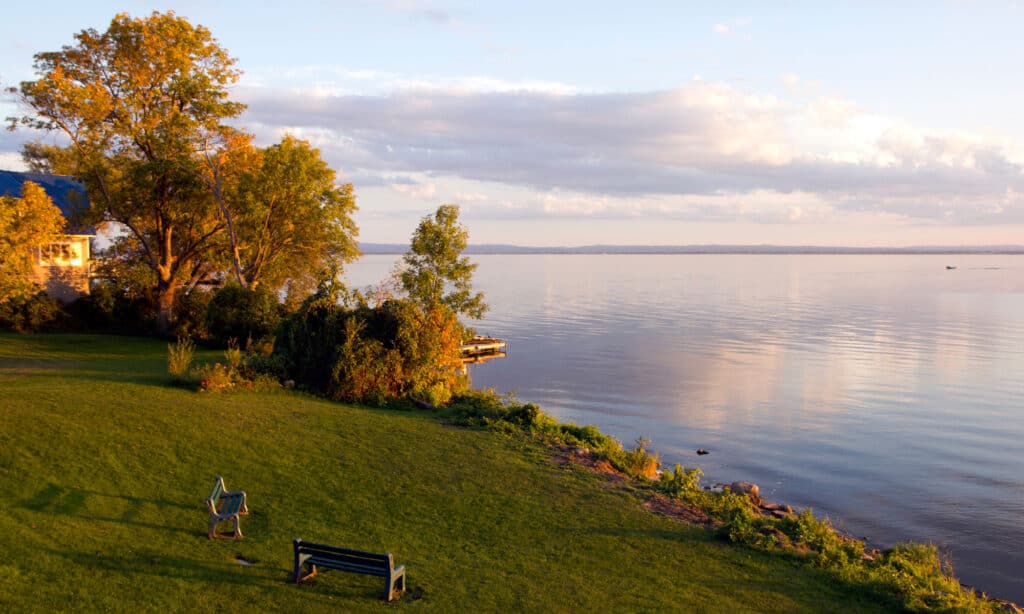 Oneida Lake is the largest lake that is entirely situated within the state of New York. Spanning over 51,000 acres, this natural lake boasts a shoreline stretching for over 50 miles. Its reputation as a fishing powerhouse is well-deserved, particularly for its abundant walleye and perch fishing opportunities.
With an average depth of 22 feet, Oneida Lake is relatively shallow, making it an excellent destination for anglers. Its vast size can sometimes delay the complete freezing of the lake during winters, but it remains one of the top ice-fishing lakes in New York.
There are numerous access areas—around a dozen—for launching boats of all sizes and types. Whether you prefer pleasure boats, pontoons, or bass boats, this expansive water body accommodates them all. It's important to note that due to the possibility of sudden wind gusts, smaller watercraft like canoes or kayaks may face unsafe boating conditions.
Aside from boating, fishing from the shoreline is a popular option, with convenient access points near the boat launch ramps, parks, and campgrounds. Additionally, Toad Harbor, located on the north side of the lake, also features a fishing pier for angling enthusiasts.
The diverse fish population in Oneida Lake presents exciting opportunities for anglers. Species such as smallmouth bass, bluegill, black crappie, walleye, rock bass, pumpkinseed sunfish, yellow perch, northern pike, chain pickerel, lake sturgeon, largemouth bass, and tiger muskie call this lake home.
4. Black Lake
Black Lake, located in upstate New York, is renowned as a popular fishing and vacation destination. Spanning over 20 miles with an impressive area of nearly 11,000 acres, it is far from being overcrowded and is a secluded location. As the top warm-water lake in the county, Black Lake offers a multitude of fishing opportunities.
The lake's shallow depths, and high winds, often create a significant chop on the open water. However, anglers can easily find sheltered areas away from the wind to enjoy their fishing endeavors.
Black Lake is an angler-friendly community that caters to the needs of fishing enthusiasts. It boasts various amenities such as cottages,  campgrounds, boat rentals, stores, marinas, bait shops, and diners. Whether you're a seasoned angler or a novice, Black Lake provides a lifetime of fishing possibilities.
Anglers visiting Black Lake can expect to encounter an array of fish species. The available catches include smallmouth bass, black crappies, northern pike, largemouth bass, walleye, yellow perch, pumpkinseeds, bullheads, bluegills, catfish, muskellunge, rock bass, and longnose gar. It's common for anglers to catch a combination of these species during their fishing outings.
Among the gamefish species, largemouth bass is particularly sought after by anglers on Black Lake. For the best chances of success, early summer and fall are the prime fishing times. 
5. Lake Erie
As the fourth-largest Great Lake and 11th-largest lake in the world in terms of surface area, it isn't a surprise that Lake Erie stands as one of the best fishing lakes in New York. Among the various lakes in New York, it undoubtedly reigns supreme as the finest destination for walleye fishing. 
Covering an impressive surface area of 9,910 square miles, Lake Erie attracts many fishing enthusiasts who prefer boat fishing, although fishing from the shore is also an option. Moreover, during winter, the lake transforms into an ideal spot for ice fishing, offering catches such as yellow perch, walleye, and crappie.
Diversity thrives within the lake's depths, showcasing a rich assortment of species, including yellow perch, trout, bass, and salmon. Although steelhead is the most frequently caught fish, lake trout and bass are also abundant. Those seeking to reel in a large rainbow trout should venture to "Steelhead Alley," which stretches from the mouth of the Vermillion River to Cattaraugus Creek.
Nearby Lake Erie State Park offers visitors swimming and picnic areas, complemented by shelters, playgrounds, and hiking trails that transform into a haven for cross-country skiers during the winter months.
6. Seneca Lake
Situated in central New York, Seneca Lake holds the title of being the largest among the glacial Finger Lakes in the United States. Spanning 43,000 acres, this expansive lake is renowned as the ultimate destination for lake trout fishing enthusiasts worldwide. 
With its diverse shoreline stretching over 100 miles, Seneca Lake boasts numerous marinas and boat ramps catering to boating enthusiasts. 
Fishermen flock to Seneca Lake in pursuit of trophy-sized lake trout and landlocked salmon, while the lake also offers a fertile habitat for bass, trout, sunfish, perch, and pike. Bass and perch fishing are particularly esteemed in this region. Unlike many lakes in New York, Seneca Lake remains mostly unfrozen throughout the year, enabling anglers to enjoy open-water fishing in all seasons.
Situated in a prime tourism destination, Seneca Lake is surrounded by a wealth of dining, lodging, and recreational opportunities. The lake experiences peak activity during the summer months, attracting a significant influx of boating traffic on warm weekends. In contrast, the cooler months offer a more serene and secluded atmosphere for those seeking tranquility.
7. Cayuga Lake
Cayuga Lake, located in the heart of New York State, is a well-known Finger Lake that covers an expansive area of 43,000 acres. Its remarkable shoreline stretches over 100 miles, offering breathtaking views. If you're a fishing enthusiast, Cayuga Lake is the ultimate paradise!
Every year, the lake receives a substantial stocking of approximately 40,000 Atlantic salmon, 25,000 brown trout, and 60,000 trout. The lake's tributaries are also stocked with 50,000 vibrant rainbow trout.
Accessing the lake is convenient, with nearly a dozen boat launch options around its perimeter, offering easy entry from all directions. Anglers who prefer fishing from the shore will find numerous spots along the shoreline for fishing.
Cayuga Lake caters to the needs of all visitors, providing a wide range of amenities. From marinas, stores, and restaurants to lodging options, campgrounds, and other essentials, the lake ensures a pleasant fishing trip or a memorable family vacation.
In the fall, the tributaries become hotspots for catching Atlantic salmon, while winter invites ice-fishing enthusiasts to the northern end, where panfish and pickerel abound. Furthermore, Cayuga Lake boasts excellent bass fishing, particularly in its northern region, making it a favored location for professional bass tournaments. 
Don't forget to try your luck for rainbow trout, Atlantic salmon, brown trout, and Northern pike in April or May.
8. Chautauqua Lake
Chautauqua Lake is situated in the beautiful southwestern region of New York and is one of the best fishing lakes in New York, especially renowned for its bass fishing. This expansive lake covers an impressive area of 13,000 acres, providing ample space for anglers to indulge in their favorite pastime. 
With its two basins and over 40 miles of shoreline, Chautauqua Lake offers abundant fishing opportunities. The lake's fertile waters are adorned with lush weeds and aquatic vegetation near the shorelines at both ends, creating a favorable habitat for various fish species. 
Access to the lake is facilitated by more than a half dozen boat launch ramps strategically positioned around its perimeter, while multiple marinas cater to the needs of boaters and anglers alike. Although much of the shoreline is privately owned, numerous areas, including boat ramps, parks, and camping sites, provide opportunities for bank fishing.
Anglers can expect to encounter a thriving population of bass, crappie, walleye, sunfish, perch, and muskies in Chautauqua Lake. The lake is renowned for its trophy muskie and the quality of its largemouth and smallmouth bass. Spring and fall are particularly fruitful seasons for fishing along the shorelines and shallow areas. 
When winter blankets Chautauqua Lake with thick ice, it becomes a prime spot for those seeking to reel in prized catches like walleye, perch, and crappie.
9. Saratoga Lake
With its 3,800-acre size and over 23 miles of shoreline, Saratoga Lake is located in the east-central part of New York. This lake offers excellent fishing opportunities, some of the best of any lake in New York State.
Whether it's spring, fall, summer, or even winter, Saratoga Lake guarantees excellent fishing experiences throughout the year. Anglers seeking to launch their boats can conveniently access the Saratoga Lake State Boat Launch, located at the northeast corner of the lake along Route 9P.
Additionally, there are numerous accessible areas along the shoreline where bank fishing is possible. The lake's size accommodates different types of watercraft, from canoes and kayaks to larger pleasure, pontoon, and fishing boats. To enhance your fishing trip or extend your vacation, you'll find several marinas, a campground, stores, and restaurants in close proximity.
Saratoga Lake boasts a thriving population of various fish species. Anglers can target smallmouth bass, walleye, black crappie, largemouth bass, bluegill, redbreast sunfish, pumpkinseed sunfish, rock bass, chain pickerel, yellow perch, and northern pike. These abundant options make the lake a prime destination for anglers of all preferences.
10. Lake George
The final addition to my list of the best fishing lakes in New York is Lake George. Situated amidst the rolling foothills of the Adirondack Mountains, Lake George is an exquisite fishing destination that never fails to captivate visitors. Boasting crystal clear waters spread across a vast area of 28,451 acres, this New York state gem offers breathtaking beauty.
With an impressive 175 miles of shoreline, Lake George is also hailed as one of the top five bass fishing locations in the state. 
Lake George is a cherished vacation spot, attracting many visitors throughout the year. As a result, it offers a diverse range of accommodations and amenities, primarily located around the southern part of the lake. However, it's worth noting that this area can experience increased boat traffic during the summer months.
This splendid lake is abundantly stocked with various fish species each year. Anglers can relish the opportunity to catch landlocked salmon and lake trout in its depths, while the tributaries offer an abundance of brook trout. Moreover, during the winter season, ice fishing enthusiasts can delight in the thrill of catching yellow perch and black crappie.
A few other game fish included brown bullhead, smallmouth bass, northern pike, chain pickerel, largemouth bass, and pumpkinseed,
Summary of the Best Fishing Lakes in New York
| | Lake | Location |
| --- | --- | --- |
| 1 | Lake Ontario | Monroe County |
| 2 | Lake Champlain | Clinton & Essex Counties |
| 3 | Oneida Lake | Oswego, Madison, Onondaga & Oneida Counties |
| 4 | Black Lake | Saint Lawrence County |
| 5 | Lake Erie | Erie County |
| 6 | Seneca Lake | Yates, Seneca, Schuyler & Ontario Counties  |
| 7 | Cayuga Lake | Seneca, Tompkins & Cayuga Counties |
| 8 | Chautauqua Lake | Chautauqua County |
| 9 | Saratoga Lake | Saratoga County |
| 10 | Lake George | Warren County |
---
The Featured Image
---