↓
Continue Reading To See This Amazing Video
Have you ever heard of Hungry Mother Lake?
It's one of the most tranquil places to fish in Virginia. Nestled in the mountains, it's the perfect summer destination. There's plenty of fish, plus all sorts of wildlife. Snakes, shorebirds, pickerel frogs, and salamanders are regular visitors. The 108-acre lake belongs to the Department of Wildlife Resources, and it's managed beautifully. But this lake is only the start. Virginia has a lot of other gorgeous places you can spend hours or even days fishing.
Read on to learn about the 10 best fishing spots in Virginia this summer.
1. Smith Mountain Lake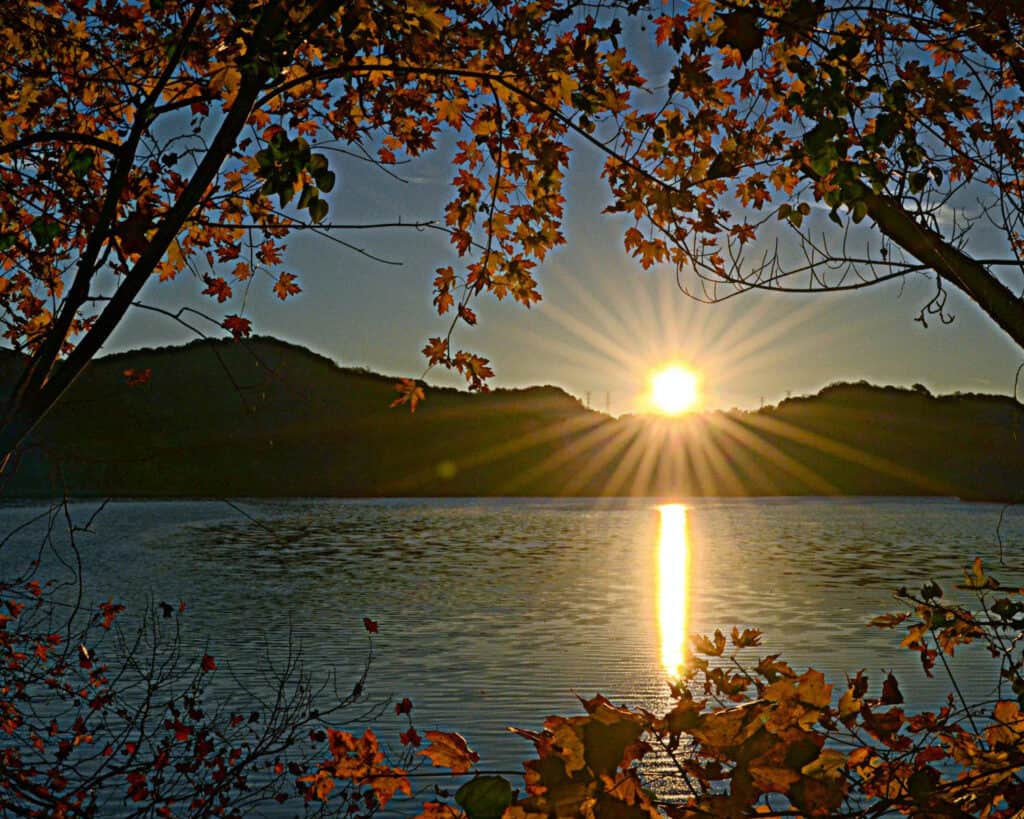 Smith Mountain Lake is one of the most popular places to fish in Virginia. It's so popular that you'll want to arrive at the crack of dawn. If you get there any later, the water will be full of heavy boat traffic.
Since the smallmouth bass is beginning to spawn, you'll get a lot of action. Just stick to the shallow waters. The bass here tends to hang out in 10 to 20-foot water depths. However, It can be difficult finding trophy-sized bass here. The summer months usually equal slow growth rates for bass. Use jerk tuna bait, hair jigs, and running for the best of luck.
Smith Mountain Lake is the second largest lake in Virginia and offers over 500 miles of shoreline. It's a popular spot because of the abundance of fish and how big they get.
2. Lake Moomaw
Do you have your heart set on catching trout? Then you'll want to check out Lake Moomaw. The lake has 2,530 surface acres and a maximum depth of 152 ft. The trout fishery makes the lake a perfect place for catching trophy fish. Brown and rainbow trout are stocked regularly. Thanks to the chilled oxygenated water, the fish can thrive and grow large.
Summer is the best time to fish Moomaw because of the annual drawdown. The impoundment is drawn down 10 to 15 ft every year. It starts slowly in June, with the lowest levels in September. The shallow waters give you the advantage you need to catch bass, catfish, sunfish, and crappie.
3. Kerr Lake
Kerr Lake is one of Virginia's biggest reservoirs. You can easily spend a few days here. You'll be able to explore 850 miles of shoreline to find the perfect spot to spend the day. The entire lake covers 50,000 surface acres.
The large lake is fertile and abundant in bait fish. Some of the fish at Kerr Lake include bluegill, white perch, largemouth bass, catfish, and sunfish.
Don't be afraid to move around the shoreline of Kerr Lake. If you haven't had luck catching bass in one spot, try moving a small distance—a few hundred feet. Throughout the day, keep moving around as needed. Soon you'll find where the clever bass is hiding.
4. Lake Anna
Lake Anna is a 9,600-acre impoundment. The ramp at Anna Point Marina provides public access year-round. You'll be able to catch largemouth bass, crappie, striper, wiper, and more.
Are you fishing for crappie? You'll have the best luck fishing around the boat docks in the summertime. The crappie love hanging out around the bridge pilings found throughout the lake.
If you're fishing for largemouth bass, you'll be happy to know the lake doesn't have a minimum size requirement to keep a bass. However, many of the anglers choose to practice catch and release since the largemouth bass are a popular tournament fish.
5. Mossy Creek
Do you want to go fly fishing in Virginia this summer? Then you have to see what Mossy Creek has to offer. The steep drop-offs, swift runs, and aquatic vegetation make it the perfect home for various fish. The area presents a great challenge to fly anglers since wading is not allowed. All the fish you catch must be approached with stealth from the steep banks. If you have patience and skills, you could hook a large brown trout!
6. Briery Creek
Briery Creek Lake is one of the best places to catch trophy-sized largemouth bass. Along with largemouth bass, you'll also be able to fish for bluegill, redear sunfish, channel catfish, crappie, and more. The largemouth bass regulation used to be at an 18-in minimum length with the two fish per day limit.
7. Carvin Cove Reservoir
Visit one of Virginia's hidden outdoor gems, Carvin's Cove Reservoir. It's 630 acres in size and sits just north of Roanoke city. Fishing is permitted on rowboats and Jon boats or from the shore. The most popular fish species caught here include striped bass, largemouth bass, and smallmouth bass.
8. Claytor Lake
There's something for everyone at Claytor Lake. Whether you like working the shoreline for bluegill or you want to troll the deep waters for bass, Claytor has it all. The surface area of the lake is 4,472 acres, and there are about 100 miles of shoreline. The smallmouth, largemouth, and spotted bass are considered this lake's bread and butter fishes. The majority of anglers wind up fishing for black bass. However, you can also find Alabama bass here.
9. Nottoway River
Nottoway River is 155 mi long. It starts in Prince Edward County and flows all the way to where it merges with the Black Water River. The scenic river is full of all sorts of fish. Anglers can try catching bass, catfish, herring, and a variety of panfishes. There are plenty of other trophy-sized fish for you, such as the blue catfish.
10. Virginia Beach
Last on our list of the best fishing spots in Virginia this summer, let's explore Virginia Beach. It's one of the most popular fishing spots to find striped bass, wahoo, cobia, tuna, marlin, and king mackerel. The summer months bring about peak species populations. The majority of the population belongs to the striped bass family. If you land a trophy-sized bass, take a picture before releasing it back into the waters.
Are you fishing for wahoos? They peek from June to October. The wahoos are especially active in August. You can find them hiding in the artificial reefs, rex, and the edge of the canyon drop-offs.
Up Next:
More from A-Z Animals
---
The Featured Image
---