Key Points
The #1 Best Overall bird toys is the BWOGUE 5-Piece Bird Toy Set.
The best bird toys are entertaining, safe, and durable.
When selecting a bird toy, it's important to consider species, safety, toy size, and physical and mental stimulation.
If you're the proud owner of budgies, parakeets, cockatiels, conures, or other birds, keeping your feathered friends mentally stimulated and happy is important to you. The best bird toys can help you reach this goal and will provide the stimulation and entertainment your bird buddies need. Deciding which toys are safe for your birds and will actually keep them happy can be a challenge, however.
Good bird toys will also stand up to the feistiest bird's attacks. I had a Quaker parrot named Matilda that loved to destroy anything within her reach (even attacking my dad on occasion). Those cheap plastic mirrors and other gadgets simply didn't hold up to her assaults. That's why we made durability one of our key selection criterion.
We've researched the top bird toys on the market to help you make the best choices. Read through our reviews below, and you'll be able to decide which toys you'd like to purchase to ensure that your bird's playtime is safe and enjoyable.
The Top Picks for the Best Bird Toys: Ranked
#1 Best Overall: BWOGUE 5-Piece Bird Toy Set
The BWOGUE 5-piece set is our top pick for the best bird toy. With this set, you'll receive a variety of toy types to help keep your pet parakeets, cockatiels, and other birds happy. This colorful, noise-making set includes perches, a play stand, chains, and bells to ensure your bird is physically and mentally stimulated. Each toy features a sturdy steel hook to attach it to the cage and is made using materials that are safe for birds.
Multiple physical activities can be enjoyed by your birds from swinging to chewing to hanging and to climbing. And the toys are interchangeable, with the option to rotate out for a smaller cage, or use multiple items in a large one, keeping things new and exciting for your bird(s).
And, most importantly, these toys are easy on your bird's delicate feet, made of sturdy wood to resist breakage, and are non-toxic.
Some of the toys may be hazardous to curious bird, especially those that like to dismantle things. For example, birds may be able to remove the clappers from the bells, posing a choking hazard. There are also some small metal parts which could catch and injure birds' tongues or toes.
Pros and Cons of the BWOGUE 5-Piece Bird Toy Set
| Pros | Cons |
| --- | --- |
| This set includes five toys, including bells, chains, perches, and a play stand. | The small metal parts, including those on chains and bells, could choke birds that like to dismantle toys. |
| Each toy can be secured to your bird's cage with the attached sturdy steel hook. | Some metal parts could catch and injure birds' toes or tongues. |
| All materials are bird-safe. | |
| They're constructed from durable, non-toxic wood. | |
Best Overall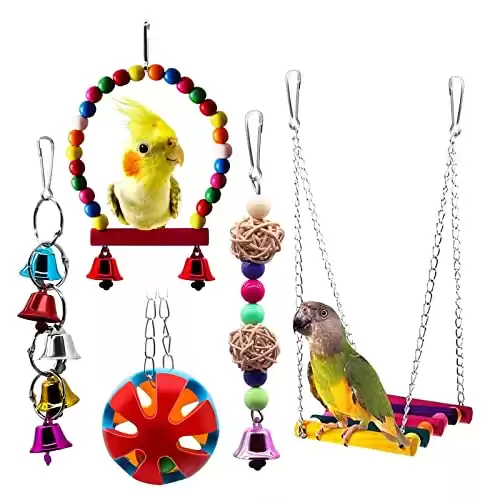 BWOGUE 5-Piece Bird Toy Set
5 piece set wood toys with metal parts, plastic
2 swings, bells,1 fun ball, great for chew and play
Suitable for

parakeets, cockatiels, conures, macaws, parrots, love birds, finches, & more
Check Amazon
2. Best Chew Toy: SunGrow Chewing Toy
This hanging chew toy from SunGrow is designed to provide physical and mental stimulation for birds to keep them happy and prevent boredom and disruptive behaviors. The toy features colored blocks in an intricate, layered design. Birds can climb on the blocks or chew on them to stay entertained.
This chew toy is made using safe materials for birds, including wooden blocks and cotton rope. The toy is available in two sizes: 10″ x 3.9″ and 15.7″ x 3.9″. It includes a durable metal buckle to connect it to a bird's cage. It is designed for small parrots, conures, cockatiels, budgies, cockatoos, pigeons, and lovebirds, as well as other similarly sized feathered friends.
Buyers' biggest complaint with this toy is that large parrots destroyed it quickly.
Pros and Cons of the SunGrow Chewing Toy
| Pros | Cons |
| --- | --- |
| This toy is designed for small parrots and similarly sized birds. | Large parrots may be able to destroy this toy relatively quickly. |
| The toy features bird-safe, brightly colored blocks and cotton rope that your bird can chew on or perch on, depending on its mood. | |
| It is available in two sizes: 10″ x 3.9″ and 15.7″ x 3.9″. | |
| The toy features a durable metal buckle, which attaches to your bird's cage. | |
Best Chew Toy
SunGrow Chewing Toy
Wood and cotton rope hangable chew toy
Over 30 wood pieces in varied shapes
Encourages foraging and climbing
Great for parrots and other mid-sized to larger pet birds
Check Amazon
3. Best for Mental Stimulation: Bonka Bird Toys 1969 Spoon Delight
It's no secret a bird by itself can get lonely. Many prominent bird toys have a reflective feature so that the bird can be entertained by its mirror image. Give your bird plenty of mental stimulation with the Bonka Bird Toys 1969 Spoon Delight. This hanging toy features five shiny spoons of various sizes. The shiny stainless-steel material of each spoon is reflective and sure to engage a bird's senses.
The toy is made using bird-safe materials, including stainless-steel spoons and acrylic embellishments. Each end of the chain features a hook and allows for different hanging options for this toy.
Please note: Toys with reflective surfaces are not a replacement for a suitable cage mate.
Pros and Cons of Bonka Bird Toys 1969 Spoon Delight
| Pros | Cons |
| --- | --- |
| This bird toy features five shiny, spoons in various sizes to reflect your bird's image. | Mirrors and other shiny toys are not a substitute for a cage mate. |
| The spoons are attached to a chain, which has a hook on both ends so you can hang the toy in various positions in your bird's cage. | |
| This toy is made from bird-safe stainless steel and acrylic. | |
| | |
Best for Mental Stimulation
4. Best for Climbing: Prevue Hendryx Rope Ladder
If you're looking for a great climbing toy for your bird, this rope ladder from Peruve Hendryx fits the bill. The ladder is made using natural texture to facilitate foot exercises. It is also handmade of natural rubberwood for sustainability and safety.
Each end of the rope ladder features a durable link that can be attached to the cage. This allows you to place it hanging down straight for vertical climbing, or attach both hooks to make a curved climbing ramp for your bird. The adventure will keep your feathered friend engaged for hours.
One buyer reported that their bird's leg got caught between the ladder's rungs. The majority of negative feedback had to do with their birds' destroying this wood and rope toy with their beaks.
Pros and Cons of the Prevue Hendryx Rope Ladder
| | |
| --- | --- |
| This rope ladder has a natural texture that exercises your bird's feet. | Birds' legs could get caught between the ladder's rungs. |
| It's handmade from safe, sustainable rubberwood. | Sharp beaks may be able to destroy this wood and rope toy. |
| Each end of the ladder has a durable link that you can attach to your bird's cage horizontally or vertically. | |
| You can even attach this hanging ladder with both links to create a curved climbing ramp. | |
Best for Climbing
5. Best Play Gym: Niteangel Natural Living Playground
How do pet birds spell adventure? PLAY GYM! This product offers hours of fun for a solo or multiple birds, and provides a great opportunity for human interaction when you place the gym on a table within reach. This gym is made of thick natural wood to endure chewing, and features multiple built-in rungs for climbing, two detachable ladders, and two uniquely-shaped rope swings.
Your birds can swing, climb, chew, and play chicken on this great interactive toy. It also ranks high for value for the money, ease of assembly, versatility, and sturdiness. These are just a few of the reasons why we added this item to our list of must-have bird toys.
The most prevalent customer complaints were that the toy is hard to clean and that, while well designed, it isn't well constructed. Some users said that it was "wobbly."
Pros and Cons of the Niteangel Natural Living Playground
| Pros | Cons |
| --- | --- |
| This play gym is crafted from thick natural wood and is designed to be chewed and climbed on. | This wood and rope play gym may be difficult to clean. |
| It also features two rope swings. | It may be wobbly. |
| It's a great value, easy to assemble, is versatile, and sturdy. | |
| | |
Best Play Gym
Different Types of Bird Toys
You'll find that there are numerous types of toys. Choosing a mix of toy types and rotating a few in and out of your bird's cage at a time can help keep them stimulated and prevent them from becoming bored. Some types of toys include:
Chewing toys and other destructible play items
Climbing toys
Perches and swings
Noisemakers
Puzzles
Foraging toys
Play gyms
How to Choose the Best Bird Toys
Many factors go into play when determining which toy is best for your bird. Each bird also has their own likes and dislikes, so the best toys will vary from one bird to the next. We've compiled a list of some important things to consider when shopping for bird toys to help you decide which toys to try for your bird.
Bird Species
Different bird species will require different types of toys. For example, macaws and parrots are very strong and muscular and will need larger, more durable toys that won't be easily destroyed. Parakeets, cockatiels, and conures, on the other hand, may be intimidated by toys that are too large. Toys for these species are generally smaller and less durable.
Generally speaking, larger birds may prefer chewing or attacking toys, while small birds may be happier with items such as swings, bells, and mirrors.
Safety
Safety is extremely important when choosing toys for your pet. Birds will almost always chew on their toys, so selecting items that can be chewed safely is important. Avoid toys with strings, dyes, or chains that could pose a threat to your bird. Many wooden ones are perfectly safe for birds, but you want to avoid woods that could be toxic or unsafe including oak yellow cedar, cherry, apricot, crepe myrtle, peach, plum, redwood, sequoias, yew, apricot, Chinese snake tree, holly, hemlock, Chinese popcorn, pitch pine, prune, Chinese tallow, nectarine, horse apple, Sitka cedar, and umbrella tree woods.
Toy Size
Choose toys that are appropriately sized for your bird's species as well as for their cage. You want to make sure the item isn't so large that it limits your bird's ability to move about in its cage. However, you also don't want to choose something so small that your bird will destroy too quickly or just ignore it. Keep in mind that some small birds, like budgies and cockatiels, can be shyer and may be intimated or distressed by a large toy.
Physical and Mental Stimulation
Stimulation, both physical and mental, is important when shopping for a toy for your pet. Birds like testing their wits and solving problems. Look for colorful items with a variety of textures, sounds, and tastes that will keep your bird's senses stimulated. Toys that will make birds use their muscles and improve their coordination can also help ensure they remain strong and able to fly with ease.
Our Criteria and Experience — How We Chose the Best
Being a past bird owner of parakeets, cockatiels, and a Quaker parrot, I understand the challenges that bird owners face in keeping them entertained, stimulated, and happy. Add to that the element of safety — no parent wants their bird's beak or toe nail getting stuck in a metal loop, causing an injury. And birds are very sensitive to toxins as well. So we took all of these factors into account when making our choices.
We love our Best Overall pick for bird toys for its bright colors, which are stimulating to birds of all varieties, the numerous activities they can enjoy on them, and the fact they hold up against the wear and tear of chewing and climbing. The swing is wide to easily accommodate multiple smaller birds at once — my parakeets often fought over who got to enjoy the swing, as it was a favorite toy. There's also a smaller swing for the solo bird with colorful beads to invite nibbling. And several of these toys feature bells for never-ending noisemaking!
Our second pick is a parrot's dream! A cluster of fun for chewing, climbing, and swinging, this toy has the appearance of an intricate puzzle, which is great for a bird's mental stimulation. Blocks of varied shapes and sizes invite the bird to figure out how to detach them from the cluster, and the soft cotton ropes actually engage a bird's desire to forage. This toy is a winner in our book!
We value bird toys that meet animal safety standards, such as our fourth choice, made of all natural rubberwood. Bird owners know that their babies are very fragile creatures, and need toys that will be safe as well as fun. The second pick is also made of natural wood and cotton rope to ensure your bird's chewing does not become the source of illness.
Related Images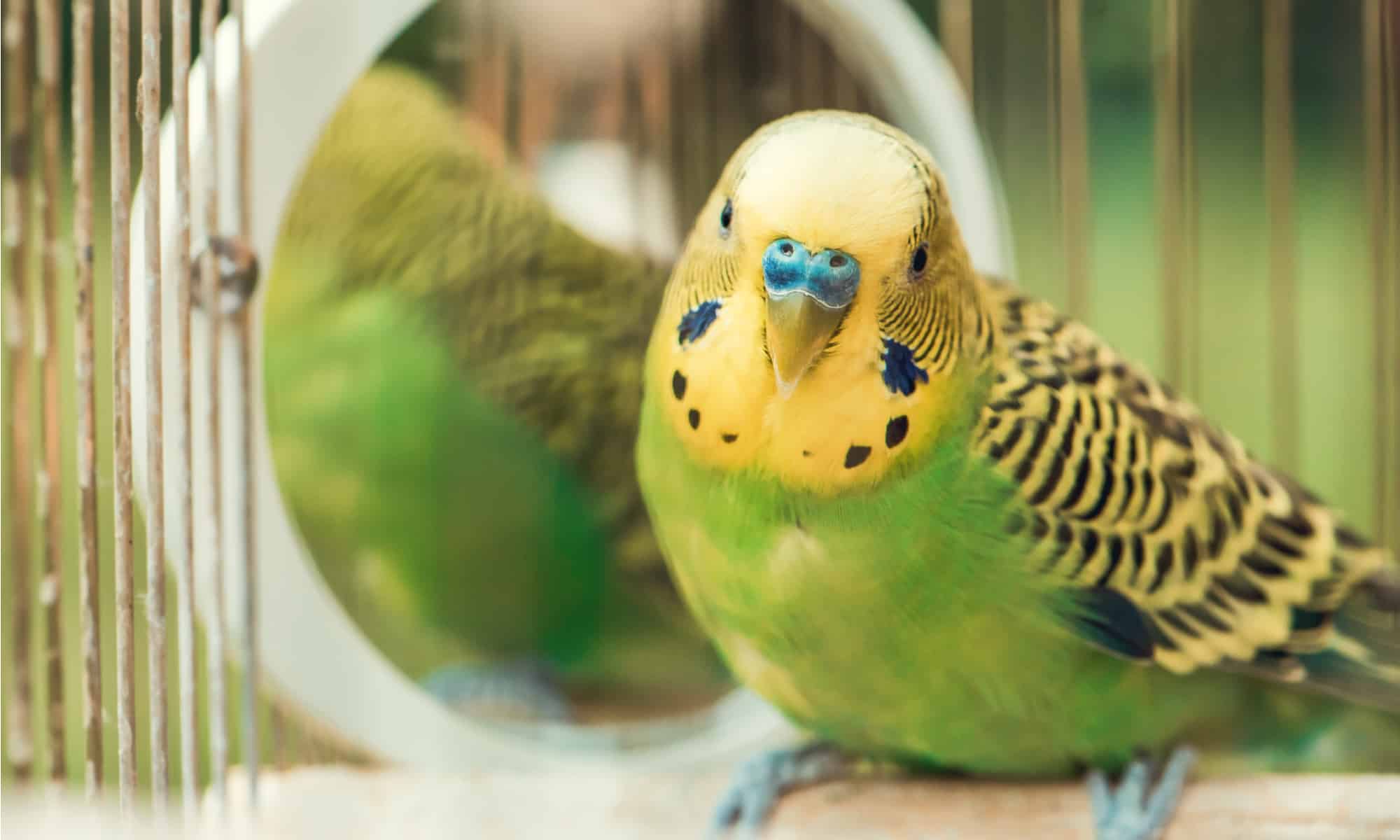 Up Next
Here Are the Best Bird Toys FAQs (Frequently Asked Questions)
What kinds of toys do birds like?
Birds like a variety of toy types. Toys that they can chew or destroy can be particularly popular with parakeets, cockatiels, and other birds. Finding toys that will offer mental and physical stimulation are most likely to keep a bird entertained and prevent them from getting bored. Birds are very intelligent, and enjoy exploring new things.
What are the best parrot toys?
Wood toys are one of the most popular options for parrots. Some favorites include chew toys, swings, puzzles, and perches. Just be sure that the toy is made of a bird-safe wood.
What can I get my bird to play with?
Every bird is different, and if your bird doesn't seem to want to play with the toys you have purchased, they may be interested in other types. Try picking up a variety of toys and seeing what gets your bird the most interested. You can also try "playing" with your bird to show them how to play. Sit down with your bird and show them how to break off pieces of a food toy or how to make other toys move, etc. This may encourage them to play on their own.
Are Bonka bird toys safe?
Bonka has been making bird toys for over 13 years and is a trusted name for those looking to purchase toys for a bird. They take measures to make sure each toy they make is safe for birds, and even sell their toys to many aviaries, avian vets, bird stores, and pet shops.
How many bird toys should a bird have?
Birds don't need a ton of toys, and their cages should be kept generally clear to allow them sufficient space to fly and stretch their wings. Keeping about two or three toys in their cage at a time is a good idea. However, you may find that your budgies,cockatiels, or other birds get bored with the same toys after a while. So, have some extra toys and rotate what is in their cage.
How do I attach a toy to my birdcage safely?
C-hook attachments are the safest to use when attaching a toy to a birdcage. This screw-type attachment can protect parakeets, conures, and other bird species from the accidental harm that may occur with handing cords or chains.