#1 Overall Best Cat Repellent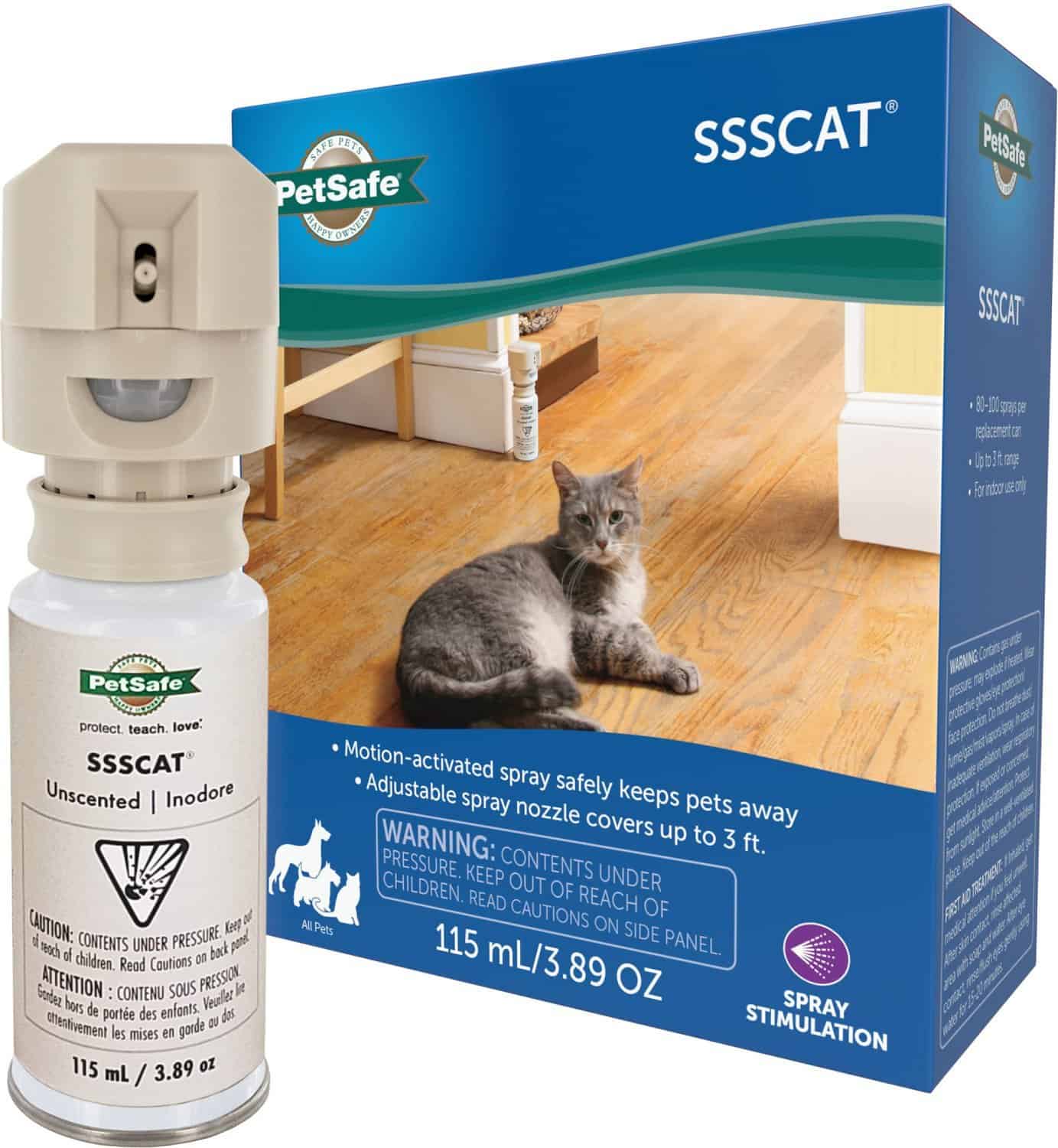 Key Points:
Examples of common cat repellent products include: indoor and outdoor sprays, repellent mats, furniture pads, motion-activated devices, and ultrasonic options. Cat repellants are used to keep pet cats off of furniture or our of certain spaces in the home, as well as deterrents for neighborhood or feral cats entering your personal property.
Many ultrasonic sound cat repellent devices run on solar power, keep cats away by sound without harming them, and can even repel other types of animals. But they don't always reach far enough to protect the whole yard.
Cat repellent sprays give off scents that cats dislike, are available for indoor and outdoor use, and are made of non-toxic ingredients. More work on the part of the cat owner is in involved in maintaining the spray's effectiveness through re-application.
Cat repellents can help cat owners keep their kitties away from spaces in the home where they're not permitted and ensure they don't damage furniture or plants. If you're currently dealing with feral or neighborhood cats entering your property, an outdoor cat repellent can discourage them from entering your yard. Cat repellents are available in a variety of forms including indoor and outdoor sprays, repellent mats, furniture pads, motion-activated devices, and ultrasonic options.
We're updating this review in 2022 and selecting the PETSAFE SSSCAT Motion-Activated cat spray as our top choice for it's easy to use design, and ability to work while owners are out of the home. In our experience, this feature is the most useful as our pets generally behave the worst and jump on off limits spaces when we are not at home to monitor them.
If you're ready to find the best cat repellent to match your specific needs, continue reading. We researched and tested some of the top products on the market and narrowed down our selections to the repellents featured below.
Our Criteria
In determining our recommendations for the best cat deterrents, several factors were considered. Based on the cat's personality and temperament, we wanted to provide multiple options so you can choose what's best if you're using a cat repellent for a pet. We found the best products for keeping cats out of specific rooms in your home or off furniture pieces. And while some solutions are better for a pet, we took into account the issue of keeping cats away from outdoor spaces, which may involve a different strategy. The top-performing products are featured below, but here are a few additional observations we made for each product:
PetSafe SSSCAT Motion Activated Spray Cat Deterrent: Cats definitely don't like the sound this spray deterrent makes and it has helped to keep them away from furniture and other areas pet owners don't want them in. However, the spray empties quickly, which can make this an expensive option with all the replacements you'll need to order.
Homarden Cat Scat Mat: We liked that the size of these mats can be customized by cutting them down to fit one's exact needs. We also found that cats really didn't like the texture and stayed away from the areas where they were placed. However, using them on flat and smooth surfaces, such as counters or hardwood floors, isn't ideal because the mats can slide around too much.
: From analyzing consumer testimonials who dealt with feral cats entering their property, this ultrasonic repeller was found to be quite effective at keeping cats away from areas close to the device, but not always as effective for other areas of the yard.
The Different Types of Cat Repellents: Pros and Cons Compared
Sprays
| Pros! | Cons! |
| --- | --- |
| Give off a scent that cats don't like | Sprays will require a more frequent application for owners |
| Available for indoor and outdoor use | The louder sounds of the motion-activated sprays may be an annoyance for others in the home |
| Some are motion activated to startle cats and help them learn not to enter a specific area | |
| Most are formulated using cat-safe ingredients | |
Spiky Mats
| Pros! | Cons! |
| --- | --- |
| Cats don't like the spiky texture | Not a good solution for an entire yard |
| Doesn't actually harm cats, just feels uncomfortable | Can look like a bit of an eyesore |
| Most are made with non-toxic materials | |
Ultrasonic Devices
| Pros! | Cons! |
| --- | --- |
| Many are solar-powered | Not a good choice if you are only looking at keeping cats away from a small area of your yard |
| Cats don't like the noises they make and will stay away | Not good for dog owners |
| Can also clear your yard of other pests | |
| No chemicals needed | |
The Top Picks for the Best Cat Repellent: Ranked
#1 Overall Best: PetSafe SSSCAT Motion Activated Spray Cat Deterrent
#1 Overall Best Cat Repellent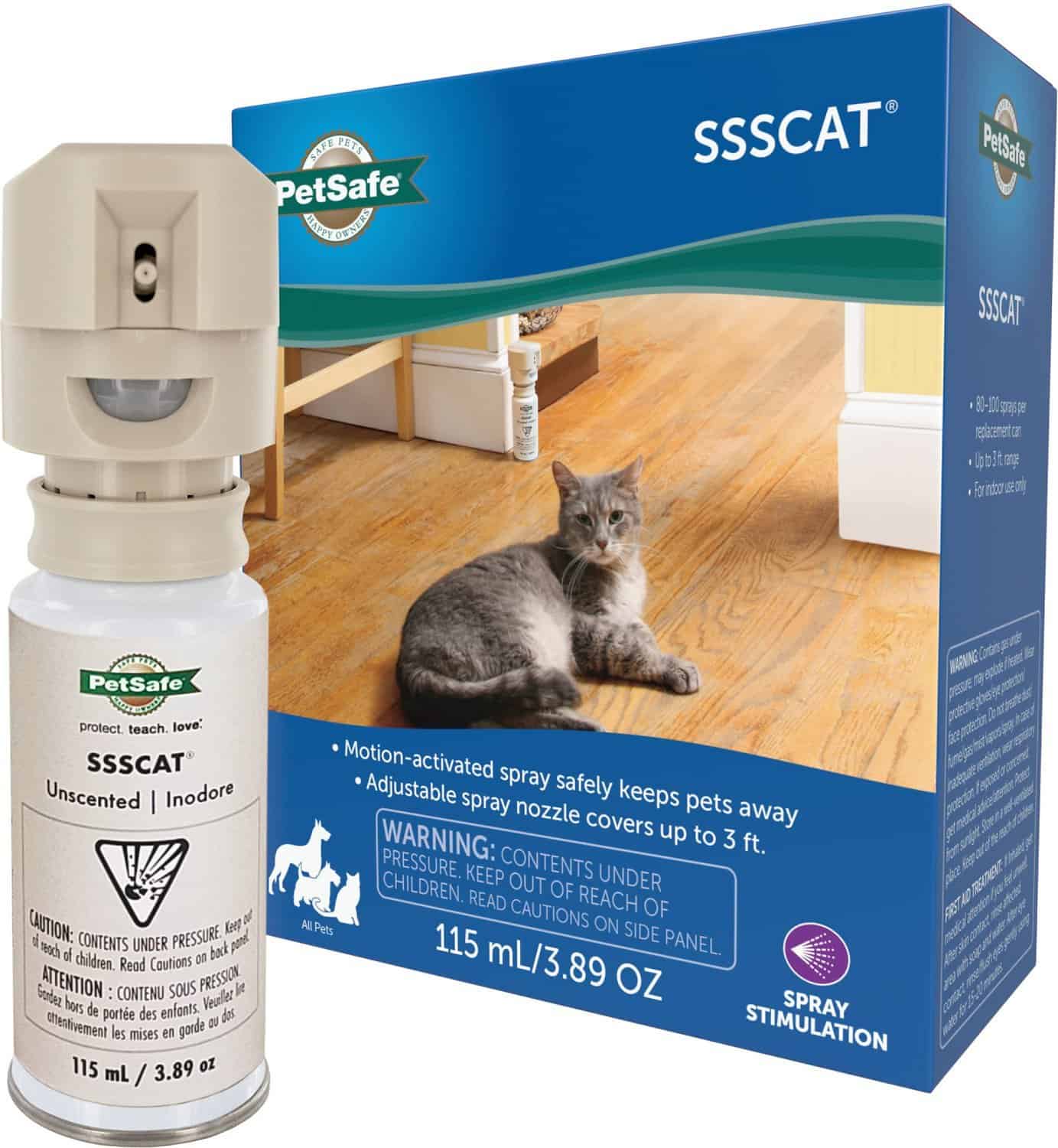 The SSSCAT Motion Activated Spray System from PetSafe is our overall top pick. The reason we selected this as our favorite cat repellent is that we found it to be quite effective at keeping cats away from furniture or out of areas in the home where we didn't want them to enter. The spray is motion-activated, so you simply need to place it at the entryway of the area you want cats to stay away from, and when they get within 3 feet of it, the sensor will release a spray.
The spraying sound will startle cats and help them learn that they shouldn't enter that area in the home. No odor is released, so you don't need to worry about the spray making your house smell. It is also completely safe for pets and doesn't leave a residue on furniture or carpets.
The motion sensor is powered by four AAA batteries. This makes it easy to replace the batteries when needed, and you won't need to seek out any special types of batteries. The included can of spray provides between 80 and 100 sprays. Replacement cans are available through PetSafe when needed.
#2 Best for Outdoor Use: Homarden Cat Scat Mat
Homarden Cat Repellent Outdoor - Cat Scat Mat (Set of 10) 16 X 13 Inch Square - Cat Repellent Scat Mat with 1 inch Plastic Spikes - Cat Deterrent Outdoor - Cat Scratch Deterrent 13ft Coverage
📏Ideal Area Coverage - Includes 10 sets of Scat Mat. Each Cat Mat is 16" x 13" with 1" spikes, all together covering 13 ft
🖇️Durable and Flexible Material - Our lightweight Cat Repellent Outdoor can be wrapped around anywhere in your yard or house, and can be easily cut to adapt to any surface
🌿Non-Toxic - The Scat Mat is made with high quality pp, our cat repellent and scat mat for dogs is heat resistant and has a breathable pattern to keep plants safe
😻Humane Solution - Our pet-friendly cat scratch deterrent and dog digging repellent will not harm your furry friends and protect your pots and flowers
🛋️Great for Indoor and Outdoor - Our cat repellent or dog repellent can be wrapped around poles and trees to prevent them from climbing, and can be placed anywhere in your house to protect your furniture (couch protector, countertops, garden beds, car)
If you have an outdoor garden or another small area you want to keep your cats or other neighborhood cats away from, consider trying the Homarden Cat Scat Mat. These mats feature a spiky texture that cats won't want to walk on or touch with their paws, so they can help keep kitties away from objects and spaces you don't want them by.
Each mat is made using high-quality, non-toxic materials that won't endanger your cat. While the spiky texture is unpleasant for cats, it is not sharp enough to actually injure them.
The mats are flexible, so in addition to placing them flat in front of spaces, such as a garden, you can also wrap them around objects that you don't want cats to scratch. They can be used indoors and outdoors, so you could wrap them around trees, table legs, and other items.
This pack includes 10 Scat Mats. Each mat is 16 inches long and 13 inches wide.
Click here to check out Homarden Cat Scat Mat on amazon.com
Sale
Ultrasonic Animal Repeller,Solar Powered Animal Repellent Outdoor Cat Repellent Dog Deterrent Waterproof Ultrasonic Bird Repellent with Motion Sensor for Squirrels Rabbit Fox Raccoon,Yard Garden Farm
🐕【Solar-powered & Waterproof】The solar animal repeller design with a solar panel, can convert sunlight into power and charge the built-in rechargeable battery so as to ensure the durable operations of the animal repellent. And equip the NiMH rechargeable battery, which can be charged with included USB cable. The ultrasonic animal repeller is IP44 waterproof, rugged hard plastic construction that withstands rain, snow, ice and wind, you can use it in any weather conditions.
🐈【Keep Your Garden Safe】This ultrasonic animal repeller could sense the small motion within 110° radians and the distance could reach 31 ft. The passive infrared sensor(PIR) can detect motion and trigger the ultrasonic speaker emitting ultrasonic sound, alarm, and LED flashing light, which is intolerable for birds, dogs, cats, squirrels, foxes, raccoons, skunks, etc. Ultrasonic animal repellers scare them away from your house, garden, yard and stop animals from ravaging your favorite plants.
🐿【Safe & Easy to Use】If you want to get rid of animals in an eco-friendly and humane way, this ultrasonic animal repeller is your best bet! This cat repellent outdoor is designed to keep animals away rather than harm them, which is humane and harmless, no chemicals, no traps, no dead animals. The cat deterrent outdoor can be mounted in-ground with the provided spike, or hung on objects such as trees, fences, and walls, Just point it at the area you want to protect to ensure the best effect.
🦡【Five Operation Modes】By turning the "Frequency" knob clockwise, you can switch five different operation modes. Mode 1: 13.5kHz-23.5kHz, ultrasonic speakers working; Mode 2: 23.5kHz-65.5kHz, ultrasonic speakers working; Mode 3: Voice alarm work, simulating the sound of animals afraid; Mode 4: Strong LED flashes; Mode 5: Circularly working. It is recommended to reach the maximum protection range by turning the "Sensitivity" knob clockwise in the suitable mode for optimum using effect.
🦨【LED Flash Night Device】Ultrasonic animal repeller protects your property and livestock from unnecessary nighttime pests such as coyotes, raccoons, skunks, foxes, wolves, deer, cougars, and cats. It mainly uses red light with a penetrating power of 600-700 nm wavelength and emits radiant to simulate the fire, which causes a shock on the animal when they enter the area, the LED flashes to make the animal scared and flee area. The built-in light brightness detector automatically starts at night.
If you want to keep your yard free of neighborhood- or feral cats, consider giving the Lubatis Ultrasonic Animal Repeller a try. This is a solar-powered device that emits ultrasonic sounds that are unpleasant to cats. When cats hear the sounds, they'll stay away from your property.
The device has a dual-speak design that can cover up to 5000 square feet of space. It uses a motion sensor that will initiate the sounds whenever a cat is within 30 feet of the device. It also has 5 mode settings, which will adjust the ultrasonic sounds depending on what creatures you want to repel.
This device is waterproof, so it will continue working even in the rain. In addition to keeping cats away from your property, it can also keep your yard clear of other animals including dogs, squirrels, raccoons, rabbits, deer, mice, and skunks. However, it isn't the best option for pet owners, since it may scare the pets you own and want in your yard.
Click here to check out Lubatis Ultrasonic Animal Repeller on amazon.com
Sale
Panther Armor Cat Scratch Deterrent Tape – 12 Double Sided Anti Scratching Sticky Tape - Cat Furniture Protector – Cat Training Tape Corner Couch Protector for Cats - Cat Scratch Furniture Protector
✔️[ TRAIN YOUR CAT INSTANTLY ] The best double-sided cat scratch deterrent tape is new in town & ready to roll. The 5-Pack XL 16"L 12"W + 5-Pack Large 17"L 10"W + 2-Pack M 17"L 6"W sheets are packaged flat & easily pliable on any corner. The anti-scratch tape sticky sheets provide more than enough cover surface for cat scratching prevention. Training your cat with Panther Armor may be the best investment in protecting your furniture.
✔️[ INSTALL AND FORGET ] Stick the cat furniture protector sheets and let them do the job for you. The sticky side will annoy your kitty so much, that you won't see the little pet near your furniture any time soon. Stop the cat claw damage on your sofa with Panther Armor – 100% safe tape. The product is residue-free and does not harm the furniture after removal. Protect your furniture & keep your cat's claws healthy and safe. Choose our cat scratch furniture protector.
✔️[ VERY EASY TO APPLY ] The 100% clear tape will blend instantly with your furniture. The scratch guards will take no more than 5 mins of your time for installation, thanks to our "super easy-peel system". 1. Quickly vacuum the area; 2. Cut the protectors and adjust their size; 3. Peel away the white backing; 4. Stick the adhesive where you want to protect; 5. Peel away the blue backing. Voila! The best protection on your furniture. No more cats will "stick" around, for sure 😊
✔️[ PREVENT & PROTECT ] The repellent tapes are highly effective due to their size and sticky material. They immediately STOP & PREVENT the cats or dogs to scratch through them. Say goodbye to the old-fashioned strips. You've had enough of cat clawing your sofa? The scratches won't be a problem once you teach your cat where not to scratch by using PANTHER ARMOR products – the best cat claw shields in town.
✔️[ 100% MONEY BACK GUARANTEE ] We're dedicated to offering the best products to keep your cat off the furniture. The furniture items will suffer NO DAMAGE when the furniture protectors from cats are removed. We made sure the furniture defender meets the highest standards of quality but if for ANY reasons you are not satisfied, you will receive a refund, no questions asked. Click on the "Add to Cart" button NOW and get this amazing new product!
If your cat has a particular bad habit of scratching on your furniture, and you'd rather not mess with sprays, you can always place a clear barrier between your cat's paws and the fabric with Panther Armor Cat Scratch Deterrent Tape. A 12-pack contains 5 XL sheets 16"L 12"W + 5 Large sheets 17"L 10"W + 2 Medium sheets 17"L 6"W. Each peel-away sheet is sticky on both sides, so when you place them on sides, corners, or any area on your furniture, the cats paws will temporarily stick to the surface, giving the cat that "ick" feeling.
Since the tape is see-through, it's a great option for covering your furniture without covering it's beauty at the same time.  The tape is non-toxic and residue-free, so it won't harm your cat or the furniture once removed. There's also a 100% money-back guarantee on the product if damage comes to the furniture upon removal.
One thing to watch out for with this product is that some consumers have complained that it did damage some fabrics when removed, with fibers remaining stuck to the tape. Be aware of fabrics it warns are not meant to withstand damage, but also do some research if you are in doubt that your furniture will hold up to the tape.
Summary of the Best Cat Repellent
Related Images
Up Next…
Last update on 2022-08-09 / Affiliate links / Images from Amazon Product Advertising API
Best Cat Repellent: Updated for 2022 FAQs (Frequently Asked Questions) 
What is the most effective cat repellent?
The most effective cat repellent will vary based on your need. For example, some cat repellents are designed for indoor use, while others are more suited for outdoor use. The right repellent can also vary depending on whether you are trying to keep cats away from an entire space, or just a specific item like a piece of furniture or a plant.
The PetSafe SSSCAT Motion Activated Spray Cat Deterrent was our favorite cat repellent, but we also liked the Homarden Cat Scat Mat and .
What is the best cat repellent for outside?
We think the Homarden Cat Scat Mat is the best cat repellent for the outside. This spiky mat can be placed around areas that you don't want a cat to access to keep them away. If you're looking for an outdoor repellent to keep cats off of your entire property, we'd suggest investing in an ultrasonic device like the .
What is the best feral cat repellent?
If feral cats have been entering your property and you wish to keep them away, we'd suggest trying the . You can also try the Homarden Cat Scat Mat if there are just a few areas of your property you want to keep them away from.
Are cat repellents harmful to humans?
Most cat repellents are designed to be safe for humans as well as cats. Sprays to keep cats away are not poisonous, they are simply formulated to smell very unappealing to cats to make a particular area or piece of furniture less appealing. You can also consider making your own natural, homemade spray as well.
How do you make a homemade cat repellent?
There are many natural ingredients and textures that cats do not like the smell of. You can try some of these to make your own homemade cat repellent. These natural ingredients and other DIY solutions include:
Apple cider vinegar
Citrus fruits and citrus-scented sprays
Cayenne pepper, dry mustard, cinnamon, garlic, and lemon essential oil mixed together
Sandpaper
Double-sided tape
Flipping carpet runners or area rugs upside down