Key Points
The #1 Best Overall dog lick/dog mat is the Mighty Paw Dog Lick Pad.
Lick mats are surfaces with patterned nubs made of silicone, plastic, or rubber that are typically the size of a plate. By providing a stimulating surface with which to play, you can calm your dog and serve him treats with the added benefit of enrichment. 
In dogs prone to anxiety, licking has an anti-anxiety effect. It can also help dogs distract themselves from stressful situations.
By researching the top-rated picks and reviews, we identified the best dog lick/dog mats on the market. Several factors were taken into account when designing the mat, including its durability and overall design.
Dog kisses are endearing but when they're full-on making out with your furniture, it gets to be a bit much. Most dog owners need a dog lick/dog mat. Excessive licking is an unusual quirk but a reality for many pups. Some dogs lick out of boredom while others lick nervously when they're feeling overly anxious. It's an action that helps to soothe them when they need to feel calmer. Rather than your couch or other pieces of furniture getting soaked with your dog's saliva, you can supply him with a dog lick/dog mat.
This is a simple tool that helps to soothe your pup and distract him during important moments like bath time or even trips to the vet. It's a relatively simple design that resembles a plate, except with small, patterned knobs. Usually, these are made with materials like rubber, plastic, or silicone. Often, the design appears like a honeycomb, with several shallow grooves embedded into the plate-like mat. You can use these small grooves to smear treats like peanut butter or other spreadable foods and entice your pup to keep his attention.
Since the mat is equipped with these little spaces where the food gets trapped, your dog spends several minutes focused on clearing his plate. Instead of clearing his plate by inhaling his food, you can keep his attention focused for longer, help him self-soothe, and give him some nutritious treats all at once. There are different designs you can select from, so to find the best dog lick/dog mat, just keep reading!
Top Picks: The Best Dog Lick/Dog Mats Today
#1. Best Overall: Mighty Paw Dog Lick Pad
In terms of dog lick/dog mats, the Mighty Paw Dog Lick Pad is the best. This lick pad is made with BPA-free silicone, which makes it a completely safe option for your pup to lick off whatever you smear on it. You can entertain, soothe, or distract your furry friend with raw dog food, yogurt, pumpkin purée, or canned food. Many reviewers love the design because it's multi-use. It comes with four uniquely textured quadrants that you can use for different occasions.
For example, there's an easy quadrant that's perfect for quick training rewards. There is also a fun quadrant that's perfect for slow feeding, an anxiety relief quadrant to help relieve your pup's stress, and a distraction quadrant to keep your dog distracted. This Mighty Paw lick pad is ideal for use in various scenarios. For example, if your dog gets super anxious during thunderstorms or fireworks, you can keep them distracted with the anxiety relief quadrant.
If your dog is crate training and experiencing boredom, pawing at the crate, and whining to be let out, you can use the fun quadrant as a boredom buster. There are many situations when this dog lick pad comes in handy. This lick pad also features strong suction cups on the bottom to keep it secure while your dog wrestles the goods out of it. It's also super easy to lather and rinse so you can keep it clean between uses. It should be noted, however, that puppies known for chewing may chew through this pad.
Pros and Cons of the Mighty Paw Dog Lick Pad
| Pros | Cons |
| --- | --- |
| A four-in-one mat that keeps dogs entertained for a long time. | It is possible for teething puppies to chew through the mat's material. |
| Dogs can safely eat off of the silicone since it is BPA-free. | |
| It is easy to clean in between uses. | |
| In order to keep it in place while in use, the mat is equipped with strong suction cups. | |
Best Overall
2. Best Budget-Friendly: LickiMat Classic Buddy Slow Feeder Dog Lick Mat
Check out LickiMat Classic Buddy Slow Feeder Dog Lick Mat if you're looking for the best budget-friendly option.
It's fortunate that lick pads aren't a luxury item. However, it's always nice to find a good deal. This Lickimat buddy is ideal for your pet because it helps release endorphins through the promotion of licking. What you get is a significantly calmer and more resilient little buddy.
Use this anytime your dog stresses out like during bath time, nail clippings, injury recovery, and storms. This Lickimat is recommended by vets and trainers to reduce crate training time and reinforce good behavior. Instead of your dog feeling anxious, you can redirect his attention to a long-lasting treat. It's important to know that this isn't an instant fix for all dogs with separation anxiety but if you use it regularly as part of your dog's routine, it's a huge help.
Three surface patterns on the mat promote licking so that your dog's saliva production is increased, which helps to protect his teeth and gums. As food settles on the mat's surface, feeding is greatly slowed, which prolongs enjoyment and makes eating more enjoyable. You will be able to give your dog healthier treats and longer-lasting treats while consuming fewer calories. It is important to note that particularly destructive chewers may rip through this mat.
Pros and Cons of the LickiMat Classic Buddy Slow Feeder Dog Lick Mat
| Pros | Cons |
| --- | --- |
| For budget-conscious buyers, this is the best dog mat choice. | The mat may be broken or ripped by aggressive chewers. |
| You can use this to slow-feed your pet. This will prevent them from rushing through meals or snacks. | |
| Boosts your dog's saliva protection, which in turn protects the gums and teeth of your dog. | |
Best Budget-Friendly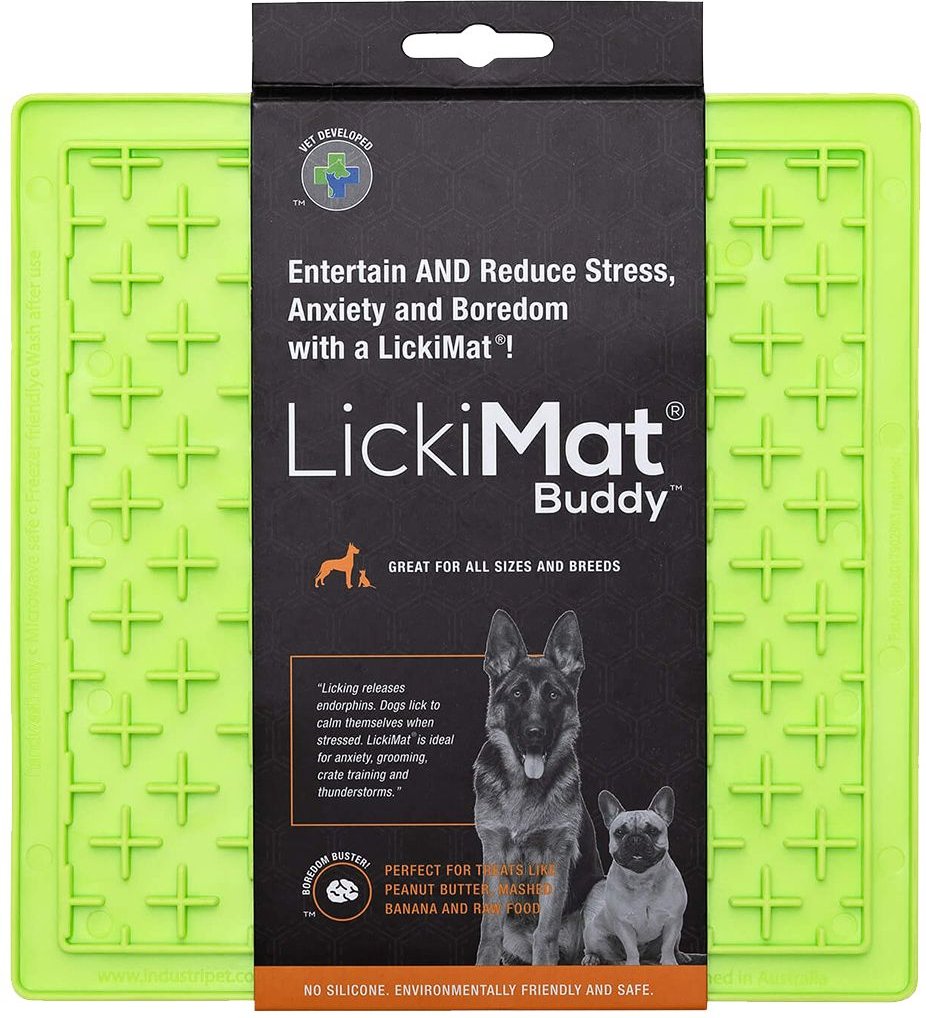 3. Best for Anxious Dogs: Hyper Pet IQ Calm Slow Feeder
The Hyper Pet IQ Calm Slow Feeder is an excellent tool for you if you have an anxious puppy. There are many reasons why dogs get anxious. A separation anxiety attack, a bath anxiety attack, a vet anxiety attack, a travel anxiety attack…you name it! Every dog has a distinct personality and depending on their past, they may develop anxiety for a variety of reasons. This IQ treat mat promotes repetitive licking to increase your dog's endorphins and calm him down. This is also a great alternative to slow-feeder dog bowls. You can use this mat instead to curb destructive behavior during those stressful moments.
Picking the perfect lick mat depends on how much your dog likes the pattern, so this two-pack is fantastic. It comes with two patterns so you can test out which one your dog likes or if you have two puppies, they can both enjoy it together. These two packs measure 8 x 8 inches and are designed for small and medium dogs. The large model, measuring 11 x 11 inches, may be appropriate if you have a larger dog at home. Additionally, these lick mats are made of FDA-approved TPE, which is rubber-like plastic. As a result of this type of plastic, the mat can also be frozen or microwaved. However, many reviewers complained about the lack of a suction cup material on the bottom of the item. In other words, the mat won't stay in place when your dog licks or uses it.
Pros and Cons of the Hyper Pet IQ Calm Slow Feeder
| Pros | Cons |
| --- | --- |
| As a result of this mat, dogs experience less anxiety. | Due to the lack of bottom suction cups, your dog can easily move the mat. |
| FDA-grade TPE is used to make this lick mat, which means it can be placed in the dishwasher and in the microwave. | |
| It comes with two different design options for dogs in a two-pack. | |
| There is a size option for small, medium, and large dogs. | |
Best for Anxious Dogs
4. Best for Bath Time: Aquapaw Lick Mat for Dogs
There are times when bathtime can be stressful for dogs, and that's when the Aquapaw Lick Mat for Dogs comes in handy. There are dogs that love bath time and there are dogs that hate it and seem to know exactly when it is bath time. They may even hide from you, even if you give no indication that you plan to bathe them. You can soothe your pup while you get him clean with a treat-dispensing lick mat that suctions to the wall or floor.
This AquaPaw slow treater can be filled with food to keep your dog occupied and entertained during grooming sessions. This silicone lick mat suctions to your bathroom wall to keep your pup focused on the yummy treats and not so much on the water or soap. This lick pad comes in two sizes, a triangle-shaped mat that measures 6.7 inches across and a square-shaped mat that measures 9 inches across. It is easy to move and remove these lick mats, which are able to be placed in almost any area. 
Because the pad is deeper, you can put more of their favorite treats in there, which helps them lick for longer periods of time. You can put these lick pads in the dishwasher as they're made of silicone. The lick pad can even be stuffed with food and frozen so it takes even longer for your dog to eat up the treats. There are, however, some reviewers who say that their bigger dogs loosened the suction cups and they no longer stuck to the walls.
Pros and Cons of the Aquapaw Lick Mat for Dogs
| Pros | Cons |
| --- | --- |
| During bathtime, this mat helps calm your dog's anxiety. | Some reviewers noted that their bigger dogs loosened the suction cup ability. |
| Suction can be achieved on the floor or on the wall with the mat. | |
| It is able to be washed in the dishwasher. | |
Best for Bath Time
5. Best for Travel: Bath Bones — Anxiety Bone Slow Feeder
The Bath Bones – Anxiety Bone Slow Feeder is a terrific option if your dog has a lot of anxiety around traveling. If your dog has a hard time in the car, try this Bath Bones slow feeder. Just suction it to a smooth, flat surface like a car window and spread your pup's favorite treat in the flavor grooves. You don't have to hand wash sticky messes with this dishwasher-safe option. This lick mat is manufactured from 100% non-toxic, BPA-free, food-grade material. You can use it with healthy treats like organic peanut butter, coconut oil, and more. Reviewers, however, noted that the suction cups lose their ability to adhere to surfaces over time.
Pros and Cons of the Bath Bones — Anxiety Bone Slow Feeder
| Pros | Cons |
| --- | --- |
| This is an excellent lick mat option for travel. | Some reviewers noted that the suction cups tend to lose their ability to stick over time. |
| Food-grade plastic is used to manufacture the lick mat, making it 100% non-toxic and BPA-free. | |
| The lick mat is dishwasher-safe. | |
| You can add a variety of treats to it, such as peanut butter, coconut oil, and more. | |
Best for Travel
What to Look For in the Best Dog Lick/Dog Mats
When it comes to lick mats, there are a lot of different sizes and varieties to choose from. The lick mats that are better for smaller dogs are different from the mats that are better for larger dogs. Dogs with anxiety will benefit from some patterns, while greedy eaters and fast eaters will benefit from others. There are plenty of options to choose from, and you'll want to get one that fits your dog's individual needs.
There are two main factors to consider when choosing the right dog mat for your dog:
In the following section, we will explore both factors in more detail:
Design
In order to give your dog the benefit of several designs in one, the first option on our list is ideal. With four focused quadrants to choose from, you can cover more bases with one product depending on what your pup needs at the moment. Sometimes, pups show anxiety and licking behavior only when they're in a stressful or uncomfortable situation.
If you're grooming, the bath time lick mat is perfect! It attaches to the wall of the bath, so everyone can take care of their grooming needs. For a dog that hates car rides, the travel option is compact, suctions easily to a hard, flat surface, and you're ready to go! Although different designs share similar features, the one you select should perfectly complement your pup's needs. Plus, you can get several designs to use as needed throughout your home and vehicle!
Durability
Some dog lick mats are dishwasher safe while others need to be cleaned by hand. Some are more heavy-duty while others may tear easily with a chew-prone pup. If you're working to appease a smaller pup that loves chewing more than biting, a simple silicone option works. For a dog that gets aggressive with licking and won't stop there, a more durable rubber mat may be a better option. Rubber tends to outlive silicone so if you're purchasing a lick mat for a pup that loves using his teeth, then be sure you're purchasing a more durable option!
Up Next
The Best Dog Lick/Dog Mats FAQs (Frequently Asked Questions)
What should I put on my dog's lick mat?
There are so many options! One of the most popular choices is peanut butter. However, you can try other yummy treats for your pups like yogurt, honey, cream cheese, minced meats, and even sardines. This is an opportunity for you to get creative and use your dog's favorite aromas and flavors to keep him engaged with the lick pad.
Is a lick mat good for dogs?
Yes! Lick mats are fantastic for pups because they support oral health. When your dog is engaged with licking the little nubs and grooves of a lick mat, they work as bristles to scrape your dog's tongue. Aside from soothing your dog, he's also getting a good tongue cleaning! They work to remove bacteria and improve your dog's oral health, which means he gets better breath (a benefit for you too!).
Are lick mats good for puppies?
When puppies use lick mats, they get a surge of endorphins, which helps to soothe them and increase feelings of enjoyment.  Puppies tend to be hyperactive, seeking external stimulation throughout the day. With a lick pad, you can provide them with that sense of enjoyment, provide them with yummy treats, and help to soothe them.
Are licking mats good for dogs with anxiety?
Licking mats are great for dogs with anxiety. It provides them with a pleasurable task that requires extended focus. The act of licking is naturally soothing for them, and they also benefit from several oral health benefits as well. If you have a dog that tends to get anxious, you can incorporate a lick mat into their regular living to keep them engaged and calm.