It's incredible how far pet parents are willing to go to please their adorable animal companions. The list of pet care products is endless, from squeaking toys, poop bags, and litter boxes to grooming supplies and beds.
What a gift it is to be loved unconditionally by a pet. However, this limitless pet love and friendship comes with great responsibility. Your animal buddy is dependent on you for both health and well-being. You don't want to flop because responsible pet ownership starts with adequate pet care.
Make an effort to be the best pet parent you can by prioritizing the best products suited to your pet's needs. Good products give them a better chance at life. You know what this means? You get to spend so much time together and solidify your bond.
Regular Chewy pet parents have probably tried one or two Frisco products. It's a Chewy-exclusive brand known for its wide variety of pet supplies. So, of course, we sifted through their catalog to find the best-rated by other pet parents like you.
Best Litter Box for Giant Cats: Frisco High-Sided Cat Litter Box, Extra Large
Best Litter Box for Giant Cats
The 24-inch Frisco High Sided cat litter box is optimized for functionality and design. It's sturdy and made of high-quality plastic to withstand your cat's digging and scratching when in use. The rounded edges also keep the cat safe.
 It has enough room for your cat to turn around without feeling cramped. We think it's pur-fect for your Maine Coon or Norwegian Forest Cat.
The step-in design on the front aids easy entry and exit and seamless cleaning. The 10-inch tall high sides and back contains cat spray and litter where it belongs- inside the box.
Eco-conscious feline parents have nothing to worry about; the Frisco litter box is BPA-free and recyclable. When necessary, it can be cleaned with simply soap and water.
You can select the litter tray that will look the finest in your home from two color options: warm gray or navy blue. 
Given its relatively big pan size, the Frisco high-sided box needs more litter to stay whole. So sometimes, the waste may get out of the box.
"My cat is five years old, and this remains the best litter box he has ever used. It's a great size, and there aren't any litter streaks on the walls when he urinates. It has also made a huge difference in my cat's tendency to dig all the way to the bottom of his litter box," a satisfied cat mum noted.
Pros and Cons of the Frisco High-Sided Cat Litter Box, Extra Large
| Pros! | Cons! |
| --- | --- |
| Roomy and comfy. | Litter may sometimes go over the box. |
| BPA-free. | Requires more litter to keep it full. |
| Easy to clean. | |
| Resistant to scratches. | |
Best for Versatility: Frisco Refill Dog Poop Bags
Best for Versatility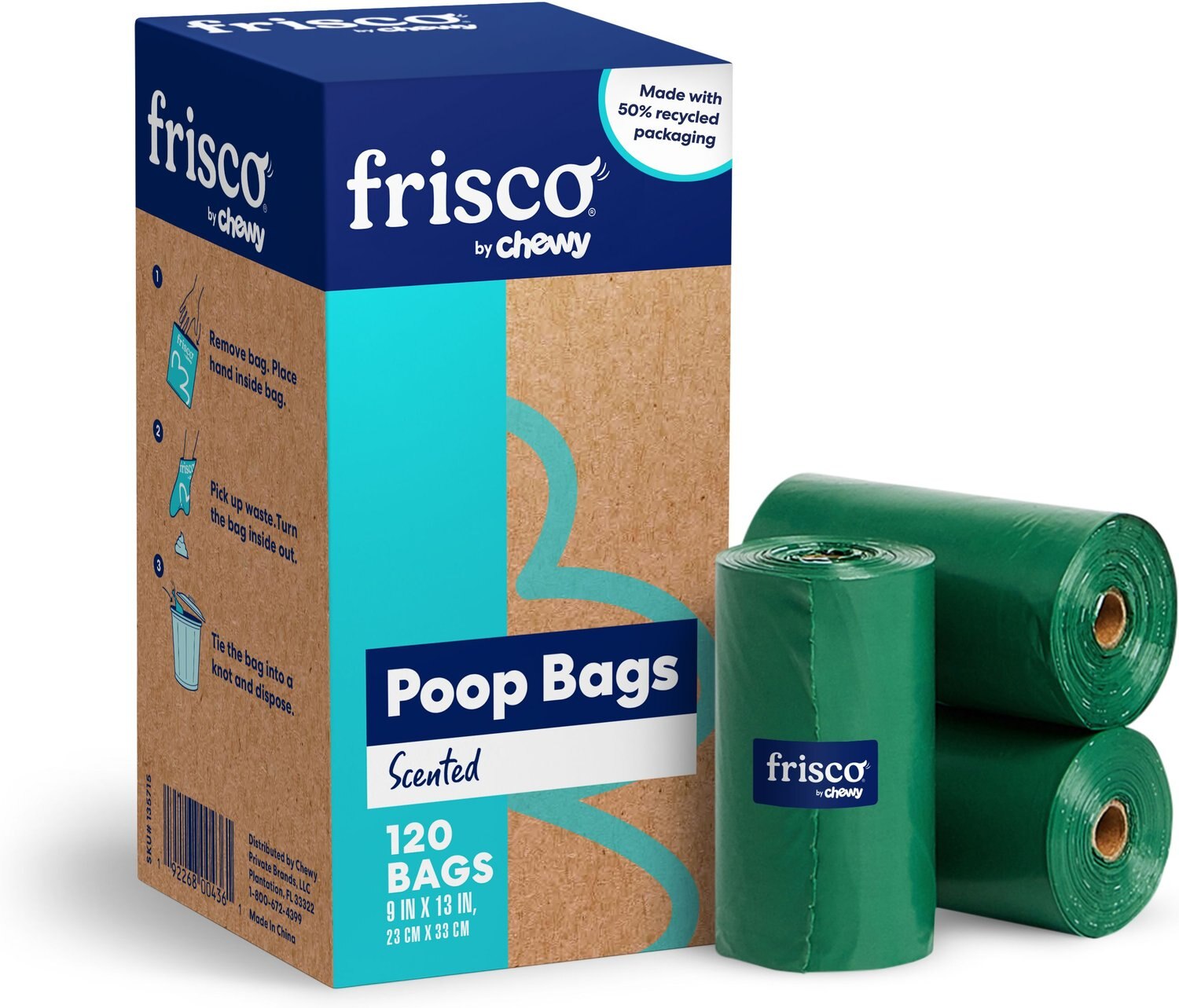 Frisco Refill Dog Poop Bags
Available in boxes of 120 or 270 bags.
Sold in scented and unscented varieties.
Scented variety smells of cucumber melon.
Designed to fit most standard bag dispensers.
Check Chewy
This is your go-to for cleaning up after your dogs; it's easy to use in 3 steps and controls the mess. The cardboard cores and packaging of these 9 x 13 poop bags are manufactured from at least 50% recycled materials. They are composed of sturdy, leak-proof plastic. You can get the scented (cucumber melon) or unscented variant; the choice is all yours.
Morning jog, a fun day at the dog park, or a quick grocery run? You can always count on these poop bags that fit into many regular dispensers.
It's suitable for breeds of all sizes and comes in 120 or 270 bags.
The perforations in the bags are hard to see, so you may have difficulty ripping them apart.
According to a dog walker, "I often purchase unscented products. Once I get the bag ready for disposal, I barely perceive any foul smell. In addition, they are the ideal size to fit in the poop bag attachment of many leashes."
Pros and Cons of the Frisco Refill Dog Poop Bags
| Pros! | Cons! |
| --- | --- |
| Easy to use. | Not compostable. |
| Has scented and unscented options. | Not 100% eco-friendly. |
| Leak-proof and opaque. | Scent may not be potent. |
| | Perforations could be better. |
Best Bed for Dogs & Cats: Frisco Eyelash Cat & Dog Bolster Bed
Best Bed for Dogs & Cats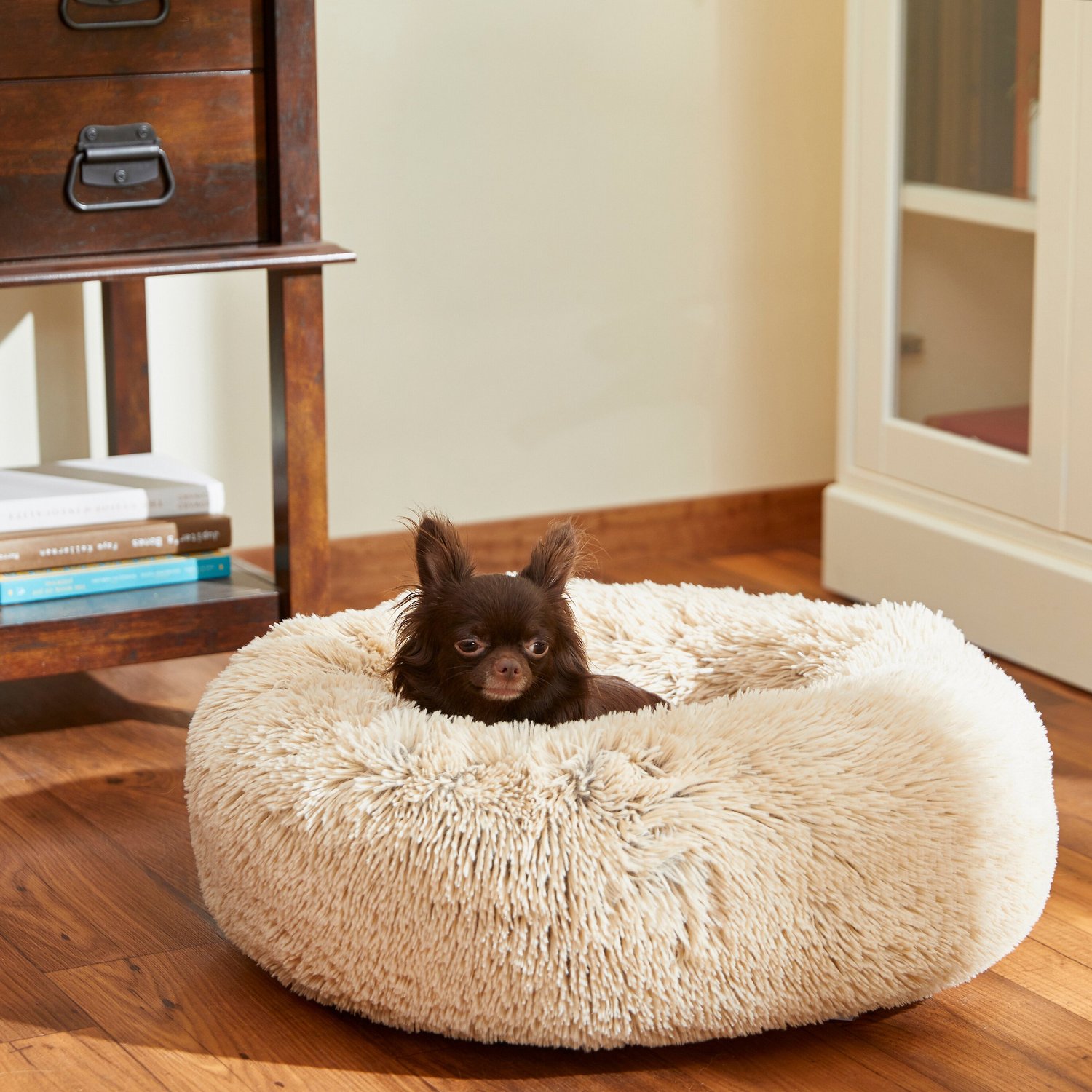 Well, the snuggle is real, and Frisco understands the assignment. With the lengthy faux fur that envelops them in a cozy and welcoming space, the round-shaped bed is perfect for pets who enjoy tucking themselves into balls.
It includes elevated edges for your pet's head support and four sizes to help you find the best fit. Cleaning the bed cover is easy because it is detachable and machine washable.
However, the bed cushion is only removable in large and extra-large sizes. It also lacks a firm foam bottom that would have significantly increased the comfort level. Thus, we don't recommend this bed for senior pets with mobility issues.
91% of Chewy parents will recommend this to their friends. "I encourage pet parents around me to get this bed. It's so beloved by our Newfie that I recently ordered a third one—not because they wear out quickly. One is in the living room, one is in my home office, and the third will go to my partner's office."
Pros and Cons of the Frisco Eyelash Cat & Dog Bolster Bed
| Pros! | Cons! |
| --- | --- |
| Suitable for dogs and cats. | Deceptive product pictures. |
| Available in sizes. | No firm cushioning. |
| Stylish addition to any home decor. | Not chew-resistant. |
| Machine washable. | |
Best for Multi-Cat Families: Frisco 52-in Faux Fur Cat Tree & Condo
Best for Multi-Cat Families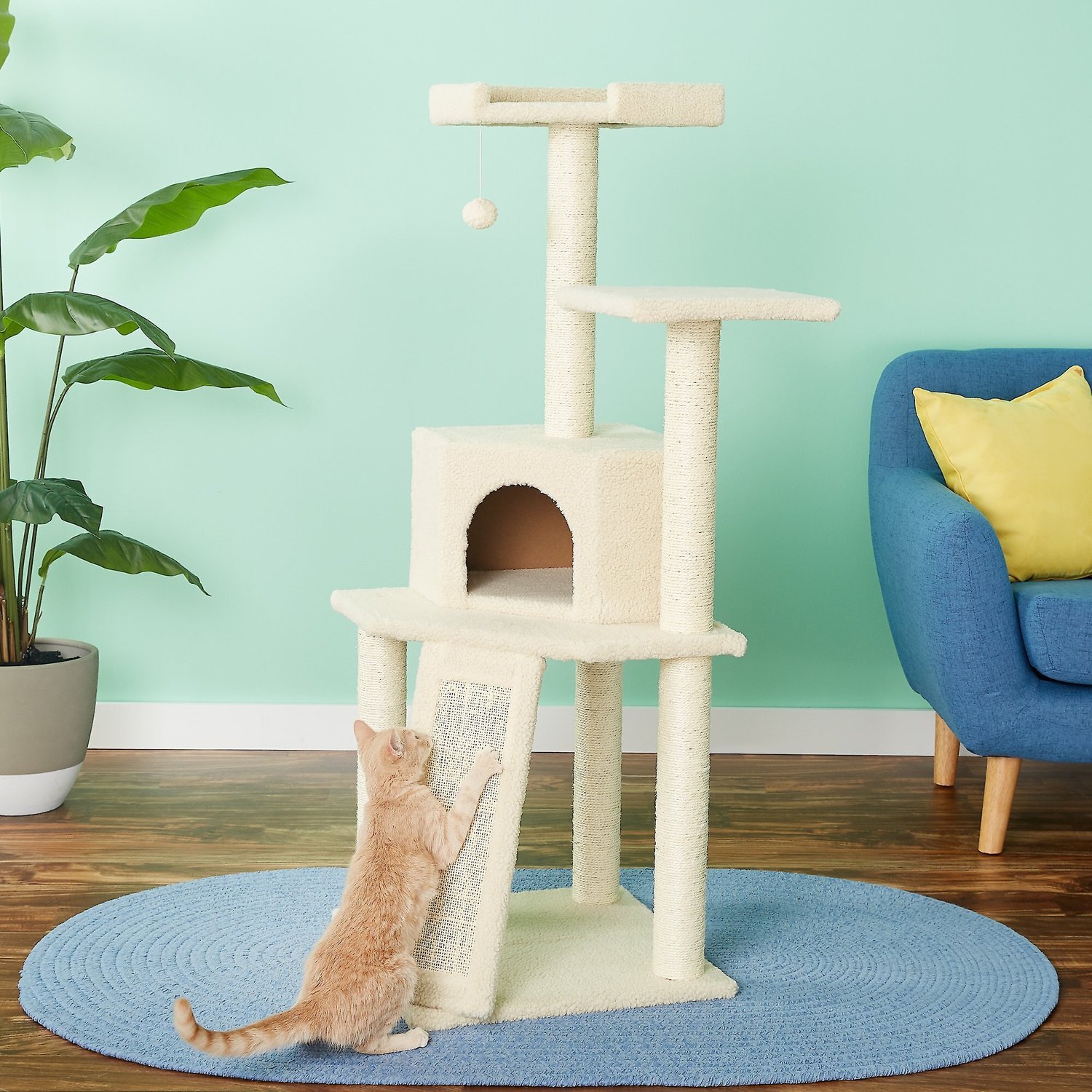 Frisco 52-in Faux Fur Cat Tree & Condo
Designed for cats to be able to jump from perch to perch to reach the top.
Dangling toys let cats enjoy "hunting."
Toy releases with excess pressure to ensure safety.
Offers a quiet, enclosed space for cats to hide away.
Check Chewy
A tree condo for all things feline? Yes, what a dream! It's even more dreamy for families with multiple cats. What better than a 52-inch faux tree to keep your cats busy simultaneously? From leaping and improving their hunting abilities to scratching and relaxing, there's no shortage of activities.
It's made with faux-fleece fabric for comfortable napping and cuddling. Place a toy deliberately dangling and watch your cats purr in excitement at the chase.
The condo may be challenging to assemble, and you may have difficulty finding an appropriate size for your big cats.
A user describes their experience with the Frisco 52-inch Faux Fur Cat Tree & Condo." This is the third tree, and you know what about the third time being a charm? Nothing makes me happier than seeing my cat relax and enjoy this new tree. His reaction is way different from what he had with the previous two trees. It's safe to say my cat and I are over the moon about it."
"You can never go wrong with this tree. My cats scratch, play, and perch on it all day," a long-time user said of the Frisco 52-inch Faux Fur Tree.
Pros and Cons of the Frisco 52-inch Faux Fur Cat Tree and Condo
| Pros! | Cons! |
| --- | --- |
| Offers good value for money. | Takes work to set up. |
| Great price point. | The sizing could be better. |
| A delightful play station for cats. | |
Best for Medium and Large Dog Breeds: Frisco Trash Can Hide & Seek Puzzle Plush Squeaky Dog Toy
Best for Medium and Large Dog Breeds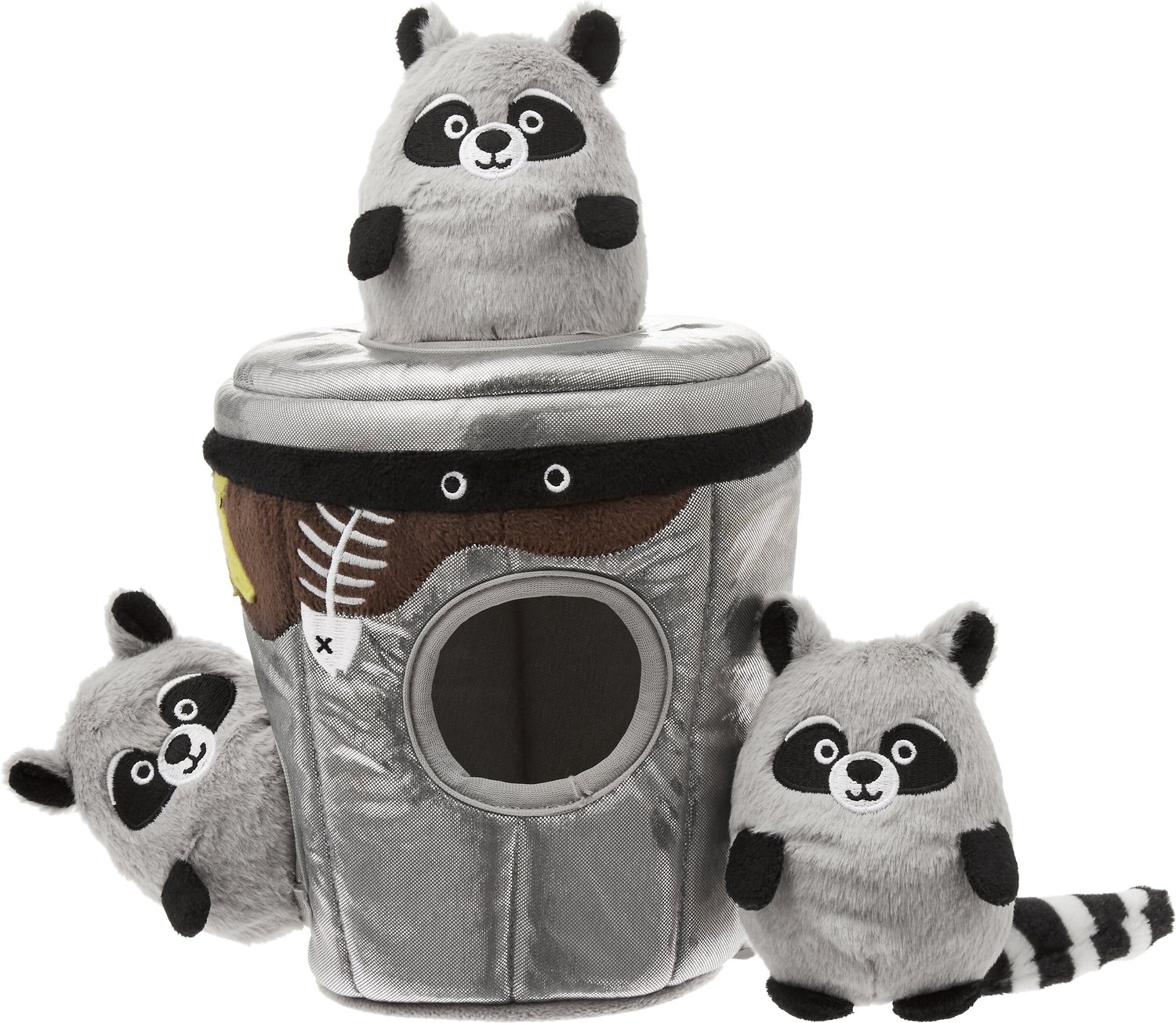 Every pooch loves a new toy. This puzzle toy includes three plush squeaking raccoons and a soft garbage can. It's best for playing hide-and-seek with your furry baby. Watch your dog rip out the raccoons when you stuff them in the plush garbage can.
The soft squeak toys feature built-in squeakers to enliven playtime with your dog. The cuddly texture is also great for nap time.
It's a puzzle toy that keeps your pup entertained daily, fosters relationship-building, and prevents boredom. 
However, it doesn't come with the refills for the raccoon dog toy. You have to buy those separately.
My Beagle puppy loved this toy as soon as I opened the box. She never gets tired of pulling the raccoons out and playing with the trash can itself, no matter how often I stuff them inside. The raccoons are perfectly soft and squeaky," enthused a dog dad.
Pros and Cons of the Frisco Trash Can Hide & Seek Puzzle Plush Squeaky Dog Toy
| Pros! | Cons! |
| --- | --- |
| Raccoons can be stuffed with treats. | Raccoons need to be more durable. |
| Keeps dogs busy for a while. | Hiding and fetching activity may be too easy for some dogs. |
| | Not safe for aggressive chewers. |
| | |
Stylish Option for Dogs & Cats: Frisco Dog & Cat Basic Hoodie
Stylish Option for Dogs & Cats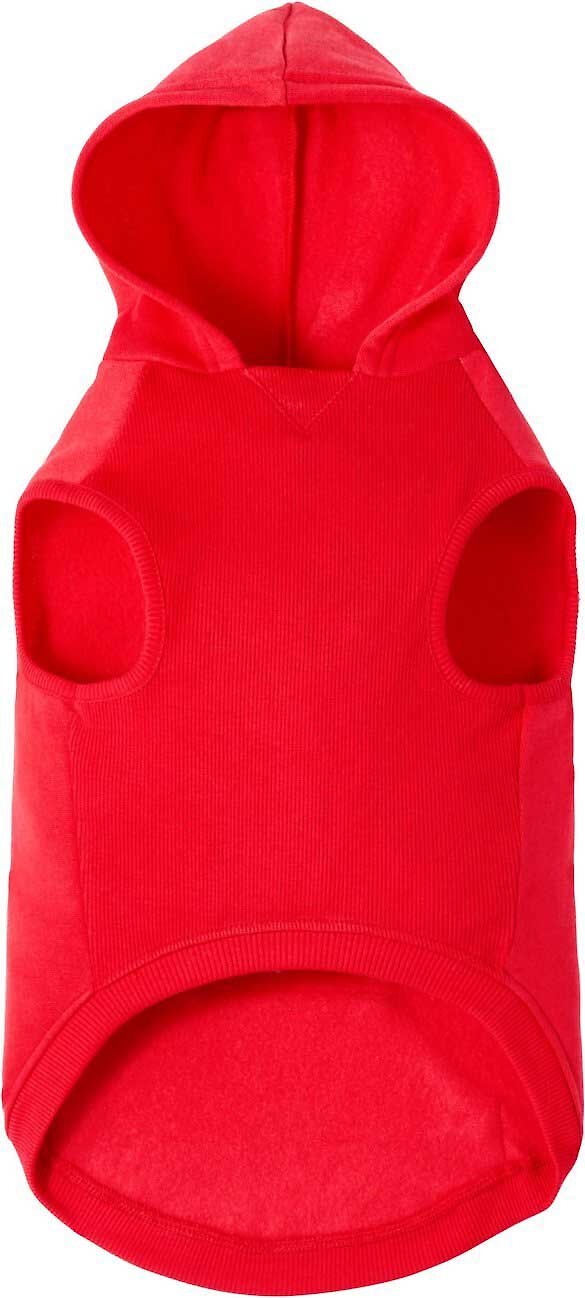 Frisco Dog & Cat Basic Hoodie
A hoodie for dogs and cats.
Available in seven sizes, from extra small to XXX-large.
Sold in six colors: red, teal, black, pink, navy, and forest green.
Made with a pullover design.
Check Chewy
Okay, your pups and felines are about to steal the show with this one. This hoodie is a wardrobe essential for your pets; it will make them look effortlessly elegant, and you, an excellent pet parent. It's even more helpful when the weather becomes chilly.
Beyond its machine washability and comfortable design, the hoodie has an easy-to-use leash hole for outdoor use. The pullback style ensures quick slip-on and slip-off. Of course, it comes with pockets.
No pets? Not an excuse. It's a terrific gift idea for a loved one's pet. It's available in sizes, and there's a range of colors to choose from. All you need is a measurement to ensure you get the perfect fit.
Pro tip: Get lots of goodies and enlist the help of a human companion to keep your pet calm while you measure; then, record each measurement so you can compare it to a size chart.
The sizes may run small, so you should size up while selecting. 
A family got a red hoodie for their 3 dogs, just in time for Christmas. The Pomeranian got a small size, a medium for a Boston, and a large size for the Pug.
Pros and Cons of the Frisco Dog & Cat Basic Hoodie
| Pros! | Cons! |
| --- | --- |
| Uses lovely quality fabric. | Sizes may run small. |
| Comes in a variety of colors. | Only a harness is compatible with the leash attachment hole. |
| Good price point. | |
Best Scratcher Toy: Frisco Step-In Cat Scratcher Toy with Catnip
Best Scratcher Toy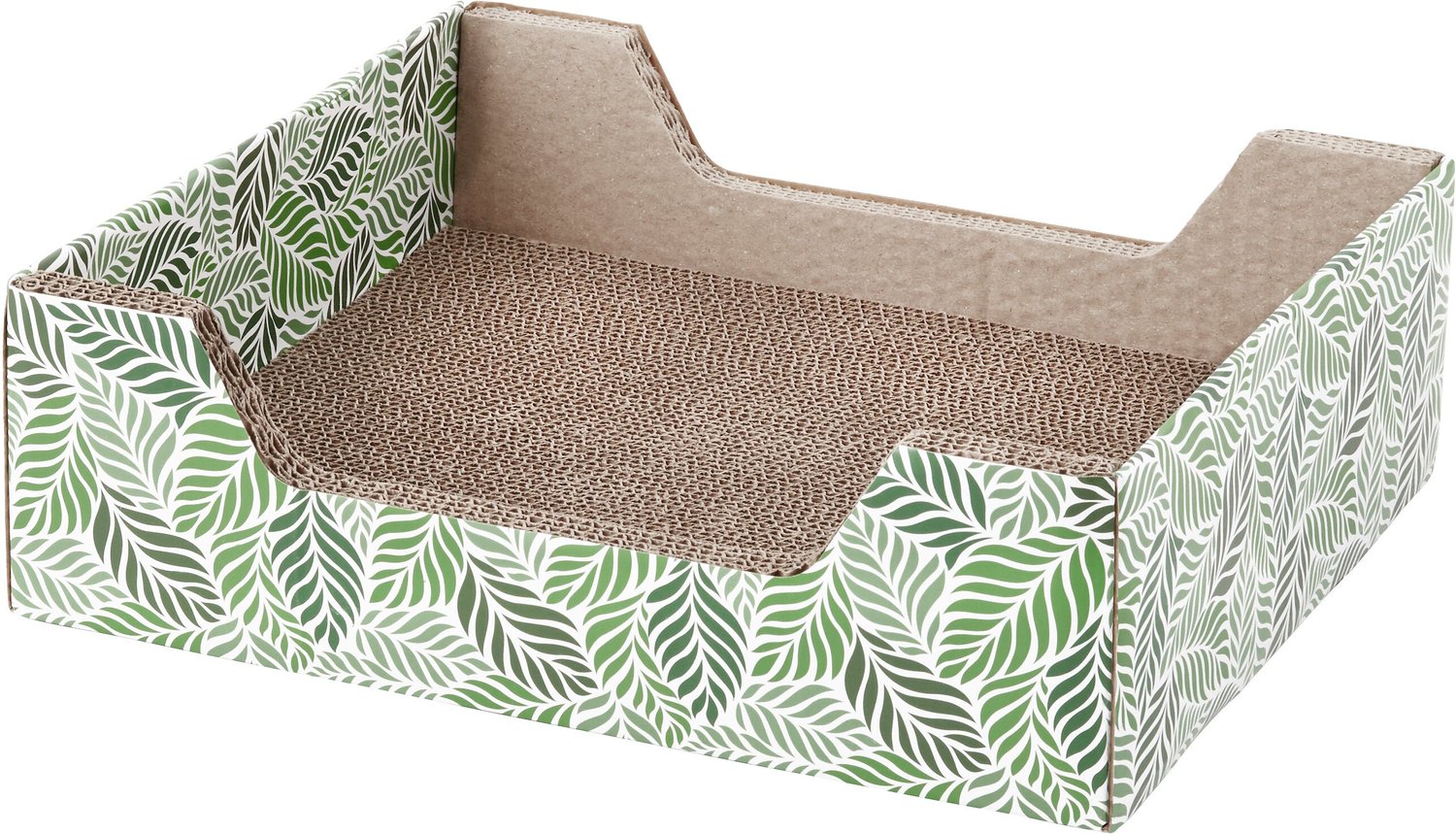 Frisco Step-In Cat Scratcher Toy with Catnip
Includes an optional packet of catnip to sprinkle on the scratcher.
Promotes positive scratching behavior and nail health.
Available in five styles: tropical palms, galaxy, blue daisies, tropical palm tie dye, and mixed triangles.
Check Chewy
Frisco designed this for scratching and relaxation, so your cat can be a little boisterous while lounging. It has layers of pressed wavy cardboard that readily tear apart beneath your cat's paws without pulling.
What's more? You can use an optional pack of catnip to spice up the scratcher. 
Scratching supports nail health and satisfies a natural drive that cats enjoy. It also prevents destructive scratching on furniture and other household items. So, it's a win-win.
However, refills aren't available for the toy after your cat uses up the original.
Having had enough of the scratches on their favorite sofa, a user decided to try this scratcher toy. In their words, "I made the best decision by buying this. My cat loves it; she curls and sleeps in it often."
Pros and Cons of the Frisco Step-In Cat Scratcher Toy with Catnip
| Pros! | Cons! |
| --- | --- |
| Perfect as a chill spot. | No refills. |
| Affordable. | Cardboard may not be durable. |
| Includes a bonus catnip. | |
Choosing The Best: What To Look For
Stability
How solid is the cute domed bed you want to get your pup? Ensure you find out to avoid harming your canine. Carpeted trees should be strong enough to withstand cat climbing and playtime without tipping over. 
Pet size
Every pup or kitty enjoys a brand-new, cozy bed or a shiny new toy. However, your pet's safety and happiness depend on you. Thus, go for products that are ideally suited for their sizes and guarantee maximum value.
Promotional offers
Frisco is a Chewy-owned brand, so you can expect seasonal product deals. Finding good deals and discounts can help you save money when shopping for pet supplies and accessories.
Up Next…
More from A-Z Animals