Iams reliably costs less than most other options on the market. Therefore, they are a perfect option for those on a strict budget. While these foods are often cheaper for a reason, they still provide complete nutrition, ensuring that your cat stays healthy.
This company creates a wide range of pet food, including wet cat food. Many cats benefit specifically from wet cat food because it provides extra moisture. Cats often have a hard time consuming enough water by themselves, so having food that also provides moisture can be essential for some cats.
However, not all Iams wet cat food contains the same ingredients or nutrition. Some of their recipes may be best for certain cats. Below, we'll review some of their top wet cat foods so that you can choose the best option for your feline.
1. Best Overall: Iams Perfect Portions Healthy Adult Chicken Recipe
We particularly recommend this chicken-based cat food for most adults. It includes everything that an adult cat needs and nothing that they don't. This recipe contains absolutely no grain, and the company crafts it in the USA. However, they do use ingredients from around the world.
The ingredient list includes chicken as the first ingredient. A variety of other meat-based ingredients are also included, such as poultry liver and chicken broth. The inclusion of chicken broth raises the nutritional content of this food. However, the company also uses water for extra moisture content.
We love that these handy packs are not cans. Therefore, you don't have to use a can opener. Plus, because it has two sides, you can store leftovers much easier.
With added vitamin E and antioxidants, this wet cat food supports your feline's immune system and eye health.
Best Overall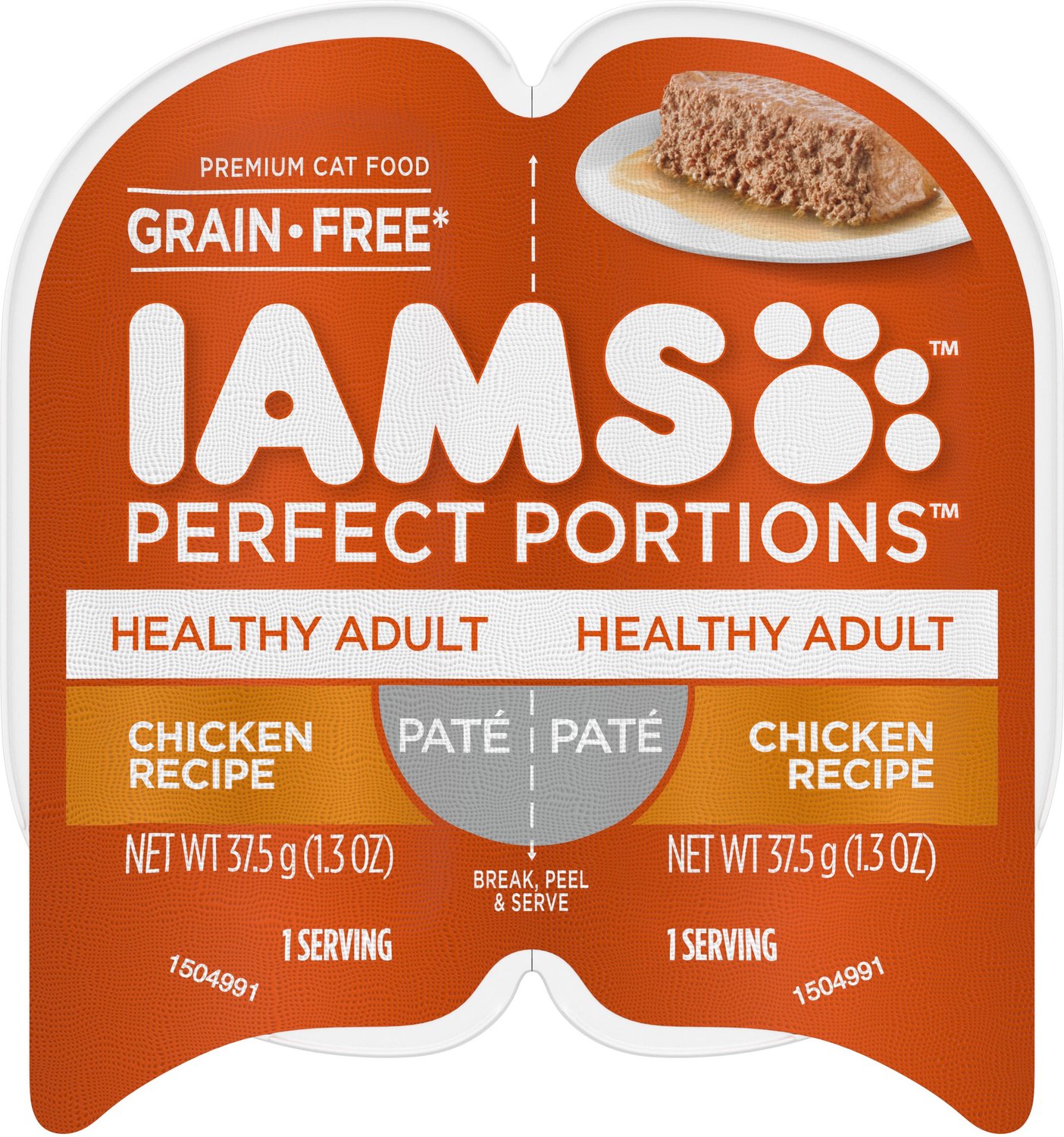 2. Best for Kittens: Iams Perfect Portions Kitten Chicken Recipe
Kittens require very specific nutrition to grow and thrive. These cats are not just maintaining their weight, like adults. Instead, they are growing and developing. Therefore, they require more vitamins and minerals than many adult cats.
As you'd imagine, the ingredients look very similar to the previous chicken recipe. Chicken lists as the first ingredient, with poultry liver later in the list. Plus, we love that fish oil is also listed further down the list, which adds omega fatty acids to the cat food.
The company also added dried eggs, which help add tons of extra nutrients. If there is any food out there perfect for cats, it is eggs. Because of this addition, this food also contains a number of ingredients that are commonly found in cat's milk, like DHA.
Best for Kittens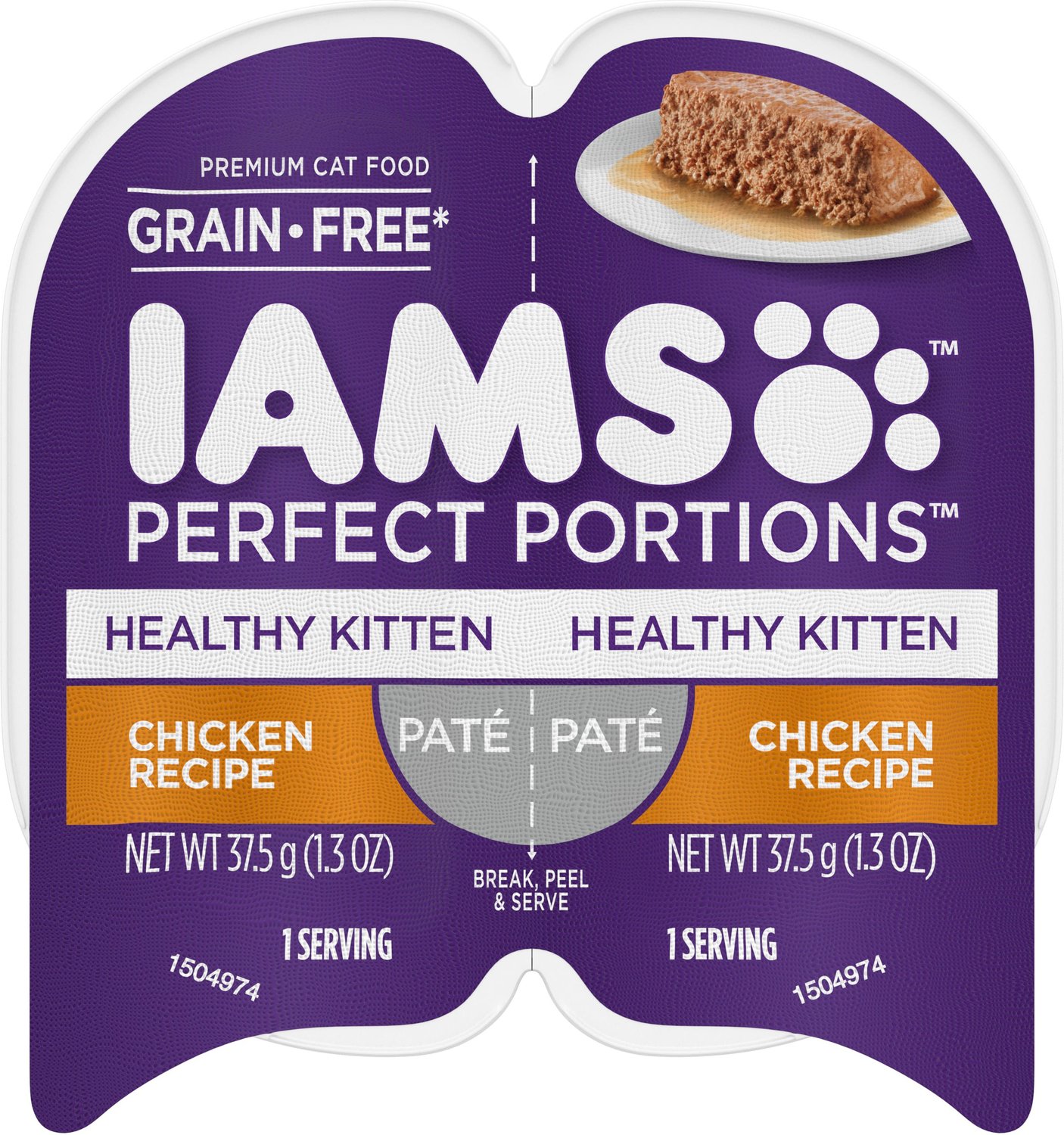 Iams Perfect Portions Healthy Kitten Chicken Grain-Free
Developed to support the nutritional needs of growing kittens
Chicken is the first ingredient
Includes fish oil for omega fatty acids, and more vitamins and minerals than many adult cat foods
Also includes dried eggs, which add lots of extra nutrients, and a variety of ingredients that are commonly found in a cat's milk, like DHA
Check Chewy
Check Amazon
3. Best Chunky Texture: Iams Perfect Portions Adult Chicken Recipe in Gravy
Not all cats like the pate, smooth texture. If your cat falls into this category, we recommend choosing this chunky texture instead of others. As the name suggests, the company created this food chunky.
Unlike other ingredients on this list, this gravy recipe includes chicken broth as the first ingredient. Likely, this recipe contains more moisture than other options on the market. Cats that need lots of extra moisture may benefit most from this recipe, therefore.
Plus, we love that this formula includes lots of organ meat, as well. For instance, chicken liver appears as the third ingredient. Organ meats contain all sorts of nutrients, so they make this food extremely nutritious.
Furthermore, as a meat-based recipe, there are no grains or similar ingredients in this recipe.
Best Chunky Texture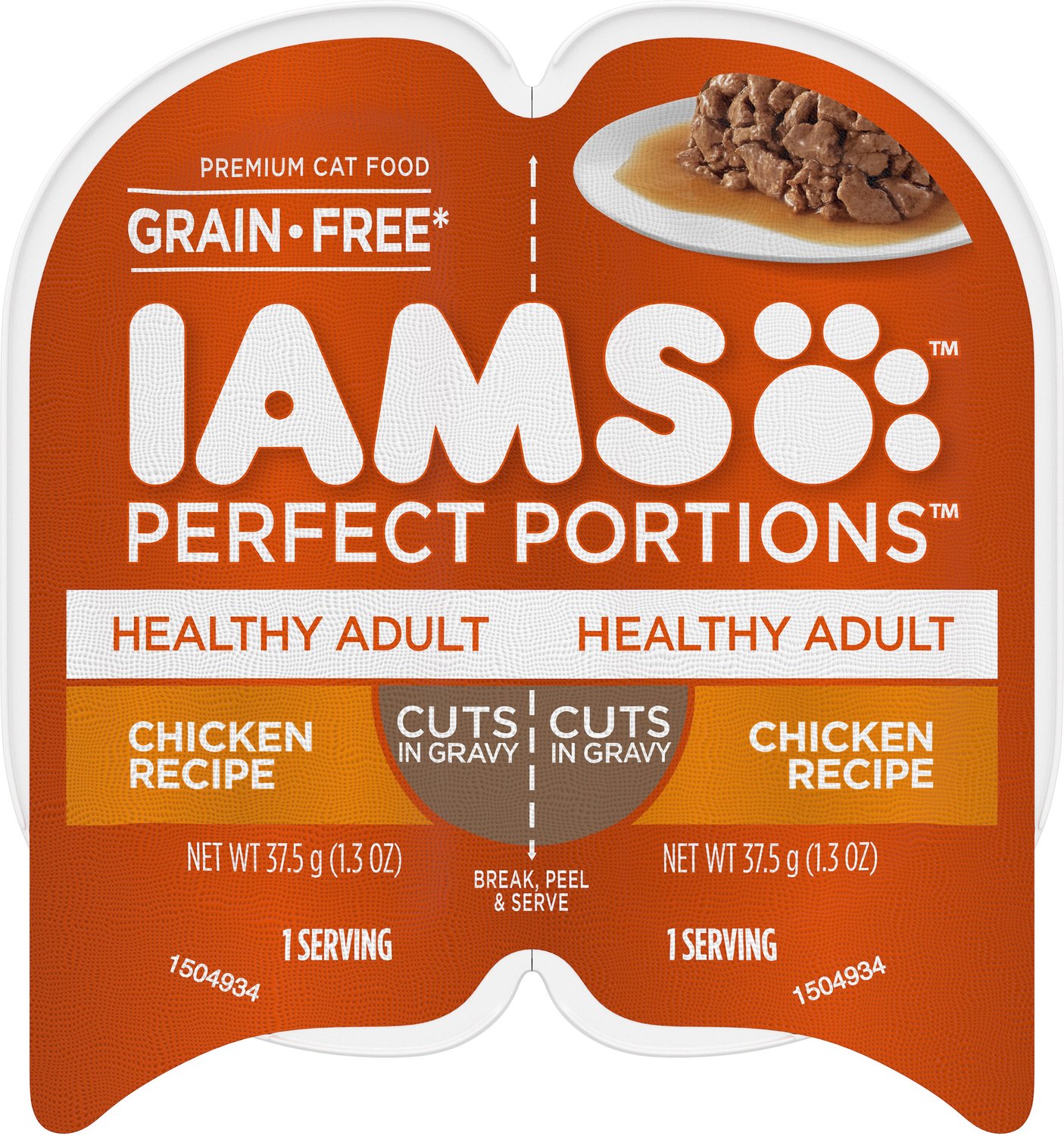 4. Best with Fish: Iams Perfect Portions Adult Tuna Recipe
Despite the name, this recipe includes chicken as the main ingredient. Chicken costs much less than other options on this list. Therefore, budget-cat foods usually utilize them to keep their foods inexpensive.
However, this recipe includes a lot of tuna. For cats with skin and coat problems, this tuna provides extra omega fatty acids that can support your cat's skin health. Plus, grains are not listed on the ingredient list. For cats with allergy problems, this fact can be quite helpful.
Vitamin E and antioxidants support your cat's immune health. Plus, they may also improve your cat's eye health.
Best with Fish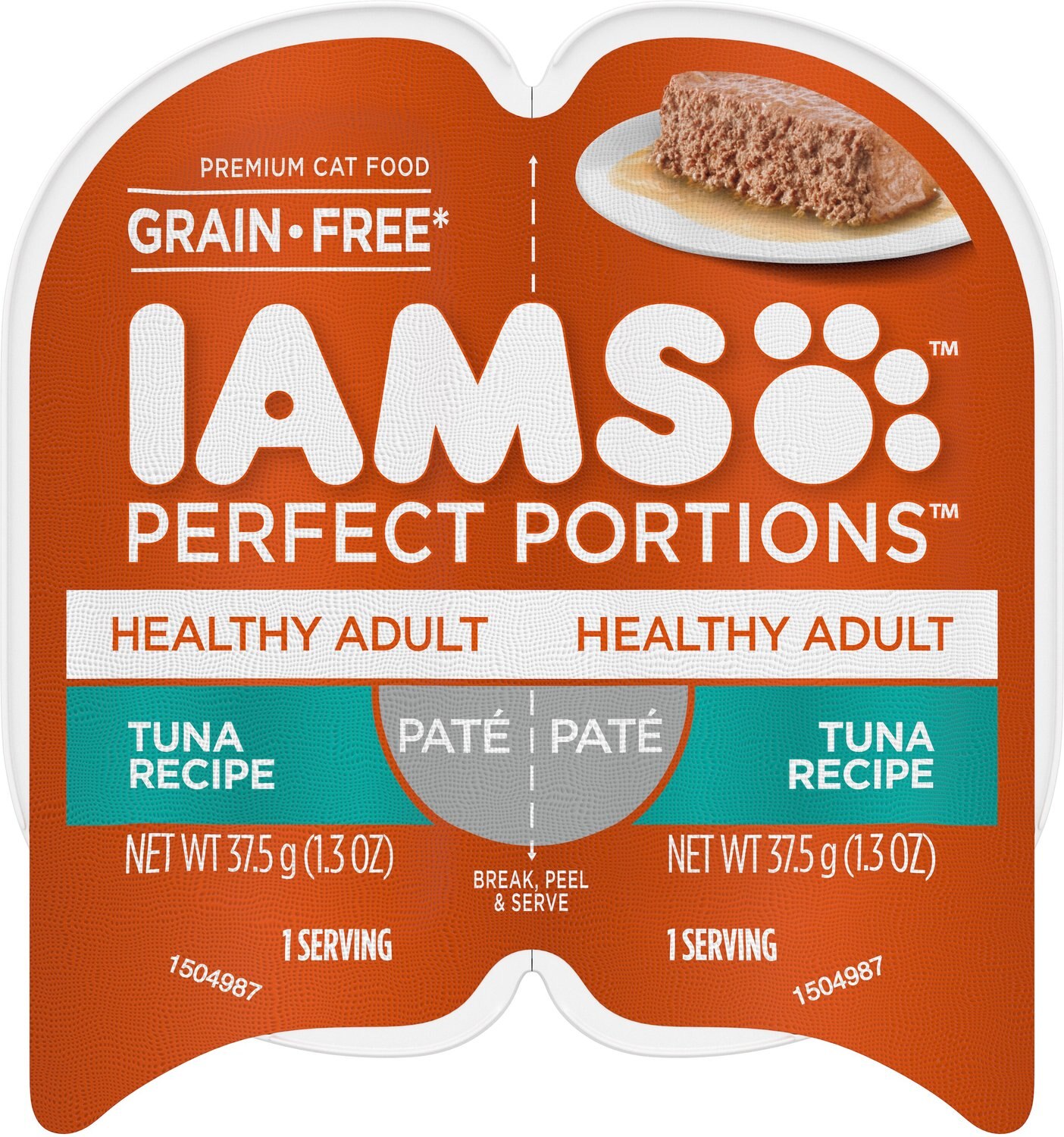 5. Best Iams Wet Food for Indoor Cats: Iams Perfect Portions Indoor Chicken Recipe
Like most other recipes on this list, this recipe is contained in easy-peel trays. Therefore, you don't have to struggle with a can opener or anything of that sort. Many people prefer these trays for this reason.
Iams designed this recipe specifically for indoor cats. It includes high levels of vitamin E, which improves your cat's immune system. Natural antioxidants have also been added, improving your cat's immune system further.
We also love that this food is made in the USA. However, the ingredients were sourced from all over the world.
Best for Indoor Cats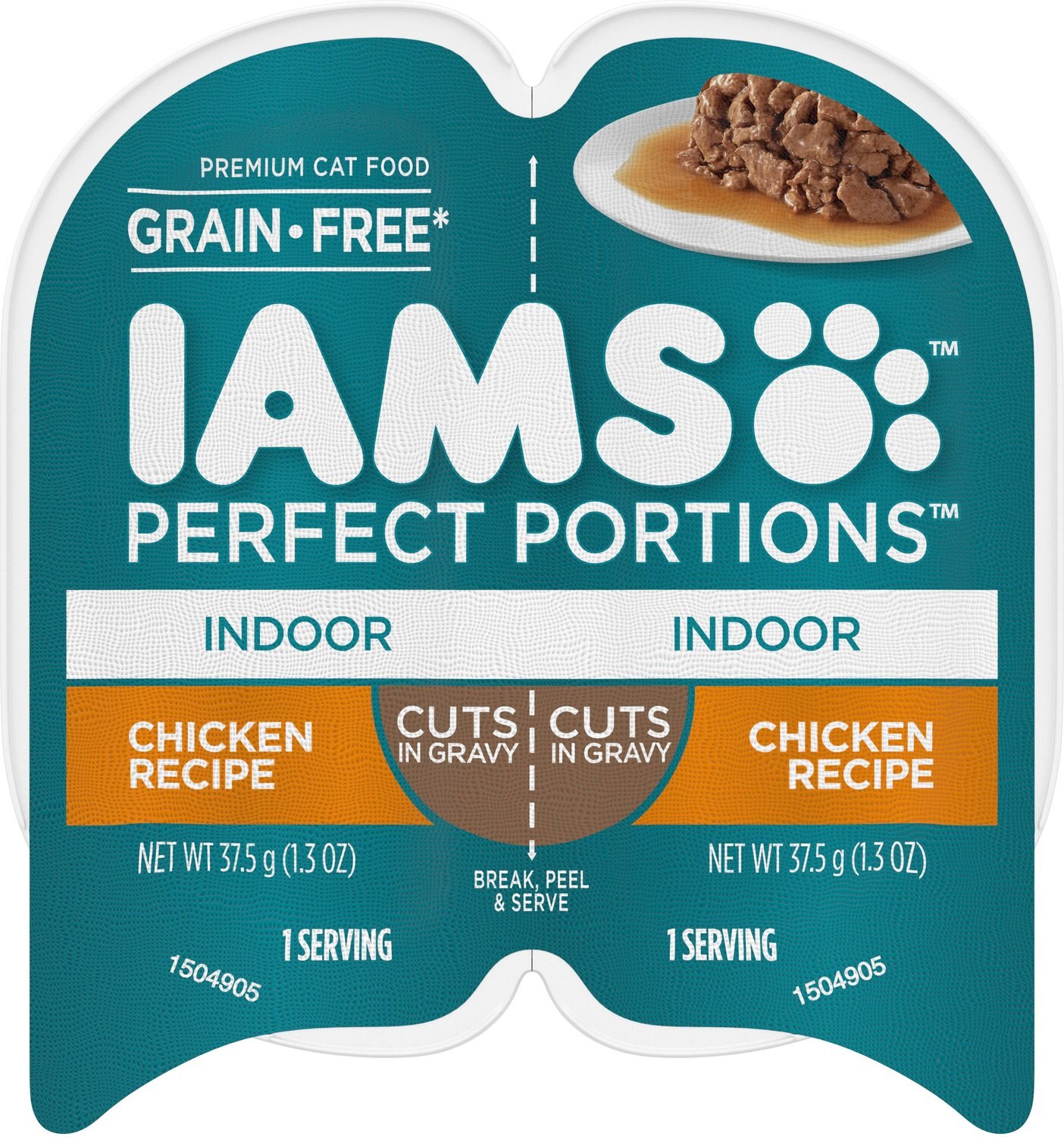 6. Best for Seniors: Iams Perfect Portions Senior Chicken Recipe
Senior cats sometimes need different nutrition than adult cats. Often, senior felines develop all sorts of problems, including joint and eye issues. Often, senior cat food contains ingredients that may help limit some of these problems.
However, if your older cat has no health issues, then quality adult food is often all they need.
This senior food contains chicken broth and chicken as the first ingredients. Because chicken broth is listed first, this food contains extra moisture beyond your normal cat food. Therefore, older cats often find this easier to eat. Simply put, it is softer.
We also love that it includes high levels of immune-boosting ingredients. Because older cats often get sick, these ingredients seriously help improve their overall health.
Best for Seniors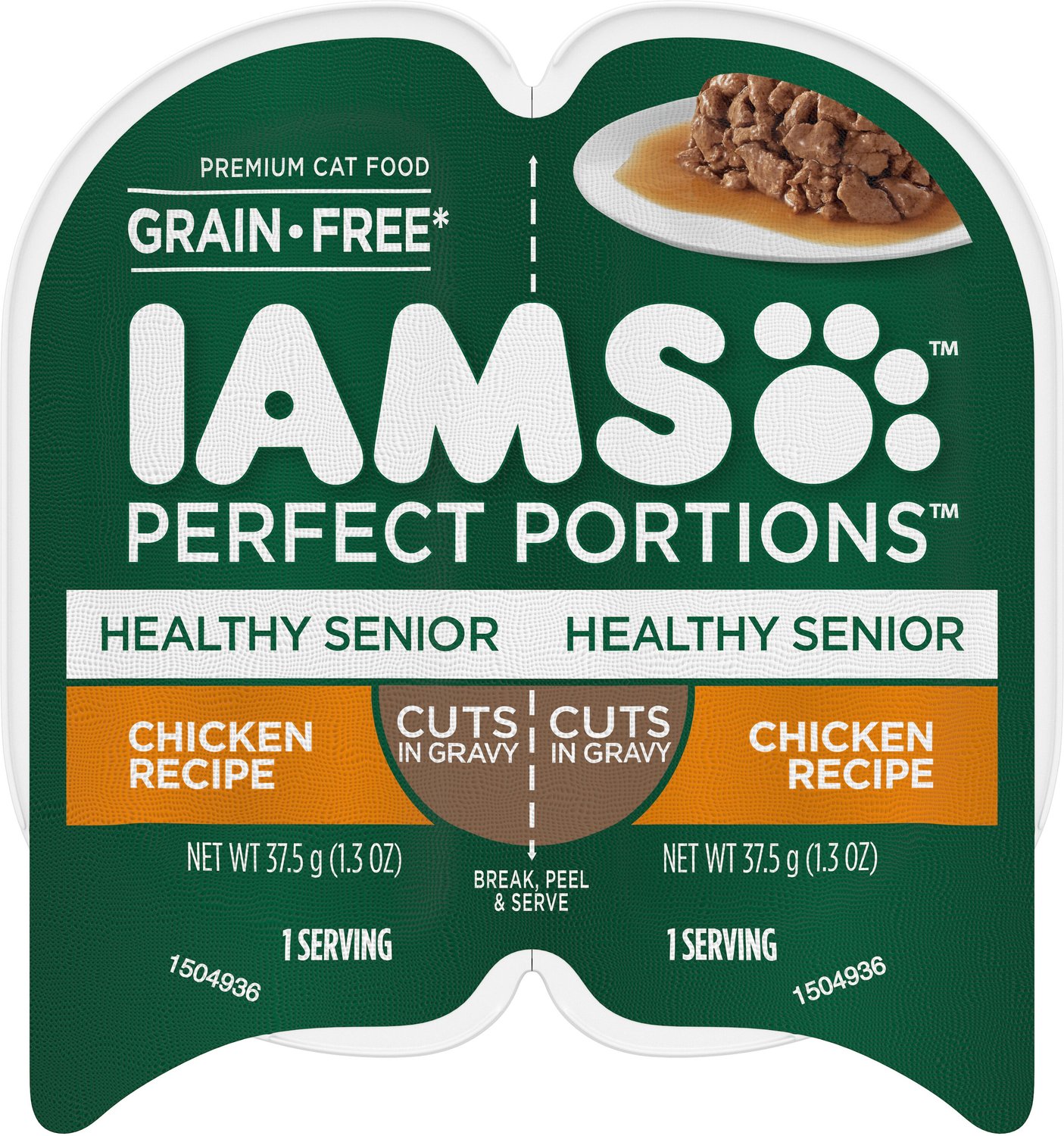 7. Best for Weight Loss: Iams Perfect Portions Optimal Metabolism Chicken Recipe
We highly recommend this food for any cat that is overweight. Sadly, many cats gain too much weight, which can lead to health problems. This recipe includes fewer calories and other ingredients that may help your cat lose weight.
For the most part, this food contains chicken. Chicken remains the first ingredient, like most recipes on this list. Chicken liver and chicken broth both fall high on the ingredient list, too. With that said, this food also includes water, which heavily increases the moisture content of this food.
Plus, these peel trays make great containers for cats that are trying to lose weight. Leftovers become much easier to save thanks to the double-sided trays. Therefore, you can feed your cat less without wasting food.
The Different Types of Iams Wet Cat Food: Pros and Cons
Iams only has one wet cat food line: perfect portions. This line features a tray design that doesn't require the use of a can opener or anything of that sort. However, they create kitten, adult, and senior recipes in this line.
Each type has its own pros and cons. Choosing an option isn't terribly straightforward. either.
Kitten – As the name suggests, this food is for kittens. Preferably, your cat should eat this until they stop growing.
Adult – Most adult cats need adult cat food. However, there are many different options available.
Senior – Senior cat foods aren't always necessary. Usually, these recipes feature ingredients seospecifically for common problems older cats develop.
Kittens
| Pros | Cons |
| --- | --- |
| Nutritionally required for kittens | Often more expensive |
| Higher in nutrients | Fewer recipe types |
| Supports high-energy cats | |
Adults
| Pros | Cons |
| --- | --- |
| Inexpensive | Not suitable for kittens |
| Many recipe types | |
| Suitable for most cats | |
Seniors
| Pros | Cons |
| --- | --- |
| Extra ingredients to support common health problems | Often expensive |
| It may be helpful for older cats | Calorie content varies (some higher, some lower) |
| Typically suitable for adult felines | |
Verified Reviews: Users' Experience
With two different textures, most users reported that they found at least one type of food their cat liked. Plus, due to the high moisture content, this type of food usually tastes better, anyway. Therefore, we highly recommend it for picky cats.
Plus, owners loved the lower price. Compared to other brands, Iams costs far less, even if you purchase their wet cat food.
There were many owners who reported their cats with dental problems could consume these wet foods. We found a review for practically every recipe that mentioned a cat with dental issues.