Wolf spiders, also known as ground spiders or hunting spiders, are members of the family Lycosidae. They are usually hairy, black or brown, with long, powerful legs mainly adapted for running. Most of the species in this family live in solitude and do not spin webs. Instead, they chase prey or wait near their burrows and ambush passing prey.
The wolf spiders, divided into many genera, have excellent eyesight– an adaptation for tracing and chasing down prey. They have eight eyes in three rows. Two medium-sized eyes are located on the top row, the middle row consists of two very big eyes, and the bottom has four small eyes.
Although Lycosidae members resemble nursery web spiders (family Pisauridae), they are unique in how they carry their eggs. While the Pisauridae carry their eggs using pedipalps and chelicerae, wolf spiders attach them to their spinnerets at the end of the abdomen. They must raise their abdomens to avoid dragging the egg case on the ground.
Wolf spiders thrive virtually anywhere, from grasslands to suburban lawns and deserts to rainforests. There are approximately 2,900 species of wolf spiders in 124 genera. Most of these species are very similar, making it hard to distinguish between them. This article examines 10 species of wolf spiders, how to identify them, and where they can be found. Read on for more information!
1. Pardosa amentata
Pardosa amentata, commonly known as the spotted wolf spider, belongs to the Lycosidae family in the genus Pardosa. These species are very common in the British Isles. They occur in many habitats, especially in grasslands and damp areas. In winter, they can also be found near house plants, windows, and doors.
Pardosa amentata spiders are brown with darker brown spots on their bodies. Females are slightly larger than males. Like most wolf spiders, Pardosa amentata does not weave webs but prefers chasing and leaping on any prey that comes into sight.
2. Lycosa tarantula
Formerly known as the tarantula, the Lycosa tarantula is a member of the Lycosidae family. These species are commonly found in Europe, especially near the city of Taranto in Italy, where it gets its name.
These wolf spiders are a large species, with females measuring approximately 1.18 inches (30 mm) long and males about 0.75 inches (19 mm). They are nocturnal species that typically rely on their excellent eyesight to hunt. Unlike jumping spiders (Salticidae), which are not afraid of humans, Lycosa tarantula species always try to avoid humans. They have excellent sight, so you can not ambush them, and capturing them is also quite difficult since they run so fast.
3. Tasmanicosa godeffroyi
Tasmanicosa godeffroyi is a wolf spider species commonly found across Australia. Unlike most wolf spiders, Tasmanicosa godeffroyi spiders have a distinct black underside of the abdomen. Their burrows have a thin veil of silk, without a lid, unlike as seen in a few wolf spiders. Females are slightly larger than males, measuring approximately 1.06 inches (27 mm) long, while males are about 0.9 inches (25 mm).
4. Rabidosa rabida
Rabidosa rabida, commonly known as the rabid wolf spider, is another member of the Lycosidae family, endemic to North America. These spiders are yellow and have two distinct dark stripes on their cephalothoraxes and another stripe on their abdomens. These species occur in many habitats, especially in cotton fields and wooded areas.
5. Hogna carolinensis
Hogna carolinensis spiders (Carolina wolf spiders) are the largest wolf spiders in North America. They can grow up to 1.5 inches long and are mottled brown with dark undersides. Like most wolf spiders, Hogna carolinensis spiders do not spin webs to catch prey and live in self-made burrows or the ones they find. Though they are present in many ecosystems, Carolina wolf spiders are commonly found in deserts and other locations with large temperature swings.
6. Pardosa milvina
Pardosa milvina spiders, called shore spiders, belong to the Lycosidae family. They are primarily found near rivers and agricultural areas. Unlike other wolf spiders, Pardosa milvina spiders do not have tufts of hair at the end of their legs and cannot climb smooth surfaces. They also have smaller chelicerae and more wavy dorsal stripes than other spiders in the Lycosidae family.
Pardosa milvina spiders are slightly smaller than other spiders in this family. The largest females measure about 0.24 inches long (6.2 mm), while the largest males are about 0.19 inches long (4.7 mm).
7. Trochosa terricola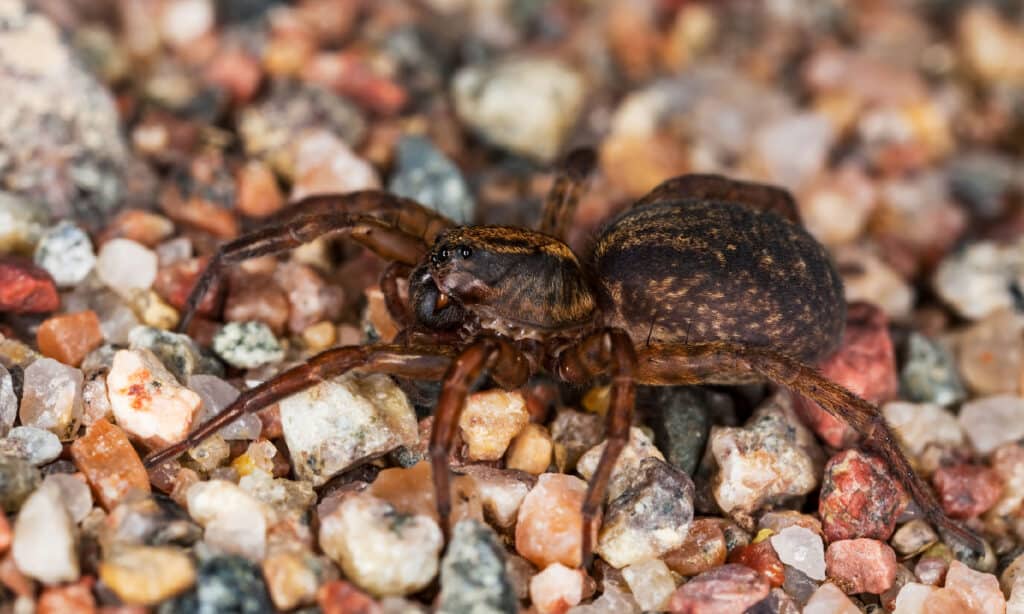 Trochosa terricola, known as the ground wolf spider, is a member of the Lycosidae family. These spiders are very common in western and central Europe. Female ground wolf spiders have reddish abdomens, while males have distinct darkened front legs. Females measure approximately 0.28 – 0.55 inches long (7-14 mm), while males are 0.28 – 0.35 inches long (7-9 mm).
8. Pardosa glacialis
Pardosa glacialis (the Arctic wolf spider) is a wolf spider commonly found in the Arctic, particularly in Greenland. Spiders in this genus have an average lifespan of about two years and grow as long as 1.6 inches. Unlike most wolf spider species, Arctic wolf spiders are cannibalistic. They eat spiderlings to keep the population in check since females produce greater numbers of offspring.
9. Tigrosa helluo
Tigrosa helluo species are also members of the Lycosidae family. These spiders can be found in diverse habitats, including riparian areas, fields, marshes, and woods. They prefer wet areas over dry environments. Males are approximately 0.43 to 0.94 inches (11 to 24 mm) long, while females are about 0.39 to 1.22 inches (10 to 31 mm). They are typically brown, with a distinctive yellow stripe running from the anterior eyes to the cephalothorax.
10. Hogna ingens
Hogna ingens spiders, commonly known as Deserta Grande wolf spiders, are critically endangered. They are mainly found in the remote valley of Vale de Castanheira on Deserta Grande Island. These spiders typically hide under rocks and crevices. They primarily eat insects and even small lizards.
Up Next:
The photo featured at the top of this post is © Brett Hondow/Shutterstock.com
---
Sources

Montana State University Extension, Available here: https://flathead.msuextension.org/documents/ag/spiders-insects/Spider%20Identification%20and%20Management%20MSU%20Montguide.pdf
ResearchGate, Available here: https://www.researchgate.net/publication/232679693_Nematode_and_dipteran_endoparasites_of_the_wolf_spider_Pardosa_milvina_Araneae_Lycosidae
araneae, Available here: https://araneae.nmbe.ch/data/1208/Trochosa_terricola
JSTOR, Available here: https://www.jstor.org/stable/41758960