Iowa deer season is broken into several different categories. Usually, the season kicks off in September with youth hunts and disabled hunter hunts. After a few weeks, it switches over to archery season. However, a few different archery seasons are spread throughout the deer season.
There are also several muzzleloader seasons. These allow hunters who utilize muzzleloaders without the competition of other firearms. There are also two short shotgun seasons in December. This season is broken into two parts, though they are both in December.
There are also some seasons in January. However, these are special seasons that not everyone can hunt in.
Let's look at these seasons in more detail and their requirements for hunting.
License Requirements and Information
To hunt in Iowa, you need a license. There are several different licenses available. However, most will need a General Deer License, which is valid statewide. These licenses are valid for taking a single deer of either sex. You can purchase a single license for the Bow Season and one more for the other combined seasons.
Therefore, if you purchase the correct license, you can take two different deers annually.
However, there are some exceptions. For instance, youth and disabled hunters work slightly differently and have their own licenses. Furthermore, the quotas for the Early Muzzleloader Season are limited. Therefore, these are sold on a first-come-first-served basis.
There are also other types of licenses you may purchase. For instance, antlerless licenses are sometimes available in certain areas. Usually, this occurs when there is an overpopulation of deer. These licenses are only available in the area you purchase them for.
Antlerless deer limits are set for each area. Therefore, a maximum number of deer can be taken in each area.
Types of Deer Seasons in Iowa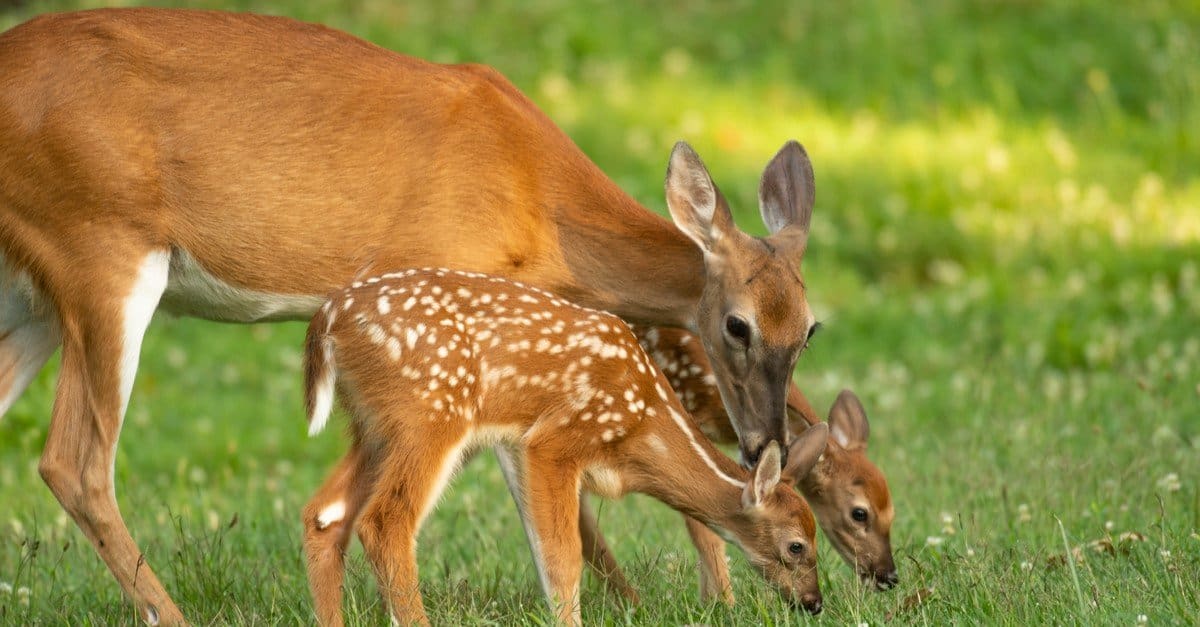 As we've stated, there are several different types of deer seasons in Iowa. However, these are generally the same across the state. Therefore, hunting is similar across the state, unlike in other states.
Let's look at when each of these seasons typically happens and what regulations they have.
Bow Season
Archery season allows you to use only bows and arrows. These bows include longbows, recurve bows, and compound bows. These bows must shoot broadhead arrows without explosives or chemicals. However, there is no minimum draw weight.
You may not use a crossbow unless you have a disability permit that allows you to use one. These are only provided if you are not able to use a bow. Residents over 65 are also allowed to apply for crossbow use.
You may not carry a handgun unless you have a valid permit to carry.
Shotgun Seasons
The shotgun season allows you to hunt with shotguns only. You may utilize a 10, 12, 16, or 20-gauge shotgun that shoots single slugs only.
Handguns include any revolver or pistol with a barrel length of at least four inches. They must shoot an expanding bullet. There are several requirements for handguns during deer season, including the amount o muzzle energy allowed. Be sure to understand these completely before taking to the field.
Rifles must also fit certain rules. They must propel centerfire ammunition that expands on impact. There are several other requirements, too. The calculated muzzle energy must be 500-foot pounds or higher, for instance.
These are only allowed by certain individuals during shotgun season.
Muzzleloader Seasons
There are several; muzzleloader-only seasons where you can use a range of firearms. However, these must be loaded through the muzzle only. They must not be equipped with an electronic ignition. However, you may use inline and disk-type muzzleloaders.
Riflescopes may also be utilized.
During late muzzleloader season, you may utilize archery, handguns, and crossbows (with the proper permit). These are not allowed during the early season.
Youth Deer Season
If you are under 16 years old, you may obtain a youth license for use during the Youth Season. These individuals must be under the supervision of an adult mentor with a valid license. Only one hunter may accompany each youth.
All regular regulations of firearms and other weapons apply during this season. In other words, the weapon must be valid.
Youths that turn 16 during the season must purchase a regular license. However, if they are youth during the youth season, they can use their youth license to hunt.
Unfilled youth tags can be used at any other season after youth season. However, party hunting is not allowed. The youth must be the only individual hunting. Youth can also purchase other licenses, just like usual, to take more deer.
Population Management Season
During January, there is a season specifically for controlling deer populations that are too high. These are only reinstated when not enough deer are taken in an area. They are limited to the number of deer necessary for population management, as well. They are sold first-come-first-serve.
Excess Tag January Season
If there are any antlerless tags that are not sold as of January, then the country may reinstate other antlerless permits for a short season. Licenses are available until the quotas are filled. Only antlerless deer may be taken during this time.
Other Regulations To Consider
On top of season-specific regulations, there are also several other regulations that you should consider. These apply to all seasons, so they should be read and understood by all hunters.
Hunters with a valid license may hunt with other hunters. This is called party hunting. However, helping doesn't include retrieving prey on private property. Furthermore, everyone present must have a valid license.
You may use dogs to track a wounded deer if you have a valid deer and a hunting license. However, the dog must be under the constant control of the hunter via a lead, which may not exceed 50 feet. Then, you may dispatch the deer using the valid method of the season.
You may use the dogs to track a deer at any hour. However, you must not be in possession of any hunting devices. The dog's handler does not have to have a hunting license. However, they must be with the hunter that wounded the deer.
You must wear an extremely visible orange piece of clothing when hunting during any season. This item must be a jacket, vest, coat, sweater, shirt, coverall, or sweatshirt. You may not use a blind for hunting during shotgun season unless it has one of these bright orange markings.
Do not construct a tree stand on state public hunting lands. You may not drive any metal object into a tree. However, you may use temporary deer stands and remove them when the season is over.
There are several things you may not do when hunting deer. For instance, you may not use bair, dogs, domestic animals, radios, handguns, rifles, crossbows, aircraft, drones, or electric calls. The only exceptions are those with disabilities, when certain exceptions may be made to accommodate the disability.
You may not shoot over a highway or waterway. Additionally, no person should discharge a weapon from a highway.
Chronic Wasting Disease
Chronic Wasting Disease is a pretty common disease in the United States. It affects deer, elk, caribou, and moose and is always fatal. It has been confirmed in every state bordering Iowa and, in some cases, Iowa itself. Currently, 163 wild deer in Iowa have tested positive.
Iowa is currently monitoring the disease to prevent its spread. They are currently utilizing a program that helps them collect samples. However, hunters play a vital role. Many samples are needed from deer that are at least 1 1/2 years old. The easiest way to get these samples is to utilize hunters.
Hunters also help decrease the density of deer, which helps decrease the spread of diseases. Furthermore, they also play a role in disposing of deer properly.
However, there are not many regulations that hunters must follow surrounding this disease.
What To Do After a Deer Is Harvested
You must tag any deer that you harvest right away. The tag must remain with the deer until it is processed for consumption. Hunters in all seasons, but shotgun seasons, must shoot their own deer and tag only the deer they shoot. (In some seasons, party hunting allows some hunters to help each other with deer hunting.)
The deer is considered to be under the possession of the hunter whose name is on the tag. You may not tag a deer with a tag that was purchased after the deer was taken.
You may not carry a transportation tag that has been issued to another hunter. Hunters may only carry tags and licenses with their names on them.
It is required for you to properly harvest your deer (especially if you plan on donating the deer). You must field dress the deer correctly within 30 minutes of taking the deer. Removing the intestines is especially important when it is warmer outside. Keep the meat clean by using disposable gloves and clean tools.
Only use bags designed for food transport when hauling the deer meat. Trashbags are not designed for this purpose.
To tag a deer correctly, remove the tag from the backing and attach it to the deer. Follow the instructions on the tag. You'll need the harvest registration number from your tag to report your deer. You'll need to report the sex of the deer, as well.
Both the transportation tag and the harvest report tag need to remain attached to the animal.
Fines for Not Following Regulations
If you are charged with a hunting violation, the court will typically charge you with various penalties. Usually, you'll also have to reimburse the state for the value of the animal. For instance, a trophy deer may cost as much as $10,000 and up to 80 hours of community service.
Other violations vary a bit. They depend largely on what the violation was. Any equipment that you utilized during that violation can also be taken by the state as evidence.
The photo featured at the top of this post is © iStock.com/Karel Bock
---
Sources

eRegulations, Available here: https://www.eregulations.com/iowa/hunting/deer-hunting-regulations
eRegulations, Available here: https://www.eregulations.com/iowa/hunting/deer-hunting-seasons
eRegulations, Available here: https://www.eregulations.com/iowa/hunting
Iowa Department of Natural Resources, Available here: https://www.iowadnr.gov/hunting/hunting-season-dates
Iowa Department of Natural Resources, Available here: https://www.iowadnr.gov/Portals/idnr/uploads/Hunting/disease/cwd-hunterguide.pdf
eRegulations, Available here: https://www.eregulations.com/iowa/hunting/licenses-fees