Brazil is a large country with a vast coastline. However, most of the country's most popular fish come from the Amazon River and Rio Negro, which snakes its way across the northern part of the country. The Rio Negro, a tributary of the Amazon, has more than 450 species of fish, which is more than all the rivers of Europe! And more than 3,000 fish species have been recorded in the Amazon River Basin. Because of this, the area is a favorite of fishing hobbyists. But, it is also vital for the local people. According to the World Wide Fund for Nature, fishing provides jobs to 200,000 people in the communities near the rivers and is the primary source of protein for people in these communities as well. Keep reading to learn more about some of the most popular Brazilian fish species.
1. Peacock Bass
Like many fish of this region, the peacock bass also has a name in Spanish, pavon, and Portuguese, tucunaré. The Spanish name means peacock. The Brazilian name comes from the indigenous language called Tupi and means "friend of the tree." This is because these fish are often found near submerged tree trunks.
Peacock bass is actually a genus that includes at least 15 different species, 12 of which are found in Brazil. The largest one is the speckled peacock bass which can grow to over 3 feet long. While the different species have slightly different appearances, they all have a spot on their fin that experts believe deters piranhas from biting them. Most species have grey, brown, yellow, or green coloring with three large vertical stripes.
Peacock bass mostly eat other fish, including their own young, if there isn't much else to eat at the moment.
This species is an important fish for food in the region, but it has also been accidentally introduced in other areas outside its native habitat. In some cases, they have escaped from fish farms, and in other cases, they have been released into other areas on purpose. When this happens, they can become an invasive species and affect species diversity because of their carnivorous nature. In one case, after being introduced in the Rosana Reservoir in Brazil, there was a 95% reduction in the density of the native fish species.
2. Piraiba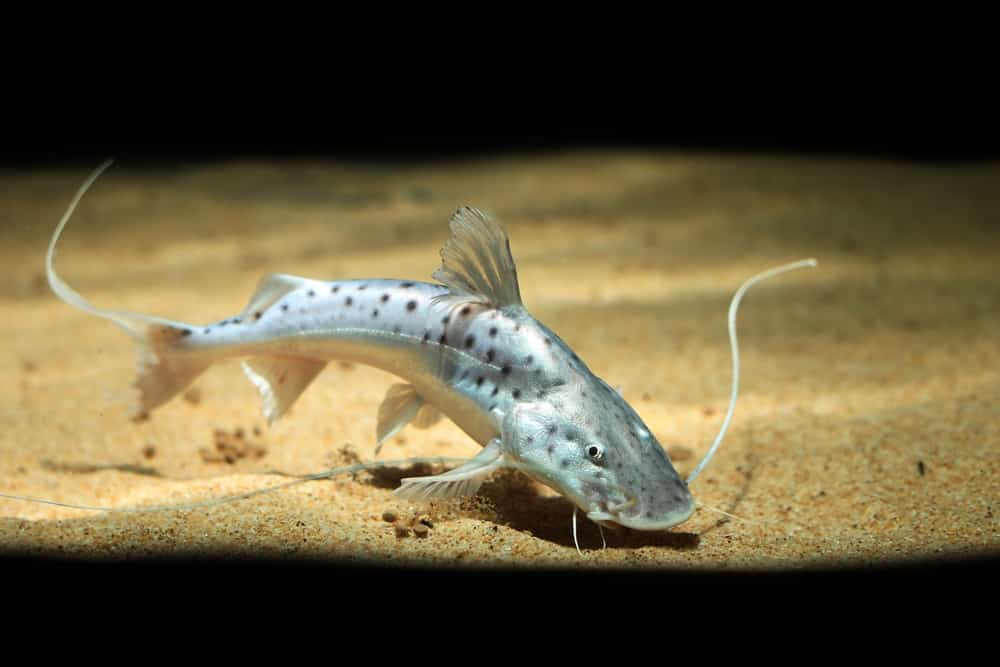 The Paraiba is famous for being a large catfish from this region. They can grow up to 9 feet long and weigh as much as 330 pounds. They eat fish most of the time but some specimens caught have had monkey parts in their stomachs as well. It is suspected that the largest of them may eat humans, or at least try to. In an episode of the show River Monsters, a Paraiba swallowed a fisherman head first up to his waist. Both the fisherman and the fish died after this experience.
This large fish is often considered a prize by sport fishers because it can put up a fight, and is so large. These fish are important for food in the region. However, there are many environmental factors affecting their populations. New dam construction, deforestation, and overfishing in certain areas may have contributed to lower numbers of catches and sightings.
3. Redtail catfish
The redtail catfish is recognizable by its long whiskers, white markings on its side, and reddish fin on their tail. They grow up to 6 feet long and can weigh as much as 180 pounds, but that is at the extreme end. On average, they are more like 4 feet long. Similar to other catfish species, they emerge at night to feed and rest during the day. They eat live and dead fish and will also eat pretty much any other meat.
While this fish is edible, some local people do not eat redtail catfish because the meat is black or grey in color. However, other locals do eat these fish. Their meat is said to taste like pork. It is also an important fish for the aquarium trade, and it is often featured in Amazon-river-themed tanks at aquariums. However, this fish might not be the best for most home aquariums. It is so large that it requires a lot of space in the tank! Adults need a tank of at least 2,600 gallons. They can also be finicky. Overfeeding is a common cause of premature death. They only need to be fed about once per week.
4. Arowana
Another name for the arowana is bony tongue because they have a toothed bone in the bottom of their mouth that resembles a tongue. This fish is unique because, in addition to getting oxygen from the water, it can also breathe air. They mainly eat from the surface and can jump up to 6 feet to snatch bugs and even birds from low-hanging branches above the water. Because of this, they are sometimes known by the nickname, water monkey.
These fish are difficult to keep in an aquarium because they are aggressive and do not get along with most other types of fish. They also require a lot of space. Experts recommend an aquarium as large as 800 gallons. Arowana species from other areas are considered a status symbol. For example, an albino Asian arowana was sold for $300,000 in 2009.
5. Tambaqui
The tambaqui goes by several other names, including:
black pacu
black-finned pacu
giant pacu
cachama
gamitana
They are robust fish that can grow up to 3.5 feet long and can weigh nearly 100 pounds. While the tambaqui is an herbivore that feeds on seeds and fruit, they are sometimes mistaken for other carnivorous fish species that have a similarly shaped body, such as the piranha. Their eating habits are actually important for spreading seeds. They eat seeds during times of flooding and then excrete them elsewhere through the digestive process. Once the flood waters recede, the seeds can take hold and start growing into plants.
Tambaqui is an important food fish for the region. In the wild, their population has declined significantly due to overfishing. However, they are a popular fish to farm as part of aquaculture because they are disease-resistant and can live in oxygen-depleted waters.
6. Payara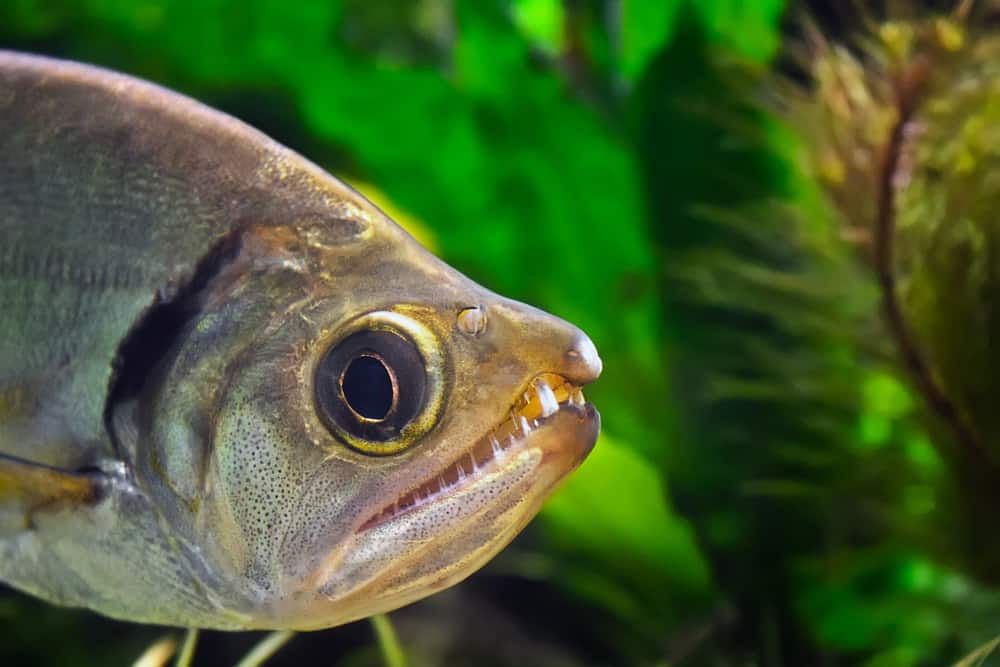 The payara may be smaller than some of the other fish species on this list, but it is mighty. It is a type of dogtooth tetra, also known as vampire tetra. They eat smaller fish by impaling them with the two fangs that stick out from their lower jaws. Their look is pretty scary but they do not attack humans unless threatened. These aggressive fish even have fierce piranhas running. They have been known to eat the notorious piranha and because of this, when a school of piranhas sees a payara, they may turn the other way.
Payaras generally grow to about 1 foot long but can grow as large as 1.7 feet long. They are very popular aquarium fish, especially in aquariums that feature more aggressive fish. If you do get a payara for your aquarium, be sure to only pair it with larger fish. It will likely eat any smaller fish! In the aquarium trade, they are also called:
7. Piranha
Piranhas are a fish family notorious for eating animals in a frenzy. However, they are technically omnivores because they also eat plants. Their name comes from the local Tupi language and may mean toothfish, biting fish, or bad fish. There are at least 40 species of piranha. Most species are between just 5 inches and 14 inches long. However, the largest species is the red-bellied piranha which grows up to 20 inches long. Piranhas are also easily recognized by their single row of sharp teeth.
While piranhas are known for swimming in schools to attack prey together and to gain protection from larger predators, only some species, like the red-bellied piranha, do this regularly. Others are solitary swimmers.
While piranhas have a bad reputation, they are actually not as dangerous to people as they may seem. They tend to attack when splashing is present, or when water conditions force the school or piranhas into a more dense formation than usual. Unfortunately, due to their attraction to splashing, children are uniquely vulnerable to piranha attacks. Luckily they are rarely deadly. Most attacks result in one or two bites on the fingers or toes.
8. Cobia
With a vast coastline, Brazil does have access to a lot of saltwater fish. However, most of the popular fish from the country are from freshwater sources. Cobia are one ocean fish in Brazil. They grow up to 78 inches long and weigh up to 178 pounds. They eat crab, squid, and other fish. These migratory fish are found in the ocean waters around Brazil between March and September. During the other parts of the year, they migrate as far north as Massachusetts.
Cobia is a popular fish for open-water marine aquaculture (fish farms in the ocean) because they grow quickly and taste good. Aquaculture also prevents the species from being overfished in the wild. Currently, according to the National Oceanic and Atmospheric Association, Cobia are not overfished but are in danger of being overfished. Their numbers in the wild are below the target level.
Up Next:
---
The Featured Image
---
FAQs (Frequently Asked Questions) 
How many fish species are in the Amazon River?
There are at least 3,000 species of fish in the Amazon River.
How many fish species are in the Rio Nego?
There are at least 450 species of fish in the Rio Nego.
What are some types of fish that are found in Brazil?
The piranha, cobia, and peacock bass are examples of fish that are found in Brazil.
Sources

World Wide Fund For Nature, Available here: https://wwf.panda.org/discover/knowledge_hub/where_we_work/amazon/vision_amazon/models/natural_resources_management_amazon/fish_management/
Wikipedia, Available here: https://en.wikipedia.org/wiki/Arowana
Wikipedia, Available here: https://en.wikipedia.org/wiki/Tambaqui
Wikipedia, Available here: https://en.wikipedia.org/wiki/Redtail_catfish
Wikipedia, Available here: https://en.wikipedia.org/wiki/Brachyplatystoma