Geography of Australia
Australia is a large country located in the southern hemisphere and surrounded by the Indian and Pacific Oceans. It has an area of about 2,941,300 square miles, making it the sixth-largest country in the world by total landmass. Australia is divided into six different states and two territories, each with its own unique geography and climate. The terrain ranges from flat plains in areas like Victoria to mountainous regions such as Tasmania's Cradle Mountain region.
The climate of Australia varies from one state to another depending on latitude, elevation, ocean currents, the presence of mountain ranges (which cause rain shadows), proximity to deserts, and prevailing winds (like monsoons!). In general, most parts of Australia have warm summers and mild winters due to their location near the equator. However, there are some exceptions, such as Tasmania, which experiences cooler temperatures year round due to its cooler oceanic influence compared to other states on mainland Australia.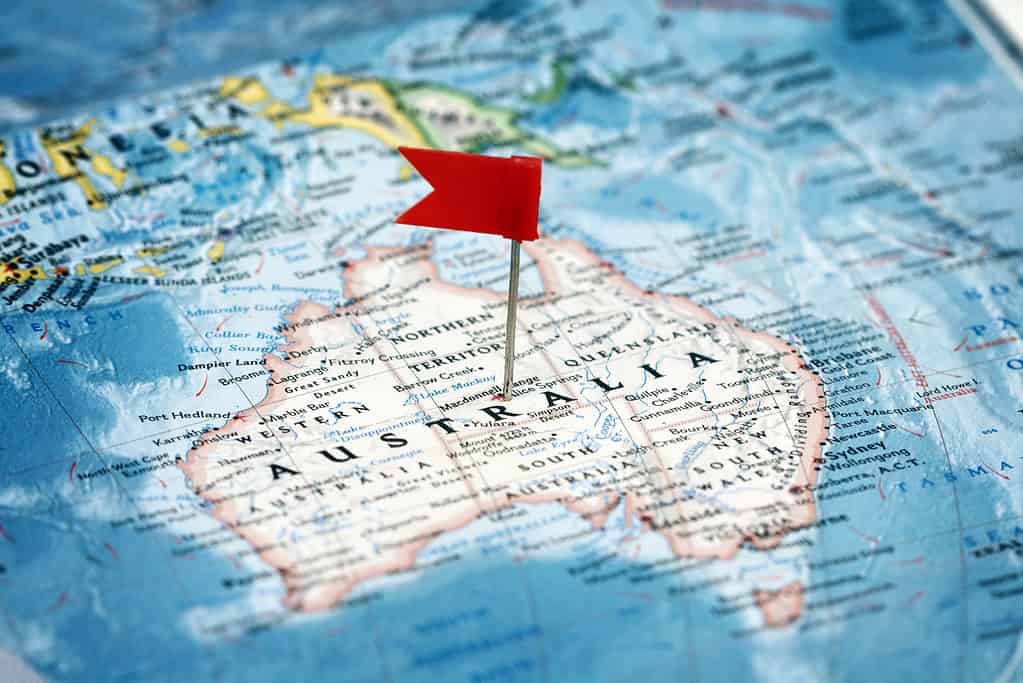 People and Culture
Australia is a culturally diverse nation with people from many different backgrounds and cultures. The national language of Australia is English, but many Indigenous languages are spoken throughout the country. Australians are known for their laid-back attitude and love of the outdoors. They enjoy spending time in nature, especially at beaches or national parks. Sports are popular too, both playing them and following them as spectators. Australians have a strong sense of national identity that reflects in their culture, which includes music, literature, art, food, and more!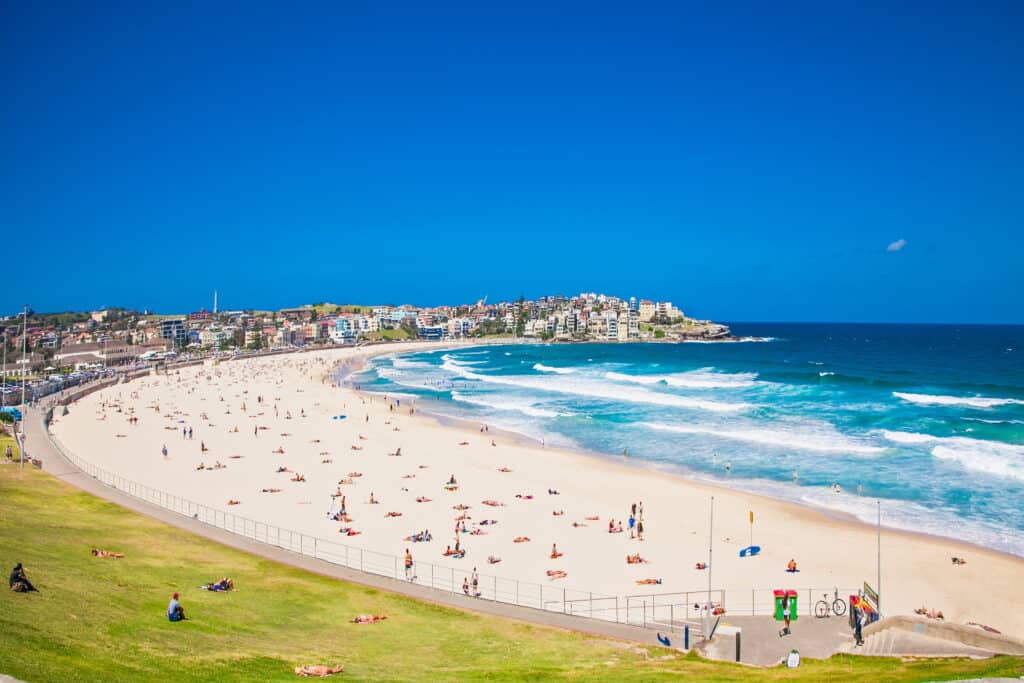 Native Plants
Australia has a wide range of native plants growing in all sorts of habitats, from woodlands and forests to deserts and wetland environments. Eucalyptus trees are perhaps the most iconic Australian plant, but there are also many other species, such as wattles, acacias, grasses, and ferns. Australia is particularly renowned for its incredible diversity of shrubs, including heaths, banksias, grevilleas, and hakeas. There are many herbs, such as mintbush and kangaroo paw, plus a huge variety of succulents like pigface or living stones that thrive in dry regions. 
National Flower
The golden wattle (Acacia pycnantha), the national flower of Australia, is native to much of southern Australia and blooms during springtime. It is a key part of the Australian landscape and is known for its bright golden flowers that stand out against green foliage. Green and gold are the national colors of Australia, and when wattle is in bloom, it does a great job of showing off these colors.
The golden wattle has held a special place in Australian culture since colonial times when it was used as a symbol to represent the unity between settlers from different countries. In 1988 it was officially declared the national flower by then Prime Minister Bob Hawke, cementing its status as an iconic symbol of Australia.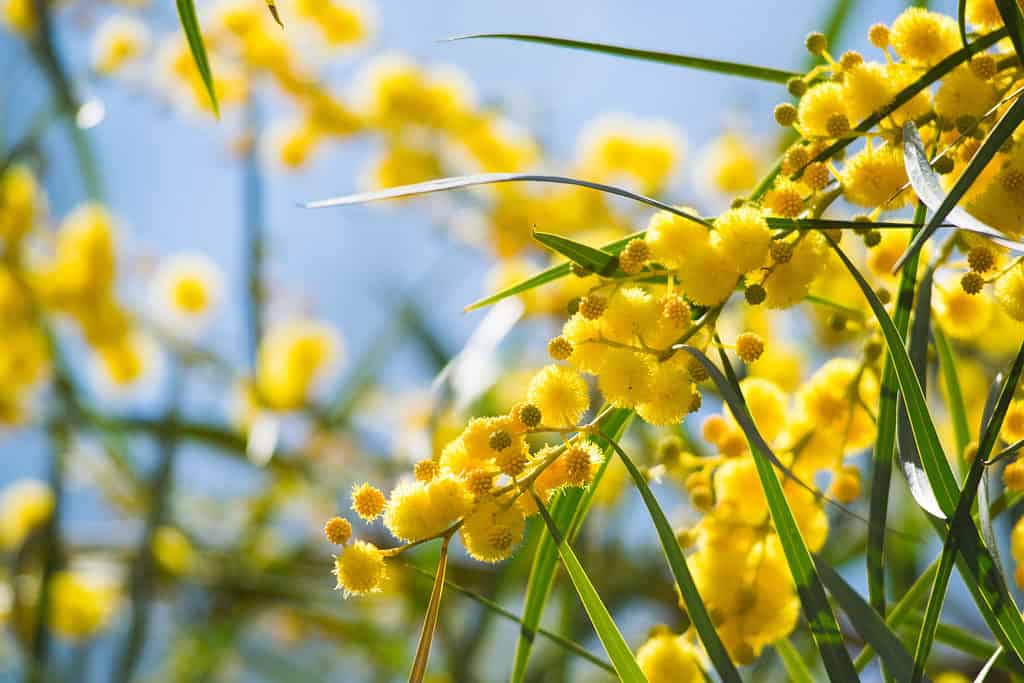 Symbolism
The golden wattle is a truly remarkable symbol of the Australian spirit. Not only does it represent resilience in the face of Australia's sometimes harsh conditions, but it has also been used to commemorate and reflect on special historical moments. For example, Australians are invited to wear a sprig of wattle on national days of mourning as an expression of solidarity. The golden wattle also appears frequently in official documents and awards, including stamps issued by Australia Post and emblems associated with the Order of Australia. This tradition shows how important this flower is to Australians who want to honor their country's identity and values.
National Wattle Day
The first day of September is a national holiday in Australia, known as National Wattle Day. It commemorates the long tradition of wearing the golden wattle blossom on 1 September, which was originally introduced in 1913 by an association called the Wattle Day League. The holiday was formally recognized by the Australian government on 23 June 1992.
Australians celebrate their heritage each year on this special day by planting golden wattle or displaying wattle sprays and branches to brighten up homes, parks, and other public places. Wreaths made from wattle flowers are another popular way to show patriotic pride for Australia's national flower during this time of celebration.
What is a Golden Wattle?
Golden wattle (Acacia pycnantha Benth.) is a small tree or spreading shrub that is evergreen. It grows in the understorey of open forest, woodland, and open scrubland.
The common name "wattle" comes from an Anglo-Saxon building technique where flexible twigs and small branches were interwoven to form a framework for buildings. This building style was brought to Australia by early settlers and many types of wattle for construction.
There are currently 750-760 different types of wattle across Australia. Some being native only to certain regions while others grow all over the continent. The golden wattle remains one of the most recognizable varieties due to its bright yellow flowers. They bloom from August through December each year.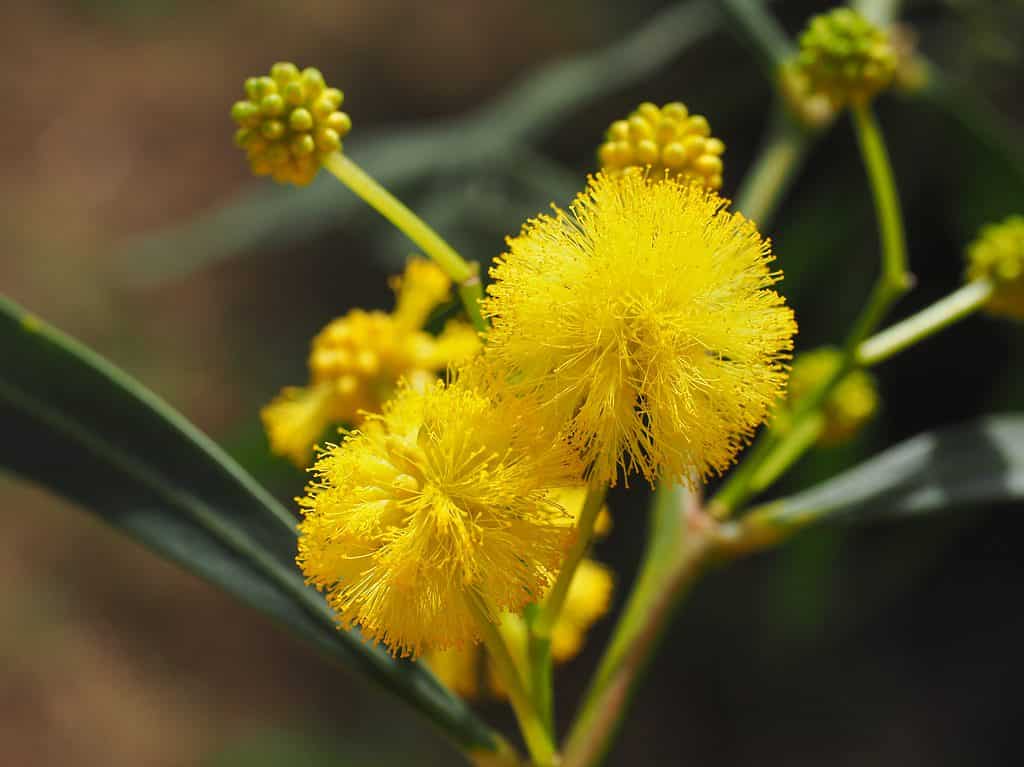 History of the Golden Wattle
Indigenous Australians have been using the golden wattle for a long time. Its gum was boiled in water and honey to make a sweet treat. The bark was known for its antiseptic properties.
When Australia was Federated in 1901, it was unofficially made the national flower. 12 years later, it was fully accepted when Prime Minister Andrew Fisher proposed adding it to the Commonwealth Coat of Arms. Now, it frames the shield on the coat of arms, showing how important it has been to the country.
The golden wattle was officially proclaimed the national floral emblem of Australia on 19 August 1988.
How to Grow Golden Wattle
Golden Wattle can be grown in either full sun or part shade locations. It is best to avoid heavy clay soil and, if it is present, raise the garden bed and add gypsum to improve drainage.
In climates with mild temperatures, wattles may be planted at any time of the year. For hotter, drier climates, it is best to wait until autumn or winter to give the plant time to settle.
The most common way to grow golden wattle is by seed. Seeds can be stored for many years in a cool, dry place. However, the hard outer coating must be worn away or softened before water can enter and germination can take place.
Wattles make great garden plants due to their variety of sizes and shapes, from low-growing shrubs to larger trees. After flowering, pruning is recommended as it will extend the life of the plant if done regularly.
Other Uses for Wattle
Golden wattle has many uses in addition to its status as the national flower of Australia. It can be harvested for tannins after seven years of age, providing a high yield compared to other wattles. Its timber size is small, limiting its commercial use, but it makes an excellent fuel wood.
The scented flowers have been used for fragrant perfumes and delicious honey in humid climates. However, bees cannot collect their pollen because it is too dry.
In southern Europe, Golden Wattle is one of several species grown specifically for the cut-flower trade and is called a mimosa. Additionally, wattle plants exude gum when under stress. This gum was traditionally consumed by indigenous Australians and more recently investigated as a substitute for other gums commonly used in the food industry.
Is Wattle Beneficial to Wildlife?
The golden wattle is an important source of nutrition for many species in Australia. Birds are not only pollinators, but they also feed on the nectar produced by their flowers. Some birds even use it as a nesting site.
Species like Eastern spinebills, crescent honeyeaters, white-naped honeyeaters, and yellow-faced honeyeaters rely heavily on this native tree for food. Other birds, such as buff-rumped thornbills and silvereye thornbills, also depend on the golden wattle for sustenance.
Insects such as wood beetles feast upon the wood. Also, butterflies like wattle blues, fiery jewels, and amethyst hairstreak feed off of its foliage. Wasps enjoy the flowerheads, and psyllids sip sap from the leaves of these plants. Without them, their life cycles would be impacted greatly, which is why the golden wattle serves an important role in Australian wildlife ecology.
Wildlife of Australia
Australia is home to a diverse and unique selection of wildlife. They include some of the most iconic creatures in the world. Some of the common animals you might find in Australia are kangaroos, wallabies, koalas, dingoes, platypuses, wombats, and echidnas.
You can also spot native birds such as parrots, lyrebirds, and emus. Not to mention other interesting creatures, such as possums and sugar gliders, that inhabit tree hollows and forests across the country.
In addition to these land-dwellers, there are many types of reptiles, like snakes and lizards, found throughout Australia's bushland areas. For a truly special experience exploring Australian wildlife, you should visit one of our many national parks or nature reserves. There you will have a chance to see all sorts of incredible plants and animals up close!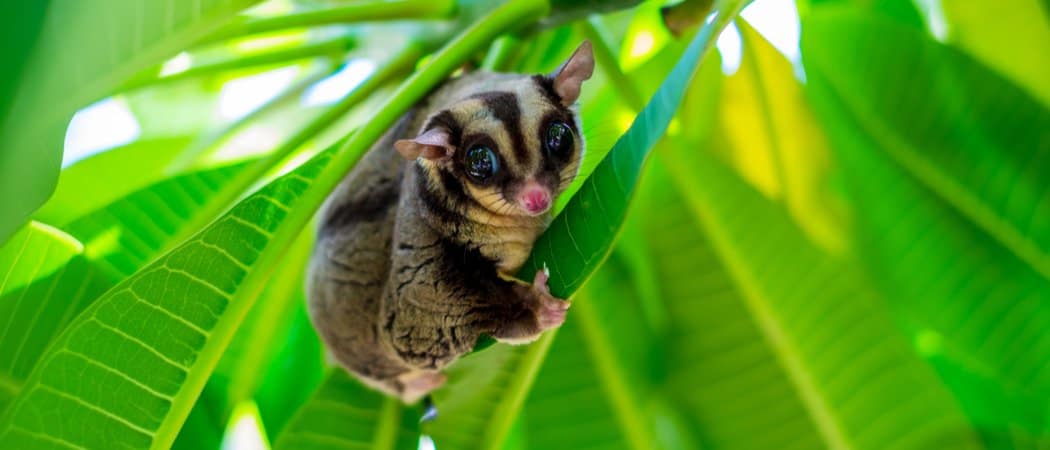 What Other Flowers Grow Here?
Australia is home to a wide variety of wildflower species, many of which are stunning to behold. These include everlastings such as strawflowers and paper daisies, wattles including silver wattle, coast banksia, and golden gay time, and iconic Australian plants such as grevillea, kangaroo paw, and waratah.
Other blooms found in Australia's bushland include eucalyptus buds, flannel flowers, and cornflowers. Some of these flowers have become popular for use in gardens both inside Australia and overseas. They provide a splash of color from warmer climates without having to worry about frost damage!
Next Up
---
FAQs (Frequently Asked Questions) 
What is the golden wattle?
Golden wattle (Acacia pycnantha Benth.) is a small tree or spreading shrub that is evergreen. It grows in the understorey of open forest, woodland, and open scrubland.
How does one grow golden wattle?
The most common way to grow golden wattle is by seed. Seeds can be stored for many years in a cool, dry place. However, the hard outer coating must be worn away or softened before water can enter and germination can take place.