The popular Jurassic Park movie franchise involves a lot of CGI and on-set work. Still, computers can't generate the kind of stunning scenery that exists in reality across the world. Let's discover where the Jurassic Park movies were filmed, the best time to visit, wildlife, and more.
Where Was Jurassic Park Filmed?
Jurassic Park movies were chiefly filmed on Hawaii's Kauai Island, but Maui, Ouha, British Columbia, Malta, and the U.S. also feature in the franchise.
Hawaii, Kauai
Kauai Island is the location for not only the first record-breaking Jurassic Park film but many of the follow-up films, too. "Isla Nublar, located near Costa Rica," is Jurassic Park's given location, but in reality, those scenes were shot in Kauai, Hawaii's smallest main island.
Here's a selection of Jurassic Parks' Kauai scenes:
One of the first Jurassic Park scenes involves a helicopter landing by a waterfall. This waterfall is Manawaiopuna Falls, but it's commonly called Jurassic Park Falls now.
An unfortunate Jurassic Park gatekeeper is eaten by velociraptors at Limahuli Garden in the National Tropical Botanical Garden on Kauai's north side.
"What have they got in there, King Kong?" questions Ian Malcolm as the group approaches Jurassic Park's iconic gates. This place exists! It's Lihue-Koloa Forest Reserve.
In the Lost World (1997), Isla Sorna, also called Site B, is actually Kauai's Na Pali coastline. At the start of this film, dinosaurs attack a family beachside picnic. This beach is two miles long, Kipu Kai.
Jurassic Park III ends with a dramatic rescue scene filmed on Kauai's Pilaa Beach, a remote, difficult-to-access beach with incredible views. Private Kahili Ranch offered the perfect location for many of the third installment's scenes.
Animals in Kauai
Hawaii's islands are home to incredible wildlife. Over 21 bird species are native to Kauai, such as the black but gray-winged alala crow and the endangered Hawaiian stilt. Another 60 bird species nest there, including the Hawaiian native nene goose.
In the ocean, protected Hawaiian monk seals bask on rocks and hunt fish. Kauai's waters contain three sea turtle species: humpback whales, spinner, striped, and bottlenose dolphins. In the caves, endangered Hawaiian bats sleep before searching out night-time food. Hawaiian mongoose, black-tail deer, goats, and wallabies all roam the island alongside feral cats, dogs, donkeys, and cattle.
Best Time to Visit
The best time to visit Kauai island and re-live your favorite Jurassic Park moments is during the April to October dry season.
Even though it's still beautiful from November to March, Kauai remains green and lush because it receives lots of rainfall.
Hawaii, Maui
Hawaiian island Maui provided stunning scenery for the original Jurassic Park film and 2015's Jurassic World.
In the first 15 minutes of Jurassic Park, a helicopter passes an unmissable rock, the Keopuka Rock. Thanks to the film, it's now called Jurassic Rock.
Isla Nublar's ferry arrives at Maui's real-life Makai Research Pier.
2015's helicopter entrance scene took place above Maui's north shore, not far from the 26-acre Garden of Eden Arboretum.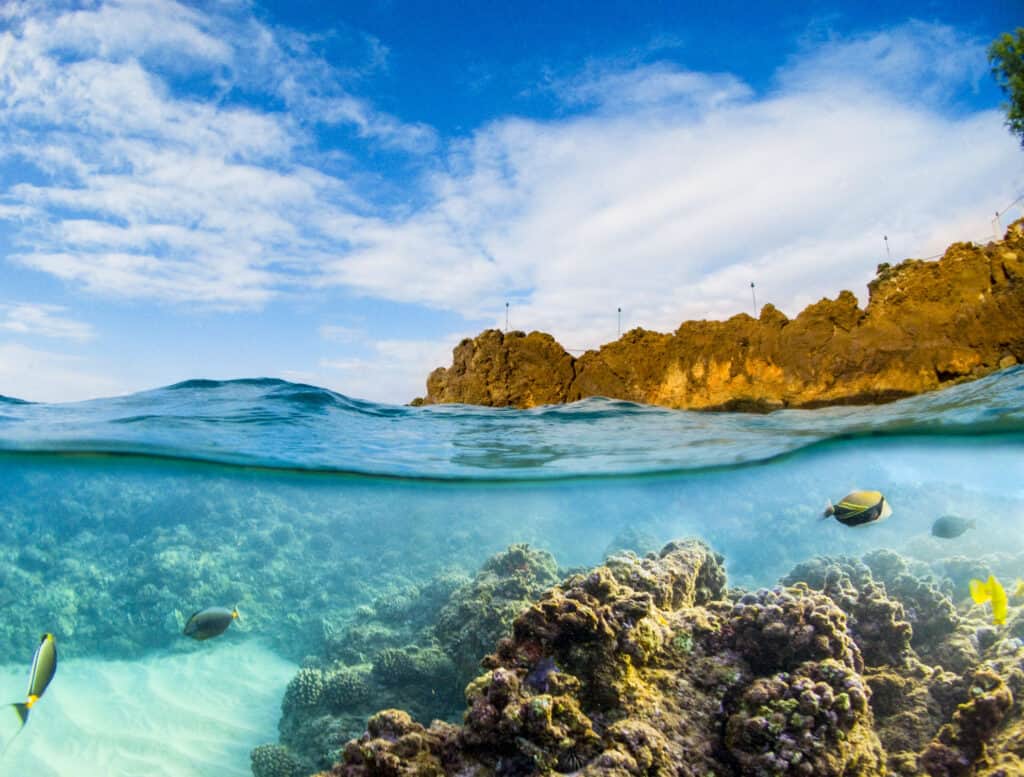 Animals in Maui
Maui is the second largest main Hawaiian Island, and like Kauai, it's home to many animal species that don't live elsewhere in the world.
You can spot Hawaiian monk seals, three species of dolphins, migrating humpback whales, Hawaiian nene goose, Hawaiian mongoose, and the light yellow endemic Maui parrotbill, a honeycreeper species.
Best Time to Visit
The best time to visit Maui to re-enact Jurassic Park or spot endemic wildlife are dry months, April to October. The wet months in Maui are warm, but the rain can put a dampener on your visit.
Hawaii, Oahu
Oahu appears in Jurassic Park, but it mainly features in the later moves.
In Jurassic Park we encounter a stampede scene of dinosaurs trying to escape predators. This was filmed at the expansive Kualoa Ranch in Oahu. Jurassic World and Fallen Kingdom stampedes took place here, too.
Claire, Frankin, and Owen wash up on a shoreline in Fallen Kingdom. That's famous Halona Beach, and it's unusual to see it deserted because it's a tourist hotspot.
At the end of Jurassic World, Claire's nephews reunite with their parents. That's shot in the Pearl Harbor Aviation Museum hangar no. 79.
Animals in Oahu
Hawaiian Island Oahu offers a rich wildlife spotting experience, from diving with sharks and whales to bird-watching in forests. Some of the animals you might encounter in Oahu include turtles, Hawaiian monk seals, dolphins, manta rays, Hawaiian nene goose, plus the endemic Oahu Alauahio honeycreeper and its endangered bright orange Iiwi.
Best Time to Visit
Like all Hawaiian islands, the best time to visit is the dry season, which is roughly April to October. The islands are open year-round; although the wet season is quieter, the rain is often intense.
Red Rock Canyon State Park, California, USA
Hawaii offers the majority of Jurassic Park movie locations, but there are a few other spots worthy of mention, too.
To find the U.S. mainland filming locations for the Jurassic Park movies, visit Red Rock Canyon Park near Ridgecrest in California's Mojave Desert.
In the first film, Dr. Grant warns about the dangers of raptors right before Dr. Hammond extends a generous funding offer. The film portrays the site as bustling with hardworking paleontology students, but in reality, only a four-wheel drive can access this sweltering location. While Red Rock Canyon State Park provides stunning vistas, no one has yet discovered dinosaur bones.
Animals in Red Rock Canyon State Park
Red Rock Canyon State Park looks inhospitable but is filled with fascinating animals. You might spot:
Racer snake
Coyote
Tiger whiptail lizard
Ash-throated flycatcher
Giant desert hairy scorpion
Desert cottontail rabbit
Mojave green rattlesnake
Bobcats
Red-tailed hawk
Great horned owl
Best Time to Visit
Red Rock Canyon State Park is just as hot as it appears in Jurassic Park. The best time to visit is March to April and October to November. Take water, sunscreen, and wear a hat to beat the heat.  
Don't stay too late because when the sun goes down behind the mountains, it's pitch black out there.
British Colombia
Early Jurassic Park films featured tropical destinations, but Jurassic Park Dominion offers a snowy location. The cold, isolated area Claire, Owen, and Maisie live in was filmed at Kamloops and Merritt in British Columbia, the westernmost province of Canada.
Animals in British Columbia
British Columbia's animals are stunning. Expect to see moose, caribou, cougar, black, grizzly, and Kermode bears, bighorn sheep, and mountain goats.
A huge number of migratory animals pass through British Columbia each year, too. Over a million birds fly on the Pacific highway, including aise swallowtails, trumpeter swans, and green herons. Pacific grey whales migrate along the coastline, and Pacific salmon make their way into the interior.
Best Time to Visit
Spring and fall are the best times to visit British Columbia because that's when animal migrations take place. Domestic animals appear year-round, so it's always a good time to visit British Columbia. Chris Pratt, the actor who played Owen Brady, said, "Kamloops, British Columbia is so beautiful."
Malta
In Dominion, raptors chase Owen Brady on a daredevil motorbike ride through a city. If you want to discover where the Jurassic Park movies were filmed, look no further than the fortified city of Birgu in Malta! Malta's capital, Valletta, with its breathtaking architecture, makes an appearance as the location of Amber Clave night market.
Animals in Malta
Malta is home to chameleons, dolphins, spiny Rizzi sea urchins, cat snakes, Portuguese man o'war jellyfish, and lots of friendly feral cats.  
Native species include the Maltese goat, honeybee, ruby tiger moth, Sicilian shrews, and the tiny green wall lizard.
Best Time to Visit
It's always a good time to visit Mediterranean Malta, but the best weather is usually from June to September. If you prefer a tourist-free trip, go in the winter months. Malta is full of amazing buildings and historical sites that don't require sunshine.
---
The Featured Image
---