Las Vegas is well-known for being glamorous and glitzy, but it is even better when you combine it with something more rural, like taking a trip to the Hoover Dam while you are there. Just outside of Las Vegas, the Hoover Dam is impressive and offers beauty, history, and remarkable engineering. Also, there are many more interesting attractions to see between Las Vegas and the Hoover Dam. Therefore, there are several different routes to choose from, each with its own stunning attractions. But how far is the Hoover Dam from Las Vegas?
The most direct drive from Las Vegas to the Hoover Dam is 37 miles long and takes an average of 30 to 45 minutes. Also, some attractions on this drive include Lake Mead, the Mike O'Callaghan-Pat Tillman Memorial Bridge, and Boulder City. However, there are other routes to consider when traveling from Las Vegas to the Hoover Dam.
Hoover Dam
The famous Hoover Dam is found on the Colorado River. Also, it borders the states of Nevada and Arizona, and the reservoir it formed is called Lake Mead. The Hoover Dam was named after Herbert Hoover, a former United States President. Initially, it was called Boulder Dam. However, the name was later changed to honor President Hoover, who was president when the Dam construction started. This incredible feat of engineering stands 726 feet high and spans 1244 feet in length.
When it was completed, it was the largest dam in the world at that time. Hoover Dam construction began on July 7th, 1930. However, the Nevada South tower collapsed due to strong winds, falling on September 15th, 2006. When this happened, the collapsing sections destroyed many support cables of the Nevada North Tower, resulting in it falling to the north.
The Hoover Dam was built between 1930 and 1936, with many catastrophes along the way. For instance, 96 people died from accidents that occurred while they were working on the dam. Also, it is believed that 42 workers died from illnesses they contracted while building the dam. This magnificently engineered structure is the equivalent of a building with 60 stories and was the tallest dam in the world when it was completed in 1936. Additionally, the town of Boulder City did not exist before the dam's construction began. The town was created to house the workers involved in the building of the Hoover Dam. Lastly, the dam is a major tourist attraction; almost 7 million people visit there yearly to experience the breathtaking views.
Transportation Between the Hoover Dam and Las Vegas
A few options exist to get to the Hoover Dam from Las Vegas. These include:
Car or rideshare
Helicopter
Guided tour
Car or Rideshare
As stated previously, the Hoover Dam is about a 45-minute drive from Las Vegas. However, it may take longer in summer as there is bound to be heavy traffic. Also, the Hoover Dam does not have an exact location, so a GPS may not recognize it, but it will pick up the landmarks of the dam or the Hoover Dam Visitors Center. One option to get to the dam from Las Vegas is to take a Lyft or rideshare service, which should cost around $60 one way.
However, if you take your own car, a parking garage on the Nevada side of the dam can be utilized. It will cost about $10 to park your car there. But this garage does not accommodate oversized or recreational vehicles. If you have one of these, you will have to use the garages on the Arizona side just across the memorial bridge, which is a longer walk to the visitor's center.
Helicopter
Another option to get from Las Vegas to the Hoover Dam is by helicopter. These helicopter tours are very popular and take advantage of the beautiful views of the dam. You can book them online or at one of the numerous kiosks on the Strip.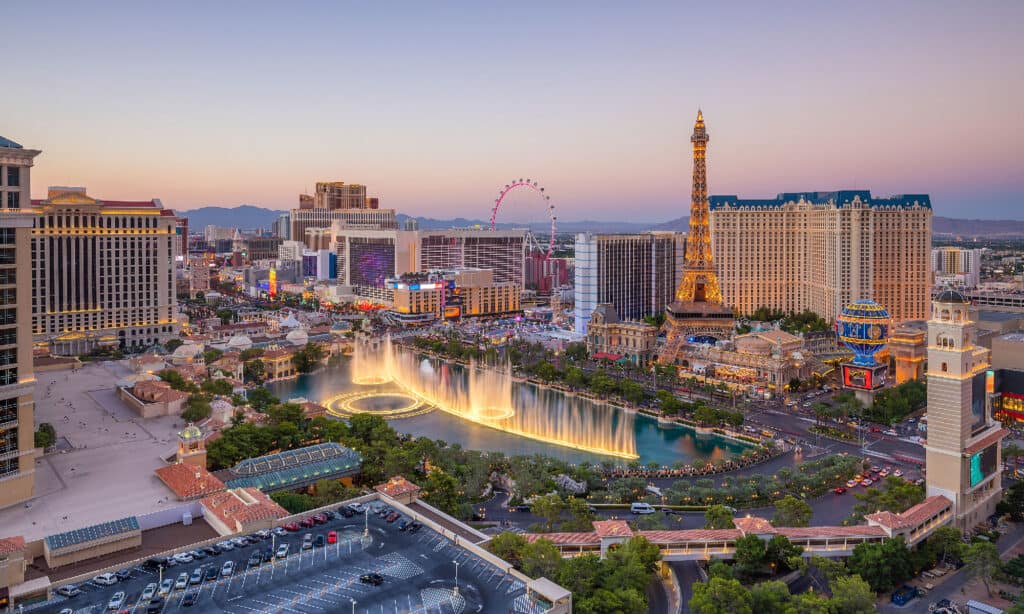 Guided Tours
Lastly, guided tours are also an option. They are great for people who don't have a lot of time and would like to tour the power plant and dam in one day. Also, many of these tours offer extra attractions on their itineraries, including a hotel pickup, a stop at Hemenway Park, and stopping at Lake Mead to see the stunning views of the lake. Lastly, some Grand Canyon tours also stop at the Hoover Dam.
Attractions Found Along the Way
Traveling from Las Vegas to the Hoover Dam offers many wonderful attractions along the way. Some of these include the following:
The Red Rock Canyon National Conservation Area
Red Rock Canyon National Conservation Area. This is located in the Mojave Desert, a 20-to-30-minute drive from Las Vegas. While it isn't on the way to the Hoover Dam, it is a must-see. Also, it offers many hiking and climbing trails as well as a lovely scenic driving trail. However, make sure to make a reservation in the summer months as it can get very busy. 
Hemenway Park
Another must-see is Hemenway Park. It is located in Boulder City and has spectacular views of Lake Mead and a flock of Bighorn sheep. Also, it is clean and quiet and has a playground for children, benches, gazebos, and shade, so it is the perfect place to relax and enjoy nature. Its most famous feature is a large herd of Big Horn sheep that can often be found grazing in the lush, grassy fields. In addition, you might even spot hawks, roadrunners, quails, and rabbits.
Henderson
Another attraction between Las Vegas and the Hoover Dam is Henderson, Nevada. This town is the second biggest in the state of Nevada. You will find numerous parks and eateries in Henderson, and it is a lovely place to grab breakfast or lunch on the way to or back from the dam. Some of the best restaurants include Served Global Dining, Thailicious, and The Coffee Class.
Seven Magic Mountains is situated 30 minutes south of Las Vegas. This is a unique stop on your way to the dam. It consists of an art installation in the Mojave Desert which has seven three-story towers made of boulders. This installation is amazing to see and makes for great photo opportunities.
Boulder City
Boulder City is located around 30 minutes from Las Vegas and has many outdoor activities and restaurants to explore. It provides the best of both worlds and is one of the stops on the shortest route from Las Vegas to the Hoover Dam. Also, it is picturesque with its tree-studded streets and views of Lake Mead National Recreation Area.
Mike O'Callaghan-Pat Tillman Memorial Bridge
The Mike O'Callaghan-Pat Tillman Memorial Bridge, formally known as the Hoover Bypass Bridge, can be found right across from the Hoover Dam. This bridge is a sight to see and offers some of the best views of the Hoover Dam.
Lake Mead
One of the most popular tourist attractions on the way to the Hoover Dam is Lake Mead. It provides water to the surrounding areas, and it generates hydroelectricity. In addition, it offers stunning views and kayaking, water skiing, boating, fishing, and more.
Valley of Fire
Lastly, the Valley of Fire, located just past the Hoover Dam is a wonderful spot for a scenic drive, hiking, and taking photos. It is an approximately 1-hour drive from Las Vegas.
Wildlife to See Along the Way
As stated earlier, if you visit Hemenway Park, you might be able to see the Bighorn sheep. Also, you can stop at the third biggest body of water. Henderson Bird Viewing Preserve is a free spot to see over 270 species of birds. In addition, visitors can spot over 310 species of birds and 70 species of mammals, reptiles, and amphibians at Clark County Wetlands Park. These include cottontail rabbits, soft-shelled turtles, and even red-tailed hawks. Lastly, Floyd Lamb Park at Tule Springs is a 680-acre park with four ponds. Here you can spot various animals, including bluegill, largemouth bass, carp, peacocks, geese, and ducks.
The photo featured at the top of this post is © iStock.com/f11photo
---