Are you interested in becoming an Italian Greyhound parent? If so, then you are likely curious about how much these adorable pups cost! We want you to be as prepared as possible for any costs that come your way, so we break down everything you need to know about Italian Greyhound prices in 2023.
In this article, we discuss breeder fees, medical costs, pet care supplies, and more. Let's dive in!
How Much Does an Italian Greyhound Puppy Cost?
The first expense you will need to consider as an Italian Greyhound parent is the initial cost of purchasing. The Italian Greyhound is one of the rare sight hounds in the U.S. However, they are not as expensive as you might imagine. The average Italian Greyhound will cost anywhere from $1,100 to $3,000 when purchased from a breeder. Unique colors or bloodlines will be on the higher end of the scale.
A breeder may be the best option if you are interested in getting an Italian Greyhound puppy. However, we encourage you to look for an Italian Greyhound rescue in your area. These adorable pups end up in shelters and rescues all the time. Your future Italian Greyhound could be waiting for you at one of these rescues! On average, most Italian Greyhounds at a shelter or rescue will cost anywhere from $75 to $300.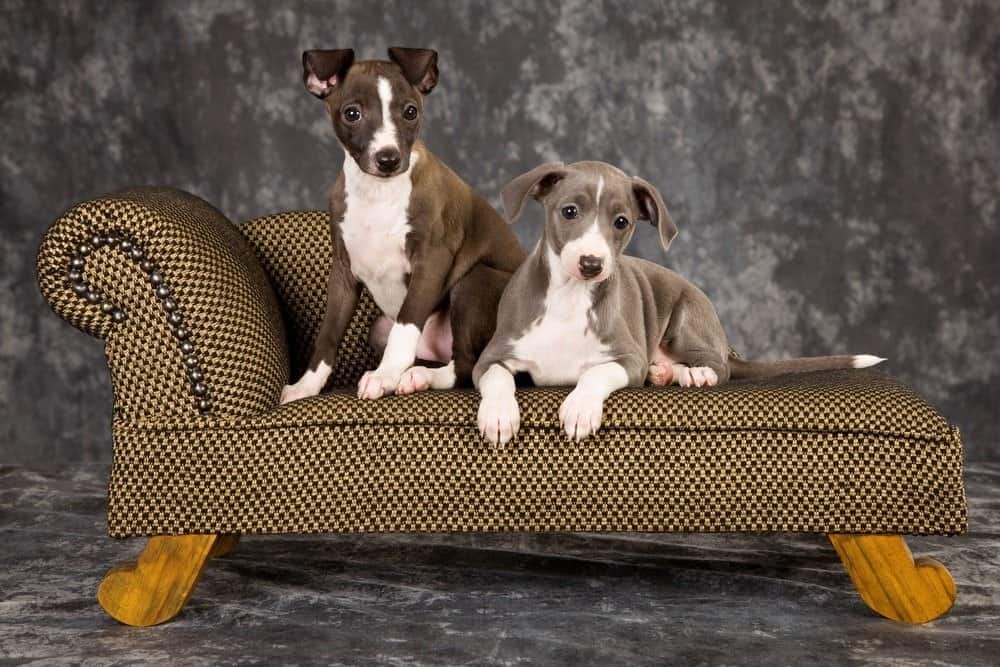 Cost Of Vaccinations & Other Medical Expenses for the Italian Greyhound
Soon after you bring your Italian Greyhound home, schedule an appointment with your vet. Even if your puppy comes with medical records from the breeder, it is best to have him assessed by your vet. This can establish a relationship with your vet moving forward. It can also ensure that you are bringing a healthy dog into your home.
Amy Nicole Lewis, a veterinarian with Worldwide Veterinary Services, told A-Z Animals that it is best to have your new puppy assessed by a vet immediately after purchasing or adopting, especially if you have other dogs in your home. Paperwork and medical records can be doctored, so ensure your new pet's health with a veterinary team you trust.
Here's a list of common costs of vaccines and other medical expenses to prepare you for your first vet appointment:
| | |
| --- | --- |
| Wellness exam: | $50 to $120 |
| Puppy vaccines (total for vaccine series): | $150 to $275 |
| Fecal testing & deworming: | $30 to $50 |
| Flea and tick prevention (recurring monthly): | $10 to $30 |
| Heartworm prevention (recurring monthly): | $10 to $30 |
| Spaying/neutering: | $100 to $400 |
The average veterinary costs for an Italian Greyhound puppy can be anywhere from $350 to $900. Italian Greyhound veterinary costs will always be most expensive during the first year. This is because they need three rounds of puppy vaccines in order to be fully protected. Most pet parents also choose to sterilize their pet after six months of age. This is a one-time expense you will need to factor in for your puppy as well.
Costs associated with preventative vet care will decrease once your pup hits one year of age. At this point, they will only need their vaccines once a year.
Costs Of Food & Supplies for the Italian Greyhound
Once you get initial vet costs out of the way, it's time to consider the costs of food and supplies. Some supplies, like bedding and toys, will only need to be purchased occasionally. Other supplies, like dog food and treats, will be ongoing.
Let's break down some of the many supplies your Italian Greyhound will need!
| | |
| --- | --- |
| Dog food: | $15 to $25 based on brand |
| Dog treats: | $5 to $15 |
| Food & water bowls: | $10 to $20 |
| Leash: | $10 to $15 |
| Collar: | $10 to $20 |
| Dog crate: | $40 to $80 |
| Dog bed: | $30 to $60 |
| Toys: | $20 to $40 |
| Brush: | $10 to $30 |
| Dental health supplies: | $10 to $30 |
How Much Does It Cost to Insure an Italian Greyhound?
Pet insurance costs vary based on the company you choose. The average cost to insure an Italian Greyhound is between $35 to $50 a month. Prices can also vary based on where you live in the U.S., as well as the age of your pup.
Monthly fees will also vary based on the pet insurance coverage tier you choose for your little one. Your payment will also be determined by the deductible you select, with smaller deductibles leading to higher monthly payments.
How Much Does It Cost to Train an Italian Greyhound?
The cost of training will vary based on whether or not you choose to train your dog yourself. If you choose to train solo, the standard supplies needed are training treats, a clicker, and a long leash. You may also want a treat bag for convenience. The total cost for your training supplies should be no more than $50.
However, training costs will be much higher if you choose to enroll your little one in obedience training classes. Weekly group training packages can cost anywhere from $150 to $300, while intensive training programs can cost up to $3,000.
Wrapping Up Italian Greyhound Costs In 2023
The first year as an Italian Greyhound pet parent will always be most expensive due to the cost of veterinary care and initial pet supplies. Be sure to review the information we discussed above to best prepare for your Italian Greyhound's arrival!
The photo featured at the top of this post is © Lenkadan/Shutterstock.com
Secure a Lifetime of Wagging Tails: Get Pet Insurance!
Did you know some emergency surgeries for dogs can run upwards of $5,000? Don't put your dog or your wallet at risk! Click the button below to get a free and instant quote on a comprehensive plan for your pup.
A-Z Animals may earn a small commission from using this service.
Ready to discover the top 10 cutest dog breeds in the entire world?
How about the fastest dogs, the largest dogs and those that are -- quite frankly -- just the kindest dogs on the planet? Each day, AZ Animals sends out lists just like this to our thousands of email subscribers. And the best part? It's FREE. Join today by entering your email below.
---