↓
Continue Reading To See This Amazing Video
With its southern border as the coastline of the Long Island Sound you can imagine there is some epic fishing in Connecticut. Besides saltwater fishing there are also many beautiful lakes, streams, ponds and rivers for freshwater fishing. Let's take a look at both the saltwater and freshwater records in the state. Here are the 10 biggest fish ever caught in Connecticut.
Freshwater Records
5) Brown Trout: 19 lbs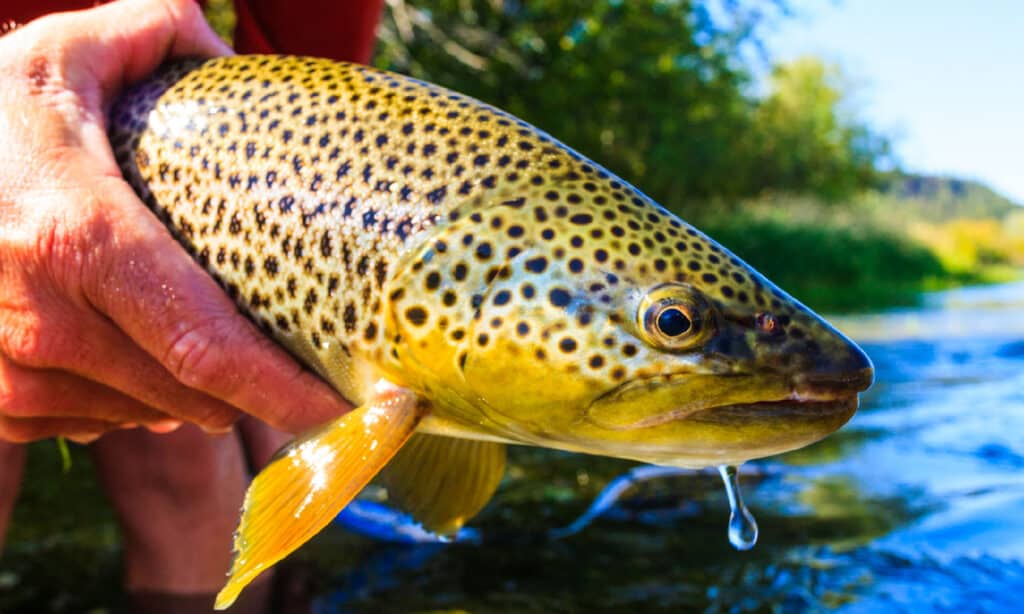 There are several species of trout that anglers can find in Connecticut. Official records are kept for brown, brook, lake, rainbow, and tiger trout. Lake trout are typically the biggest of the trout (as you will see later on our list) but good sized brown trout can be found as well.
The biggest brown trout ever caught in Connecticut was a 19 lbs trout pulled from a West Hill Pond in New Hartford, CT. James M. Lucas II caught this prize winner in 2014. New Hartford is about 20 miles NW of downtown Hartford, just north of the Nepaug State Forest.
4) Northern Pike: 29 lbs (tie)
There is a tie for the biggest northern pike with the first record being set in 1980 and a pike the same exact size being caught 40 years later in 2020. The first record breaking pike was caught by Joseph Nett on Lake Lillinonah which is in Brookfield County which is the second largest lake in the state. It is a popular spot for bass fishing but clearly there are good sized pike as well.
40 years later the second trophy sized pike was caught also weighing in at 29 lbs. This one was caught by Leslie Slater on the West Branch Reservoir which is just north of the Charles Arnold Recreation area and near the Massachusetts border in northern Connecticut. Maybe we will need to wait another 40 years for a three way tie!
3) Channel Catfish: 29 lbs 6 oz
Seems the fish in Connecticut just can't reach that 30 pound mark. Besides the pikes the next two records are fish that are 29 lbs and change. A 29 lbs 6 oz channel catfish was caught by Appleton Barrows on Mashapaug Lake in 2004. Mashapaug Lake is also near the border of Massachusetts, just east of Hwy 84.
The catch and release record for the biggest fish records the length of the fish before the angler releases the fish back into the water. The record for the longest channel catfish was 36 inches…that's 3 feet long! This yardstick length channel cat was caught on Game Club Pond by Colby Kerttula. This was also a recent record set in 2020. Channel catfish are the smaller of the common catfish found in the US with flatheads and blue catfish getting quite a bit larger.
2) Lake Trout: 29 lbs 13 oz
A lake trout just a few ounces shy of the 30 pound mark was caught in the Wononscopmuc Lake dating way back to 1918. The limited information we have about this long-standing record is that it was a Dr. Thompson that caught the lake trout and there hasn't been a larger one caught since. Wononscopmuc Lake is the deepest natural lake in the state and considered a great recreational lake for swimming, boating, paddling and fishing. The lake in Salisbury, CT has a rich history dating back to 1878 when a railroad was built right along the shores to transport iron ore. Salisbury is in the NW corner of the state near the New York border.
1) Common Carp: 43 lbs 12 oz
The biggest freshwater fish ever caught in Connecticut was a common carp. In 2012 Michael Hudak pulled a 43 lbs 12 oz carp from the Connecticut River in Hartford, CT. His carp also holds the record as the longest carp in the state for the catch and release record. It was longer than a yardstick at 42 inches long!
According to the Guinness World Records the largest species of carp is the Siamese giant carp (just an FYI they do not live in Connecticut!). They are native to Cambodia, but are currently critically endangered so their numbers are few. The longest recorded Siamese giant carp was almost 10 feet long! Its recorded length was 9.8 feet (3 m) long.
Saltwater Records
When it comes to saltwater fishing, Connecticut's southern border is entirely along the Long Island Sound. Here you can find flounder, black sea bass, fluke, albacore and more in the sound with fish migrating in and out throughout the year. For deep sea fishing there are multiple charters that can take you out for your chance at even bigger catches like marlins, swordfish and yes, even sharks.
5) Blue Shark: 361 lbs
One of the biggest trophy fish ever caught in Connecticut was a 361 lbs blue shark. Blue sharks have a blueish vs grayish coloration and average around 10 feet long (but some get up to 13 feet). This trophy fish was caught by the Ranger Wreck, a shipwreck off of Montauk Point, by Robert H. Olsen back in 1993.
4) Blue Marlin: 449 lbs 6 oz
In 2001, Jeffery K. Eckert was fishing in the Atlantis Canyon when he came across a good sized blue marlin. His record catch was almost 450 pounds. The official weight came in at 449 lbs 6 oz. Blue marlin have a deep blue back, white belly and long sword-like snout. Their dorsal fin is like a sail, but not nearly as long as a sailfish's. The four main kinds of marlin species include the blue, black, striped and white.
3) Thresher Shark: 467 lbs
Another shark on our list is the thresher shark. They have distinctive long tails that they use to stun their prey, so watch out! A 467 lbs thresher shark was also caught off of Montauk Point. Mark Hiller reeled in this giant back in 2006 and the record stands today.
The biggest thresher shark ever caught in the world was a 767 lbs 3 oz thresher caught in the Bay of Islands, New Zealand by D.L. Hannah in 1983. Can you imagine the size of that thresher's tail!
2) Mako Shark: 650 lbs
The trick with catching mako sharks is catching mako sharks, because they are so fast. The shortfin mako is the fastest shark in the world and one of the fastest fish. If you do hook one you are in for a fight so be prepared.
The biggest mako shark caught in Connecticut was a 650 lbs mako caught in the Block Island Sound by Gregory J. Erisoty in 1987. That's around the same weight as a vending machine, not easy to get that into your boat!
1) Bluefin Tuna: 770 lbs
The biggest saltwater fish (and the biggest fish) ever caught in Connecticut was a 770 lbs bluefin tuna. Bluefins used to be much more populous but now they are often considered restricted or prohibited from fishing. Not surprising that you have to go back to 1990 when this record was made. Lester Debetta caught this bluefin in the Block Island Sound, a 10 mile wide sound near Rhode Island (it is also the title of a sci-fi horror movie made in 2020!). The most likely time to see bluefin tuna off the coast of Connecticut is between June and November when the tuna are migrating through.
Up Next
---
The Featured Image
---
Sources

Connecticut State Gov, Available here: https://portal.ct.gov/DEEP/Fishing/Freshwater-Fishing-Guide/Freshwater-Record-Fish
Guinness World Records, Available here: https://www.guinnessworldrecords.com/world-records/112218-largest-species-of-carp#
Connecticut State Gov, Available here: https://portal.ct.gov/DEEP/Fishing/Saltwater-Fishing-Guide/Saltwater-State-Record-Fish