Key Points
California has always been a sanctuary for creative and people who do not fit in elsewhere.
There are many places to visit in California, especially the beautiful beaches and the amazing lakes.
Out of all the lakes here are the list of the most visited one in California.
The 'Golden State' of California in the United States boasts a lot of magnificent beauties of nature, ranging from impressive national parks to gorgeous sandy beaches. Yet, a trip to California might not be perfect without a visit to at least one of California's amazing lakes. The lakes of Southern California specifically, are known to feature lots of mesmerizing views, majestic mountains, and numerous recreational activities such as boating, fishing, swimming, and more! These stunning lakes serve as a perfect place for individuals and families seeking an adventurous getaway spot to enjoy the natural beauty of the lakes, as well as those looking to escape the bustling city life for a relaxing retreat.
Here are the 7 best lakes to add to your Southern California itinerary for a wonderful experience
Big Bear Lake
Sitting in the San Bernardino National Forest is the snowy Big Bear Lake, one with an unusually fascinating landscape surrounded by pine forests. It is one of the best places for boating in Southern California, with structures like the Pleasure Point Marina lining the lake. Also a popular water skiing and swimming destination, there are numerous beaches along its shore. But the lake gets very cold in the water due to its high elevation (at 6,700 feet), so it's ideal to go swimming here during the summer. Big Bear Lake also provides other activities such as paddle boarding, water skiing, kayaking, and fishing.
Silverwood Lake
Less than 90 miles from Los Angeles, Silverwood Lake in the San Bernardino Mountains is an incredible destination with a diverse range of attractions. Hundreds of people troop to the lake yearly because of the many entertaining activities they get to explore here. Silverwood Lake is so popular that the area experiences full crowd capacity during the peak seasons between April and October. There are facilities available for lakeside hiking, fishing, boating, waterskiing, and more. This lake is also popular for swimming, especially in the southern half of the lake. The surrounding mountains provide stunning views of the area.
Lake Gregory
Located in Crestline, sitting between Silverwood Lake and Lake Arrowhead, Lake Gregory is a spectacular small lake. You can experience all four seasons by pairing a trip to Lake Gregory and Lake Arrowhead for some of the best fall colors in California. Along its shores are leagues of sporting facilities, playgrounds, barbeque pits, and skate parks. If you're looking for the perfect getaway spot for your holiday adventures, then this place is for you. Buzzing with numerous activities such as hiking, boating, camping, fishing, and camping, this lake has a lot to offer both individuals and families. Moreover, Lake Gregory is famous for its annual Fourth of July bash celebrated with fireworks and plenty of fun events. 
Bass Lake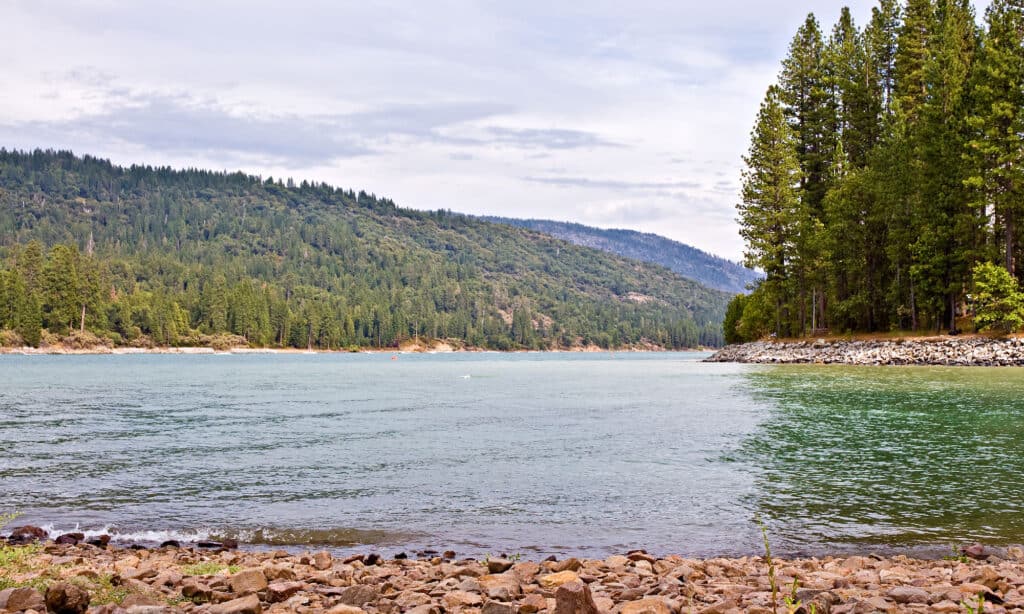 Another popular recreational lake in Southern California, Bass Lake is located in the Sierra National Forest, close to the Yosemite National Park. It is also called Crane Valley Lake because the five-mile-long lake was formed from the Crane Valley Dam. Bass Lake has become a popular destination for motorized boaters and people who love to go boat paddling, swimming, fishing, or camping. The Forks Resort and Millers Landing at the lake offer comfortable accommodation for visitors. You can camp near the lake for multi-day visits and enjoy a lot of water activities on Bass Lake, so it's worth adding to your list of best lakes to visit in California.
Lake Elsinore
The largest natural freshwater lake in Southern California, Lake Elsinore, is a sight to behold. The 3,000-acre natural lake allows you to enjoy a wide range of adventures –more than any other lake in the area. Swimming, scuba diving, water skiing, windsurfing, motocross racing, skateboarding, boating, and fishing are examples of popular recreational opportunities on the Lake. The lake is also known for its clear waters which makes it easy to spot aquatic life while fishing. Lake Elsinore is surrounded by numerous picnic areas, perfect for enjoying the outdoors while exploring the area.
Lake Arrowhead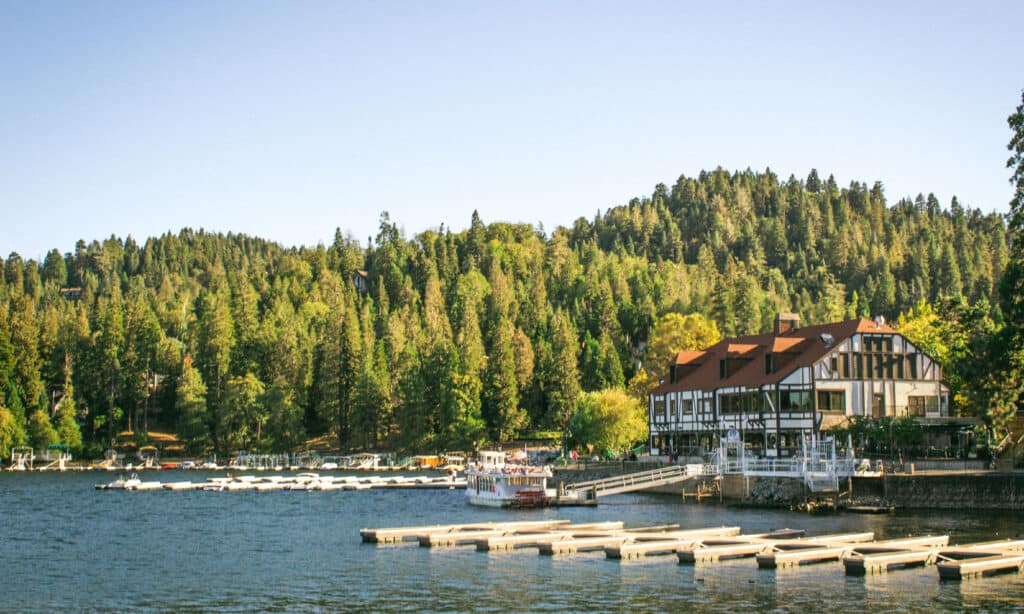 Located just 24 miles from Big Bear Lake in the San Bernardino Mountains, Lake Arrowhead is an artificial mountain Lake in Southern California. Though public use of the lake is limited, this mountain lake is still one of the best summer cool-off spots in the region. Visiting this beautiful lake opens you up to hiking trails, backpacking, water skiing, biking, fishing, and camping opportunities. Most people also visit during the summertime for swimming, boating, and canoeing. There are plenty of rental cabins surrounding the lake to cater to the indoor needs of visitors. With spectacular views, stunning waters, and mountainous backdrops, Lake Arrowhead offers each tourist unique experiences for different seasons. 
Lake Cachuma
If you're looking for the perfect place for a fun family weekend, you should consider taking a trip to Lake Cachuma. This lake has a lot of recreational activities, making it one of the best lakes to visit in Southern California. Nestled between Santa Barbara and the Santa Ynez Valley, the beautiful lake boasts of being one of the best lakes for fishing in California, with the marina providing one-day fishing permits and maps for different fish species such as rainbow trout, crappie, red-ear sunfish, bass, and channel catfish.
There are also picnic areas, campgrounds, and cabin rentals to cozy up in. In case you're bringing kids on, there are swimming pools, miniature golf, arcades, lake cruises, and more child-friendly sports for them to enjoy. The neighboring Lake Cachuma Sweetwater Trail provides great hiking for enthusiastic adults as well. One thing is for sure – Lake Cachuma is a place you'd love to visit over and over again!
Up Next
Interested in finding out about other impressive lakes in other states? Click on the links below:
---
The Featured Image
---