Feeding your pet reptile right is one of the important keys to having a happy and healthy pet. However, with feeding reptiles, there is a process to be followed. Understanding and appreciating this process helps you provide the best care for your pet.
Most people who have lizards, snakes, turtles, or other reptiles soon learn that their pet has very specific feeding habits. For example, most reptile pets reject cooked food. If your reptile's food is frozen, you need to thaw it to defrost. Do not use heat!
Another important thing pet reptile owners need to do is mimic their pet's natural habitat. This is where feeding rocks come in. In the wild, most reptiles use ledges and rocks to sun themselves. They could also hunt for food around these rocks.
When choosing a feeding rock for your pet reptile, there are many things to keep in mind. We considered these factors and many more when making this list. Are you ready? Here is our top pick of the best feeding rock for your pet reptile.
1. Best Overall: Exo Terra Reptile Cricket Feeder
The Exo Terra Reptile Cricket Feeder is our best overall feeding rock for pet reptiles. You'll love how realistic and useful this feeder is. It is great for feeding insects to your reptile pet and leaves no mess. It is also easy to clean and helps to stimulate natural feeding behaviors in your reptile.
Our testers love the simple way that this feeder works. You can pour in vitamin supplements in powder form and then add your crickets to the deeper part. Next, place the two pieces together and then shake to coat the crickets. Place the feeder in your terrarium, remove the plug, and voila!
However, some testers had a problem getting the crickets to stay before closing the rock. A simple solution is to put them in the freezer for 2 -3 minutes. They'll stop moving, and you can put them in the feeder without stress. You'll love this reptile feeder rock.
Best Overall
Exo Terra Cricket Feeder
Easy to clean
Stimulates natural feeding behaviors
Simply pour in powdered vitamin supplements, add crickets, and shake to coat the crickets
Place the feeder in the terrarium and remove the plug
Check Chewy
Check Amazon
2. Most Affordable: HEEPDD Resin Rock Reptile Feeder
The HEEPDD Resin Rock Reptile Feeder is an affordable rock feeder made of resin. It, however, looks very realistic and can make a great feeder for your reptile. This feeder has a smooth face that could help avoid harm to your reptile and is very sturdy. If you have an active reptile who loves to move things, this might be your feeder.
The HEEPDD Feeder is easy to clean and comes in small and medium sizes. All you have to do is wipe with a rag to clean. Please note the size, however, as some of our testers expected something larger. However, this could be the perfect find if you have a small turtle, lizard, gecko, or snake.
Most Affordable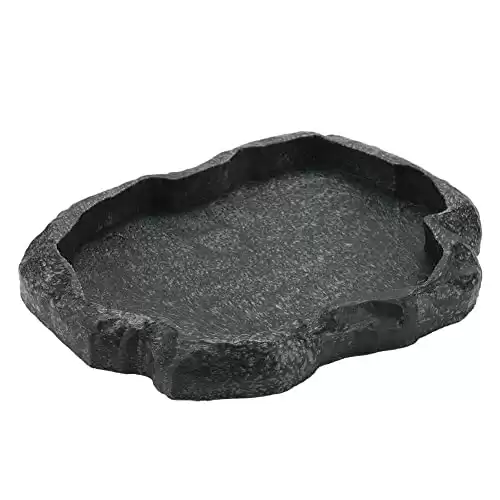 3. Best Premium: Zilla Vertical Rock Feeding Ledge
The Zilla Rock Feeder is an amazing vertical beauty with many features. Your pet reptile will love this ledge. It is lightweight and durable and has strong suction cups that attach it to the inside of your terrarium, making it sturdy.
Our testers love this feeder because it comes with two reusable feeding dishes. You can also stick it higher up, which could help to make your snake, frog, or gecko feel safer. With this feeder, your pet reptile gets a convenient spot for feeding.
Most of our testers say this feeder is a little bigger than you might expect, so watch out for that. You also have to handle the suction part right so it doesn't fall off. Some testers found that spraying a little water before applying it did the trick.
Best Premium
Zilla Vertical Decor Rock Feeding Ledge
Lightweight and durable
Features strong suction cups that attach it to the inside of your terrarium for stability
Features two feeding dishes
You can place this ledge higher in your aquarium to give your pet a greater sense of security
Check Chewy
4. Best Combo: Zoo Med Large Reptile Rock Combo
The Zoo Med Water and Food Dish Combo is a great product for pet reptiles. It comes in a realistic rock color and an assortment of sizes you can choose from, depending on your pet. This combo feeder is made from durable materials and has a smooth and nonporous surface. This is important because it guarantees that this dish won't harbor bacteria.
Our testers love that this dish is virtually indestructible. Its realistic appearance also helps it blend right into your terrarium's atmosphere. You should, however, watch out when ordering to pick the right size for your habitat. Some testers ordered a size too small and had to process returns.
The Zoo Med Feeders are also easy to clean, but some testers found taking them apart a little hard. Other than that, they do a wonderful job, and most users recommend the product. You'll also love that the deep bowl is balanced.
Best Combo
How to Choose the Right Feeding Rock for Your Pet Reptile
Choosing the right feeding rock for your pet reptile is important to their nutrition. Pet reptiles could easily reject the food if not set up right. Here are some of the important factors to consider when choosing a feeding rock for your reptile:
Design
Sturdiness
Value for the Money
Ease of Cleaning
Weight
Let's look at these in more detail:
Design
The more realistic your feeding rock is, the better. This helps with the overall atmosphere of your terrarium and keeps your pet reptile feeling comfortable. For example, a great rock feeder like the Exo Terra Feeder will even mimic your reptile's feeding habits in the wild. This means your pet reptile is more apt to get the nutritious food they need and feel comfortable eating it.
Sturdiness
Some pet reptiles like snakes or bearded dragons like to move things around. Your feeding rock needs to be sturdy to withstand this kind of pressure. This sturdiness will also help to avoid spills and other messes that could occur.
Value for the Money
A great feeding rock should offer you great features that are worth the price you get it. Whether inexpensive or pricey. Take the Zilla Rock Feeder on our list, for example. While the most expensive on the list, it comes with some valuable features in terms of design and sturdiness.
Ease of Cleaning
You will need to occasionally remove and clean your feeding rock to keep it healthy. A good feeding rock should be easy to remove and clean without hassles. That's why we made sure that all the rock feeders on our list come with this feature.
Weight
Weight is one factor that contributes to the durability and sturdiness of your feeding rock. It can, however, make removing and cleaning problematic if it is too much. The best feeding rock for your pet reptile strikes a balance between sturdiness and ease of removal for cleaning.
How to Feed Your Pet Reptile
The best way to feed your pet reptile depends on their feeding habits. General steps include turning on the lamps and heating devices in their enclosure. Give your pet a few minutes to warm up. Then start small, whether your pet eats plants, insects, or rodents. Serve an appetizer portion first before providing the remaining part of the meal.
What to Feed Your Pet Reptile
The food to feed your pet reptile depends on their feeding habits. Reptiles usually fall into one of these three categories: Carnivores, herbivores, and omnivores. Carnivores eat flesh or meat, while herbivores eat only or primarily plant materials. On the other hand, omnivores feed on meat and plant material.
How Much to Feed Your Pet Reptile
The amount of food to give your pet reptile depends on its size and feeding patterns. Some reptiles eat twice daily, others just once. Yet another set might need to eat only a few times per month. Whichever your reptile falls into, ensure you study their pattern and only feed when they are most active in the day. This is important if you want to avoid nutritional imbalance and obesity.
Keep Reading…
The Best Feeding Rock for Your Pet Reptile FAQs (Frequently Asked Questions) 
What should I feed my reptiles?
Your reptile's diet will depend on whether they are a carnivore, herbivore, or omnivore. Most pet reptile owners do their best to mimic their reptile's feeding habits in the wild to keep them healthy.
How often should you feed your reptile?
The frequency of your pet's feeding is important and depends on their size and feeding habits. Follow the standard of feeding your pet reptile is accustomed to.
How often do pet lizards eat?
A pet lizard is a reptile that has a high metabolic rate. This means they may require as many as five to seven weekly feedings.
What can I feed my pet lizard?
Pet lizards can feed on mealworms and many crickets. If your pet lizard is an omnivore, you can also add kale and mustard greens to their diet.