Yeast is included in the ingredient list for many dog foods. It is an overall valuable ingredient that adds nutrients and can work as a probiotic to keep your pup healthy. However, some dogs are allergic to yeast or may get an upset stomach when they eat foods with yeast.
Since yeast is found in so many dog foods, it can be challenging to find the best yeast-free food for puppies, adults, or for seniors. Keep reading, and we'll share some of our favorite brands and top picks if you're looking for a yeast-free wet or dry food for allergies or any other reason.
What to Look for in Yeast-Free Dog Food: Our Criteria
Any time you're deciding which dog food to buy, of course it's imperative to take a close look at the ingredients list. Especially if you're avoiding certain ingredients like yeast that your dog doesn't respond well to, have a checklist in mind to make sure your dog's nutritional needs are covered.
Ample High-Quality Proteins
It's best if the first ingredient or the first couple ingredients are real meats. Avoid low-quality food where the first ingredient is some kind of by-product meal or something besides meat.
The benefit or quality protein sources isn't just the protein itself, but natural meats usually come along with other essential nutrients. You'll often find that real meat adds important fatty acids, taurine, calcium, glucosamine, B12, and other elements of a healthy diet.
Vitamins and Minerals
For complete health, your dog should have plenty of vitamins and minerals including selenium, potassium, zinc, vitamins A, C, D, E, K, and the spectrum of B vitamins.
No Artificial Colors, Flavors, or Preservatives
The fewer artificial ingredients, the better. All the nutrients that contribute to a healthy dog can be found in natural, wholesome ingredients. You don't necessarily need to avoid grains unless your pup has an allergy or sensitivity. Whole grains, certain veggies and fruits can benefit your dog's health in the right amounts.
Legume-Free
Dog foods containing legumes such as peas and lentils have been linked to heart failure in dogs. So if possible, always try to avoid ingredients like peas, pea protein, chickpeas, and lentils.
The Top Picks for the Best Yeast-Free Dog Food: Ranked
#1 Best Overall: Stella & Chewy's Freeze-Dried Dinner Patties
Best Overall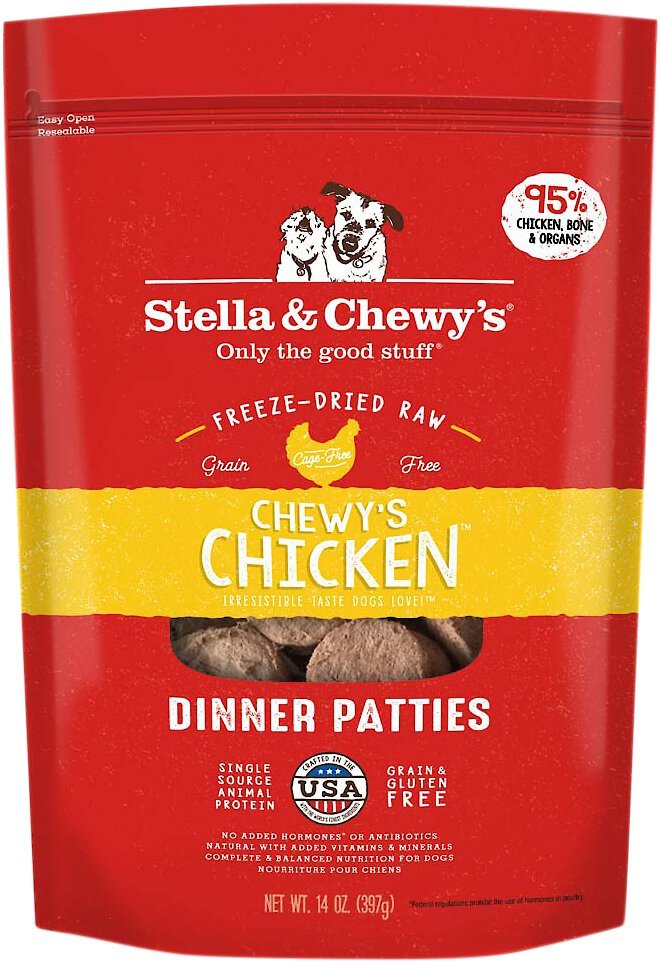 The Freeze-Dried Dinner Patties from Stella & Chewy's are our overall top pick if you're looking for yeast-free food. Stella & Chewy's is one of the brands that advertise that all of their foods are yeast-free, so you can't go wrong choosing food from them for your dog.
Each of these patties contains 95% meat organs and bones as well as healthy fruits and vegetables plus taurine, zinc, and probiotics. Stella & Chewy produce their foods in small batches to ensure quality and healthy meals for your dog. Compared to many kibbles and wet foods that include a lot of processed ingredients, grains, fillers, and antibiotics, these grain-free, raw food patties are a more natural choice for your pup.
Feeding your dog this raw diet can help improve their digestion, improve the look and feel of their skin and coat, support a healthy immune system, and offer relief from allergies. Choose from 13 delicious flavors that your dog is sure to enjoy: beef, chicken, duck, lamb, rabbit, red meat, salmon & beef, turkey, venison & lamb, pork, venison, beef & salmon (for puppies), and chicken & salmon (for puppies).
#2 Best Grain-Free: The Honest Kitchen Human Grade Dehydrated Grain Free Dog Food
Best Grain-Free
If your dog responds poorly to grain as well as yeast, you're in luck. The Honest Kitchen makes a super high-quality yeast and grain free dog food.
Don't be freaked out by the fact that this food is dehydrated. That's their potentially healthier alternative to adding unnatural preservatives, and all you have to do is add warm water and serve.
It's also good for all breed sizes and both puppies and adults, and made to human-grade quality standards with minimal processing. There's no corn, wheat, soy, or other fillers, artificial preservatives, colors, or flavors, or GMO ingredients.
Instead, it contains real meat for 29% wholesome protein and 18% fat. This natural turkey recipe use cage-free turkey as the first ingredient, followed by natural foods like spinach, apples, eggs, bananas, celery, organic coconut, flaxseed, organic kelp, and carrots, great for the skin and coat. There's also vitamins D3, E, zinc, taurine, amino acids, B vitamins including B12, calcium phosphate, and fish oil for DHA and EPA.
In short, this option has all the good stuff your dog needs for head-to-tail health, and none of the most common problem-causing ingredients.
#3 Best for Puppies: Castor & Pollux Grain-Free Wild Caught Salmon & Sweet Potato Puppy Food
Best for Puppies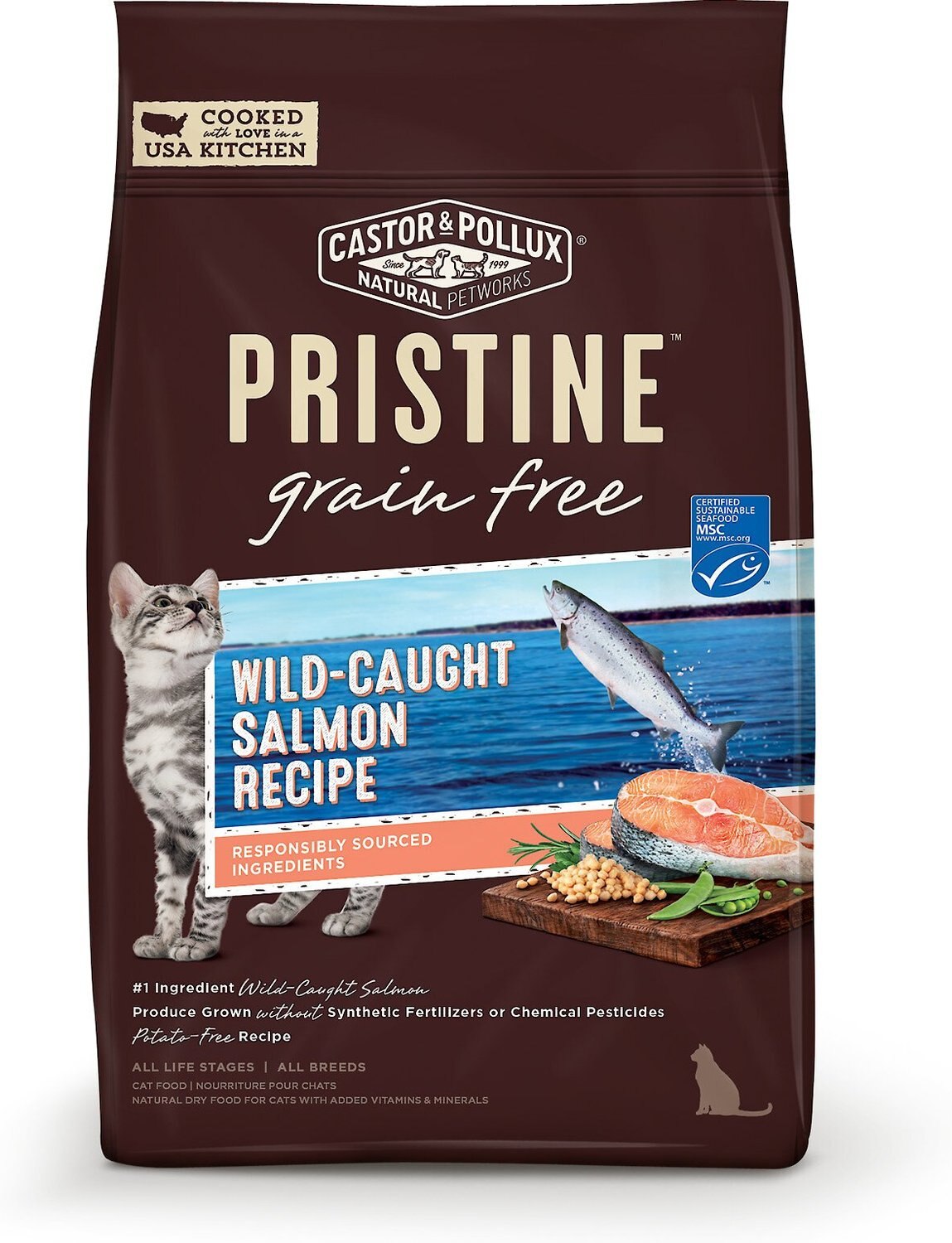 This grain-free Wild Caught Salmon & Sweet Potato food from Castor & Pollux is a great option if you're looking for puppy food. The first ingredient is sustainably sourced, wild-caught salmon, and there is no corn, soy, wheat, or gluten found in the food. Additionally, this choice is free of any artificial flavors, preservatives, and colors.
The food is formulated with DHA and EPA to facilitate the healthy development of your puppy. There is also glucosamine which plays an important role in reducing joint problems that some puppies experience due to how quickly they grow.
#4 Best for Seniors: Stella & Chewy's Wild Red Stews Wet Dog Food
Best for Seniors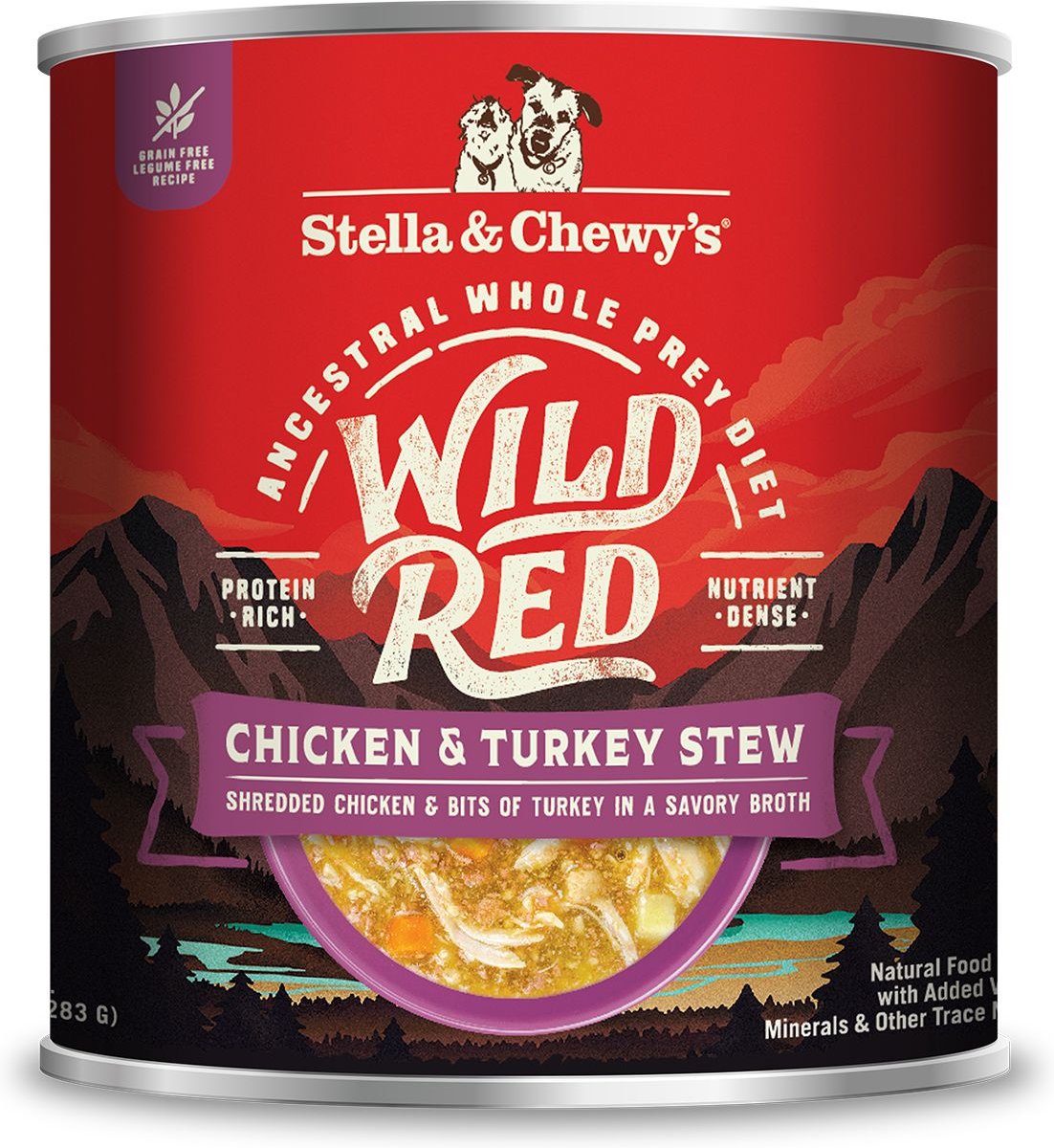 Some seniors have a tough time chewing hard kibble. If this is true of your senior dog, consider the Wild Red Stews from Stella & Chewy's. As we noted above, Stella & Chewy's is one of the brands that has shared that all of these foods are yeast-free.
This wet food is formulated using high-quality protein. 95% of this protein is from animal sources to properly meet a dog's nutritional needs. These wet stews are also grain-free and made without the use of any artificial preservatives, colors, or flavors, making them a healthy choice for seniors. They also do not contain lentils or peas.
Each recipe includes pumpkin and natural fiber to help support a dog's gut health and digestive system. There are three tasty flavors available to offer your dog: chicken & turkey, chicken & lamb, and chicken & beef. You can also purchase a variety pack to let them enjoy each yummy flavor choice.
#5 Best Wet: Weruva Paw Lickin' Chicken Wet Food
Best Wet
This yeast-free wet food from Weruva is another of our favorite picks. The first ingredient in this delicious chicken recipe is boneless, skinless, white chicken breast. Weruva's high-quality wet foods are designed to be easy to digest for dogs.
This food can be fed to all dog breeds, large and small. It offers a gluten-free, grain-free, and carrageenan-free formula. It contains no wheat, corn, soy, artificial flavors, artificial colors, or artificial preservatives.
In addition to this yummy chicken flavor, you may also want to try one of the other flavors for your dog. These include: Funky Chunky Chicken Soup, Grandma's Chicken Soup, Jammin' Salmon, Wok the Dog, Amazon Liver', Bed & Breakfast, Green Eggs & Chicken, Peking Duck, and That's My Jam.
Why is Yeast in Dog Food?
While you may hear 'yeast' and think about beer or yeast infections, yeast can be a beneficial ingredient in dog food. There are different types of yeast, officially known as Saccharomyces cerevisiae, that may be found in dog food. These include:
Yeast culture: Yeast cultures are often included in dog foods to support the digestive system by working as a probiotic. Both active and inactive yeast cultures can help support a dog's gut and the healthy bacteria found in the gut.
Brewer's yeast: Brewer's yeast, which is by-product from brewing beer, is a deactivated yeast. It contains many enzymes and B-vitamins that can benefit a dog's health.
Nutritional yeast: Nutritional yeast, which is from the same yeast strain as brewer's yeast, is naturally sweet and offers many of the same benefits of brewer's yeast. Many dogs enjoy the flavor added by nutritional yeast, but dogs with a sensitivity to sugar should likely stay away from it.
Selenium yeast: Selenium yeast can help protect dogs against oxidative stress.
Is Yeast Bad for Dogs?
Dog foods made with yeast are generally not bad for dogs. As we shared above, there are a number of benefits yeast can add to dog food.
However, as with other ingredients, some dogs may be allergic to yeast or have an intolerance for it. If this is the case for your dog, you will want to choose a food that does not contain any yeast.
While yeast in dog food is safe for most dogs, you should never feed your dog any human foods made with yeast dough. Since yeast dough rises, feeding it to dogs can be very dangerous. The dough may rise in their stomachs, which can lead to bloat.
Also known as gastric dilation-volvulus (GDV), bloat is a condition where a dog's stomach becomes filled with food or gas and then twists. The dog is unable to relieve any of the pressure, which can be life-threatening. If you think your dog is suffering from bloat, you'll want to take them to an emergency vet clinic immediately.
Related Images
Best Yeast-Free Dog Food Summary
| Rank | Best For | Product |
| --- | --- | --- |
| #1 | Overall | Stella & Chewy's Freeze-Dried Dinner Patties |
| #2 | Grain-Free | The Honest Kitchen Human Grade Dehydrated Grain Free Dog Food |
| #3 | Puppies | Castor & Pollux Grain-Free Wild Caught Salmon & Sweet Potato Puppy Food |
| #4 | Seniors | Stella & Chewy's Wild Red Stews Wet Dog Food |
| #5 | Wet Food | Weruva Paw Lickin' Chicken Wet Food |
Up Next…
Check Out the Best Yeast-Free Dog Foods in 2022 FAQs (Frequently Asked Questions) 
What can I feed my dog with yeast problems?
If your dog has a yeast allergy, you will want to choose a yeast-free dog food. If your dog has a yeast infection on their skin, some individuals recommend feeding a yeast-free dog food, but carbohydrates and yeast are not actually believed to be the cause of skin infections. You can check with your veterinarian, but in most cases, dogs with a yeast infection will require special bathing and maintenance to keep the yeast away, rather than a diet change. Allergy testing may also be recommended to rule out whether an allergy to an ingredient in your dog's food (not necessarily yeast) is causing their infections.
What foods cause yeast in dogs?
Yeast infections on the skin are not believed to be caused by carbohydrates. More likely, if your dog is dealing with yeast infections, they are being caused by allergies, medications, or an underlying medical condition.
However, some dogs are allergic to yeast, which is a different story. If this is the case, you will want to avoid feeding them any foods that are formulated with yeast or yeast-containing ingredients.
Is there yeast in dog food?
Yes, yeast is a common ingredient in many dog foods. It is high in protein and other nutrients that can help keep a dog healthy. Many experts believe that yeast in dog food can support a dog's immune system and help keep fleas away.
Some worry about allergies from yeast. But, unless your specific dog is allergic to yeast, it shouldn't cause other allergies to form.