Xerus
Last updated:
August 25, 2020
Verified by:
AZ Animals Staff
---
Xerus Scientific Classification
Kingdom: Animalia
Phylum: Chordata
Class: Mammalia
Order: Rodentia
Family: Sciuridae
Genus: Xerus
---
Xerus Conservation Status:
Least Concern
---
Xerus Location:
---
Xerus Fun Fact:
Xerus use their fluffy tail as shade from the sun on the African savanna.
Xerus Facts:
Prey
: Insects, leaves, seeds, nuts
Name Of Young
: Pups
Group Behavior
: Social
Fun Fact
: Xerus use their fluffy tail as shade from the sun on the African savanna.
Most Distinctive Feature
: Long white tail
Gestation Period
: 48 days
Habitat
: Savannas, grasslands, deserts
Diet
: Omnivore
Average Litter Size
: 1-3
Lifestyle
: Diurnal
Common Name
: African ground squirrel
Number Of Species
: 4
Location
: Sub-Saharan Africa
Slogan
: Squirrel that lives in burrows in Africa.
Xerus Physical Characteristics:
Colour
: Red, Brown, White
Skin Type
: Coarse hair
Lifespan
: Unknown in the wild, 11.5 years-in captivity
Weight
: 14oz-22oz
Length
: 17in-18in
Age of Sexual Maturity
: 8 months
Age of Weaning
: 52 days
A Xerus uses its fluffy tail as shade from the sunlight in Africa.
A Xerus is a ground squirrel living in sub-Saharan Africa. They are a social animal living in groups or colonies of at least 10.. Xerus are omnivorous squirrels that eat insects, nuts, fruit, and leaves. The lifespan of a wild Xerus is unknown, but this creature can live up to 11.5 years in captivity.
5 Amazing Xerus Facts
Unlike many squirrels who live in trees, the Xerus lives in a system of burrows with as many as 100 entrances and exit holes! It's actually a quite complicated system.
This creature lives in Africa, but is similar in appearance to the American red squirrel.
Fruits, nuts, leaves, and insects are the main diet of this omnivore. Unlike other squirrels, it doesn't hide away food but instead searches for food daily.
Xerus are known to carry rabies, making them dangerous to humans if it is transmitted.
They move over the ground in hops and quick bursts of speed.
Xerus Scientific Name
A Xerus belongs to the Sciuridae family and the class Mammalia. There are four subspecies of Xerus with the following scientific names: Xerus inauris (Cape ground squirrel), Xerus erythropus (striped ground squirrel), Xerus princeps (mountain ground squirrel), and the Xerus rutilius (unstriped ground squirrel).
Xerus comes from the Greek word Xeros, meaning 'dry' and Inauris translates to 'ring.' Dry refers to the coarse, bristly hair of this animal and ring likely refers to the ring of white hair around each of its eyes.

Another name for a Xerus includes the South African ground squirrel. As a note, the word squirrel comes from the Greek word Skiouros which means 'shadow tail'. Which makes sense, since this ground squirrel uses its tail to block out the sun. Ready-made shade!
Xerus Appearance and Behavior
A Xerus has short, reddish-brown hair with white hair on its feet, belly, and neck. This creature's tail is a mixture of light brown and white. Its tail measures as long as its body! It has two black eyes and tiny ears. There are small claws on each of its four feet which are helpful when a Xerus digs long, curving burrows.

The body of both male and female Xerus ranges between 17 and 18 inches long - a little taller than a bowling pin. A female is usually a little smaller than the male. The weight of males and females ranges from 14 to 22 ounces. A Xerus weighing 22 ounces is about as heavy as a basketball. Out of the four species of Xerus, Xerus inauris is the longest.

Xerus has reddish-brown fur which helps it to blend into the environment of the grasslands and savannas of Africa. This is one of its defensive features.

Another defense mechanism is called mobbing. Mobbing happens when a group of Xerus crowd around a predator, waving their fluffy tails between themselves and the threatening creature, such as a jackal or snake. When the predator strikes out at one of the Xerus, it quickly dodges it. Most of the time this mobbing activity confuses a predator and drives it away. It can even help a colony of Xerus to chase a snake out of the area!

The Xerus is a social animal living in groups called colonies. These colonies contain two or three females along with at least nine of their offspring. Male Xerus live in a separate colony with as many as 19 members. Xerus are curious animals often standing up on their back feet to look out over their environment. However, they are not known to be aggressive.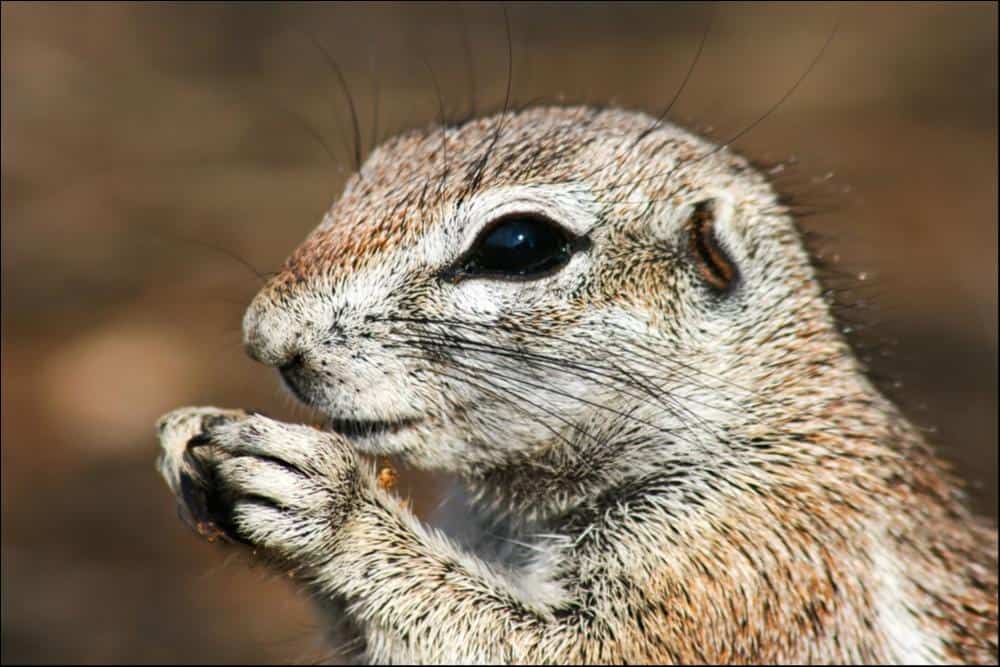 Xerus Habitat
Xerus live in Botswana, Namibia, and Lesotho, South Africa. Specifically, these animals live in tropical savannas, deserts, and grasslands. They live in a complicated system of burrows with as many as 100 holes to enter and exit. Interestingly, meerkats, and yellow mongoose also use Xerus burrows for protection from the hot temperatures and from their predators.

When moving around in the hot, dry environment of sub-Saharan Africa, Xerus use their fluffy tail as a source of shade from the sunlight. They also seek relief from the sun and heat in their burrows.

There's not always a nearby pond or stream, so Xerus get much of their water from the leaves of the vegetation they eat.

They don't migrate, staying close to the system of burrows they build. Also, there is no need for them to hibernate.
Xerus Diet
A Xerus is an omnivore that eats insects, fruit, nuts, leaves, and grasses. When you think of a squirrel, you probably imagine a creature running around on the grass collecting nuts and fruits to hide in a tree. Finding and hiding food is what many types of squirrels do, but a Xerus is a little different.

A Xerus doesn't collect foods to hide and eat later on. So, they must find or forage for food to eat every day. In fact, about 70 percent of their day is spent looking for food to eat.
Xerus Predators and Threats
Not surprisingly, this little creature has several predators. Jackals, particularly the Black-backed jackal, are a predator of the Xerus. Also, they are hunted by many types of snakes, including the Puff adder. Monitor lizards are known to eat Xerus as well. These predators all have the speed necessary to capture Xerus.

Xerus sometimes invade a farmer's property, eating crops and other vegetation. A farmer may try to poison invading Xerus to prevent this loss.

Regardless of these threats, the conservation status of Xerus is least concern and there are some conservation actions in place.
Xerus Reproduction, Babies and Lifespan
Male and female Xerus mate any time throughout the year. They both have multiple partners. Though a male may chase another away from a female, these creatures don't fight with one another over a mate. After mating either above ground or in a burrow, a female is pregnant for an average of 48 days.

A Xerus gives live birth to one to three babies or pups per litter. They are born blind and hairless, weighing just a few ounces. They begin growing fur a few days after birth and their eyes open at 35 days old. Xerus are nursed by their mother for approximately 45 days and leave the burrow at about 50 days old. From then on, they eat solid food including insects, grasses, and fruit. Pups reach adulthood at 153 days old.

It's unknown how long Xerus live in the wild. But they live up to 11.5 years in captivity. These mammals are known to carry rabies and this likely has an effect on the lifespan of many.
Xerus Population
Scientists don't know exactly how many Xerus there are in Africa. However, Xerus are considered pests because of the damage they can do to a variety of crops.

Their official conservation status according to the International Union for the Conservation of Nature (IUCN) is least concern. The population of these creatures seems to be steady.
Xerus FAQ
What kind of an animal is a Xerus?
A Xerus is a mammal that sometimes goes by the name African ground squirrel. It lives in sub-Saharan Africa in grasslands, savannas, and deserts. It is omnivorous, diurnal and gives birth to one to three live pups.
A Xerus eats insects, leaves, nuts, grains, and grasses.
What eats a Xerus?
The predators of a Xerus include snakes, lizards, and jackals.
Are Xerus endangered?
No, Xerus are not endangered. In fact, they are sometimes called pests because of their habit of eating farmer's crops. They are categorized as least concern by the IUCN Red List of Threatened Species and have a stable population.
Sources: