Have you ever wondered what makes a Catahoula Leopard Dog different from a Great Dane? Both of these canines are identical in certain aspects but not in others. While the Catahoula Leopard Dog is herding, the Great Dane is a working dog.
Although these dogs do not belong to the same breed group, they share significant similarities and differences. This article compares the two animals, highlighting the key features that make them different.
Comparing a Catahoula Leopard Dog vs a Great Dane
Catahoula Leopard Dog
Great Dane
Origin
United States
Germany
Breed group
Herding dogs
Companion dogs
Size
20 – 26 inches
50 – 90 pounds
28 – 32 inches
100 – 200 pounds
Color
Red and blue merle, brindle, black, grey, and patchwork.
Black, fawn, and brindle.
Temperament
Affectionate, cheerful, alert, courageous, energetic, intelligent, loyal, protective, social, responsive, territorial, and stubborn.
Affectionate, cheerful, alert, courageous, gentle, curious, docile, energetic, intelligent, quiet, territorial, loyal, social, and protective.
Life Expectancy
10 – 14 years
8 – 10 years
The Key Differences Between Catahoula Leopard Dogs and Great Danes
The key differences between Catahoula Leopard Dogs and Great Danes are origin, appearance, lifespan, temperament, trainability, and grooming.
Let's explore these differences in detail!
Catahoula Leopard Dog vs Great Dane: Origin
The Catahoula Leopard Dog is a breed of dog native to the state of Louisiana in the United States of America. It is also known as the Louisiana Catahoula, Catahoula Hound, or Catahoula Cur. It was believed to be a hunting animal. To help them hunt wild hogs, the first settlers in Louisiana mixed their dogs with native dogs. This gave them a strong, long-lasting canine that could battle wild pigs while defending their sheep.
On the other hand, the giant-breed Great Dane originates from Germany and not Denmark, as the name may suggest. It is also known as the Apollo of dogs or the Deutsche Dogge. The Great Dane is a huge dog that has been in existence for almost 400 years. They are descended from mastiff-like dogs and were once used to guard country estates. In addition to protecting properties, they were popular with the wealthy elite for sport in the 18th century.
Catahoula Leopard Dog vs Great Dane: Appearance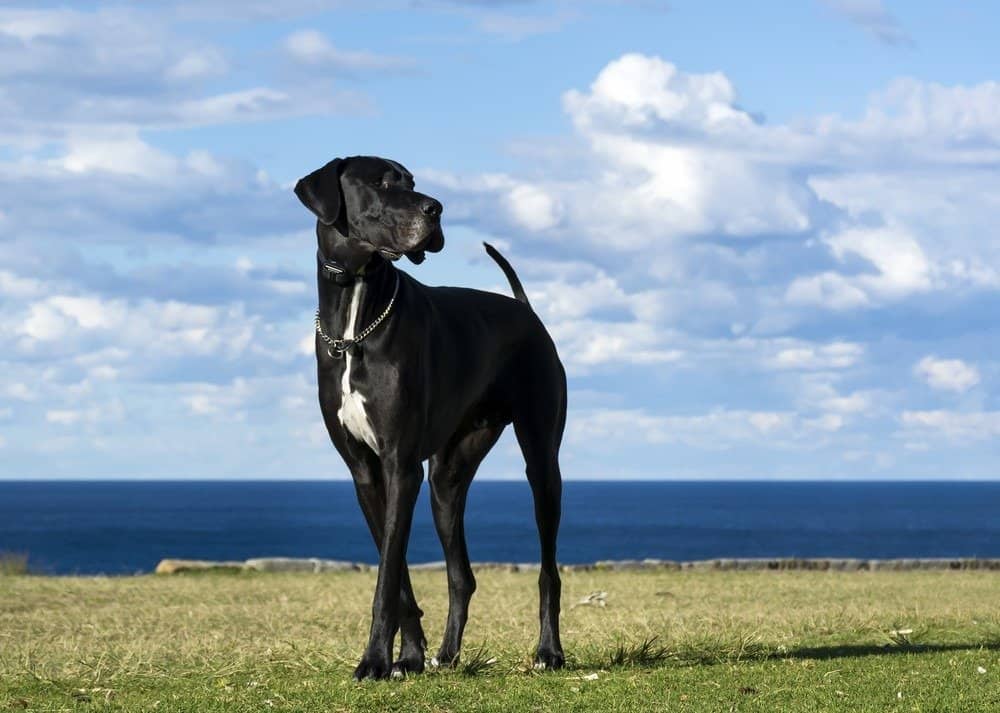 The Great Dame is slim, tall, strong, athletic, and exquisite in appearance. It stands between 26 and 34 inches tall and weighs about 100 to 200 pounds. The huge head is long and slender, with medium-sized floppy ears that can be clipped or left alone.
The tail is lengthy and held low to the ground. The coat is short and smooth, and it comes in a variety of hues, including black, fawn, and brindle.
In contrast, Catahoula Curs range in size from 20 to 26 inches tall and weigh about 50 to 90 pounds. While this breed comes in various colors, the leopard-like fur is the most conspicuous. There are solid colors available; red, blue merle, brindle, black, grey, and patchwork. Some Catahoulas have a longer, rougher coat than others.
Another interesting trait of the Catahoula Hound is its eyes. Although the two eyes may be of the same color, there are situations where one eye may be gray, green, or blue and the other brown. The ears of the Catahoula Leopard Dog are medium in size, floppy, and droop to the skull.
Catahoula Leopard Dog vs Great Dane: Lifespan
It is no news that the level of care provided to a dog is one of the essential factors in determining how long it lives. However, there are other things to consider, such as the breed of the dog.
The life expectancy of Catahoula Leopard Dogs is greater than that of Great Danes. While the Catahoula Cur is expected to live for about 10 to 14 years, the average lifespan of the Great Dane is between 7 and 10 years.
Catahoula Leopard Dog vs Great Dane: Temperament
The Louisiana Catahoula is an energetic and athletic dog that is intelligent. This dog is powerful and strong-willed rather than violent. They are very kind and warm and enjoy spending time with humans. They make wonderful family pets when properly trained and groomed. They are also lively and vigilant, which makes them excellent security dogs. According to individuals who have owned them, Catahoula Leopard Dogs have a wide range of desirable properties.
Over time, the Great Dane has been bred to be a gentle giant who gets along with other pets, kids, and everybody in its human family. Even though it is a big softie, the Great Dane will require additional training and socializing simply because of its size. This will transform them into faithful pets. It will interest you to know that when it gets inside, it obeys your commands to sit, lie on the floor, or come, or else his massive size will result in him pushing stuff off tabletops.
The Great Dane is a smart dog that loves to please, so it will pick things up quickly. Because it seeks human connection, make sure your friendly Dane has plenty of opportunities to interact with you.
Catahoula Leopard Dog vs Great Dane: Trainability
Every dog needs some training, although some are simpler to train than others.
Great Danes are easy to handle and are not as demanding as Catahoula Leopard Dogs. However, it is important to remember that consistency and patience are essential in properly training your dog. This doesn't mean that Catahoula Leopard Dogs can't be trained, but it might be best to get help from a professional.
Catahoula Leopard Dog vs Great Dane: Grooming
Because the Catahoula Leopard is a low-maintenance dog, brushing it twice a week keeps its coat shiny and free of loose hairs. Catahoulas have strong teeth, which should be cleaned at least twice a week to prevent tooth decay and other health issues.
You should brush your Great Dane's fur at least twice every week. It will be simple because it has a short and smooth coat, and brushing will keep its coat nice and lustrous. Check for ticks, fleas, and lumps during this time. You'll also need to inspect his nails and cut them if they don't naturally get shorter.
The photo featured at the top of this post is © Ricantimages/Shutterstock.com
Ready to discover the top 10 cutest dog breeds in the entire world?
How about the fastest dogs, the largest dogs and those that are -- quite frankly -- just the kindest dogs on the planet? Each day, AZ Animals sends out lists just like this to our thousands of email subscribers. And the best part? It's FREE. Join today by entering your email below.
---