↓
Continue Reading To See This Amazing Video
In New Mexico, deer seasons vary heavily by your area. To hunt in New Mexico, you must enter a public drawing or hunt on private land. Either way, the dates vary heavily depending on the area. Unlike other states, New Mexico has no overarching deer season.
Many hunting units in New Mexico divide their season into different weapons. For instance, some units may divide the season into bow, muzzle, archery, and "any." However, this isn't always true. Other areas only have one large deer season.
Therefore, when deer season starts in New Mexico depends a lot on where you are hunting.
Hunting License Requirements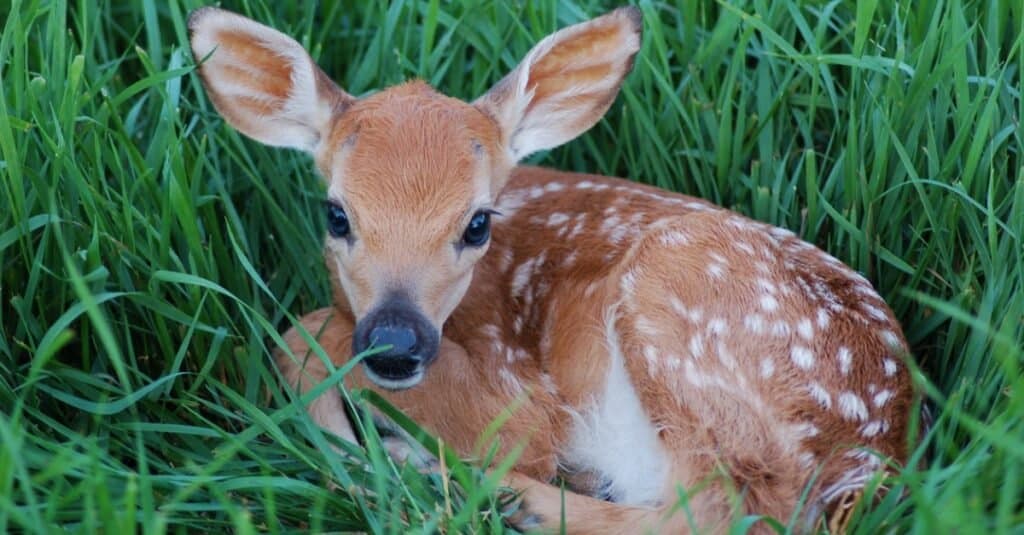 To hunt anything in New Mexico, you must purchase a hunting license. Those looking to hunt big game like deer must also purchase a Habitat Management and Access Validation.
Licenses and tags are available online, by telephone, or in person at various vendors. You must apply for the drawing to purchase the rights to hunt big game. Not everyone that wants a hunting license gets one. Therefore, be sure to prepare for the possibility of choosing a different hunting option.
If purchased online, licenses and permits must be printed. You can print them on standard paper. However, for deer, you must obtain tags before hunting. There is an E-tag option you may choose instead, though.
You will be given a combination license/tag if you do not choose the E-tag option. You may carry the document around instead of two different documents. It is recommended to purchase the licenses ahead of time to allow for the mail of the license. It can take up to 14 days for the license to arrive.
Stamps
On top of a license, certain individuals may also need to purchase a stamp, which is added to your license. The HMAV stamp must be purchased by anyone 17 or younger and anglers 70 years and older. These fees are used to lease land for public use and provide public access.
If you purchase a license required to have a stamp, it will be automatically added to your cart when purchasing online.
All hunters and anglers who do not fall into the above category will need a Habitat Stamp. You'll only need one stamp year if you plan to hunt on U.S. Forest Service land. Other hunters (such as those hunting on private land) do not need these stamps. You also do not need this stamp in unit 28.
However, everyone is encouraged to purchase one of these stamps, even if they aren't planning on hunting on public land.
Hunter Education Requirements
Before purchasing a license, any resident 17 or under must have a hunter education number. These numbers are valid for all species after completing a hunter safety course.
There are several different types of courses online and offline. Hunters aged 10 and older can take an online hunter education course. No field day is necessary.
You may also take the course in person. There are two types of in-person courses. One is a traditional field course for students ten and older. An adult must accompany the younger person on this course. Homework is assigned during this course and must be printed off.
We recommend applying for classes early to ensure you pass before the application deadline.
Draw Hunt Licenses
You must purchase a nonrefundable deer hunting license. These licenses are available online. However, you must go through a drawing process to be able to hunt. Only a certain number of licenses are provided a year. Therefore, not everyone will be successful.
If you are successful, you'll be mailed your license. If you are unsuccessful, you may be refunded the draw license fee. However, not the application fee.
The New Mexico draw system does not prefer previously unsuccessful applicants. Everyone is given equal weight. Therefore, you may be successful a lot or not at all.
You must choose your four top hunts. if you aren't successful with the first one, you may get your second, and so on. However, there is always a possibility that you won't get any at all.
Types of Deer Seasons
There are several different deer seasons in New Mexico. However, these vary a lot from unit to unit. Some units only have an "all-season" season, which allows you to hunt with any weapon. Others have a bow season, which only allows for the use of bows.
Dates and exact regulations can vary. You'll need to carefully choose which hunts to sign up for and then study those regulations if you succeed in their draw.
Some areas have youth-only areas.
Deer Season Regulations
There are many different types of legal options for hunting in New Mexico. However, not all seasons exist in all units, varying significantly in different areas. Therefore, we highly recommend understanding where you're hunting and the regulations of that season.
Here are some of the general legal weapons available during certain seasons.
Legal Sporting Arms
Usually titled as "all legal," this session allows you to hunt with any legal weapon. For deer and other big game, this includes any centerfire rifle of .22 caliber or larger, muzzleloaders of .45 caliber or larger, and shotguns of .410 caliber or larger.
You may only use ammunition that expands on impact. Full metal jackets and fully automatic firearms may not be used.
The regulations for their specific season apply if you're hunting with a bow, crossbow, or muzzleloader. We'll talk more about those below.
Bow-Only Season
As the name suggests, you may only use a bow during these seasons. Draw locks may not be used, and all arrows must have broadheads. Sights on the bow may not project light. However, lighted pins are allowed. No drugs may be used on the arrows, and they cannot have explosives attached.
Muzzleloaders, Bows, and Crossbow Season
This season does not allow modern firearms, but they allow just about everything else. All weapons must be "legal" and abide by the regulations associated with that weapon.
During this season, any sporting arm loaded through the muzzle is allowed. Only black powder or substitutes may be used; smokeless powder is not allowed. You may use scopes and similar aids. You may also use bows and crossbows as long as they are legal.
Restricted Muzzleloader Season
During this season, muzzleloaders are restricted but allowed. You may only use open sights, black powder, and full-bore diameter bullets. You may not use in-line ignitions or scopes.
Bows and crossbows are all legal during this season.
Deer Regulations and Safety Information
There are a lot of regulations surrounding hunting deer and other big game in New Mexico. Here are some general things that are not allowed:
Littering
Recklessly handling a firearm
Leaving a fire unattended
Hunting without the proper permit or license
Killing more than one deer except when allowed as a special rule
Using spotlights or other lights when livestock or big-game may be present
Using electronic calling devices or decoys
Parking or camping within 300 yards of a man-made watering hole, well, or watering tank
Shooting from a vehicle
Using motor-driven vehicles on closed roads
Hunting with the aid of an aircraft
Discharging a firearm within 150 yards of a building (including vacated and abandoned buildings)
Using cameras to scout remotely for big game
Harassing or interfering with a legal hunter.
New Mexico also has specific regulations against wasting game. You must transport all edible portions for consumption from the field. You are not required to remove the rib cage or organs, though.
Hunters must make a reasonable attempt to find any animal that they wound.
Wasting an animal also includes taking only the head, and antlers, or abandoning any of the edible portions of the carcass.
Chronic Wasting Disease in New Mexico
Chronic wasting disease is a neurological disorder always fatal in deer and similar animals. It is caused by a mutated prion that affects the brain. The animal may have coordination problems, be extremely skinny (because it can't search for food), and appear unaware of its surroundings.
This disease sticks in the soil for years. Therefore, once it is in an area, it is nearly impossible to remove it. Therefore, New Mexico has many regulations to stop the spread of CWD.
There are several areas of New Mexico where CWD has been located. You may not transport unprocessed carcasses out of these areas. The meat must be boned out, and all tissue from the head removed. Clean skull plates with antlers are allowed after processing. Antlers with no meat attached are also allowed.
If you bring a freshly harvested deer to an NMDGF office, you can volunteer to provide tissue samples for testing. You must be within the unit the deer was killed, of course. By participating, you will be entered into a drawing to receive an elk or oryx tag.
What To Do After a Deer is Harvested
All big game animals must be correctly tagged in New Mexico. After successfully hunting a deer, notch your carcass tag according to the instructions on the tag. This includes accurately notching the month and day the animal was taken.
Do not leave the backing on the tag. Remove the backing and then adhere the sides together to help it attach to the animal. Leave the entire face readable. Do not overlap the tag ends. Horned big game also requires an antler tag and the carcass tag.
You must notch the tag and attach it to the animal before leaving it in the field. You may not possess an animal that was not properly tagged, so be sure to tag it before transporting it.
The tag must remain on the deer until it is processed. If you have to transport the item in pieces, you must transport the tagged system first. You must keep the tag with the boned-out meat, skull, and other items if you do not take the whole carcass.
Keep the tag for at least one year after harvesting the animal.
If you choose the E-tag option, you will receive an E-tag number after you report your deer. Write this number and the date on a durable material and attach it to the animal. Flagging ribbon or duct tape is recommended. You must also add an antler tag to the antlers of deer that have them.
Reporting is required for all deer, even if you are not successful on your hunt. You can submit these reports online or by phone. Be prepared to answer various questions about the deer you saw (or didn't see).
Fines For Not Following Regulations
New Mexico uses a point system to revoke hunting licenses potentially. For each infraction of regulations, you will gain points on your license. After 20 points are accumulated over three years, your license will be considered for revocation.
New Mexico is a member of the Interstate Wildlife Violator Compact. Therefore, a suspension of your license in New Mexico will make you ineligible for a license in most other states.
Due to the Parental Responsibility Act, your license will be suspended if you do not comply with court-ordered child support obligations. To get your license back after this suspension, you must be caught up on all payments and pay a small fee for reinstatement.
Poachers who don't follow regulations are required to pay certain fines depending on the offense:
First offense: Up to one year in jail and up to $1,000 in fines
Second offense: Up to one year in jail and up to $4,000 in fines
Third offense: Mandatory 90 days in jail and up to $6,000 in fines
Fourth offense: 18 months in prison and up to $5,000 in fines
Furthermore, you may have to pay restitution for the taking of trophy deer. The amount is $10,000 or more for a deer.
A convicted felon may hunt in New Mexico. However, they may only use a bow. Firearms are not allowed.
Trespassing is a serious problem in New Mexico. You should pay attention to where you're hunting. You may not wander onto another land in pursuit of prey.
Up Next:
More from A-Z Animals
---
The Featured Image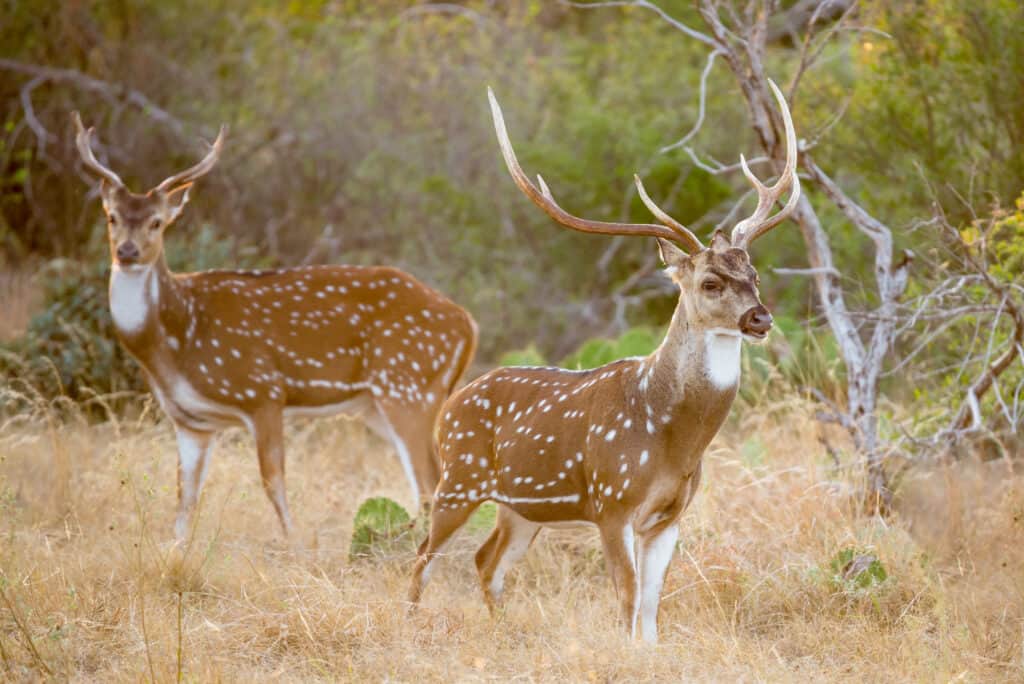 ---
Sources

New Mexico Department of Game and Fish, Available here: https://www.wildlife.state.nm.us/download/publications/rib/2022/hunting/2022_2023-New-Mexico-Hunting-Rules-and-Info.pdf