Aquariums and zoos are the perfect places to visit when you want to safely learn more about animals. Many zoos and aquariums rescue and rehabilitate wild animals, but not all animals can be safely released back into the wild. Dolphins are amazing creatures, often found in aquariums and zoos. These large aquatic mammals are intelligent and playful. However, dolphins living in captivity are different than those in the wild.
Currently, over 3,000 dolphins are living full-time in aquariums. There are also at least 40 types of dolphins throughout the world. While you can take your chance and book a dolphin tour in the ocean, there's no guarantee you will see one in its natural environment. However, if you'd like to see a dolphin, one of your best chances of visiting a zoo or aquarium.
Listed below are 10 aquariums and zoos with dolphins.
Georgia Aquarium
The first aquarium on our list to house dolphins is the Georgia Aquarium in Atlanta, Georgia. This aquarium was previously the largest in the world. While it's no longer the largest in the world, the Georgia Aquarium is the largest in the United States. One of the most popular things to do in the Georgia Aquarium is the dolphin animal encounter. You can meet the trainers and interact directly with the dolphins during this encounter. You can still see common bottlenose dolphins if you don't want to pay extra. The Georgia Aquarium has other great animals, including a large and majestic whale shark. You also don't have to leave the comfort of your home to see the facility's animals, as the Georgia Aquarium broadcasts some of its animal tanks live.
Texas State Aquarium
You can also find dolphins in the Texas State Aquarium in Corpus Christi, Texas. The aquarium covers about 6 acres and first opened on July 6, 1990. One of the most popular exhibits in this aquarium is Dolphin Bay. Here guests can interact and admire Atlantic bottlenose dolphins. The 400,000-gallon, 12-foot-deep saltwater pool offers two main viewing points. The dolphins in the aquarium are able for release back into the wild. Shadow is the oldest dolphin and was born on July 23, 1992. He was born with a small hole in his dorsal fin. Another dolphin in this aquarium is Merlin, the youngest dolphin known for his pink belly. Trainers love working with Schooner, born in 2007, as he is likely the smartest dolphin in the tank.
The Indianapolis Zoo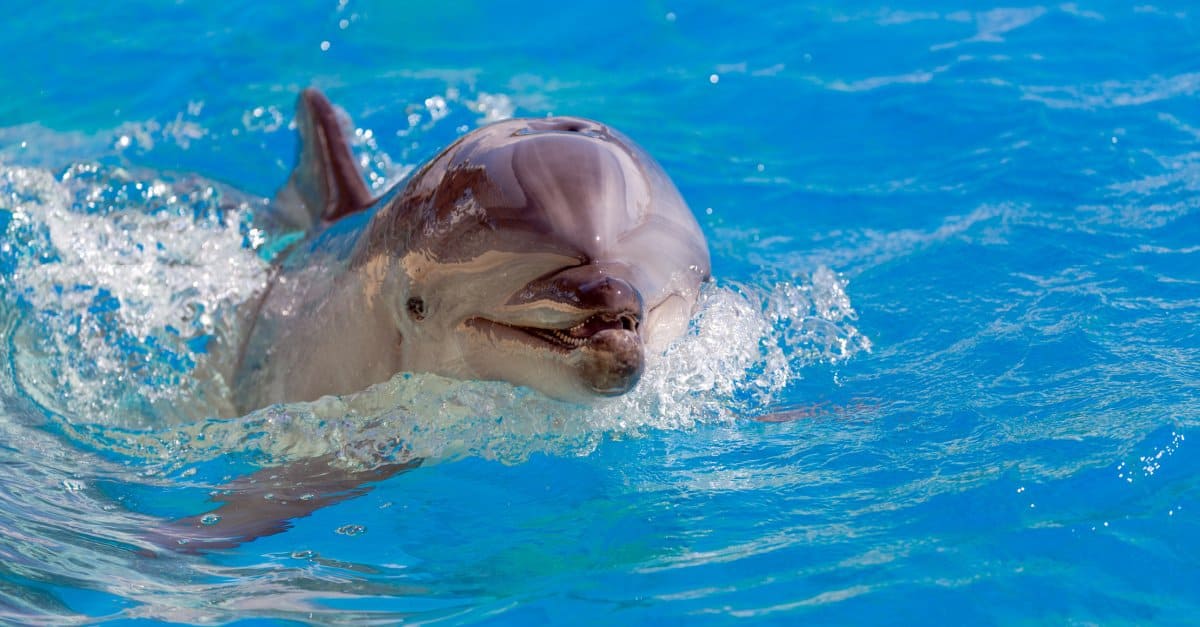 The Indianapolis Zoo in Indianapolis, Indiana, is a large zoo featuring dolphins. This zoo is a favorite for many locals and opened its doors on April 18, 1964. The zoo covers about 64 acres and contains 1,416 different animal species. Nearly 1.5 million people every year visit the Indianapolis Zoo. Apart from a zoo, it's also an aquarium and a botanical garden. While visiting, you can see penguins, tigers, macaws, and grey seals. In the Oceans exhibit, you can meet the local dolphins. You can also attend a dolphin presentation if you want to learn more. Calypso is a bottlenose dolphin in the zoo. She's nicknamed "the big sister" and has a dark area under her chin. Calypso sometimes swims with her tongue out. Born in 2011, Hemmingway came to the Indianapolis Zoo from Marineland Aquarium in Florida. He is considered a drama starter and has pointed-tail flukes.
Shedd Aquarium
One of the oldest aquariums in the United States is Shedd Aquarium, which first opened on May 30, 1930. It's located in Chicago, Illinois, and covers 10 acres. There are many exciting exhibits and animals to see, including Pacific white-sided dolphins. You can see these unique dolphins in the Abbott Oceanarium and Polar Play Zone. These playful dolphins are fast swimmers, reaching speeds up to 25 mph. Within Shedd Aquarium, there is a pod of 5 Pacific white-sided dolphins. The oldest is Kri. She's also one of the largest dolphins in the pod, measuring 6 feet and 5 inches long. She first came to Shedd Aquarium in 1991 when she was 6 years old. Harmony is the newest addition, born on August 31, 2020. She is playful and young and was named by fourth-grader classrooms in Chicago Public Schools.
Miami Seaquarium
The next aquarium home to dolphins is the Miami Seaquarium. While the Miami Seaquarium is not the largest aquarium in the United States, it still has many exhibits and animals. Miami Seaquarium opened on September 24, 1955. It covers about 38 acres. Here you can not only find dolphins but also manatees and stingrays. Miami Seaquarium also offers close tours and dolphin swims. However, you don't have to purchase extras to see bottlenose dolphins in their tank. You can also experience dolphin shows, like Top Deck Dolphin and the Flipper Dolphin Show.
Asamushi Aquarium
Another aquarium that hosts dolphins is the Asamushi Aquarium in Aomori Prefecture, Japan. It overlooks Mutsu Bay and covers about 12 acres of land. The largest tank's volume is 82,000 U.S. gallons, the dolphin exhibition pool. The doors to Asamushi Aquarium opened to the public in 1922, but the aquarium was rebuilt in 1983. This aquarium has over 400 species of animals and 10,000 animals in total. Apart from viewing the dolphins in the tank, you can also experience a dynamic dolphin show where the animals perform tricks with trainers.
Mississippi Aquarium
Next, we have the Mississippi Aquarium in Gulfport, Mississippi. It's a relatively new aquarium and opened on August 29, 2020. It covers about 5.8 acres and includes indoor and outdoor exhibitions. Aside from seeing many incredible animals in the Mississippi Aquarium, you can also book unique tours to get up, close, and personal with them. Dolphin Encounter is a popular animal encounter. You get to meet and interact with a dolphin for 5 minutes with a trainer. There are four Atlantic bottlenose dolphins seen from a multi-viewing tank. Axl is the oldest and largest dolphin at 8.5 feet long and 400 pounds. He's a playful dolphin and sometimes swims upside down. Finn, however, is the smallest dolphin in the pod and weighs 340 pounds. He's silly and loves interacting with people, often sticking out his tongue.
Mundo Marino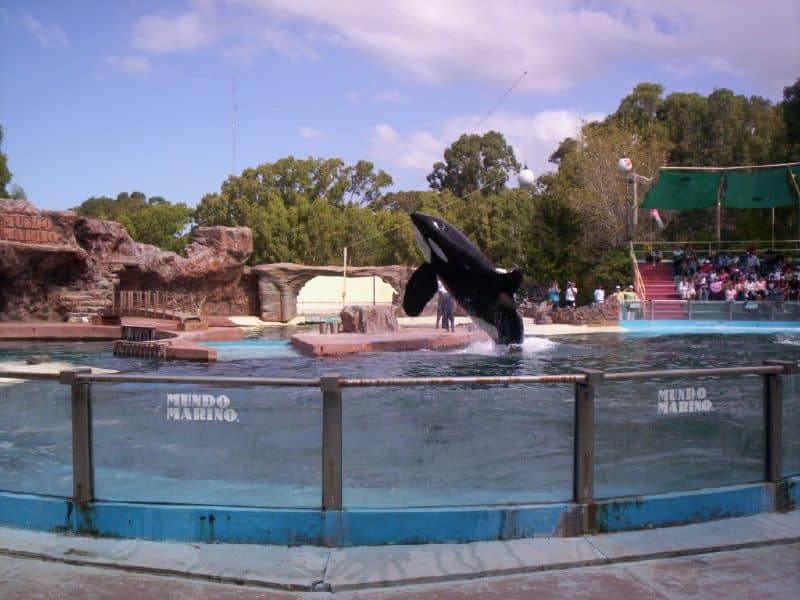 Mundo Marino opened on January 6, 1979, and is home to over 9,000 animals. It's the largest aquarium in Argentina. Not only are there animal exhibits and shows, but also fun-filled rides. One of the main attractions in this large aquarium is the "Refugio del Mar", which has many bottlenose dolphins. The history of this park is interesting. After visiting the United States and leaving impressed with the aquariums, Juan David Méndez purchased land in San Clemente del Tuyú. He opened the park intending to help sick and dying marine animals get better and releases them back into the ocean.
Rodadero Sea Aquarium And Museum
The Rodadero Sea Aquarium and Museum are located in the Santa Marta, Colombia aquarium. Captain Francisco Ospina Navia opened this aquarium and museum in 1965. The place is accessible by motor boat. This unique aquarium contains 13 pools directly connected to the Caribbean Sea. Nearly 95% of the Rodadero Sea Aquarium and Museum animals are native to the region. There are at least 805 animals, including sea turtles and seabirds. Many of the exhibits are centered around dolphins, and there is a popular dolphin show.
The National Aquarium In Baltimore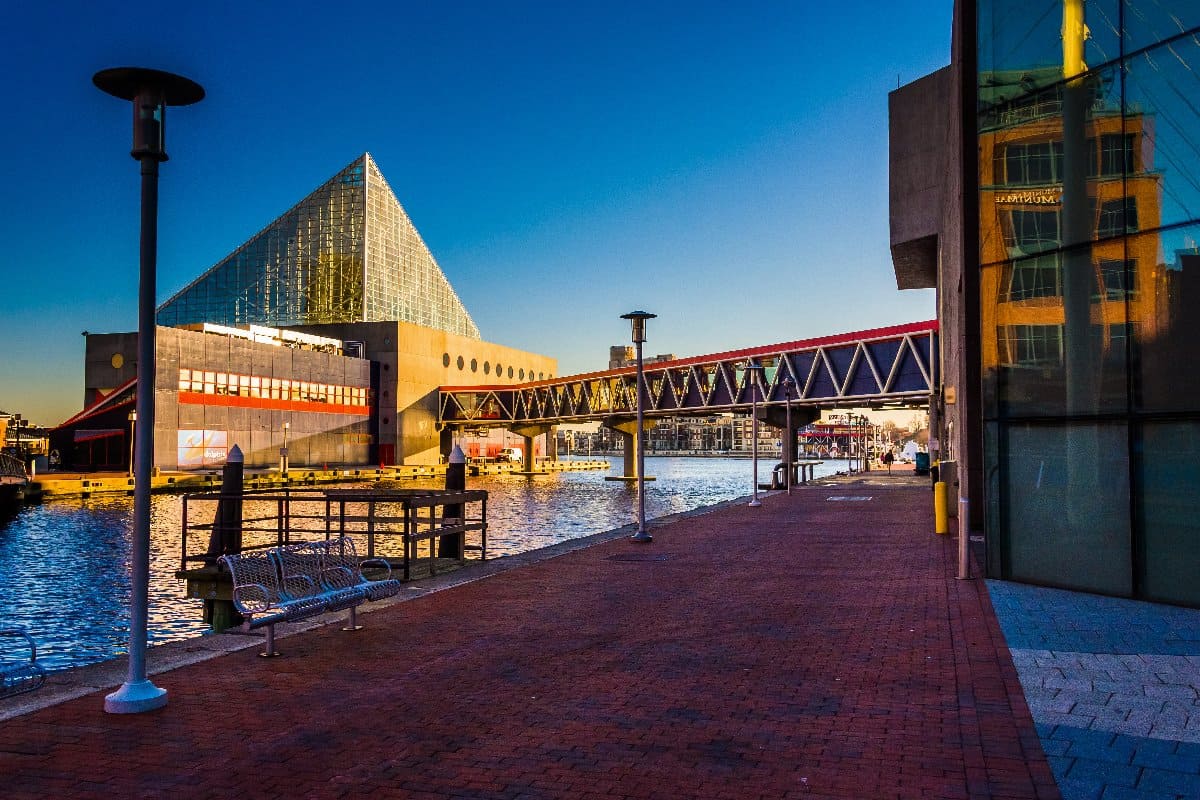 The National Aquarium in Baltimore is located in downtown Baltimore, Maryland. It opened on August 8, 1981, and covers 6 acres of land. In this aquarium, there are over 20,000 animals. One of the most popular animals to visit at the National Aquarium in Baltimore is dolphins. There are tours and experiences at an additional cost. In Dolphin Colony, there are four active females and 2 males.
Summary Of 10 Aquariums And Zoos With Dolphins
| Number | Zoo or Aquarium | Location |
| --- | --- | --- |
| 1 | Georgia Aquarium | Atlanta, Georgia |
| 2 | Texas State Aquarium | Corpus Christi, Texas |
| 3 | Indianapolis Zoo | Indianapolis, Indiana |
| 4 | Shedd Aquarium | Chicago, Illinois |
| 5 | Miami Seaquarium | Miami, Florida |
| 6 | Asamushi Aquarium | Aomori Prefecture, Japan |
| 7 | Mississippi Aquarium | Gulfport, Mississippi |
| 8 | Mundo Marino | Argentina |
| 9 | Rodadero Sea Aquarium and Museum | Santa Marta, Colombia |
| 10 | The National Aquarium in Baltimore | Baltimore, Maryland |
Summary Of The 10 Aquariums And Zoos With Dolphins
The photo featured at the top of this post is © Philip Lange/Shutterstock.com
---