When it comes to wildlife, Montana has some beautiful creatures. One of the most elegant of the cat family is the cougar. The cougar goes by many names: puma, panther, yellow cat, and mountain lion. But this powerful predator is North America's second largest species of the cat family (the jaguar being the biggest). Though the cougar takes second place, some of the record sizes for a cougar will shock you, especially the record for the largest cougar in Montana.
Characteristics
Cougars mostly live in the twelve westernmost states and Florida. These shy cats are hard to spot, and sightings are usually quite rare.
As adults, a cougar's body grows from 3.25 to 5.25 feet long, measured head to body. And, a cougar's tail can grow from 23.5 to 33.5 inches—which accounts for almost a third of a cougar's total length when measured from nose to tail! This considerable tail is attributed to the cougar's excellent balance and steadiness when navigating tricky terrain.
Their average weight is between 75-175 pounds. A cougar's fur is short, coarse, and usually light brown in color. In Latin, their name is Puma concolor, which means "of one color." It is fitting as cougars have gorgeous, evenly colored tan coats with a white underbelly.
They are incredibly strong, and their powerful back legs help them super-leap 40 feet horizontally or 18 feet straight up in the air. This feat of strength is probably what led people to believe that cougars jump out of trees or off cliffs to kill their prey. But the truth of the matter is that cougars have unbelievable pounces.
A cougar's main prey on the menu includes deer, wild sheep, birds, rabbits, and moose. When cougars go in for the kill, they target the neck. The jaw strength of a cougar is such that it can easily break the neck of a deer. Often, cougars will go for the windpipe and clamp down until their victim suffocates. This works especially well with large prey.
These ravenous cats can eat up to 20 or 30 pounds of meat in one sitting. For any meat that it does not eat, a cougar will bury and continue to snack on the leftovers for up to 10 days after the kill.
There are many more incredible cougar facts that you can read about too!
The Largest Cougar in Montana
When determining some of the record-breaking sizes of cougars, you look at the head size. The Boone and Crockett Club scores head size by adding the width and length together to get the total score. For instance, the largest cougar in Montana scores 15 12/16. Most average cougar skulls only score about 13 1/2 or 14. The top Montana cougar resides in B&C's collection and was shot by hunter Stan D. Stamey in 1994 in Lincoln County. As far as cougar records overall, this cat ranks 16th in the world.
Where was the Largest Cougar Caught in Montana Located on a Map?
The largest cougar ever caught in Montana was located in Lincoln County, which borders Canada to its north and is close to the state of Washington to the west. The county is home to the Kootenai National Forest.
The Largest Cougar in the World
The largest cougar ever on record weighed 276 pounds. According to the Boone and Crockett Club's record, it was killed in 1979 by hunter Douglas E. Schuk in British Columbia. The skull scored 16 4/16 points! That just barely beat the record held by hunter Garth Roberts, who had taken a cougar with a score of 16 in 1964 in Utah. Now, over four decades later, Schuk still holds the record for the largest cougar. It is certainly a massive beast compared to the largest cougar in Montana.
Predators
In general, the cougar stands at the top of the food chain and has no natural predators. Typically, the cougar is a solitary creature except during mating times. Though cougars don't have natural predators, they will sometimes run into conflicts with wolf packs or grizzly bears, if they are competing over a meal. In these situations, a cougar is not often the winner.
But, the biggest danger to cougars is humans. Though cougars are a protected species, many states still make it legal to hunt them. But, what is even more harmful is how humans are whittling away their natural environment, and with that, disturbing their food supply. Of all the dangers that cougars face, humans are the most devastating.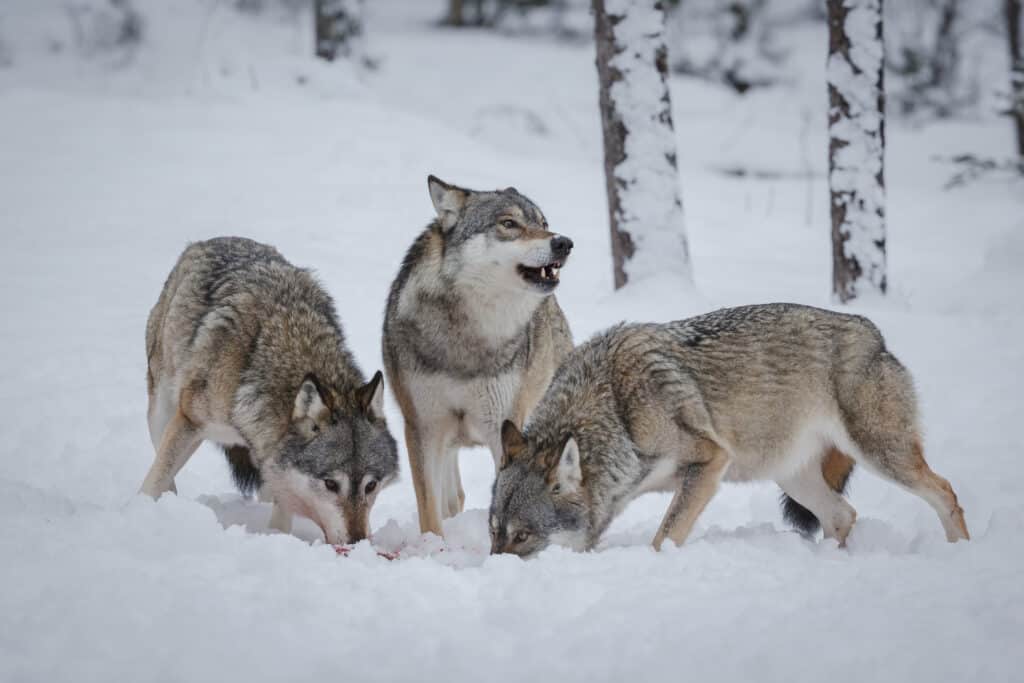 Cougars and Humans
Cougars are impressive creatures, but cougar attacks are very very rare. There have been only 20 fatalities since 1890. Compare that to the 10-20 fatalities a year people face from dog attacks. These gigantic cats prefer solitude and are quite shy around human-inhabited areas.
But, what is more, common is a cougar attacking someone's livestock or pet. Part of the problem, as we have mentioned before, is how human urban developments have disturbed cougars' natural habitat and food accessibility. Sometimes, a sheep is too tempting for a cougar.
Despite hunting being legal to supposedly keep cougar numbers manageable and avoid conflict, there is very little research that this is effective. Instead, multiple agencies across the country have promoted non-lethal measures, such as fladry (temporary electric fencing with red nylon flags attached to the wire), livestock guardian dogs, or range riders. With these non-lethal measures, we can prevent conflict and exist side-by-side with cougars.
Conclusion
Cougars are magnificent mammals, and their size and prowess are truly impressive. Especially considering the size of the largest cougar in Montana, it's no wonder that people fear cougars. However, by understanding the cougar's habits, and habitat, and learning how to responsibly live alongside cougars, you can know that you have very little to fear from these cats.
---