Below you can find a complete list of types of Argentinian animals. We currently track 275 animals in Argentina and are adding more every day!
Argentina is a large and ecologically diverse nation situated in the southern half of South America. It shares a land border with Chile to the west, Bolivia, and Paraguay to the north, and Brazil and Uruguay to the northeast.
Geographically, the country can be divided into several regions, including the mountainous Andes, the flat, lowlands of the pampas, and the semi-arid region of Patagonia in the south, which encompasses everything from deserts to fjords and glaciers.
The Official National (State) Animal of Argentina
The rufous hornero is an ovenbird of moderate size, typically measuring 18-20 centimeters (7-8 inches) in length and weighing 31-58 grams (1.1-2.05 ounces), with males being larger. Its slightly curved beak is adapted to feeding on insects, is horn-colored, and measures 2.5 centimeters (1.0 inch) in length.
The rufous hornero, a tiny songbird indigenous to South America, is recognized as the official national animal of Argentina.
Rarest Animals in Argentina
Here is a short list of some of the rarest animals found in Argentina.
Hooded Grebe: Critically endangered bird only found in southern Argentina.
Patagonian Mara: Large herbivorous rodent found in Patagonia, Argentina.
Andean Cat: Small wildcat species living in the high Andes mountains of Argentina, classified as endangered.
Pampas Deer: Deer species inhabiting the grassy plains of Argentina are currently listed as vulnerable.
Black-and-white Monjita: Bird species with black-and-white plumage, found in grasslands and savannas of northern Argentina, classified as endangered.
Huemul: Deer species found only in the Andes mountains of Argentina and Chile, classified as endangered.
Jaguar: Large feline found in northern Argentina's forests, classified as near threatened.
Largest Animals in Argentina
Here are some of the largest animals found in the Argentina region:
Southern Right Whale – These massive marine mammals can reach lengths of up to 18 meters (60 feet) and weigh over 50 tons. They can often be spotted off the coast of Argentina, especially in the Peninsula Valdes area.
Andean Condor – The Andean Condor is one of the largest flying birds in the world, with a wingspan of up to 3 meters (9.8 feet) and a weight of up to 15 kg (33 lbs). They can be found soaring high above the Andes Mountains.
Puma – Also known as the cougar or mountain lion, the Puma is a large cat that can weigh up to 100 kg (220 lbs) and measure up to 2.4 meters (8 feet) in length. They are found in a variety of habitats throughout Argentina, including forests, grasslands, and mountains.
Where to Find the Top Wild Animals in Argentina
The country has established about 33 national parks and several smaller protected areas where you can find some of the most unique wildlife natives to Argentina.
Birds in Argentina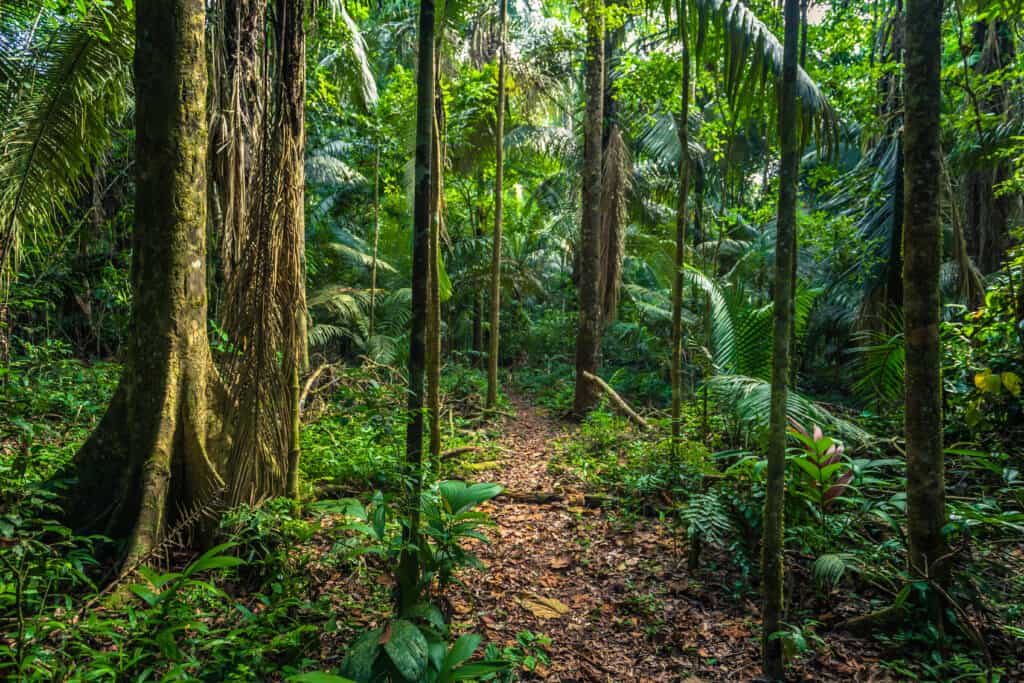 Argentina is arguably one of the best places in South America for bird watching because of its diverse ecological landscapes, ranging from mountains to plains, wetlands to glacial lakes, and extensive oceanic coastline.
Over 1,000 bird species call the country home, and many are unique to the country and the surrounding area. Argentina is also highly accessible to tourists and to those who wish to view the incredible avifauna living locally or passing through on migration. Listed are some of the species found and where it is best to look when visiting.
Southern Argentina
The southern region of the country includes a part of the Patagonian steppes, grasslands, and deserts, as well as the Santa Cruz glaciers and Valdes Peninsula. Unique species here include:
Patagonian Tinamou
Rufous-legged Owl
Patagonian Yellow-Finch
The capital: Buenos Aires
Located at the northeastern tip of the country and bordering the Rio de La Plata, Buenos Aires is an ideal spot for birdwatchers. The urban city is surrounded by nature reserves and national parks, all holding unique landscapes for a diversity of species. Its proximity to the water also allows visitors to see waterfowl and seabirds.
Southern Screamer
Guira Cuckoo
Olrog's Gull
Scarlet-headed Blackbird
Northern Argentina
Northern Argentina spans various biomes, from marshlands to cloud forests and including the Andes Altiplano. Numerous endemic, near-endemic, and rare avifauna reside in or pass through the area.
Toucans (5 species)
Rufous-throated Dipper (rare)
Buff-breasted Earthcreeper (endemic)
Tucuman-Mountain Finch (near-endemic)
National Bird of Argentina
The national bird of Argentina is the rufous hornero (Furnarius rufus), a medium-sized bird with reddish-brown feathers and a lighter-colored chest. The rufous hornero is a regal bird that symbolizes unity, strength, and freedom. 
Rufous horneros are often called ovenbirds because they create a nest using mud and branches that is like an oven. These hardworking birds mate for life and are also known to be dedicated parents.
Snakes in Argentina
Exploring expansive Argentinian landscapes is something everyone dreams of doing within their lifetimes – seeing the amazing sites, cultures, and wildlife. However, beauty does not come without caution. Almost 140 species of the snake make their home in Argentina, 18 of which are venomous and dangerous to humans. Venomous snake species belong to three genera:
Bothrops – Pit vipers (10 sp)
Crotalus – Rattlesnake (1 sp)
Micrurus – Coral snakes (7 sp)
Of these, Bothrops jararacussu is the most dangerous because of the nature of its venom. Regardless of toxicity, any snake bite should be treated by a medical professional in case of adverse reactions.
Fish in Argentina
An extensive coastline along the South Atlantic Ocean marks the eastern side of the country, however, sea fishing is not the type of fishing that brings anglers into Argentina. Fly fishing here is renowned around the world as some of the best, especially in the rivers and lakes of Tierra del Fuego and the Lake District. Following are some of the best fly fishing locations for rainbow, brown, and brook trout:
Rio Grande River, Tierra del Fuego
Caterina River, Los Glaciares National Park
Junín de los Andes
Golden dorado is another popular species to catch in Argentina. A fight to catch, these speedy fish are mainly found in:
Salta
Iberá Wetlands
Paraná River
Deep sea fishing is available off the coast for exciting fish such as Argentine sea bass, black drum, flounder, yellow amberjack, and many more.
The Most Dangerous Animals in Argentina Today
Venomous snakes and spiders are the main sources of danger in Argentina. While jaguars and cougars may seem intimidating, attacks are very rare, since they do not recognize humans as prey.
Jararaca – Native to northern Argentina, this highly venomous pit viper can deliver a powerful toxin that causes pain, swelling, bruising, and blistering of the affected area. Fortunately, death is quite rare.
South American Rattlesnake – Just like their well-known American counterparts, these snakes have a large rattle that allows them to send a warning signal. While they only strike when they feel threatened, their poison still has a fatality rate of around 12%.
Coral Snakes – Easily identifiable by bright colors with black or white bands, coral snakes are concentrated within the northern Gran Chaco region. Due to their highly toxic nature, avoiding these creatures is best.
Black Widow Spider – Argentina is home to six different species of the black widow. While the venom can be quite painful, causing local swelling, muscle pain, and nausea, it is rarely fatal for people.
Yacare Caiman – The caiman is a large member of the alligator family. While attacks almost never result in fatalities, the caiman's sharp teeth and powerful jaws render it a threat.
Zoos in Argentina
Temaiken Biopark – Sitting on 178 acres, Temaiken is the only AZA-accredited zoo in Argentina. The zoo is in charge of not only native and exotic animal conservation but also participates in local habitat and fauna preservation of pine forests and butterflies.
Lujan Zoo – The zoo was originally started within an old residence and has since grown to encompass a variety of native and exotic species, such as lions, toucans, macaws, sea lions, and even flamingoes. Visitors are able to interact with certain animals and can even camp within the park limits, experiencing the nightlife.
Many other areas specializing in animal protection and conservation exist in the country, most with the same goal of defending native and non-native animals from endangerment and extinction.
Endangered Animals in Argentina
While Argentina has made great strides to protect its unique wildlife, the following types of Argentinian animals are still in danger of becoming extinct.
Andean Mountain Cat – This small wild cat only resides in the high Andes Mountains. Endangered from hunting, habitat loss, diseases, and a reduction of its prey, this species only has about 2,500 individuals remaining.
Southern River Otter – Despite the name, this endangered species is endemic to both marine and freshwater environments around the southernmost reaches of the continent. With its habitat being degreased by dams and roadway construction, the river otter was also been hunted to near extinction in the 20th century.
Tuco-Tuco – The tuco-tuco is a small mouse-like rodent that resides almost exclusively in South America. Several Argentinian species from this family are in danger of becoming extinct.
South Andean Deer – Native to the southern range of the Andes Mountains, this deer has lost much of its previous natural habitat. It is now on the brink of becoming extinct.
Andean Condor – These black scavenging members of the vulture family are, by some measures, the largest birds in the world. Threatened by habitat loss, poisoning, and deliberate persecution (based on the mistaken impression that they kill livestock), this species has less than 7,000 mature individuals remaining in the wild.
The Flag of Argentina
Argentina's national flag consists of three horizontal stripes evenly divided into three sections; the top and bottom stripes are blue, while the middle is white. Its width-to-length ratio varies depending on the environment; on land, proportions of 1:2 and 9:14 are frequent, whereas, at sea, 2:3 is used.
National Flower of Argentina
The national flower of Argentina is the ceibo or Erythrina crista-galli, also known as the cockspur coral tree. The ceibo is a flowering tree that can grow up to 33 feet tall and produces stunning red blossoms in late winter or early spring. The ceibo is an iconic symbol of Argentina featured throughout its history appearing in literature, tales, and traditional stories.
Argentine Animals
Argentine Animals List
Argentina FAQs (Frequently Asked Questions)
What types of animals live in Argentina?
Argentina is home to some 400 species of mammals, including opossums, armadillos, rodents, bats, deer, capybaras, tapirs, peccaries, and carnivores (like otters and cats). There are also as many as a thousand different species of birds, including flamingos, toucans, hawks, falcons, swallows, and hummingbirds. Reptiles and insects are another excellent source of biodiversity.
Are there monkeys in Argentina?
Yes, both the black and brown howler monkeys live on the northern fringes of Argentina, near the border with Brazil.
Are there any dangerous animals in Argentina?
Argentina is home to several dangerous species of venomous snakes and spiders. The caiman is quite dangerous but rarely attacks people. The jaguar also surprisingly accounts for few attacks on people.
Are there sloths in Argentina?
While the sloth is much more common in neighboring Brazil, it can be found in the northern forests of Argentina.