With summer right around the corner, it's best to be prepared for the invasion of insects. Ants, in particular, are one of the most active insects in the season. Colonies thrive during the warm summer months despite an ant's small size. Doesn't that make you want to discover the five types of ants set to emerge in Louisiana?
If so, get ready to know all about the different types of ants in the state. While Louisiana has over 99 varieties, only a few species stand out. So, let's take a closer look at these tiny insects that love Louisiana state.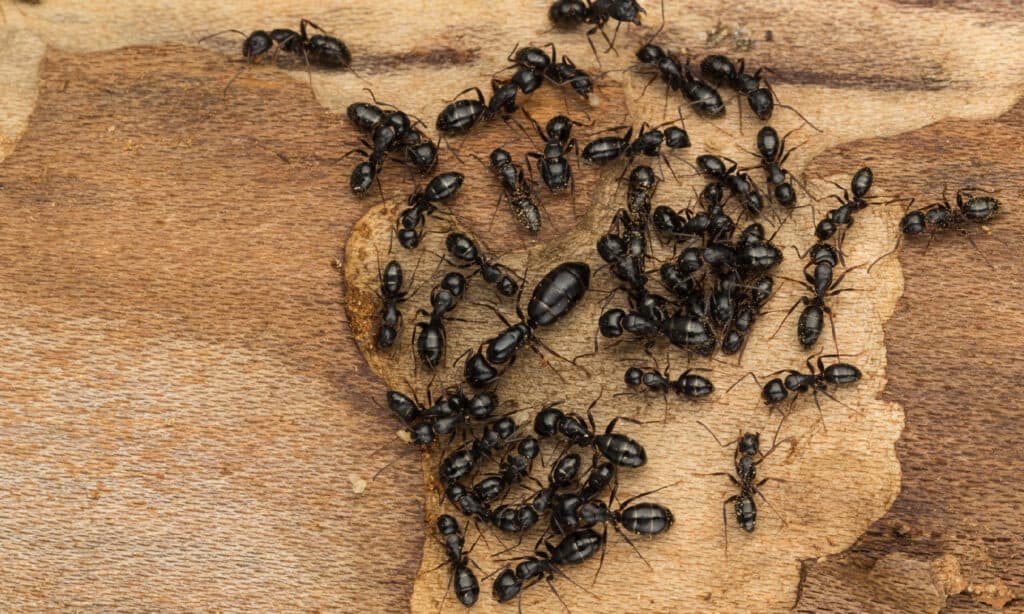 Discover the 5 Types of Ants Set to Emerge This Summer
These marvelously small insects are constantly everywhere during peak Louisana summer. While 99 varieties and other insects exist, we've only listed a few that are the most troublesome and commonly spotted. Below, discover the five types of ants set to emerge in Louisana.
1. Red Imported Fire Ants (Solenopsis invicta)
Red Imported Fire Ants are originally from South America but are now found worldwide. They are relatively small and grow to be around 2-6 mm long. Distinctive features include a reddish-brown hue with a dark underbody. Their body is also covered in small hairs, which make them appear furry.
The name fire ants come from the fact that these small creatures pack a serious bite. Their bites sting and feel like you're being burned by fire. Those with allergies tend to have severe allergic reactions, which can result in death. In most cases, the bite also puts people into anaphylactic shock. However, they aren't only dangerous to humans, animals, and plants.
They are known to be among the most aggressive ants, especially when disturbed. Fire ants are territorial and will attack and sting anything that gets near their colony. You'll generally find them active during the day and in Louisiana's large colonies of a thousand or more ants.
Fire ants are attracted to areas with loose soil, water, and food sources. This includes parks, farms, outdoor recreational areas, and backyards. They are also attracted to large bodies of water, including rivers, lakes, and leaking pipes.
2. Raspberry Crazy Ants (Nylanderia fulva)
If you want to discover the five types of ants, you may want to start with Crazy ants. The Raspberry crazy ants or Tawny crazy ants are very small insects that grow to ⅛-inch length. Mainly confused with fire ants, the main distinction is its body type and color. It has a reddish-brown color and long slender legs.
Unlike other ants, the crazy ants get the nickname due to their erratic movements. The crazy ant speeds around in zigzag patterns, which makes them difficult to spot. You'll generally find them wandering around indoors and out.
Aside from that, they love being in moist conditions. If you have a warm but damp place in your home, you might find a few zigzagging about. They also love being in gardens and farms due to the moist soil.
A high-energy ant also will hunt down any highly caloric foods. Anywhere there is a sugary snack, the crazy ant will be attracted. So, just be sure to clean up any kitchen areas and take out the trash often.
3. Ghost Ants (Tapinoma melanocephalum) 
Ghost ants are some of the smallest ant species alive. Their bodies span 1/16-inch thick, which is only 1.3-2 mm. When identifying them, the species mainly has a dark head and thorax. However, their abdomen is translucent. Another key feature of the Ghost Ant is its pale legs and antennae.
One thing that often psyches people out about the Ghost ant is its almost "segmented" waist. Its waist is very small, which can look like the ant has been cut in half. But don't worry! This small insect is perfectly fine and intact. 
Despite its slender body, the Ghost ant is also very fast. While they don't zigzag like the Crazy ant, they do have erratic movements. The species is very territorial, which causes it to release a strong odor when threatened. However, they do not bite.
In Louisana, the Ghost ant is often found in high-humidity areas. Some of their favorite spots include indoor areas with food and water. Commonly homeowners see them in kitchens, pantries, and bathrooms. Outdoors, you can see them nesting in tree cavities or soil.
4. Pharaoh Ants (Monomorium pharaonis) 
If you want to discover the five types of ants that are most common, you might want to read about the Pharaoh ant. Pharaoh ants are small but in the medium size range for the genus. On average, a Pharaoh ant measures up to 2 mm in length. Some distinctive features include a light yellow to red and brown color with a dark abdomen.
In total, the species has 12 segments on its body. The Pharaoh ant is active year-round but loves the warm weather. They are often attracted to human environments and areas in the home where they can be warm. Often, you can expect them to be inside your home, commercial buildings, and the kitchen. 
Any food that's left out will attract the Pharaoh ant. Additionally, if you don't clear out other dead insects, the rotting corpses can attract them. So, it's best to keep warm and humid areas clean in the home. 
Outdoors, Pharaoh ants will thrive once they establish a satellite colony. If disturbed, they will quickly scatter but will find their way back to the colony. This trait makes them very difficult to exterminate. 
5. Carpenter Ants (Camponotus spp)
The Carpenter ant is one of the most common ants you'll find. They are much bigger than the other ants mentioned on this list, spanning 8 to 25 mm. A carpenter ant has distinctive characteristics that make them identifiable, which includes its body type. Their thorax is often rounded, with their body color being black, red, or brown. 
In summer, the Carpenter ant multiplies drastically and is attracted to wood. That's how they get their name, is by living and nesting in trees, wood, and home infrastructures. You'll be able to notice these small ants because they nibble away at the wood at night.
Aside from that, they also create tunnels in their nests. If a Carpenter ant sets up a nest in your home, you will need to get an exterminator as soon as possible, or else it will cause the house to deteriorate. 
Other aspects of a Carpenter's ant that attract them include a water source and damp wood. They also love sugary foods and often travel to pantries to find their meals.
Other Insects Set to Emerge in Louisiana
Louisiana has plenty of insect life, especially during the summer. So, you won't have to just discover the five types of ants. Here are the most common insects that you'll run into this upcoming Louisana summer:
Mosquitoes
Mosquitoes are the most common insect during the hot Louisiana summer. The species flock to humid areas or have a water source. Not only that, but they feed off of blood, which can irritate mammals of all types.
Beetles
Louisiana also has multiple types of beetle species roaming about starting in April. The main beetles that you can spot are the June beetle and the Japanese beetle. Both of these beetles are not native to Louisiana, but due to humans moving about have become more common.
Butterflies
One insect that won't be a pest is the active butterflies. During the summer, parks and woodlands are full of many butterfly species. Some frequently spotted ones include Monarchs, Swallowtails, and Fritillaries.
Cicadas
Another common insect is the Cicada. These large insects love to fly around and be obnoxious in your face. They love being active only during summer and spend the rest of the year living underground. However, the Cicada isn't common as they only emerge every 15 years or so.
Discover the Five Types of Ants in Louisana Summer
With so many insects, limiting the list to just five is hard. However, we wanted you to discover the five types of ants that you might see this upcoming summer. Over the years, Louisiana has seen some major changes with insects, with newer species becoming more dominant. Hopefully, we've helped you find a bit more about what you can expect this summer!
---