↓
Continue Reading To See This Amazing Video
Alaska is the northernmost state in the United States, it's also the largest state in the country. Characterized by forested mountains, icy tundra, and hundreds of miles of coast, Alaska is full of biodiversity. It's thought that the first people to occupy North America crossed the now submerged Bering Land Bridge, which led directly into Alaska. For thousands upon thousands of years, the only people to roam this state's incredible lands were Native Americans. Today, the state is a part of the United States, and, like the other states in the Union, it has its share of large and incredible animals. Here, we'll find out just how big the largest Dall's sheep ever caught in Alaska was.
Dall Sheep: Profile
Known scientifically as Ovis dalli dalli, the Dall sheep is a medium sized herbivore that inhabits mountainous terrain. They're also known as thinhorn sheep. Because of their curling horns, which can grow over two feet in spiraled length, these wild sheep have become favorite targets for trophy hunters. 
Appearance
In contrast to the well known bighorn sheep, which stays brown year round, Dall sheep are entirely white. Both males (known as rams) and females (known as ewes) come equipped with horns that curl outward from the head, though males horns grow far larger. 
Unlike deer, elk, and moose, whose antlers grow and fall off every year, Dall sheep keep their horns until they die. Males prodigious horns don't grow any larger than the female's horns until they're at least three years old. A Dall sheep can expect to live to between 12-20 years of age. Males are larger than females, growing up to around 180 pounds, while females top out around 110 pounds.
Habitat and Range
The largest Dall's sheep ever caught in Alaska was well within his native land. In fact, Dall's sheep can be found in Alaska, the Northwest Territories, and British Columbia. Their habitat is generally specific to higher altitudes above the timberline. In Alaska, Dall sheep live in the Chugach Mountains, the Kenai Mountains, the northern Wrangell Mountains, and in parts of the Alaska and Eastern Brooks Ranges, among other areas. 
Dall sheep are a dry weather animal, preferring areas with open, rocky meadows and alpine ridges. They're generally seen near steep, rugged areas, which they use when escaping from predators.
The Largest Dall's Sheep Ever Caught in Alaska
In 1961, a man named Harry Swank Jr. shot the largest Dall's sheep ever caught in Alaska. This huge sheep's horns scored a Boone and Crockett score of 189 6/8 — several inches bigger than any other sheep on record. The Boone and Crockett score is a combination of several measurements, including the overall horn length and the circumference of the horns at the base. The trophy Dall sheep sports impressive horns that make a full curl outwards, away from the ram's head.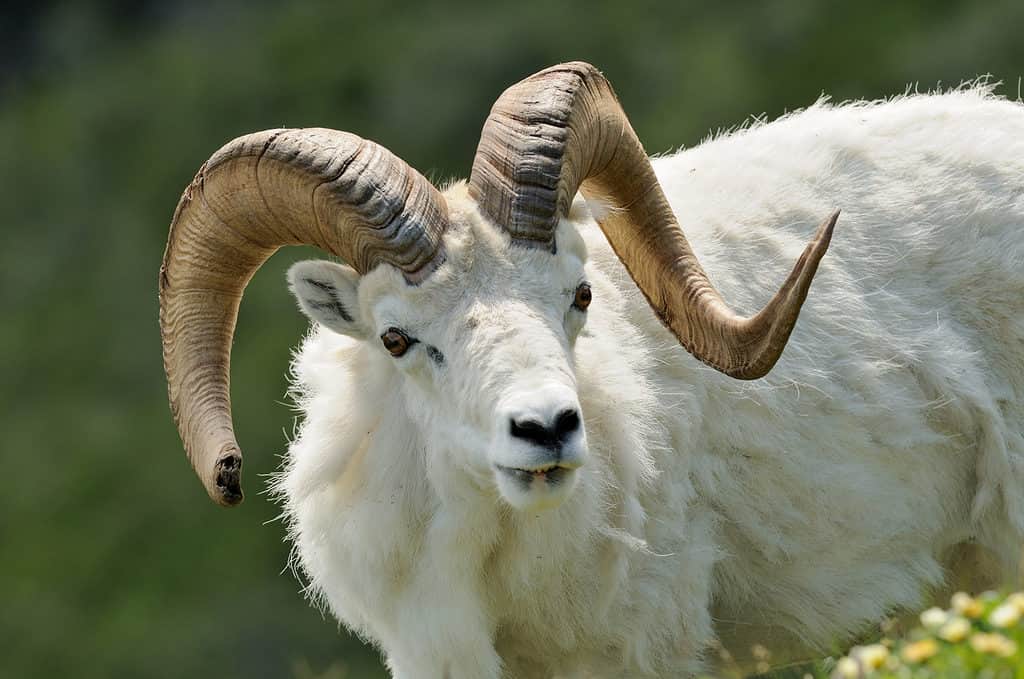 Where are the Biggest Dall Sheep in Alaska?
The largest Dall's sheep ever caught in Alaska was shot in the Wrangell Mountains. Other large sheep have come from the Brooks Range, the Alaska Range, the Chugach Mountains, and the Talkeetna Mountains, among others. For trophy hunters, any ram with over 40 inches of length in his horns is a truly rare trophy. Of course, hunting (and hopefully bagging) a trophy Dall sheep is no walk in the park. Dall's sheep occupy some of the most rugged terrain in the state; hunters must be extremely dedicated to find them.
Are Dall Sheep the Biggest Sheep in the World?
There are four species of wild sheep in North America: Dall sheep, stone sheep, desert bighorn, and Rocky Mountain bighorn. Interestingly, Dall's sheep are among the smallest of the four species. Closely related to Dall sheep, stone sheep (Ovis dalli stonei) bear many similarities. Both species are considered "thin-horned" sheep. But, unlike the Dall's sheep, the stone sheep exhibits a coat of both dark brown and white fur.
Even smaller in stature than the Dall sheep is the desert bighorn sheep. However, far outweighing every other species of wild sheep in North America is the Rocky Mountain bighorn. Yet, only the Dall sheep displays the remarkable white coat that makes it unique.
What Other Animals Live in Alaska?
Alaska is home to much more than the largest Dall's sheep ever caught in Alaska. This northern state is also famous for black bear, brown bear, wolves, reindeer, and moose — to name a few. Alaska' ocean waters are also home to orcas, gray whales, and humpback whales. Especially lucky visitors might even encounter musk oxen, polar bears, sea otters, or puffins.
But, no matter what wildlife you see, you can be sure that your trip to Alaska — whether its to hunt Dall sheep, or just take in the sights — will be one to remember.
Up Next
More from A-Z Animals
---
The Featured Image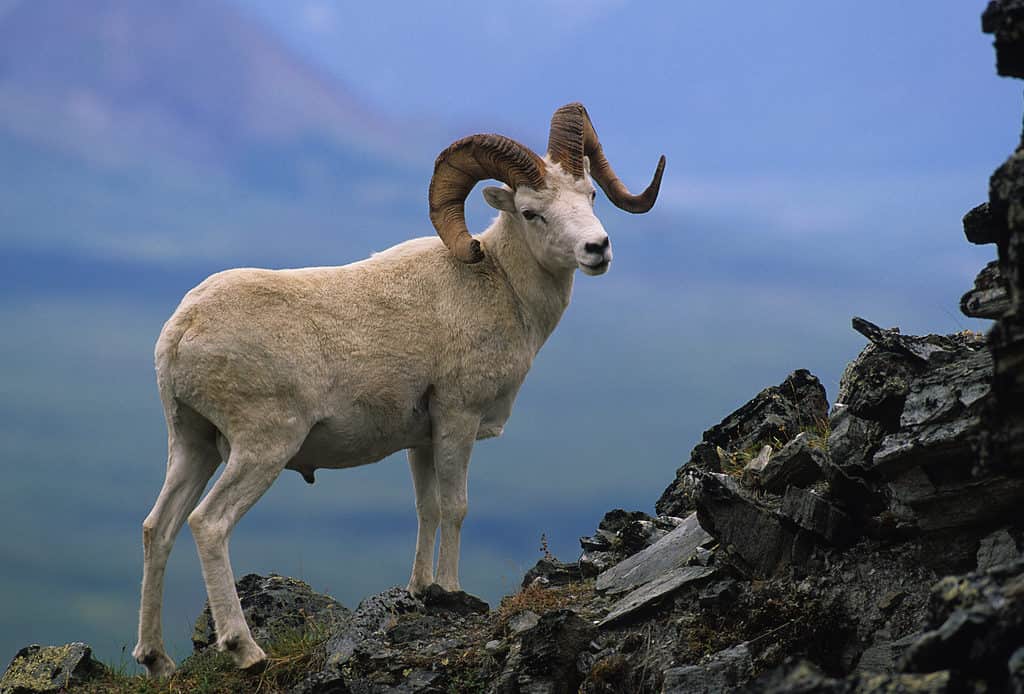 ---
Sources

Alaska Department of Fish and Game, Available here: https://www.adfg.alaska.gov/index.cfm%3Fadfg%3Ddallsheep.main