↓
Continue Reading To See This Amazing Video
There are very few places in the United States that can hold a candle to the wild wonder of Alaska. With a small population and a diverse land full of a variety of ecosystems, the largest forest in Alaska holds a special history. Not only is this the largest national forest in this great state, but it is also the largest forest in the entire United States!
In this article, we will go over some fascinating information about the largest forest in Alaska: the Tongass National Forest. We'll discuss the history of this enormous temperate rainforest as well as what you can do there should you choose to visit. Plus, the wildlife located in this region is unmatched– we'll discuss the rare animals living here and how you can see them. Let's get started!
The Largest Forest in Alaska: Tongass National Forest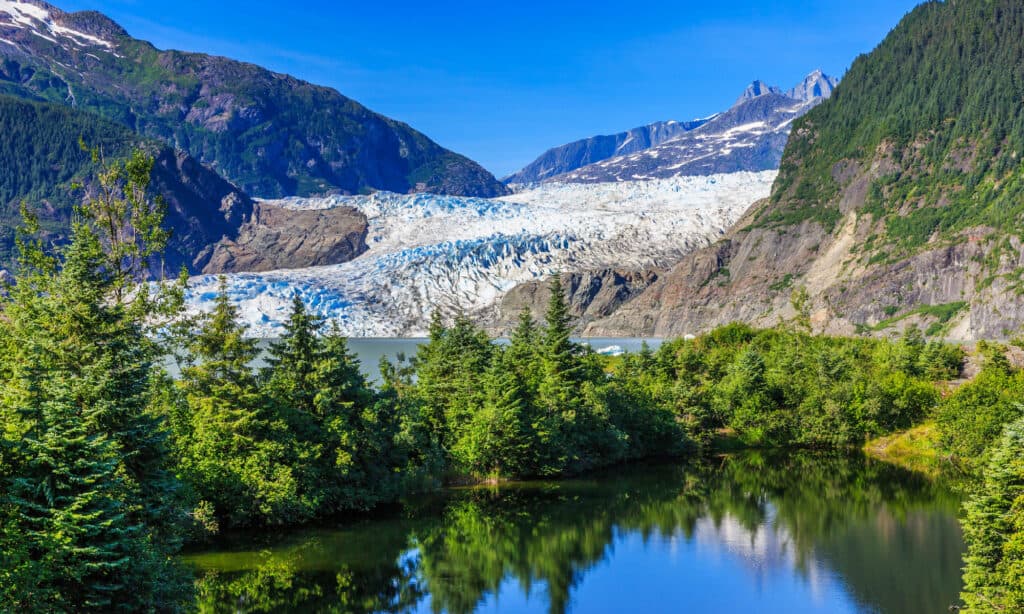 Nearly 17 million acres in size, the Tongass National Forest is the largest forest in both Alaska and the entire United States. In fact, this national forest makes up nearly all of Southeastern Alaska given its huge size and the variety of ecosystems found within it. The Tongass National Forest is protected in a variety of ways, including timber industry regulation and limited roadway development opportunities. 
Besides a desire to protect this relatively intact temperate rainforest, the Tongass National Forest offers a symbiotic relationship with the United States. With just how large this region is, it is capable of offsetting at least 10% of our annual greenhouse gas emissions. While this region is largely made up of glaciers and waterways, there are still plenty of trees that help our atmosphere in countless ways!
The Tongass National Forest is truly among the last and largest temperate rainforests remaining on this entire planet. With 10 million acres of trees and roughly 7 million acres of wetlands, glaciers, and other environs, the Tongass National Forest creates unique and one-of-a-kind homes for a variety of animals found nowhere else in the world! It is truly a special, wild, and wonderful forest. 
History of the Tongass National Forest
The Tongass National Forest began long before any of us were in existence. Populated for centuries by indigenous people, the Tongass National Forest is named after the Tlingit people who still occupy this region in part to this day. Alongside the Haida and Tsimshian people, this portion of Alaska was revered by many indigenous people for its resources and abundance.
However, this region changed as explorers began seeking the Northwest Passage. It only changed more when Alaska was sold to the United States by Russia, furthering the development of both the state of Alaska and the Tongass National Forest.
President Theodore Roosevelt established many of our national forests as well as the US Forest Service, and the Tongass is no exception. In 1902, the Alexander Archipelago Forest Reserve was created, with a portion of the Tongass National Forest established in 1907. By 1908, these two protected areas were combined to create the Tongass in its entirety, with even more expansion of the region occurring until 1925.
However, the Tongass National Forest wasn't always protected from industry. Many logging and mining towns were established throughout the region, with few prohibitions and rules in place. In fact, the Tongass National Forest was largely unprotected until 1990, with only a few salmon spawning locations protected up until this point.
Nowadays, the Tongass National Forest cannot be developed or harvested from save by local communities. Roadways cannot be constructed and the old-growth forests residing within this protected area are rarely and carefully sold as timber. Otherwise, the Tongass National Forest remains a decent source of revenue for Alaska, but only in the form of tourism and fishing.
Recreation in the Tongass National Forest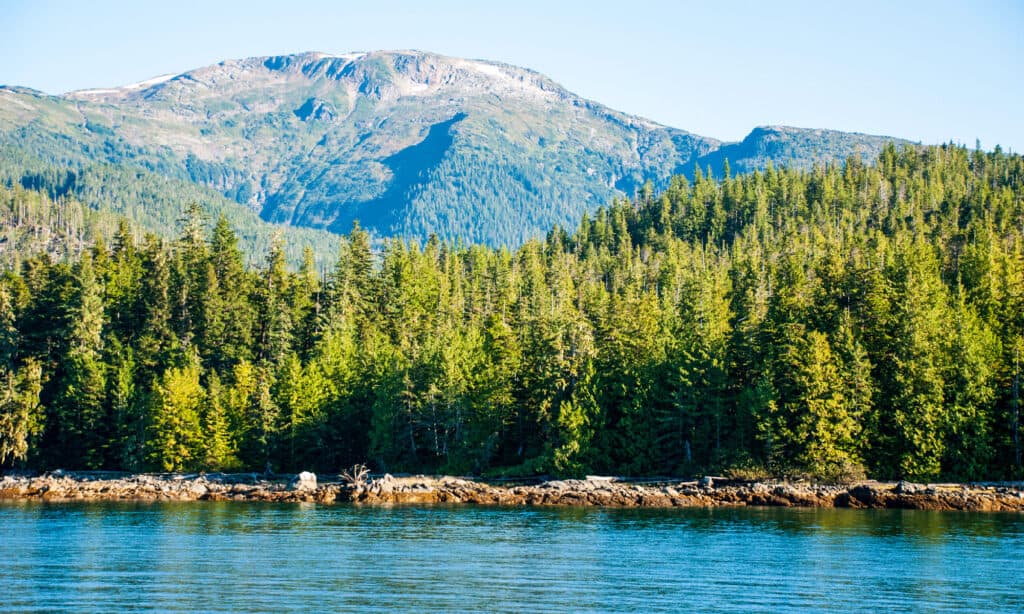 There are countless things to do in a forest that's nearly 17 million acres. The Tongass National Forest is a recreational dream, full of some of the most diverse activities in the world. You can hike, camp, swim, climb, and explore for days without seeing all there is to see in this place! In fact, many different cruises and ferries offer tourists a variety of routes and travel opportunities to see some of the best parts of the Tongass.
A popular recreational activity to try in the Tongass National Forest has to be glacier and wildlife viewing. There are multiple ice fields and infamous glaciers in this park to enjoy, and stopping by the Mendenhall Glacier Visitor Center is a must. Plus, there are hundreds of rare and endangered wildlife species found within this forest, including plenty of opportunities to view brown bears!
Another special opportunity to consider in the Tongass National Forest is the option to tour the park via a dog sled. You can always walk or utilize a boat to get around certain parts of the park, but dogsledding across snowy tundras is definitely a popular mode of transportation! Plus, there are plenty of small towns located in and around the Tongass National Forest so that you can find a warm place to stay after your adventures.
Wildlife in the Largest Forest in Alaska
As previously mentioned, there are plenty of different wildlife species found in Alaska, specifically in the Tongass National Forest. It is important to keep your safety in mind when exploring this area, as the Tongass is home to many apex predators. This is a wild and untamed area, full of the following animals and many more:
Black bears
Salmon (many types)
Moose
Deer (many types)
Wolves
Orcas
Ravens
Up Next:
More from A-Z Animals
---
The Featured Image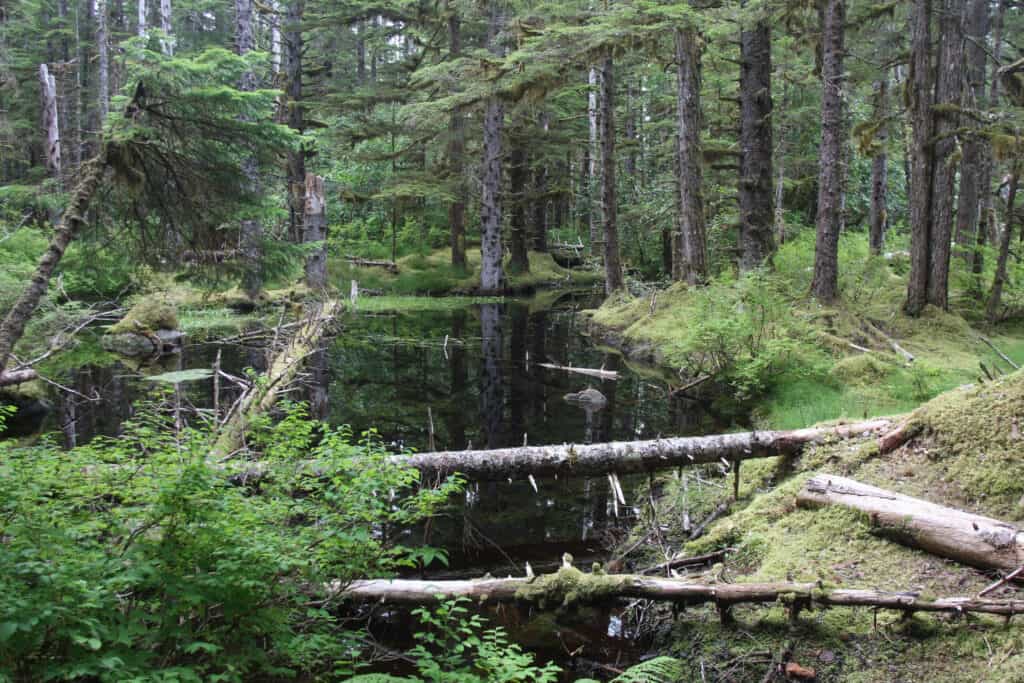 ---