Key Points
Michigan's St. Clair River is home to eight snake species
Out of the eight species, non are venomous
Not all the snake species around the St. Clair River are aquatic, some are semi-aquatic, and others don't swim at all.
The St. Clair River flows in a southern direction and forms a connecting channel between Lake Erie and Lake Huron. As a result, it is a major shipping channel in the Great Lakes Seaway system. Additionally, it is a wildlife habitat, a resource for water supply, recreational boating, fishing, trapping, hunting, nature studies, and swimming. One of the river's inhabitants is snakes. While not all species are aquatic, they still need the river to survive. So, here is a guide to the 8 snakes of Michigan's St. Clair River.
8 Snakes of Michigan's St. Clair River
Michigan's St. Clair River has a diverse environment filled with several habitats that host eight different snake species.
1. Eastern Foxsnake (Pantherophis gloydi)
The eastern foxsnake belongs to the family Colubridae and is a species of rat snake. They are large nonvenomous constrictors that are native to western Ontario and the eastern Great Lakes region of the USA. Their massive bodies have a yellow or gray background with dark brown spots along their backs. Additionally, there are smaller spots running along the sides of their bodies. Lastly, they have light yellow and black bellies.
2. Eastern Milksnake (Lampropeltis triangulum)
The Eastern milksnake is a nonvenomous snake and a subspecies of the milk snake. They are native to the central and eastern regions of North America. These snakes are very relaxed and non-threatening. Therefore, many snake lovers have them as pets. However, while they are very docile, they may still bite if they feel cornered or threatened.
3. Eastern Hognose Snake (Heterodon platirhinos)
The Eastern hognose snake, or spreading adder, belongs to the family Colubridae; they are rear-fanged, mildly venomous snakes. These snakes occur in North America, and so far, there are no recognized subspecies. They have thick bodies and an upturned snout, which is where their name comes from. Their snouts serve a purpose as they dig burrows, and the shape of their snouts helps with digging. While they are mildly venomous, their venom is not harmful to humans. In fact, their venom can only harm amphibians.
Furthermore, they come in various patterns. For example, colors include orange, red, brown, green, black, and gray or a mixture of these colors depending on their habitat. They can also have checkered or blotched patterns, but sometimes they are just one solid color. However, bellies are typically solid gray, yellow, or cream.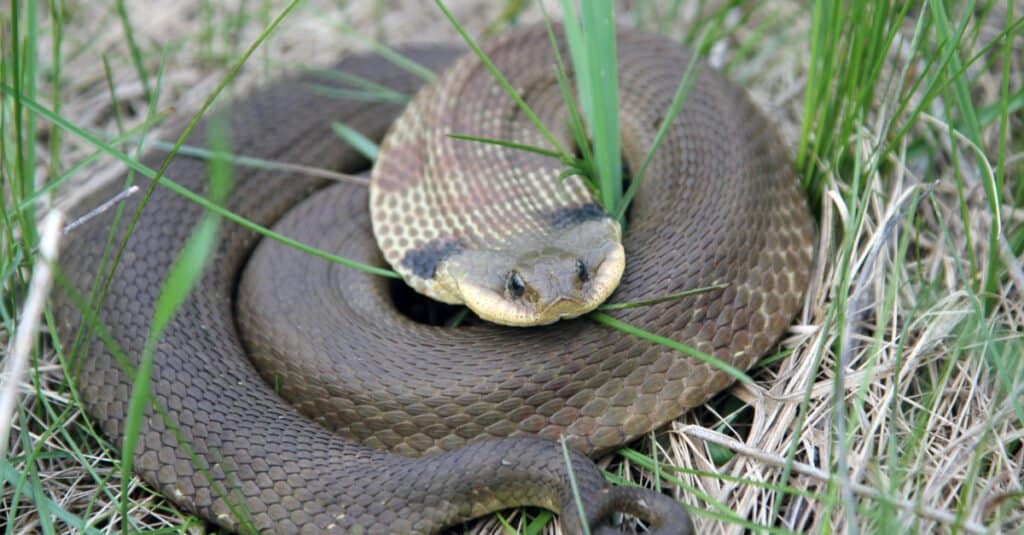 4. Common Watersnake (Nerodia sipedon)
The common watersnake occurs in aquatic habitats all over North America. They are large, nonvenomous snakes that belong to the Colubridae family. However, they are often falsely identified as cottonmouths, which are very venomous. These snakes are large and vary in color from dark brown to black, gray, or red. In addition, they have dark blotches on their bodies and brownish-black crossbands on their necks. Furthermore, as they get older, their color darkens, making the patterns fade into the background, resulting in the snake becoming almost entirely black. Also, their bellies vary from gray white, or yellow.
5. Dekay's Brownsnake (Storeria dekayi)
The Dekay's brownsnake is easy to identify because of its simplistic brown coloring. These snakes belong to the family Colubridae and are non-venomous and small. Furthermore, they inhabit most of Central and North America. Their backs are gray to brown and have a center stripe bordered by rows of black spots on each side. In addition, their bellies are pink or light brown with tiny black spots at either end of the ventral scales.
6. Red-Bellied Snake (Storeria occipitomaculata)
The red-bellied snake is native to North America. They are very small, only between 4 to 10 inches long. Additionally, their colors vary from black to orange to brown to gray. However, they are easily identifiable by their bright orange or red bellies. Because of their kinetic skulls and large eyes, these snakes are not able to burrow, so instead, they inhabit abandoned ant mounds for safety and to keep warm. Furthermore, they often take refuge under leafy debris or logs.
7. Butler's Garter Snake (Thamnophis butleri)
The Butler's garter snake occurs in North America and belongs to the Colubridae family. And as their name suggests, they are a subspecies of the garter snake. These snakes are slender, with three orange-to-yellow strips that run down their bodies. In addition, their base color ranges from black to olive brown, with two rows of dots running down their backs. Butler's garter snakes don't just occur in Michigan; they also inhabit areas in northeast Indiana, northwestern Ohio, the southern tip of Ontario, and the eastern region of the Lower Peninsula in Michigan. There is also a small population in southeastern Wisconsin. Butler's garter snakes prefer habitats like wet prairies, savannas, marshes, meadows, and grasslands.
8. Common Garter Snake (Thamnophis sirtalis)
The common garter snake is found throughout North America. These snakes have a green, black, or brown base color and measure around 22 inches long. However, they can grow to 54 inches. While the common garter snake is prevalent around St. Clair River, it is also abundant in several other states. In fact, these snakes are the state reptile for Massachusetts. The common garter snake comes in several colors, gold, blue, green, yellow, red, black, and brown.
Animals that Live Along Michigan's St. Clair River
Michigans's St. Clair River is not only home to snakes; there are many species of wildlife that call this river home, like:
Is It Safe To Swim In Michigan's St. Clair River
Unfortunately, in the 1980s, the Canadian and US governments had to identify several places in the Great Lakes region with significant long-term environmental issues. These regions are labeled as Areas of Concern, which means state, federal, and provincial governments are working on programs to solve the problems faced by each area. In addition, the government supplies expert guidance and funding to local groups, who also try to solve environmental issues. Sadly, the St. Clair River in Michigan is one of these Areas of Concern, and although a lot of progress has been made to restore the river to its former glory, the bottom of the river is still covered in chemicals. However it is safe to swim and play in the water, but eating any fish caught in the river is not a good idea.
What Happens If You See a Snake Under Water?
When you are enjoying yourself while swimming in a lake or river and happen to see a snake swim by, what do you do? Firstly, stay calm and begin to move away as slowly as possible. It is very important to avoid the snake, don't try to handle it or provoke it in any way. If there is an unfortunate accident, and the snake bites you, get to a hospital immediately. The snake might not be venomous, but you don't want to take any chances.
Summary of 8 Snakes of Michigan's St. Clair River
| Rank | Snake |
| --- | --- |
| 1 | Eastern Foxsnake |
| 2 | Eastern Milksnake |
| 3 | Eastern Hognose Snake |
| 4 | Common Watersnake |
| 5 | DeKay's Brownsnake |
| 6 | Red-Bellied Snake |
| 7 | Butler's Garter Snake |
| 8 | Common Garter Snake |
Summary Table of 8 Snakes of Michigan's St. Clair River
Discover the "Monster" Snake 5X Bigger than an Anaconda
Every day A-Z Animals sends out some of the most incredible facts in the world from our free newsletter. Want to discover the 10 most beautiful snakes in the world, a "snake island" where you're never more than 3 feet from danger, or a "monster" snake 5X larger than an anaconda? Then sign up right now and you'll start receiving our daily newsletter absolutely free.
---