Connecticut is one of the smallest states in the U.S. The tiny state is known for its beautiful autumn foliage, prestigious universities, and vast forests. But Connecticut also has some excellent duck hunting grounds. This article will detail everything you need to know about duck hunting in Connecticut, from the season dates to bag limits and more.
Types of Ducks in Connecticut
When out duck hunting in Connecticut, you'll come across several different kinds of ducks, namely: Mallards, wood ducks, black ducks, redheads, and canvasbacks are the most common ones. Here's how you can spot each of them.
Mallard
Mallards are the most common type of duck you will find in Connecticut's duck hunting grounds. So, if you're from Connecticut, you're probably already quite familiar with this species. Male Mallards have a bright green, round head laced with a thin white collar. Their chests are usually brown or maroon, and their tail is white-tipped. As for the females, they're usually brown and orange. Both sexes generally have purple-blue feathers under their wings, which can easily be seen when they fly.
Wood Duck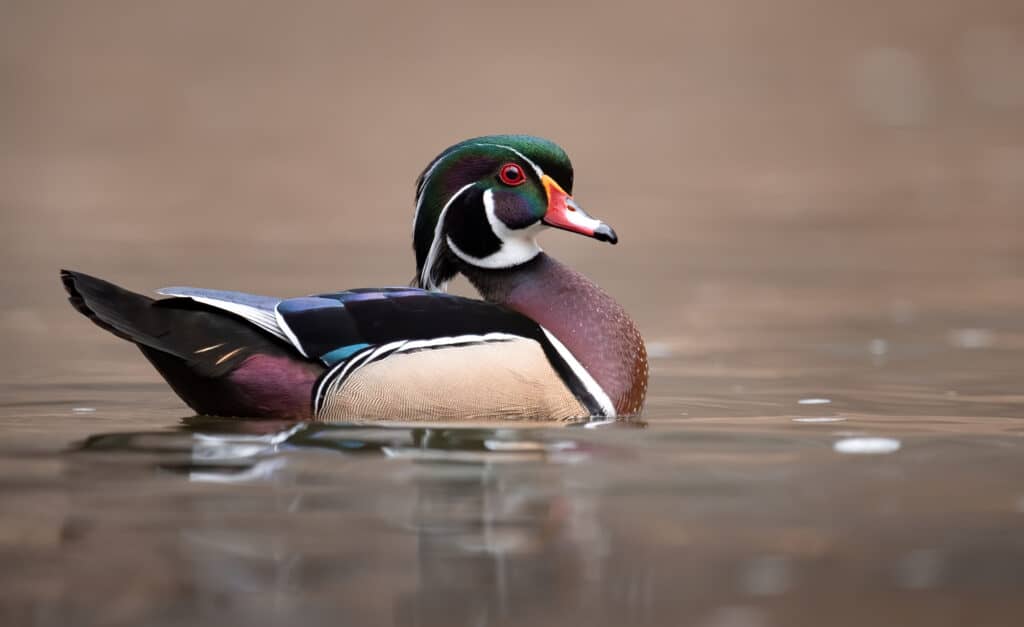 The wood duck is a species found in Connecticut with a boxy, crested head. They have a greenish color on their heads and an outward-extending tail. Male wood ducks have patterned chests and red eyes. The females are less colorful but have a white ring around their eyes that distinguishes them.
Black Duck
The American black duck is one of the most common species of duck in the USA. Their bodies are generally completely black. The males and females are almost identical except for the color of their bills, which is yellow for males and greenish for females. They have bright orange webbed feet and distinct purple-blue wings.
Redhead
The redhead is a medium-sized duck that is adapted to dive underwater to find its food. This species of duck is known for its red, rounded head in the males and square-tipped beak. The males have a black body, while the females have a yellowish-brown body and head.
Canvasback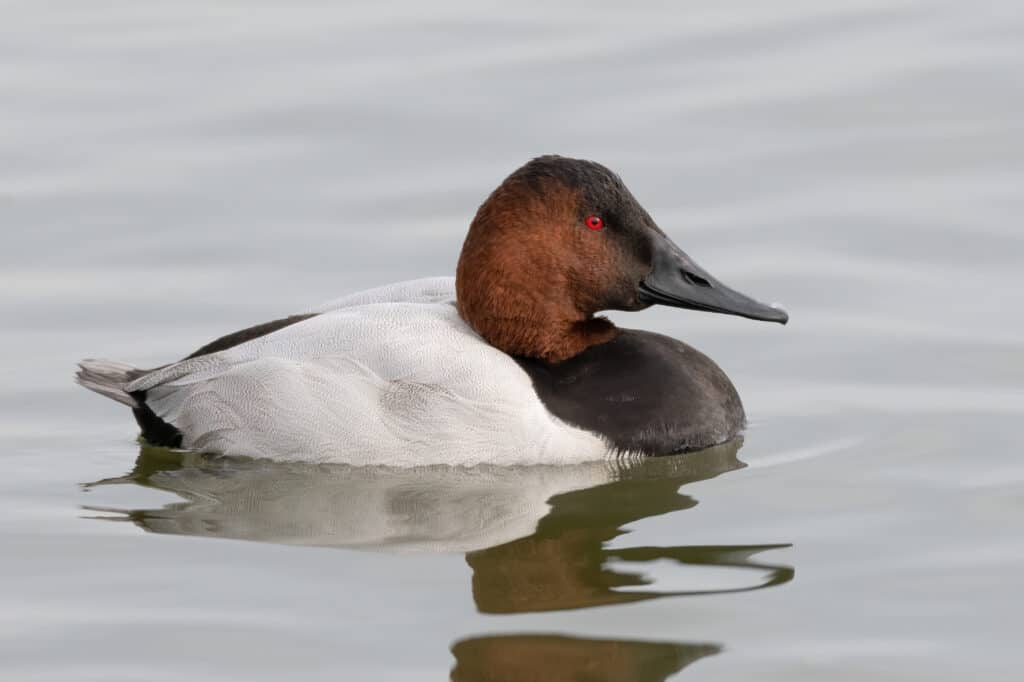 Canvasbacks are relatively large ducks with pale grey bodies with black chests and tails. These ducks are hard to miss because their heads are shaped like a wedge and are very colorful. Male canvasbacks have a red-brown color on their head and bright red eyes. The females have black eyes and brown heads.
Other ducks that you could find in Connecticut but less common than the five mentioned above are:
Northern pintail, northern shoveler, blue-winged teal, green-winged teal, ruddy duck, ring-necked duck, common goldeneye, hooded merganser, red-breasted merganser, common merganser, lesser scaup, greater scaup, and the harlequin duck.
Hunting Season Dates in Connecticut
In Connecticut, the hunting season differs depending on the type of duck you are hunting and what region of the state you are in. The season typically begins in the fall, around September or October, and lasts till January or February when it starts to snow.
The early season runs from October 8th to October 15th, and the late season runs from November 11th to January 11th.
Daily Bag Limits
The daily bag limit is the number of ducks you are allowed to kill in one day. The limit is slightly different depending on the type of ducks you are bagging. There is also a total bag limit of 6 ducks regarding how many ducks you can kill in one day, regardless of the species.
There is also a limit to how many ducks of each various species you can bag in one day.
Mallard: 2 (1 hen)
Canvasback: 2
Wood Duck: 3
Black Duck: 2
Redhead: 2
Pintail: 1
Seaduck: 4
Possession Limits
The possession limit for duck hunting in Connecticut is 3 times the bag limit. So you may not possess more than 18 ducks at one time.
Best Hunting Ground For Ducks In Connecticut
Although you can find ducks in almost all ponds, creeks, and rivers in Connecticut, some areas are better than others when it comes to finding ducks to hunt. Here are some of the best towns and hunting grounds to hunt ducks in Connecticut.
| Town | Waterfowl Hunting Area |
| --- | --- |
| Andover | Bishops Swamp WMA |
| Barkhamsted | Peoples State Forest |
| Bloomfield | Bloomfield Flood Control Area (Site 2) |
| Burlington | Sessions Woods WMA |
| Canaan | Robbins Swamp WMA |
| Canterbury, Plainfield | Quinebaug River WMA |
| Colchester | Salmon River State Forest (including Holbrook Pond) |
| Colebrook, Hartland | MDC-Colebrook Reservoir/Hogback Dam |
| Cornwall | Wyantenock State Forest |
| Cromwell, Middletown | Cromwell Meadows WMA |
| Durham | Durham Meadows WMA |
Hunting Gear Needed to Hunt Ducks in Connecticut
Firearm
When it comes to hunting ducks, a shotgun is often the best type of gun to use, so you can aim and shoot from a distance without scaring off the ducks. Usually, 10, 12, 16, 20, 28, or 410 gauge guns could work well, and a maximum three-shell capacity is appropriate for duck hunting. A non-toxic shot is required, so make sure the BBs in your ammo meet these regulations.
Clothing
Duck hunting can be cold and wet. So it is vital to invest in good quality outdoor gear for your hunting trip. I recommend some waterproof insulated camo to help disguise you from the birds while protecting you from the elements as well. Waders are another piece of equipment that can be very useful when duck hunting, as they allow you to wade into rivers and streams without getting your body wet.
You could also keep some other equipment with you, such as a hunting boat, a hunting knife, a GPS or a navigational aid, and other various tools.
Using Dogs to Hunt Ducks in Connecticut
There are many benefits to using a dog for duck hunting. The dogs will help to retrieve the animal after it has been shot down, so you won't have to worry about wading through water or searching for the carcass. It is best to train a puppy to be a duck-hunting dog, but older dogs can easily be trained as well.
The best dog breeds to use for duck hunting are:
Labrador Retriever: Labs are one of the smartest, most laidback, and easiest to train dog breeds out there. This dog breed is a perfect hunting dog because it is in their nature to seek out birds and retrieve them.
German Shorthaired Pointers: GSPs are incredibly fit dogs with high endurance. They have great navigation skills and will help you locate ducks in the wild.
Nova Scotia Duck Tolling Retriever: This dog breed was originally bred with the specific purpose of locating and distracting ducks while hunters prepare to make the kill. They are incredibly loyal and playful companions as well!
License Requirements for Duck Hunting in Connecticut
To be able to hunt ducks legally in Connecticut, you will need a firearms hunting license alongside 2 stamps:
Connecticut Migratory Bird Conservation Stamp (hunters 12 and older)
Federal Duck Stamp (hunters 16 and older)
Once you obtain these, you're good to get out into the hunting grounds and bring home some delicious duck meat for dinner!
Happy Hunting!
Up Next
More from A-Z Animals
---
The Featured Image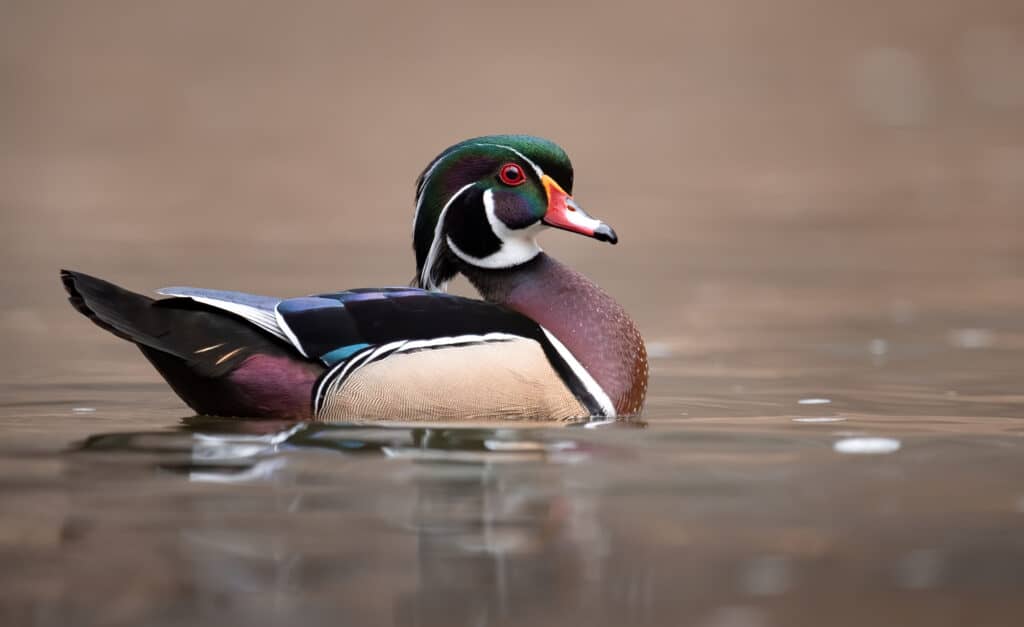 ---
FAQs (Frequently Asked Questions) 
Can you duck hunt in Connecticut?
Of course, like any other state, once you receive your license, you're allowed to duck hunt in any of the appropriate seasons for hunting. The state has several small ponds, creeks, and rivers where you can find ducks.
When does duck hunting season start in Connecticut?
Duck hunting season in Connecticut begins right after the start of fall, during the first week of October.
Is Sunday hunting legal in Connecticut?
Yes, Sunday hunting is legal in Connecticut. However, it's only permitted in designated areas announced every month during the hunting season.
What are the requirements for duck hunting in Connecticut?
To hunt ducks in Connecticut, you will need a firearms hunting license, a Connecticut Migratory Bird Conservation Stamp (hunters 12 and older), and a Federal Duck Stamp (hunters 16 and older).
Sources

Connecticut Department of Energy and Environmental Protection, Available here: https://portal.ct.gov/DEEP/Hunting/Connecticut-Migratory-Bird-Hunting-Guide/Federal-State-and-Local-Regulations
Connecticut Department of Energy and Environmental Protection, Available here: https://portal.ct.gov/DEEP/Hunting/Roadmaps/Waterfowl-Hunting-Roadmap