The most common occurrences of mudslides and other natural disasters are those that occur in large proportions. Of course, the greater the intensity of such disasters, the more dangerous and hazardous their effects are on the earth.
Continents like South America, Asia and Africa are recorded to have had the most famous and largest mudslides in history. Fatalities ranging from hundreds to thousands of people are inevitable when mudslides occur in such populated areas. 
In this article, you will discover where Earth's biggest mudslides occurred and how much destruction they caused.
Earth's Largest Mudslides
Armero (1985)
Armero was the third largest town in Tolima, Columbia, and it contributed about one-fifth of the country's rice production and a large share of some other crops. It was situated about thirty miles away from the volcano Nevado del Ruiz, which erupted on November 13, 1985. 
The lava released by the volcano melted glaciers and snow, streaming rocks, and earth down the volcano. This mix of volcanic water and mud is known as a lahar, and the lahar flowed into the river banks and down to the villages at a speed of approximately 13 miles per hour, wiping out the town of Armero and killing about 85% of its population. Known as the Armero Tragedy, this incident killed over 20,000 people, leaving only about 9000 survivors.
Gansu (2010)
The Gansu Mudslide was a deadly one that occurred on August 8, 2010. An aftermath of heavy rainfalls and logging practices, the mudslide raged down slopes and into neighborhoods of the Zhouqu County in Gansu, China.
More than 1,400 people were killed, and many areas were buried under mud with an average thickness of about 16 feet. Such events are rare, and this mudslide was recorded to be one of the deadliest in China.
North India (2013)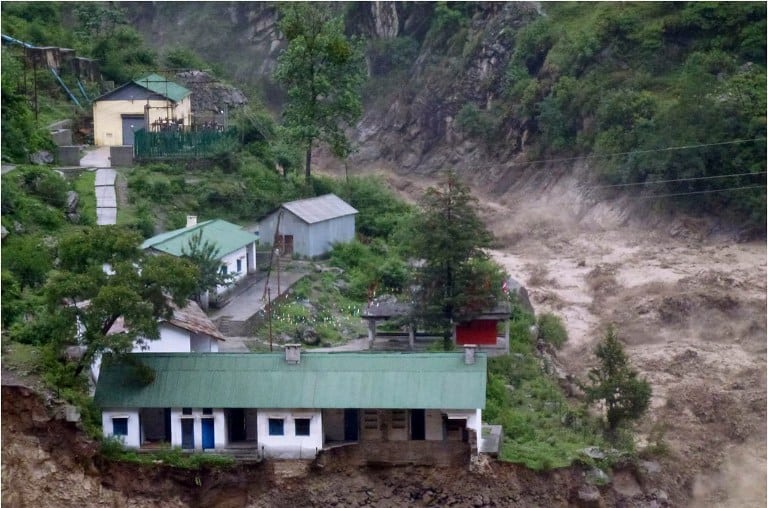 A cloudburst occurred in June 2013, dumping large amounts of water and causing great floods and landslides in the North Indian state of Uttarakhand. 
On June 16, the heavy downpours triggered a landslide, quickly becoming a debris flow downstream. The mudslide hit the ancient Kedarnath shrine, which was minorly affected. The destruction around the shrine, however, was vast. 
The raging flow swept away cars, houses, and other buildings and even destroyed roads and bridges.
A death toll of about 6000 people was recorded, and several thousands of people were left stranded for long periods.
Sierra Leone (2017)
On August 14, 2017, significant debris flows occurred in Freetown, the capital of Sierra Leone.
After three days of consistent rainfall, a mass movement of debris and mud flowed into the streets and destroyed several buildings and properties in the capital city. Over a thousand people were killed, and about 3000 more were rendered homeless.
Power outages occurred in several regions, and bridges and pedestrian roads suffered visible damage. This event was a nasty one for the inhabitants of Freetown and its environs.
Where Was the World's Largest Mudslide?
Vargas (1999)
Situated in Venezuela, South America, the state of Vargas had a population of a few hundreds of thousands of people in 1999. Its unique location was bordered by a range of mountains in the south, and the Pacific Ocean, in the North, making it prone to occasional flooding events. 
In the final weeks of the year 1999, Vargas and its inhabitants experienced several days of continual and heavy rainfall. By mid-December, flash floods and debris flows erupted, leaving tens of thousands of people dead in their wake, as well as thousands of homes destroyed. Entire towns including Cerro Grande were completely destroyed with many bodies and properties swept far away. This is described by many as one of the worst tragedies in Venezuelan history, and definitely one of the largest mudslides on Earth.
When Was the Most Recent Mudslide? 
Heavy rains and floods have caused multiple mudslides and landslides in many countries across the world in recent times. Brazil experienced over 250 landslides and mudslides following a heavy downpour in February 2022. Cities in Sol de Janeiro have been heavily affected in the year 2022.
The city of Petropolis had a series of mudslides which swept away cars, homes and people. In April, Angra dos Reis also experienced mudslides. About 14 people died in the event and several families lost their homes. 
Ecuador was also affected. Between 31st of January and 1st of February, heavy rainfall triggered multiple floods and mudslides. The Philippines also experienced similar occurrences in April as the tropical storm Megi caused mudslides in several villages in the Leyte Province. Up to 42 people were killed in this event, as the mud buried several in mudflows. 
Washington encountered a series of flooding and mudslides in November. Several tribal nations were affected in the aftermath of the flood including Clallam, Whatcom, Quileute, and Skagit tribes. 
Where is the Next Biggest Mudslide? 
There is no technology to predict mudslides yet. However, countries like China, India, Indonesia, Italy, the United States, Japan, Turkey, and the Philippines are quite prone to mudslide attacks. 
Mudslides destabilize and strip terrains of natural resources. In addition, they lay the groundwork for future mudslides and flows. So, the places at huge risk of mudslides are areas which have been made unstable by either previous slides or natural disasters. 
They can also be prompted by natural disasters such as floods and earthquakes. As a result, countries that experience frequent tremors and floods are prone to mudslides. Not only have these countries experienced countless mudslides in the past, the conditions of their landscapes are currently set for further attacks. 
The United States experienced frequent downpours and floods as well as earthquakes. Indonesia and China have frequent bouts of earth tremors. These factors make such areas at high risk of mudslides and landslides. So, geologists may be able to send out warnings about the risk of potential mudslides (as is already being done) when floods or likely triggers occur. 
Up Next:
More from A-Z Animals
---
The Featured Image
---