Florida is home to countless dangerous animals, but who would be the most dangerous winner in a fight between a bobcat vs python? Both of these animals are fearsome predators to behold, especially if you are a small and weak human. But in a battle between them, who is likely to emerge victorious?
In this article, we'll detail what could happen in a fight between a bobcat vs python. We'll go over both of these animals as individuals to see what their strengths and weaknesses might be. Then, we'll pit those strengths and weaknesses against each other to determine who would win! Let's get started and talk about these Florida fighters now.
Bobcat vs Python: An Overview
| | Bobcat | Python |
| --- | --- | --- |
| Predatory Behavior | Ambush predator; great at camouflage | Ambush predator; great at camouflage |
| Speed and Agility | Up to 35 MPH with over 10 feet of jumping distance; very agile | Up to 1 MPH in a straight line; capable of swimming and climbing trees |
| Strength | Powerful jaws and body strength; often takes down prey much larger than it | Powerful constricting body and sharp teeth that don't let go; often takes down prey much larger than it |
| Size | Up to 40 pounds and 4 feet long | Up to 20 feet long and anywhere from 60-200 pounds |
| Aggressive? | When provoked; often prefers to be left alone, but is highly territorial | When provoked; often prefers to remain camouflaged until it can safely strike |
| Defenses | Can make many sounds, quiet stalking method, very good hearing and sense of smell | Camouflage capabilities and fast striking power |
As you can no doubt see, there are a number of strengths and weaknesses held by both the average python and the average bobcat. When it comes to speed, a bobcat would have no trouble overtaking a python. However, the strength found in the body of a fully-grown python may be enough to overpower the average bobcat.
It's too close to tell based on the table above, so let's take a look at both of these animals in more detail now.
Bobcats: Strengths and Weaknesses
Technically the most common big cat found in North America, there are likely hundreds of bobcats in Florida. This is especially true in the Florida Everglades, a huge and diverse ecosystem that both bobcats and pythons call home. While bobcats aren't the largest of the big cats, they are powerful and fierce.
Many bobcats have been observed taking down prey that is much larger than they are, owing much of their success to the strength in their limbs. They can also move up to 35 miles per hour, with a pouncing or jumping distance of over 10 feet. Bobcats are very agile as well as sneaky ambush predators. They are capable of walking in a way that muffles their footsteps, with one paw following the other.
Equipped with sharp claws, keen senses, and a powerful bite, bobcats are fearsome to behold. However, they are solitary animals that prefer to be left alone. While they can get into territorial disputes and trouble among their own kind, the average bobcat isn't interested in a fight.
Pythons: Strengths and Weaknesses
Accidentally introduced into the Florida Everglades ecosystem in the 1990s, there is an estimated 100,000 pythons living in this single location alone. When we talk about invasive pythons in Florida, we're talking about the Burmese python. This snake can reach immense sizes, often exceeding 10 feet long and 50 pounds. Some specimens weigh over 100 pounds and can reach lengths of up to 20 feet!
While pythons can swim and climb trees, they are not very fast on land. However, they are excellent snakes when it comes to camouflage, capable of hiding and laying in wait until unsuspecting prey wanders by. The striking distance of a python is admirable, and once something is caught in its teeth, it's unlikely it will be able to escape.
Between the bite force and the powerful constricting capabilities found within a python's body, these snakes have been known to eat things much larger than them. Their mouth opens to a terrifying distance, allowing them to swallow animals as large as alligators, deer, and even humans.
Who Would Win: Bobcat vs Python?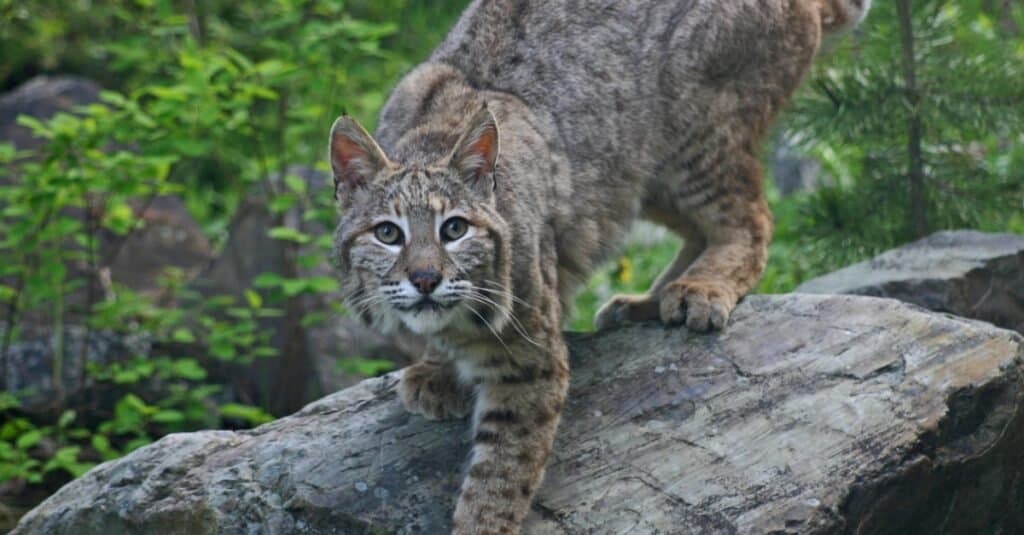 While the average adult Burmese python is intense and powerful, it is difficult to determine whether or not this snake would win against a bobcat. This isn't to say that pythons have never eaten bobcats; this has certainly occurred, especially in Florida. However, bobcats are faster, more agile, and capable of both scratching and biting a python, especially if they surprise one. With this in mind, pythons have eaten many local bobcat populations, so this is a much closer match than you might think.
However, a recent video shows a bobcat in the Florida Everglades consuming python eggs with the python in its nest without batting an eye. Nearly 70 python eggs have been eaten by a single bobcat found within the Everglades, making a bobcat the potential winner in this battle! A python would likely have a chance of winning against a bobcat, especially if it is an especially large one.
No matter who wins, Florida is certainly home to some of the most intense and scary wildlife populations in the world!
Up Next:
More from A-Z Animals
---
The Featured Image
---