Key Points:
In 2016, a survey by the Florida Fish and Wildlife Conservation Commission was carried out in Lake Kissimmee, and 1,935 alligators were counted but that number is believed to be vastly underestimated.
Gators like Lake Kissimmee because it is a freshwater lake, is at least 12 feet deep, and is stocked with numerous fish.
An airboat ride is one of the surest and safest ways to spot alligators at Lake Kissimmee and many captains guarantee a gator sighting.
Alligators are quite a common sight in Florida, and while most Floridians are used to spotting the occasional baby alligator in a pond or pool, they are still an extremely cool sight. Although almost every freshwater lake across the state has alligators, some have a lot more than others.
One of the most popular places to spot gators in Florida is Lake Kissimmee. The lake is located almost fully in Osceola County but has a bit of it which extends into Polk County. This biodiverse lake is not only one of the best places to go alligator-watching but also one of the most gator-populated lakes in Florida. Let's find out just how many alligators are in this lake.
How Large Is Lake Kissimmee?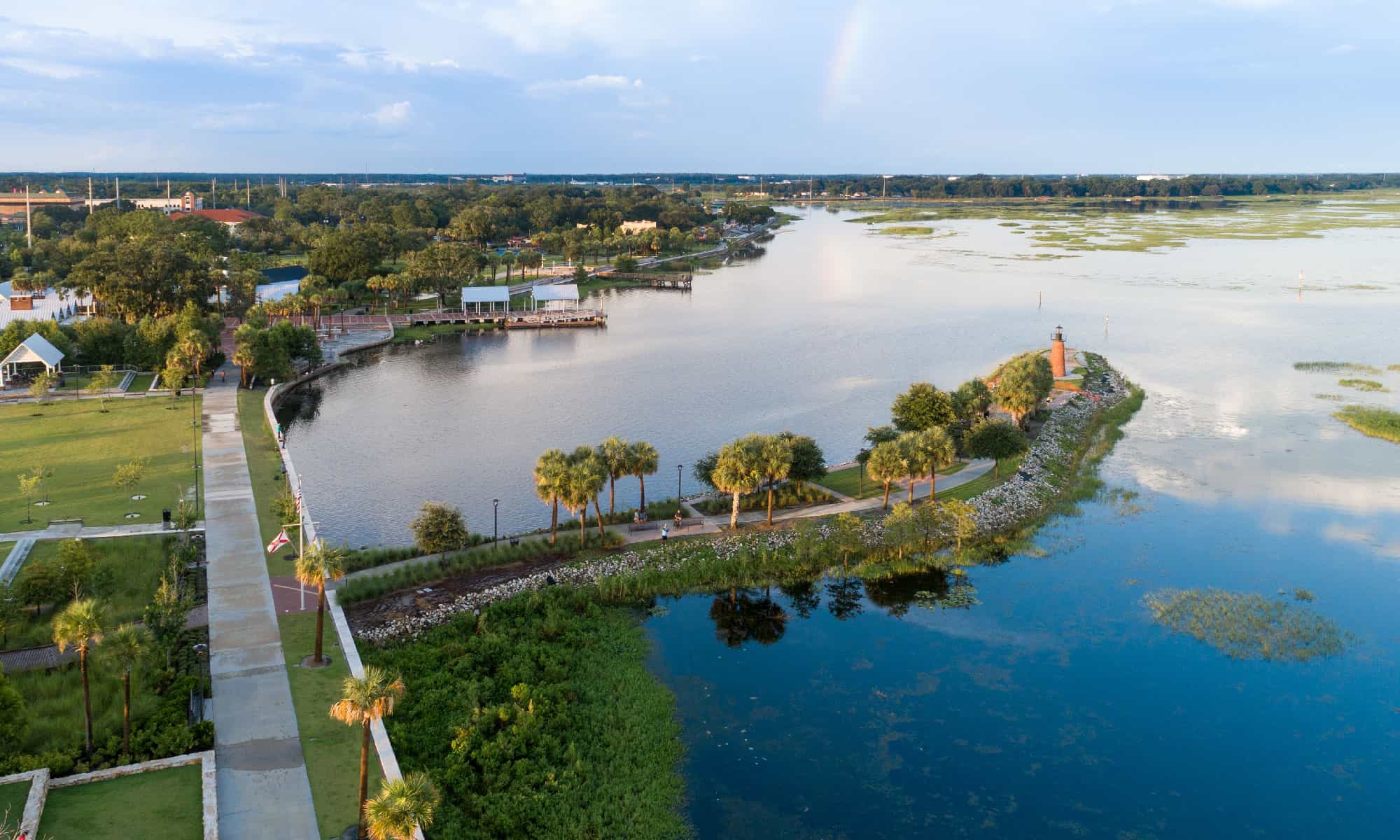 Lake Kissimmee is a 15-mile-long lake that is five feet deep on average. At its deepest, the lake is 12 feet deep and is even as wide as 6.6 miles in some areas. The lake is home to more than five islands that have become popular tourist destinations.
The Lake Kissimmee State Park, which is located on the lake's shorelines, is a 5,930-acre park that houses 50 endangered and threatened plants and animals, per the State of Florida Department of Environmental Protection. In addition to alligators, bald eagles, bobcats, sandhill cranes, and even white-tailed deer can be spotted.
Many people visit this location to birdwatch, boat, fish, camp, and enjoy other outdoor activities under the cover of the lake's lovely sky view. Luckily, the Florida State Park states that entrance into the park is as low as five dollars for two to eight people, making Lake Kissimmee the perfect location for a mini-vacation, especially if you like alligators.
How Many Alligators Are in Lake Kissimmee?
In 2016, a survey by the Florida Fish and Wildlife Conservation Commission was carried out in Lake Kissimmee, and 1,935 alligators were counted. Of the 1,935 gators spotted, 170 exceeded 9 feet in length, making them bull gators.
However, it's worth noting that this is probably a gross underestimation because the FWC counted about 9,309 gators in Lake Okeechobee but stated that there are closer to 30,000 in the Lake. Because the survey was carried out over a limited period, it is understandable that all the gators couldn't be counted.
What Makes Lake Kissimmee a Great Spot for Alligators?
Considering that Lake Kissimmee has so many gators, it's normal to ask what makes the area so attractive to them. The first obvious feature that stands out is the lake's lack of salt. Alligators are freshwater creatures that prefer freshwater to brackish and saltwater. They also prefer deep water bodies, especially if they are large males, and considering that Lake Kissimmee is as deep as 12 feet in some areas, alligators can live comfortably there.
In addition to the lake's properties, it is also full of various fish species, such as the largemouth bass, channel catfish, and bluegill, that feed the many alligators within. Like all other lakes, Lake Kissimmee is slow-moving, making it perfect for gators.
Best Places to Spot Alligators in Lake Kissimmee
If you plan to see alligators in Lake Kissimmee, you're in luck because the state park and its lake are teeming with gators, and chances are you'll spot them whether or not you go looking. But if you aren't interested in other activities and simply want to see as many gators as you can, here are our top suggestions.
Take an Airboat Ride
An airboat ride is one of the surest ways to spot alligators because the boat takes you on water, which of course, is the gators' primary habitat. But even more than that, many airboat companies actually take you down courses that guarantee your spotting an alligator. Don't worry; these rides are safe, and if you follow all instructions, you'll have a boat ride to remember and be alive to take another one.
Take a Walk
Mostly gators tend to stay off pedestrian walks, but if you take a walk along the nature trail, you just might spot an alligator getting some sun. It's also a great idea to take a walk along the barrier built between the lake. The barrier is low enough so that you can see into the lake, but this means that the alligators sometimes climb it. However, it is still really safe to do so, but you SHOULD NOT attempt to climb this barrier, as climbing back could be really difficult and dangerous.
Check the Canals
If you're taking a boat ride on the lake to farther destinations, keep an eye out for gators near the canals. This applies to every alligator-friendly water body – not just Lake Kissimmee. Adult alligators like canals and other open bodies of water, so spotting them in these areas is quite common.
How to Stay Safe When Watching Alligators
Like all wild animals, alligators – except those that have begun associating humans with food – are scared of humans. This doesn't mean that they aren't dangerous, however. The FWC states that there have been 442 unprovoked bites in Florida from 1948 to 2021, with 26 resulting in fatalities. Here's how to ensure that this doesn't happen to you.
Do Not Feed the Alligators
In an interview with Fox News, Ranger Rob, an animal behaviorist, and naturalist stated that feeding gators doesn't result in them seeing us as food providers. Instead, it results in them associating us with food – which isn't a good thing. Feeding alligators is dangerous, and while they may not harm you, it might cause them to attack someone else.
Do Not Get Too Close
If you spot an alligator, take pictures from a respectable distance. Remember that wild animals are unpredictable and especially dangerous. If you spot one on a pedestrian trail, take pictures from afar and inform a park ranger so it is safely returned.
Do Not Swim in An Alligator-Infested Lake
While swimming is a relaxing activity that leaves you looking forward to doing it again, swimming in an alligator-infested lake could be your last swim. Remember that some alligators are indeed friendly, but swimming with them can get you killed.
Where is Lake Kissimmee Located on a Map?
Lake Kissimmee is located near the city of Lake Wales, Florida. Lake Kissimmee is almost entirely in Osceola County, but a small part of the lake is in Polk County. It is also in a state park that is a birding hot spot and has many activities and camping opportunities.
The photo featured at the top of this post is © iStock.com/unclegene
---
Sources

Florida State Parks, Available here: https://www.floridastateparks.org/learn/lake-kissimmee-and-chain-lakes
USGS, Available here: https://waterdata.usgs.gov/hydrological-unit/03090101/monitoring-locations/
Florida Fish and Wildlife Conservation Commission, Available here: https://myfwc.com/wildlifehabitats/wildlife/alligator/data/