The state of Arkansas is known for its large number of snakes (36), which is why it is no surprise that the Arkansas River is literally teeming with water snakes. Some of the river's water snakes, such as the plainbelly water snake, are docile and nonvenomous, while others, such as the cottonmouth, are deadly and large. If you've ever wondered what kind of snake species you could come across in the 5th longest river in America, get ready to meet 9 snakes of the Arkansas River.
Broad-banded Water Snake
The broad-banded water snake is a semi-aquatic snake found in many swamps and rivers across the US. Like a true water snake, it never strays too far from water and feeds majorly on fish and frogs. It is a nonvenomous colubrid snake that measures anywhere from 22.0 to 36 inches long. These snakes are usually colored brown, gray, or greenish-gray and have dark crossbanding, which fades as they age. Despite their lack of venom, broad-banded water snakes bite if they feel threatened and are known to spray foul-smelling musk often mixed with feces. 
Diamondback Water Snake
Diamondback water snakes are dark or olive watersnakes from the natricine subfamily, with a black net-like pattern over their backs. These snakes have extremely keeled scales that give their bodies rough textures. They are nonvenomous snakes and are found near streams, rivers, and ponds. Diamondback water snakes feed primarily on fish and frogs which they hunt by submerging completely underwater until their prey gets close enough.
In the wild, diamondback water snakes are often found lounging over branches that spread over water. However, they immediately dive into the water and swim off when approached. When cornered, these snakes flatten their heads and bodies to appear larger and hiss, prepared to bite if their attacker comes too close or attempts to pick them.
Graham's Crayfish Snake
Graham's crayfish snake is a nonvenomous natricine snake named after a fusion between the name of a US Lieutenant Colonel who was known to collect them and their chief prey: crayfish. These snakes measure 18–28 inches on average and have slender bodies colored brown or gray with dorsal and lateral stripes of varying colors.
One reason that Lieutenant Colonel Duncan Graham was popular for keeping these snakes is because of how difficult they are to keep. They are known to starve themselves, and since they develop skin lesions easily, they require expert care. So, despite being nonvenomous, they aren't a great pet, especially for non-experts.
Gulf Swampsnake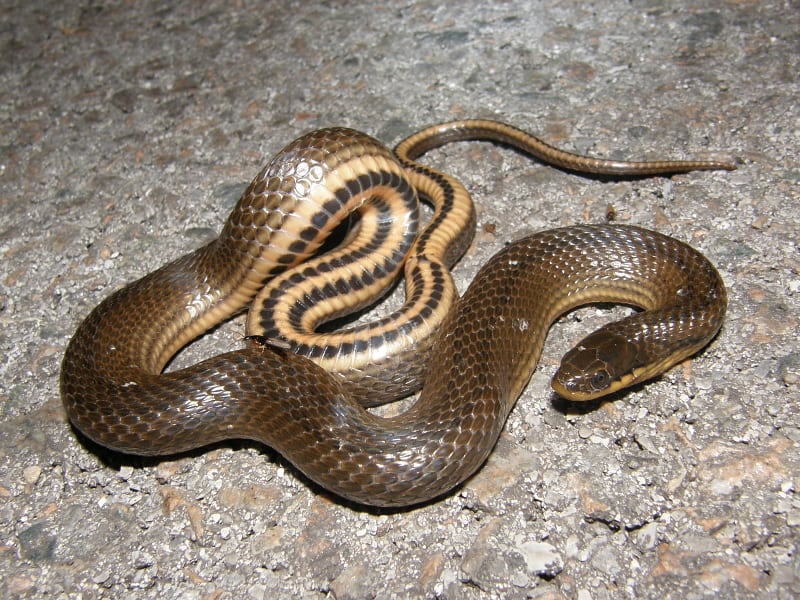 The gulf swampsnake is a nonvenomous and semiaquatic natricine snake. Also known as the gulf crayfish snake, the gulf swampsnake grows to about 20 inches in length and feeds mainly on crayfish. It has a deep brown color and a heavy body patterned with spots and stripes that may not be visible. These snakes are nonvenomous and capture crayfish by biting to weaken them before chewing at their abdomens. 
Midland Water Snake
The midland water snake is a North American natricine snake found in ponds, streams, marshes, and swales. It is nonvenomous and measures 22 – 40 inches on average but has been known to attain a record length of 51.5 inches. Midland water snakes feed on frogs, salamanders, and a large amount of fish.
Like most water snakes, this snake doesn't capture its prey through constriction. Instead, it simply gobbles it up, whole and alive. Midland water snakes can be identified by their dark crossbands on their tan skins, while their bellies have crescent-shaped markings. They also have three rows of alternating squarish blotches at their rear ends instead of crossbands.
Green Water Snake
Green water snakes are beautiful natricine snakes found in the Arkansas River. These snakes can be dark-green, brown, or olive-colored and have scales that often reflect light beautifully. As juveniles, they have visible dark markings that alternate along their back and sides, but these markings fade with age.
Green water snakes measure around 30-55 inches long and are found in rivers and swampy areas. Since they are also nonvenomous water snakes, they swallow their prey alive.
Northern Cottonmouth
Northern cottonmouths (Agkistrodon piscivorus) are the most dangerous water snake you can find in the Arkansas River. Unlike all other watersnakes that fall into the colubrid family, the cottonmouth is a pit viper which means it has pit organs that enhance its ability to hunt. Northern cottonmouths are also venomous and are known to stand their ground when faced with attackers.
They have potent hemotoxic venom and can inject up to 237 mg in a single bite, even though they only need about 100 -150 mg to kill a human. Cottonmouths have also been reported to show cannibalistic behavior and have a wide diet that includes mammals, fish, amphibians, birds, and even alligators. These pit vipers have heavy bodies and grow to about 24 to 48 inches long. They are one of the few semi-aquatic pit vipers and are colored dark brown, gray, or black and have dark-colored crossbands.  
Plainbelly Water Snake
Plainbelly water snakes are snake species found in the Arkansas River. They are nonvenomous colubrids that measure about 30 to 48 inches in length and can be gray, olive green, brown, or black. Like true water snakes, they keep to themselves and never wander too far away from water. One major way to tell them apart from other water snakes is to look at their sides because plainbelly water snakes have no markings on their sides.
When attacked, plainbelly water snakes are known to release foul-smelling musk, often mixed with feces to discourage further contact. They are also known to bite attackers despite their lack of venom.
Queen Snake
Although queen snakes are found in the Arkansas River, they can only be spotted in locations that meet specific requirements. This is because, like royalty, these snakes are very picky about where they stay. These semi-aquatic snakes are only found in clean running streams that are at least 50 degrees Fahrenheit. They also have a specific diet, feeding mostly on freshwater crayfish. Queen snakes are nonvenomous and are often olive, dark brown, or gray with peach or yellow stripes and a plain cream or yellow belly. They aren't long snakes and are usually under 2 feet long (24 inches).
Discover the "Monster" Snake 5X Bigger than an Anaconda
Every day A-Z Animals sends out some of the most incredible facts in the world from our free newsletter. Want to discover the 10 most beautiful snakes in the world, a "snake island" where you're never more than 3 feet from danger, or a "monster" snake 5X larger than an anaconda? Then sign up right now and you'll start receiving our daily newsletter absolutely free.
Up Next:
More from A-Z Animals
---
The Featured Image
---