Naming any pet can be challenging, but naming exotic pets like reptiles and amphibians can be even harder. Thankfully, we've got plenty of inspiration when it comes to names for frogs below, from TV and music-inspired names to clever historical monikers below! Even though frogs and toads don't quite recognize their names like dogs and cats do, naming your pet is still a great way to bond with them.
Read on to discover more than 100 awesome names for pet frogs and toads! You're bound to find something here that suits your little (or big) web-footed pal perfectly.
Historical and Scientific Frog Names
Why not give your pet frog one of these smart names from legends, religion, research, and more? These names are great for history and science buffs.
Anura – A reference to the amphibious scientific order frogs and toads belong to!
Beelzebufo – Short for Beelzebufo ampinga, a species of massive prehistoric frog discovered in 2008. Also sometimes referred to as "devil frog" or "the frog from Hell!"
Bheki – The frog that symbolizes the sun in ancient Sanskrit legend!
Bufo – A reference to Bufonidae, the scientific family of true toads.
Ch'ing-Wa Sheng – The Chinese frog spirit associated with good luck and healing.
Glubbslyme – The magical frog from the titular 1987 children's fantasy novel.
Goliath – Not only a biblical reference but also a reference to the enormous Goliath frog, the largest living frog on the planet.
Grenouille – The French word for "frog."
Heqet – the Egyptian goddess of fertility that often appeared as a woman with the head of a frog.
Jiraiya – The protagonist of the titular Japanese folk tale who famously morphed into a giant toad.
Kawazu – The Japanese kanji for "frog."
Lazarus – A biblical reference but also a reference to The Lazarus Project, which hopes to resurrect extinct frogs.
Loveland – A reference to The Loveland Frog, a legendary cryptid in the Loveland, Ohio area.
Matsuo – A reference to Matsuo Basho, who wrote the famous "The Old Pond" frog-themed haiku.
Moche – An ancient Peruvian group of people who famously worshipped frogs.
Mr. Toad – From the children's book, The Wind in the Willows. Later was adapted into a Disney film!
Prince – A reference to The Frog Prince fairytale.
Rana – The Spanish word for "frog."
Tiddalik – A frog from an indigenous Australian creation story.
Xenopus – The scientific name for clawed aquatic frogs.
Pop Culture-Inspired Frog Names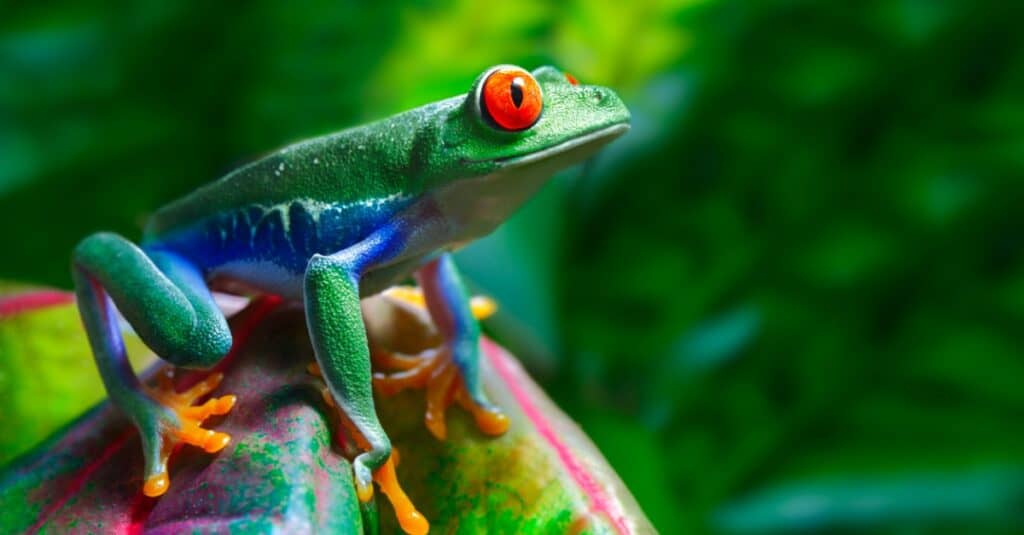 TV, music, film, literature, and more can be a great source of inspiration for pet names.
Aogaeru – A frog spirit from Miyazaki's Spirited Away.
Battletoad – A reference to the 1991 video game, Battletoads.
Bighead – A reference to Ed and Bev Bighead from the '90s cartoon Rocko's Modern Life.
Bilious Slick – AKA the Genesis Frog from the Homestuck webcomic.
Camofrog – A frog villager from the Animal Crossing series.
Crazy Frog – From a series of popular music videos in the early 2000s.
Croaks – As in Ribby and Croaks from Cuphead.
Fleaswallow – As in Prince Fleaswallow from the 1997 video game, PaRappa the Rapper.
Froakie – A water-type starter Pokemon.
Frobert – A frog villager from the Animal Crossing series.
Frogger – A reference to the wildly popular video game of the same name.
Froppy – A superhero with frog-related powers, from the anime My Hero Academia
Harold – A reference to King Harold, who was turned into a frog in the Shrek movies.
Hypnotoad – All glory to the Hypnotoad from Futurama!
Jeremiah – The bullfrog from the popular Three Dog Night song, "Joy to the World."
Kermit – Possibly the most famous frog in the world, of Sesame Street fame.
Keroppi – The adorable little frog character of Sanrio fame.
Lily – A frog villager from the Animal Crossing series.
Michigan J. Frog – the singing frog from the old Warner Brothers Merrie Melodies cartoon.
Pepe – A reference to the insanely popular Pepe the Frog memes. Originally from a 2005 webcomic, Boy's Club.
Politoed – Another water-type frog Pokemon.
Ribby – As in Ribby and Croaks from Cuphead.
Ribbot – A robotic frog villager from the Animal Crossing series.
Seismitoad – Yet another water/ground-type Pokemon.
Slippy – As in Slippy Toad from the Star Fox video games.
Male Frog Names
Want a more masculine name for your froggy pal? Why not consider one of these great, classic names?
Alfred
Archibald
Arnold
Arthur
August
Axel
Beau
Benji
Bert
Blaise
Bob/Robert
Bogart
Cecil
Charles/Charlie
Ciaran
Dale
Dartagnan
Diego
Douglas/Doug
Duke
Edward/Eddie/Ed
Felix
Finn
Frank
Fred/Freddy/Frederick
Gilbert
George
Harvey
Henry
Hopper
Hudson
Jack
Jasper
Lance
Louis
Mortimer
Oliver
Otis
Otto
Owen
Patrick
Percival/Percy
Phineas
Raymond
Ralph
Sebastian
Sterling
Tad
Theodore
Victor
Walter
Wayne
Female Frog Names
Thinking of something more delicate and feminine for your pet frog's name? We've got some great options below, from old-timey names to the more modern and sophisticated. Highlight your pet's beauty and grace with one of these fun options.
Agnes
Alice
Annalise
Arabella
Beatrice
Belle
Blossom
Callie
Celeste
Charlotte
Clementine
Clover
Dahlia
Daisy
Dolly
Dorothy
Esther
Fiona
Harriet
Hazel
Holly
Irene
Ivy
Lavender
Lilac
Lillian
Lucy
Luna
Mabel
Maggie
Magnolia
Marceline/Marcy
Margaret
Molly
Olivia
Penelope/Penny
Petunia
Primrose
Rose/Rosie
Ruby
Sadie
Stella
Violet
Up Next:
More from A-Z Animals
---
The Featured Image
---