If you are seeking out an edible ornamental plant to grow for privacy or as a crop, have you considered planting sugar cane seeds? Quick to germinate and easy to propagate, many homeowners have turned to sugar cane for their backyard landscaping, particularly when used as a privacy fence or border. But can you grow sugar cane from seed, and how long does the process take?
You can easily grow sugar cane from seed or from seed canes, depending on your region. Sow your seeds or seed canes in springtime, after all local frost dangers have passed. You can evenly space your sugar cane in the ground, or grow them in clustered sections in a container. While canes need nearly a year to mature, you can harvest and propagate more plants from your existing sugar cane!
But what different varieties or types of sugar cane should you consider before planting, and how can you best care for your sugar cane crops once they are planted? Here's how to grow and care for sugar cane from seed, step by step.
| Sugar Cane Seeds | How to Grow |
| --- | --- |
| Hardiness Zones | 8 through 12 |
| Types of Sugar Cane | Syrup canes and chewing canes; both have many cultivars |
| Time of Year to Germinate Seeds | Springtime, after local frost conditions have passed |
| Time Until Sugar Cane Maturity | 10-14 months, depending on the variety |
| Things to Note | Sugar cane doesn't grow well in cold temperatures, so make sure your growing season is above 65 degrees Fahrenheit at a minimum! |
Types and Varieties of Sugar Cane
Sugar cane is primarily divided into three categories, with only two grown in residential settings. Crystal canes are grown commercially while chewing and syrup sugar cane plants are best in a backyard setting. Here are some popular syrup and chewing sugar cane varieties to consider:
"Pele's Smoke". Fantastic ornamental chewing cane with purple leaves.
"Louisiana Striped". Striped foliage and a great variety for making syrup.
"Home Green". A classic green chewing cane, with some drought tolerance.
"Green German". A syrup cane variety that stays green right up until harvest time.
"Yellow Gal". An easy-to-peel chewing cane in a pleasant yellow shade.
Things to Consider About Growing Sugar Cane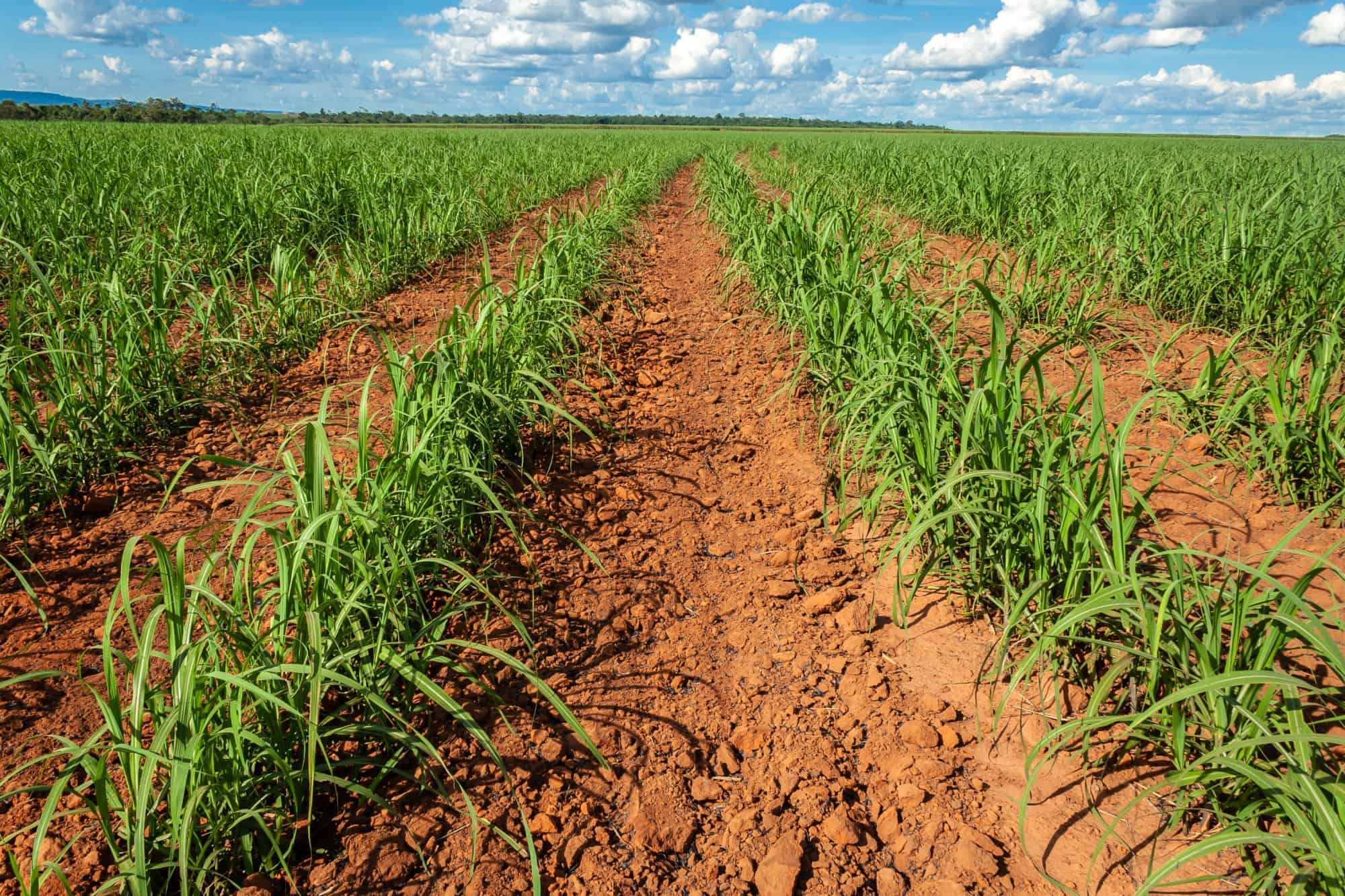 Sugar cane is a great plant to consider growing for a number of reasons, but you need to make sure that you live in the right location for it. While you can grow sugar cane in containers and bring those containers indoors or cover them for the winter, sugar cane is a tropical plant that thrives in hot weather and humidity.
Plus, sugar cane is considered fully grown after at least 10 months' time- this is an extremely long growing season and not something that every climate can accommodate. That's why sugar cane is best grown in zones 8-12, with zones 10-12 likely able to achieve perennial growth from their plants; 8-10 will have to grow their sugar cane as annuals.
Germinating and Growing Sugar Cane from Seed
You can grow sugar cane from seed or from propagated seed canes, depending on which you prefer. Here's how to grow and care for sugar cane, no matter which method you choose:
Sow your sugar cane seeds or seed canes after all frost dangers have passed. Temperature is key for proper sugar cane growth, and you'll need to wait to plant your cane until temperatures are regularly 60 degrees Fahrenheit. Full sunlight is also key for heavy-producing plants!
Space your canes evenly. Depending on your desired look, plant your sugar cane with care. You can cluster seeds in a single container for a full appearance, or sow multiple, even rows to create a fence or privacy border. Just know that there's no repotting or moving your sugar cane once planted, so choose wisely.
Sow your seeds or canes and water well. Seeds should be planted up to a half-inch deep, while your seed canes should be planted with less than two inches of your cane showing. Water your plants well, since sugar cane loves moisture!
Harvesting Sugar Cane: Save Some to Replant!
Sugar cane goes to seed at the end of each growing season, producing long tassels that you can either harvest or allow to reseed on their own, should your region support this. However, you can also easily propagate sugar cane seed canes and plant these for a faster maturing time. Here's how to do this:
Harvest seed canes before the plants start to wither. You don't want to harvest sugar cane seed canes from a dying plant. Plan on cutting down a single cane sometime in late summer, while your plant is still green and thriving.
Sterilize your tools. Sugar cane is highly susceptible to diseases so be sure to adequately sterilize your shears before trimming.
Take a cutting. You'll need roughly 6 inches of sugar cane stalk to make your own seed canes, and you should make sure that there are at least 2-3 nodes per seed cane stalk that you harvest.
Store your seed canes in a dry, cool location, or plant immediately. Depending on your garden plans, your seed canes will keep for a couple of months, or you can propagate them immediately. Don't forget to harvest some sugar cane for syrup making or snacking while you're at it!
Up Next
The photo featured at the top of this post is © Alf Ribeiro/Shutterstock.com
---
Sources

Field performance of micropropagated plants and potential of seed cane for stalk yield and quality in sugarcane, Available here: https://link.springer.com/article/10.1007/s12355-009-0006-8
The sugarcane plant, Available here: https://www.annualreviews.org/doi/pdf/10.1146/annurev.pp.08.060157.001423