New Hampshire is a beautiful state of both mountains and aquatic life in both lakes and its coastal shoreline, the former white peaked and impressive, the latter rocky and full of exotic life. Glimmering tide pools dot New England beaches when the tide goes out, and crabs scuttle over the mussel-coated rocks. 
It's not uncommon to find a starfish among the tide pools or see seals and seagulls speckling across the sand. Let's take a look at what the area has to offer when it comes to learning about this incredible sea life.
There are only two current aquariums in the area which we will explore, along with a few other important aquariums from surrounding states.
Explore the Ocean World Oceanarium
| Explore the Ocean World Oceanarium | |
| --- | --- |
| Address  | 367 Ocean Blvd, Hampton, NH 03842 |
| Animal to See | Calico Lobster |
| Known For | Touch Tanks |
Not the typical aquarium or aquatic park, the Explore the Ocean World Oceanarium is run by Ellen Goethel. Ellen is a former New England Aquarium educator and has a degree in Zoology. 
She has decades of experience working within New Hampshire conservation efforts and local fishermen and has helped with important bills to the area. Her Oceanarium is like no other aquarium. The main goal is to conserve and educate people on what goes on beneath the sea.
Becoming a marine biologist is often a dream many youngsters aspire to, and Ellen is a prime example of what that can mean in a modern setting. There are tours led by other marine biologists who are excited and passionate about what they teach, along with fully immersive touch tanks where you can get up close and personal with local marine life.
Ellen is known to the locals as someone who enjoys what she does and has a way of describing nature that just connects to everyone who tours with her. Many reviews specifically mention her by name, making the whole adventure one to remember.
The touch tanks that the Oceanarium is known for are tide pool imitations. Visitors can poke around and hold tiny little crabs or stroke a starfish and oggle a sea cucumber. Any questions and Ellen knows just what to say, her fascination as deep as the sea she so loves.
Some presentations include artifacts and even a few rare colored lobsters. There is a calico lobster, which is so rare to find alive that there is a one in 30 million chance of extracting one from the depths. 
Plenty of enjoyable experiences are to be found in the Explore the Ocean World Oceanarium, which is unlike many others that can be found in North America. Be sure to make this a stop in any New Hampshire adventures.
Odiorne Point State Park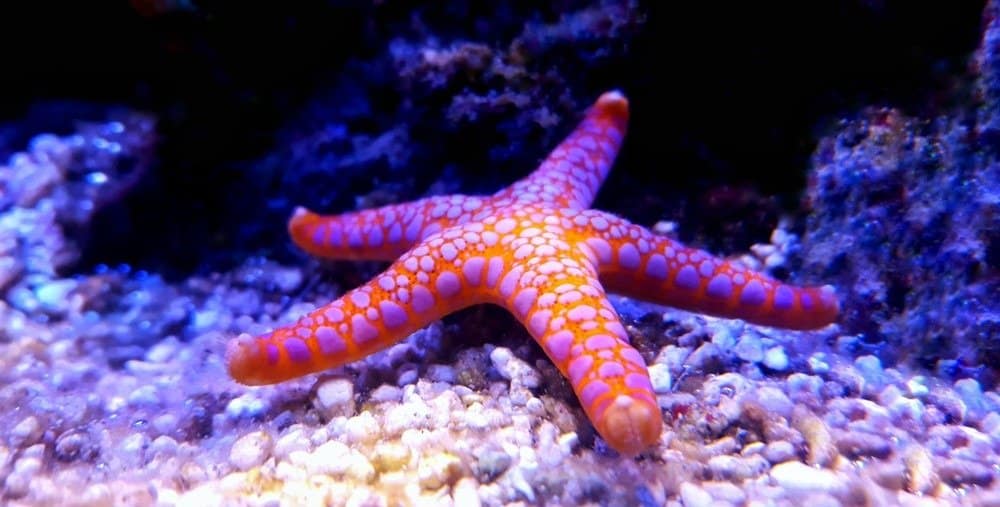 | Odiorne Point State Park | Seacoast Science Center |
| --- | --- |
| Address  | 570 Ocean Blvd, Rye, NH 03870 |
| Animal to See | Touch Tanks |
| Known For | Immersive Exhibits |
This is not a typical aquarium to visit either. The Odiorne Point State Park is a state park with different sections to visit. It is a public recreation area, meaning people of the public can visit and explore on their own time and see the sites.
The Seacoast Science Center is available to visit within the state park, and discusses the human history of the area and the seacoast. 
Explore the seacoast by following through the nine exhibits meant to stimulate and educate your mind. They include:
The Edge of the Sea
Restoring Reefs
NH Beaches
Tide Pool Touch Tank
The Gulf of Maine
Whales and Seals
Discovery Dock
Working Underwater
Seaside Reading Lounge
Each of these areas provides a deep dive into a different section of knowledge on the New Hampshire seacoast. There is information on what it's like to explore deep in the depths in a diving suit, discovering species never known before.
Another area touches on the living animals that can be found in the waters of the Gulf of Maine. Feel for yourself with the indoor touch tanks where you can hold hermit crabs or starfish and let them tickle you with their little legs.
Different displays allow you to learn about the animals of the New Hampshire coast and dig deep into the lifecycles of whales and seals or even the history of the beaches and their natural erosions.
Microscopes are available as well to examine smaller creatures than the eye can see and you can discuss the organisms you've found. Everything you need to know about the local ocean and how to protect it is available at the Seacoast Science Center in the Odiorne Point State Park.
Other New England Aquariums to Explore
As stated earlier there are really only two aquariums you can visit in the state of New Hampshire, but never fear, New England itself has much to offer. Just a hop, skip, and a jump away are a few other places that you may consider visiting to learn about the ocean.
Maine State Aquarium
In Boothbay Harbor, Maine, there is an aquarium to view with five different exhibits. If you have ever wanted to touch a shark or explore a tide pool, then you can in this aquarium. They even have a massive lobster tank to watch your lobster friends scuttling over the sandy bottoms.
These exhibits include:
Shark Touch Tank
Tide Pool Touch Tank
Lobsters
Coast of Maine Exhibits
Montshire Museum of Science
Located in Vermont, this is a science museum that is a must-see for anyone enamored with sealife. There is both the inner museum and nature trails to hike along to see all the natural wonders of the world.
Their aquarium is a beautiful homage to the nature in which the local frogs, turtles, snakes, and other animals find themselves living within.
Whether it be in New Hampshire or its neighboring states, there is much to learn about East Coast ocean life, and you can be prepared to do it at these aquariums.
Up Next:
More from A-Z Animals
---
The Featured Image
---