Orange is a common butterfly color, which can make distinguishing between butterfly species difficult. But these butterflies all have unique patterns and markings which help them survive. In addition to being captivating, butterflies are very important to the environment. There are over 20,000 butterfly species, and more are still being discovered.
Butterflies are fascinating creatures! For example, despite their bright colors, butterfly wings are actually transparent. Additionally, these beautiful insects are efficient at pollinating. They also fly great lengths and heights.
Butterflies are simply amazing. Follow along to discover 12 types of orange butterflies, with pictures and fun facts about each.
1. Monarch
We'll start with one of the most well-known butterflies in the world, the monarch butterfly. These beautiful butterflies are vibrant and unique. They are best known for their impressive instinctive migration. During this migration, they travel thousands of miles to reach Florida, California, and Mexico. Monarch butterflies have a wingspan between 3.5 to 4 inches. Their wings are a vibrant orange that darkens later during migration. They also have deep black veins and margins. Interestingly, the undersides of the wings are yellow-brown with larger white spots. Monarch butterflies also have a series of small white spots in the margins. Male monarchs are larger and are distinguishable by a black spot with scales containing pheromones on a vein on each hindwing.
2. Fiery Skipper
Next on our list of orange butterflies is the fiery skipper. These butterflies are large and thick. They were first officially described and recorded in 1773 by Dru Drury. Fiery skippers are about 1 inch long. Males are bright orange or yellow, while females are dark brown. However, both male and female fiery skipper butterflies have small brown spots on their hindwings and forewings. These bright butterflies can shape their wings like a triangle by folding their hindwings flat and holding their forewings upright. In many places, like California and Hawaii, they are an invasive species and destroy turfgrass.
3. Painted Lady
Another common orange butterfly is the painted lady. These stunning butterflies are reddish-orange with white spots. Their upper wings have a pale orange background color, and the forewings have black tips. The hindwings are slightly different with rows of black spots. Painted lady butterflies have pale brown and grey undersides with four eyespots. They also have a 2–3-inch wingspan. These delicate butterflies are found all over the world, excluding Australia and Antarctica. While these butterflies thrive anywhere, they prefer open, warm, and sunny fields and meadows.
4. Silvery Checkerspot
Silvery checkerspot butterflies, despite their name, are orange. They have unique markings and patterns on the upper sides of their wings. Adults are pale yellow-orange with black borders and wave-like markings. Silvery checkerspot butterflies also have white-centered submarginal spots on their hindwings. The hindwings also have white crescent markings on the margins. You can find these stunning butterflies in Canada, Texas, and Georgia, in wet and moist areas.
5. Eastern Comma
Eastern comma butterflies are excellent hiders; they camouflage well into their surroundings. They belong to the family Nymphalidae. The color varies and depends on the season. During summers, eastern comma butterflies have all-black hindwings (upper side) that turn reddish-orange during winter. Regardless of the season, eastern comma butterflies have dark and brown striped undersides. When they close their wings, they look like leaves, which helps them hide. Unlike other butterflies, eastern commas rarely feed on wildflowers and instead seek rotten food, sap, and dung. They are very common in wet forests, woods, and swamps.
6. Hobomok Skipper
The orange hobomok skipper is sometimes mistaken for a moth. They are native to North America and belong to the family Hesperiidae. These butterflies are very common in spring and summer, sometimes flying into urban areas. However, you can mainly find them in woodlands, near roads, and in open meadows. Hobomok skipper butterflies have thin, slender, and triangular wings. Males have orange upper sides with dark brown margins. Their bodies are also thick and fuzzy. They are easy to identify, as many butterflies in their range are slender. The closest species to this butterfly is the zabulon skipper.
7. Pearl Crescent
Another type of orange butterfly is the pearl crescent, a beautiful North American butterfly found in most of the United States, not including the west coast. You can also find pearl crescent butterflies in southern Canada and parts of Mexico. They live in pine woods and open outdoor spaces like vacant lots and fields. Pearl crescent butterflies are interesting because their patterns and markings are variable. Males have black antenna knobs and orange upper sides with black margins. Fine black marks cross postmedian and submarginal areas. The undersides of the wings are lighter than the upper sides and have dark marginal patches with light-colored crescents.
8. American Lady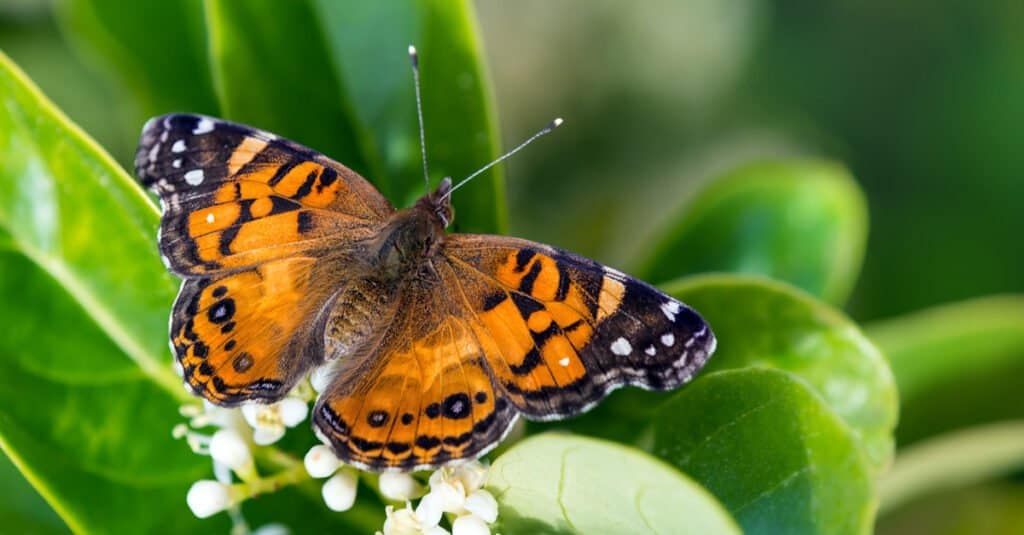 American lady butterflies are sometimes also called American-painted ladies. They belong to the family Vanessa. Although these bright orange butterflies resemble other species, they have an easily distinguishable trait. American lady butterflies have two large eyespots on the ventral side of their wings. Interestingly, the spot on the black forewing tips is pale orange, instead of white. American lady butterflies have gorgeous wings, with a 2-inch-wide wingspan.
9. Gulf Fritillaries
The gulf fritillary, also known as the passion butterfly, is a beautiful bright orange, white, and black butterfly with unique features. The markings and patterns on their wings are so stunning they almost look painted. Gulf fritillary butterflies belong to the family Nymphalidae in the subfamily Heliconiinae. They are medium-sized butterflies with long forewings. Unlike other butterfly species, females are larger than males. The undersides of the wings are brown with speckled silvery white dots. The top of their wings, however, are bright orange and red with black markings and three white spots surrounded by blotches of black.
10. Red Admiral
Another orange butterfly is the red admiral. Despite its name, the red bands are closer to orange. They are medium-sized butterflies with unique wings. Their wingspan is about 2 inches long. They are widely spread and found throughout the Caribbean, North Africa, Europe, and Asia. Apart from having red bands, the wings are mainly brown. The upper side of the hindwing has a shimmering blue spot and a row of small black dots. The underside of their wings' forewings also has blue markings and cloudy black markings. Some females also have a white spot in the middle of the red band. The underside of their hindwings resembles crunchy leaves, which helps them stay out of sight of predators.
11. Gatekeeper
The gatekeeper also called the hedge brown, is native to Europe. They are restricted to warm weather regions. Gatekeeper butterflies belong to the family Nymphalidae and are members of the subfamily Satyrinae. These beautiful and vibrant butterflies rest with their wings wide open. Their markings and patterns are also unique. For instance, these butterflies are orange with brown markings on the edges of their wings. They also have eyespots on their forewings, which help them stay safe as they rest by reducing surprise bird attacks. Gatekeeper butterflies vary in shade. Males have dark patches on the upper side of their forewings, and females have more spots than males.
12. Sleepy Orange
Last but not least, we introduce the sleepy orange butterfly. It belongs to the family Pieridae and is native to North America. However, you can find them in the West Indies, Belize, and Costa Rica. Sleepy orange butterflies have very different undersides and upper sides. They are bright orange with wide black-brown borders. The underside of their wings, however, is bright yellow in summer with brick-red markings. In its winter form, the undersides are darker, browner, and heavily marked. These beautiful butterflies live in many types of environments, including swamps, woodlands, ponds, valleys, and fields.
Summary of 12 Types of Orange Butterflies
| # | Orange Butterfly | Fun Fact |
| --- | --- | --- |
| 1 | Monarch | Best known for their 1,000 mile instinctive migration |
| 2 | Fiery Skipper | Can shape their wings into a triangle |
| 3 | Painted Lady | Found everywhere except Australia and Antarctica |
| 4 | Silvery Checkerspot | Prefer wet habitats |
| 5 | Eastern Comma | When they close their wings – they look like leaves |
| 6 | Hobomok Skipper | Often mistaken for a moth |
| 7 | Pearl Crescent | Like to live in pine woods |
| 8 | American Lady | Have two large eyespots on the ventricle side of their wings |
| 9 | Gulf Fritillaries | Patterns on their wings look as if they were painted |
| 10 | Red Admiral | Underside of their wings look like crunchy leaves |
| 11 | Gatekeeper | Rest with their wings wide open |
| 12 | Sleepy Orange | Undersides of their wings look totally different from the tops |
---