Florida has a massive problem with invasive species. Invasive species are animals introduced to a non-native area. They aren't always dangerous, but they can destroy environments, killing off native species. Florida has over 500 invasive species and counting. Scientists aren't sure how each of these animals and plants was introduced. Sometimes, invasive species make their way to a new place as exotic pets or as stowaways on ships. As the pet grows too big, irresponsible people release them into the wild, in an environment that is not native to. This leads to a competition for resources between native and non-native species.
Although there are over 500 non-native species in Florida, we are only covering 15 today. Keep reading to learn more about 12 invasive species in Florida.
1. Wild Hog/Boar (Sus scrofa)
Wild hogs have been a problem in North America for centuries. They are originally native to Eurasia and North Africa. Wild hogs are aggressive, fast, and generally strong. They hide from humans and aren't afraid to attack when they feel threatened. In Florida, experts estimate there are about 500,000 wild hogs and it's likely there are over 9 million in the United States. Wild hogs have stocky bodies and most males weigh about 200 pounds. However, the largest wild hog caught in Florida weighed 1,100 pounds. While this is rare, it's not uncommon for hunters in Florida to catch wild hogs weighing at least 300 to 400 pounds.
2. Norway Rat (Rattus norvegicus)
Some invasive species are so common that most of us don't realize they aren't native. Norway rats, also known as brown rats, common rats, or street rats. Norway rats are native to Mongolia, the plains of Asia, and northern China, despite their name. These large rats are common throughout Florida and they are more aggressive than other rodents. They have stocky and heavy bodies and grow up to 20 inches long. Their tails alone can measure up to 9.5 inches long. Norway rats reached North America in the 1700s. About 50% of the ships entering New York were battling with rat infestations.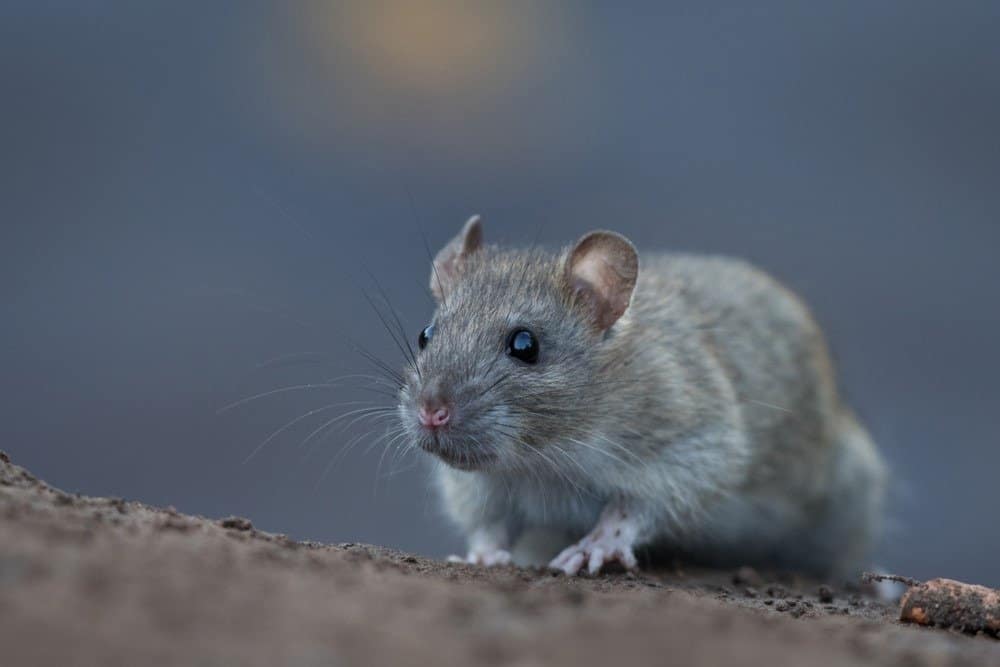 3. Black-tailed Prairie Dog (Cynomys ludovicianus)
The black-tailed prairie dogs are found throughout the United States, including Florida. They belong to the family Sciuridae. They are native to the Great Plains in North America and are very common in Texas. Fun fact, one black-tailed prairie dog colony in Texas covered 25,000 square miles of land and included at least 400 million black-tailed prairie dog residents. These animals are very social and have a body length between 14 to 17 inches.
4. Sarus Crane (Antigone antigone)
Cranes are common in Florida, but did you know not all species are native? One crane species that is non-native to Florida is the sarus crane. Although we aren't sure how many live in Florida, they are present. They are native to the Indian subcontinent, Southeast Asia, and Australia. They are easy to spot because of their height, standing as tall as 5 feet and 11 inches. Although sarus cranes are adaptable birds, they mainly live in wetlands, Eucalyptus-dominated woodlands and grasslands, and seasonally flooded Dipterocarpus forests. Sarus cranes are nearly entirely grey with a redhead. They are also territorial and build long-lasting pair bonds.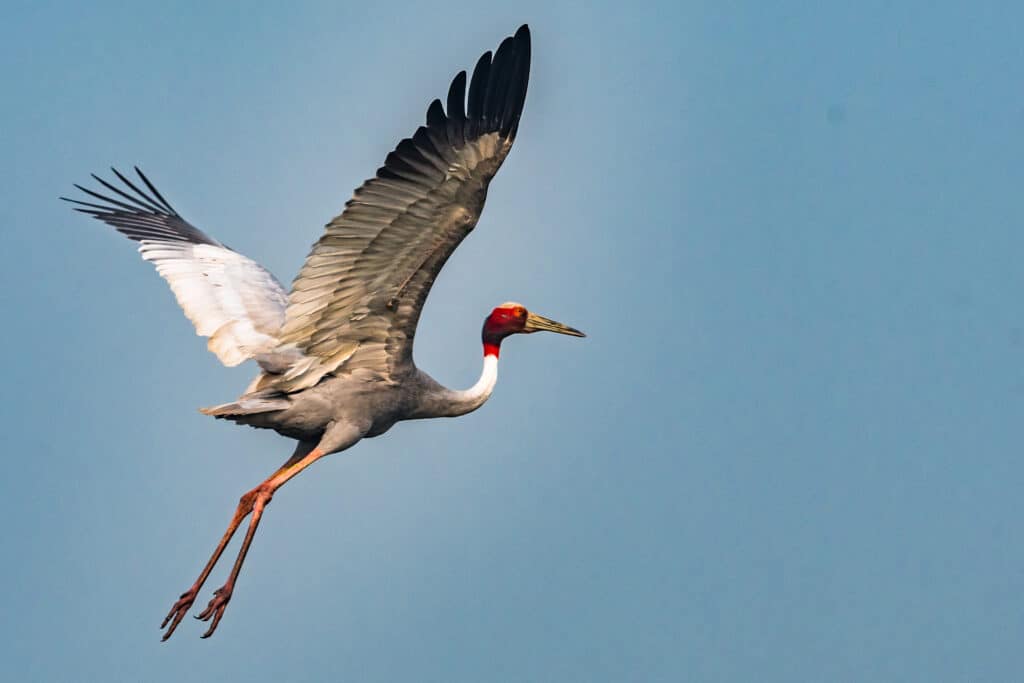 5. Peach-faced Lovebird (Agapornis roseicollis)
Peach-faced lovebirds are beautiful exotic pets native to southwestern Africa. Although there isn't a large population in Florida, they are present and considered an invasive species. It's likely the peach-faced lovebirds found in Florida were once beloved pets released into the wild. Peach-faced lovebirds are also called rosy-faced lovebirds. They are very social, vocal, and friendly birds. Coloration varies, but most peach-faced lovebirds are colorful with blush-pink faces and throats. Their rumps are mainly blue and green.
6. White-winged Parakeet (Brotogeris versicolurus)
The white-winged parakeet is a beautiful bird, often taken as a pet. These stunning birds are native to the Amazon River basin, specifically from southeast Colombia to the river's mouth in Brazil. White-winged parakeets aren't native to Florida but have an established population in Miami, Florida, and Puerto Rico. They are also found in Lima, Peru, likely from being released as pets. These birds mainly eat ripe fruits and seeds, but feral white-winged parakeets eat blossoms, nectar, and bird seeds from bird feeders. As pets, they are friendly and form bonds with their human handlers. They are known to stay close to their owners, even nesting in their hair.
7. Hispaniolan Green Anole (Anolis chlorocyanus)
If you've ever visited Florida, you've likely spotted a Hispaniolan green anole. They are everywhere and are also known as the Tiburon green anole. While these bright green anoles are found throughout Florida, they are only native to Haiti, specifically the Tiburon Peninsula. For years, scientists believed that Hispaniolan green anoles were native to all of Hispaniola including the Dominican Republic, but according to a 2020 study, this is unlikely. Now, instead of one species, there is another green anole species, the Dominican green anole. Hispaniolan green anoles were introduced to the everglades and spread quickly.
8. Red-tailed Boa (Boa constrictor)
Another non-native species in Florida is the red-tailed boa, also known as the boa constrictor. It's native to tropical South America and is one of the most well-known invasive reptiles in Florida. They are large snakes, sometimes reaching past 14 feet long. Interestingly, many of the longer snakes live in captivity. Red-tailed boas are nocturnal and live alone. They are independent snakes but sunbathe during the day. Red-tailed boas were introduced to South Florida, and are an established species in the Miami-Dade area. These large snakes have a unique pattern with spots, that darken red the closer to their tail.
9. Cuban Tree Frog (Osteopilus septentrionalis)
Another Florida invasive species is the Cuban tree frog, which is native to Cuba, the Bahamas, and the Cayman Islands. They are unique frogs with wide diets, which has helped them establish populations across the Americas. Cuban tree frogs are everywhere in Florida, especially in urban areas because they consume just about anything. Cuban tree frogs were first discovered in North America in the 1930s. It's thought they came aboard ships from the Caribbean to Florida during the 1800s. Puerto Rico also struggles with Cuban tree frogs as these large frogs compete with native coquis. Cuban tree frogs pose a biodiversity threat and compete with the American green tree frog and the squirrel tree frog.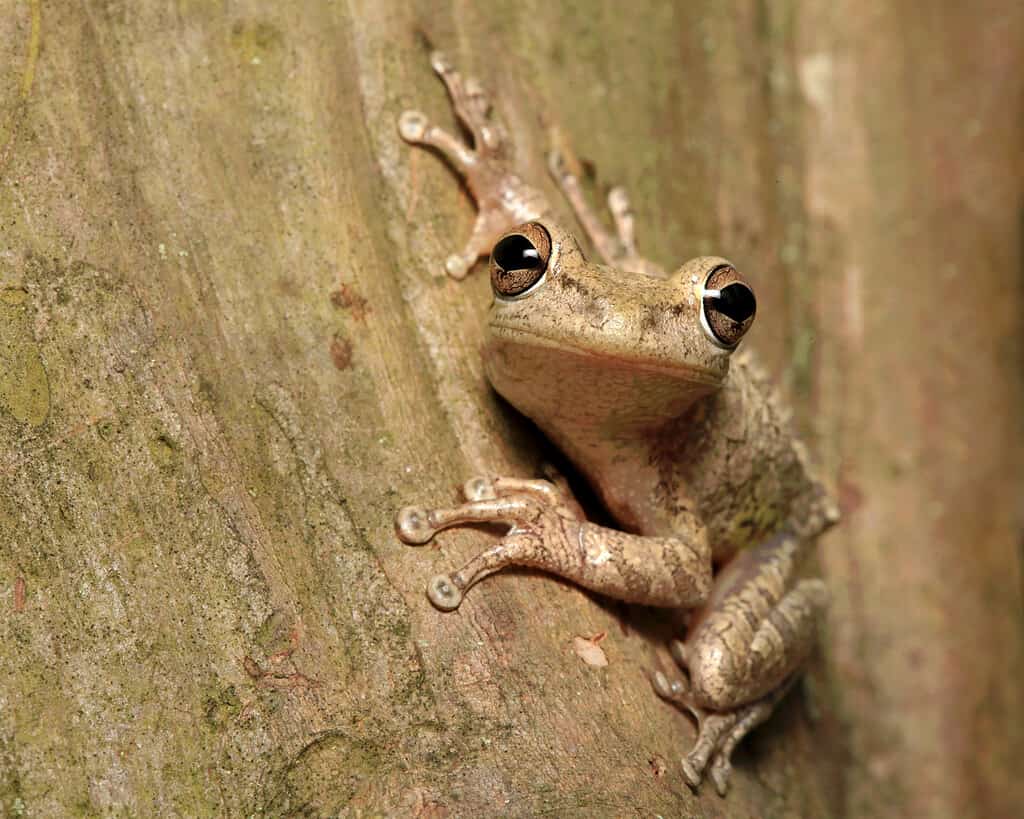 10. Brown Hoplo (Hoplosternum littorale)
Brown hoplo fish are native to eastern South America. Although they aren't originally from Florida, these large fish have been introduced to the Indian River Lagoon in Florida. They are popular fish for anglers as it has a delicious flavor. Brown hoplo fish is about 9.4 inches long with armor plates. While we aren't sure how or when brown hoplo fish were brought to Florida, they were first recorded in the mid-1990s. Now, you can mainly find these fish in central and south Florida. They are easy to spot since they flip at the surface of the water when rushing to gulp air.
11. Red Imported Fire Ant (Solenopsis invicta)
Red imported fire ants are aggressive, and while they are found throughout Florida, they are native to South America. These angry fire ants have dark brown and bright red bodies. While these fiery ants have a long and rich history, they were only first described in a 1916 journal article written by Swiss entomologist Felix Santschi. These large ants are considered the worst invasive species in the world and choose disturbed areas. Red imported fire ants first came to the United States between 1933 and 1945 in cargo ships to the seaport of Mobile, Alabama. Not only are these ants all over Florida, but also Australia.
12. Scarlet Milkweed (Asclepias curassavica)
Scarlet milkweed, also known as Mexican butterfly weed, tropical milkweed, cotton bush, and redhead, has a native range in southern North America, Central America, and South America. It's mainly grown as an ornamental garden plant that attracts butterflies. These evergreen perennial subshrubs grow up to 3.3 feet tall. The flowers grow in cymes with 10-20 purple, red, orange, and yellow flowers. Although they aren't native to Florida, they were introduced. They are also found throughout Texas and Puerto Rico. Scarlet milkweed was first recorded in Florida in 1942, but it's unknown exactly when the plant was established.
Summary Of 12 Invasive Species In Florida
| Rank | Animal | Origin |
| --- | --- | --- |
| 1 | Wild Hog | Eurasia and North Africa but are common throughout the Americas. |
| 2 | Norway Rat | Mongolia, the plains of Asia, and northern China. |
| 3 | Black-tailed Prairie Dog | Southern Saskatchewan to Chihuahua, Mexico |
| 4 | Sarus Crane | Indian subcontinent, Southeast Asia, and Australia |
| 5 | Peach-faced Lovebird | southwestern Africa, but they are popular exotic pets |
| 6 | White-winged parakeet | Amazon River basin, from southeast Colombia to the river's mouth in Brazil |
| 7 | Hispaniolan Green Anole | Haiti |
| 8 | Red-tailed Boa | tropical South America. |
| 9 | Cuban Tree Frog | Cuba, the Bahamas, and the Cayman Islands. |
| 10 | Brown Hoplo | native to many places like eastern South America. |
| 11 | Red Imported Fire Ant | South America. |
| 12 | Scarlet Milkweed | native range in southern North America, Central America, and South America |
Up Next:
More from A-Z Animals
---
The Featured Image
---