When the temperature starts to drop, most of us start to reach for our jackets, sweaters, winter coats, scarves, and gloves. Some of us add thick blankets on the couch and comforters on the bed to make us feel warm and cozy. But what about man's best friend? Is his fur capable of warming him up? Senior dogs and those who have short hair or no fur at all will struggle to keep themselves warm during the cold season. Others, like Siberian Huskies, are right in their element during these months. While there are plenty of ways to ensure your dog sleeps warm and cozy during winter, one surefire way is to get him a heated dog bed. Of course, not just any will do. Only the best heated dog beds are suitable for your beloved best friend.  
What to Look for in Heated Dog Beds
Heated beds for dogs are available in a variety of types, sizes, and shapes. When buying one for your pet, make sure to consider the factors and features below.
Heat Source & Safety
There are two main methods that are used to heat dog beds – electric and self-warming. Electric heated beds need to be plugged into an outlet before they can warm up. Self-warming heated beds, on the other hand, captures your pet's body heat and radiates it back to him. The choice of the heating element is entirely up to you.
However, if you should choose an electric heated bed, you need to consider the safety features. The cord should be chew-resistant. This is especially important if you plan to use it as an outdoor bed. A steel-wrapped cord will protect it from the elements as well as animals. You should also make sure that the material is fire retardant. In addition, the cover should be waterproof to prevent moisture from reaching the heating element.
Size
You need to make sure that your dog is able to stretch out completely while lying on the bed. If it's too small, your dog will likely not be able to sleep comfortably. A bed that's too big, on the other hand, may not provide enough heat, especially if you chose a self-warming bed. When your dog is asleep, try to measure how much space he uses, so you can get an approximate of the right size to buy.
Ease of Cleaning
Look for a heated bed with a removable cover that is machine-washable to make it convenient for you to clean. A waterproof cover that can be wiped clean is ideal if you choose to go electric.
Non-slip Base
A non-slip grip at the bottom of the bed will prevent it from moving around when your dog tries to get in or out of the bed. This is particularly important if you have a senior dog or one that suffers from mobility issues. 
Materials
No one wants to buy a dog bed that's made of cheap quality materials. But it's even more important to avoid poorly made heated beds because they can be a safety hazard should they break down. 
Look for a heated bed that is made of durable material, particularly one that can withstand heat. It should also be able to handle your dog's activity level. We recommend beds that use PVC or fleece because they are tougher than cotton. 
Style
As mentioned, heated dog beds are available in different styles – bolster beds, flat pads, outdoor heated beds, and heated furniture covers. 
Bolster dog beds feature raised, cushioned walls along three sides of the bed with a cushioned bottom where the heating element is located. This type is primarily for indoor use. It provides your dog with a pillow for his head as well as a nest-like environment where he can curl up and sleep.
Flat pads are just that – cushioned pads that lay flat on the ground or in a confined space such as a crate. You can also add them on top of your dog's current bed, removing it once winter is over. Flat pads typically feature orthopedic memory foam to provide support and additional comfort. They also come with a removable, zippered cover for easy cleaning.
Outdoor heated beds are designed to be used in enclosed spaces outside of the house such as a barn, garage, or doghouse. These are typically made with very durable materials such as PVC to protect the heating element from cold weather. 
Heated furniture covers are flat sheet-like covers that feature a heating element within. This type of heated pad allows you to place it on top of your pet's favorite spot on the sofa, bed, or other furniture in the house that he loves to lounge on.
Benefits of Using Heated Dog Beds
It's pretty obvious that the biggest benefit to buying a heated bed for your dog is warming him up and keeping him comfortable during the cold months of the year. But there are other advantages too.
Relief for Arthritis and Joint Disorders
Dogs, just like humans, can suffer from arthritis. This joint disease can be extremely painful. It can also cause swelling or inflammation and stiffness. A heated bed can help reduce stiffness in the joints, loosen muscles, and relieve pain. Some heated dog beds feature an orthopedic base that can provide much-needed support and relieve pressure points, ensuring your pet's comfort while sleeping.
Relief for Hip Dysplasia
Hip dysplasia occurs when the ball-and-socket hip joints no longer fit together properly. When this happens, abnormal wear and tear to the joint occur. Dogs with hip dysplasia experience difficulty in standing and walking as well as pain in the joints. A heated dog bed can help relieve any pain and stiffness your dog is experiencing, ensuring pain-free rest. 
Additional Support for Senior Pets
Older dogs have difficulty regulating their internal temperature which makes it difficult for them to stay warm on their own. A heated dog bed enables them to keep warm during cold winter months. In addition, the heat from the bed can help increase blood flow and improve flexibility.
Comfort for Puppies
Similar to senior dogs, puppies aren't able to regulate their temperature as well as adult dogs. They are also used to cuddling with their brothers and sisters for warmth and comfort. A heated bed can provide both of those things – warmth and that familiar cuddling sensation that reminds them of being with family.
Our Criteria and Experience–How We Chose the Best
When making our selection of recommendations for the best heated dog beds, we took several factors into account including safety, comfort, cleaning, and durability.
Dogs and other pets can be destructive, but that is no laughing matter when it comes to electricity. While we have included some products that require being plugged into an outlet, the wattage is on the low end, starting with the Thermo Snuggly Sleeper at an ultra-low 6 watts of power. Our #4 and #5 picks range from 12 watts up to 60 depending on the size/model.
These products are safety certified, made of durable materials to prevent wear and teach, and contain stainless steel chew-resistant cords. The Thermo-Snuggly bed is triggered by the dog actually laying on it, and thermostatically controlled for energy efficiency and safety. On the other hand, the Pet Heating Pad offers the ability to set a timer for how long it runs, so that the customer is in control of setting it.
We understand that some dog owners just wont feel comfortable with their pets having easy access to wires. That's why we highly recommend our overall best pick–The Self-Warming Lounge Sleeper,. We're "over the moon" at the space blanket technology used, so that bed both captures heat and reflects it back to the dog at the same time. One customer attested to the fact the bed lasted 4 years for her 12lb Maltese, even with quarterly washing of the protective cover.
We especially love the story of the two beagles who constantly hogged the bed with their owners until each received its own Thermo-Snuggly heated bed. Pets love body heat, but this particular bed was the best substitute this couple could have hoped for. Once their dogs fell in love with their heated beds, the couple could have their own bed to themselves.
The Top Picks for Heated Dog Beds: Ranked
1. Best Overall: K&H Pet Products Self-Warming Lounge Sleeper Pet Bed
This is our pick for the best overall heated dog bed because it fits all our requirements to a T. It was able to keep our dog warm and comfortable. Because the bed is self-warming, there are no safety issues (such as cords and overheating) that we needed to worry about. Plus, the materials seemed to be of really good quality.
So, how does it work? The Lounge Sleeper Pet Bed features a pillow top that consists of two layers. The first layer works as insulation, capturing your dog's body heat. The second layer radiates the heat back to your dog as he lies on the bed. The bed is stuffed with polyfill made from recycled plastic bottles for added cushioning. So, not only is it self-heating and comfortable, but it's also eco-friendly.
The interior lining of the bed is soft microfleece which is also an insulator while the outside material is poly/cotton. The bottom of the bed is covered with a non-slip fabric. This ensures the bed won't slide even when placed on your shiny hardwood floors. This makes it easy for senior dogs or those with mobility issues to easily get in and out of the bed.
This heated dog bed also comes with bolsters which add a sense of security and provides our dog with a pillow to rest his head on if he wishes. The entire bed is completely machine-washable which is another point in its favor. Overall, we couldn't find anything to complain about. Our dog certainly found it comfortable. And while we couldn't really feel the heat when touching the bed, he did because he no longer required a blanket or felt the need to sneak into bed for a snuggle. 
Best Overall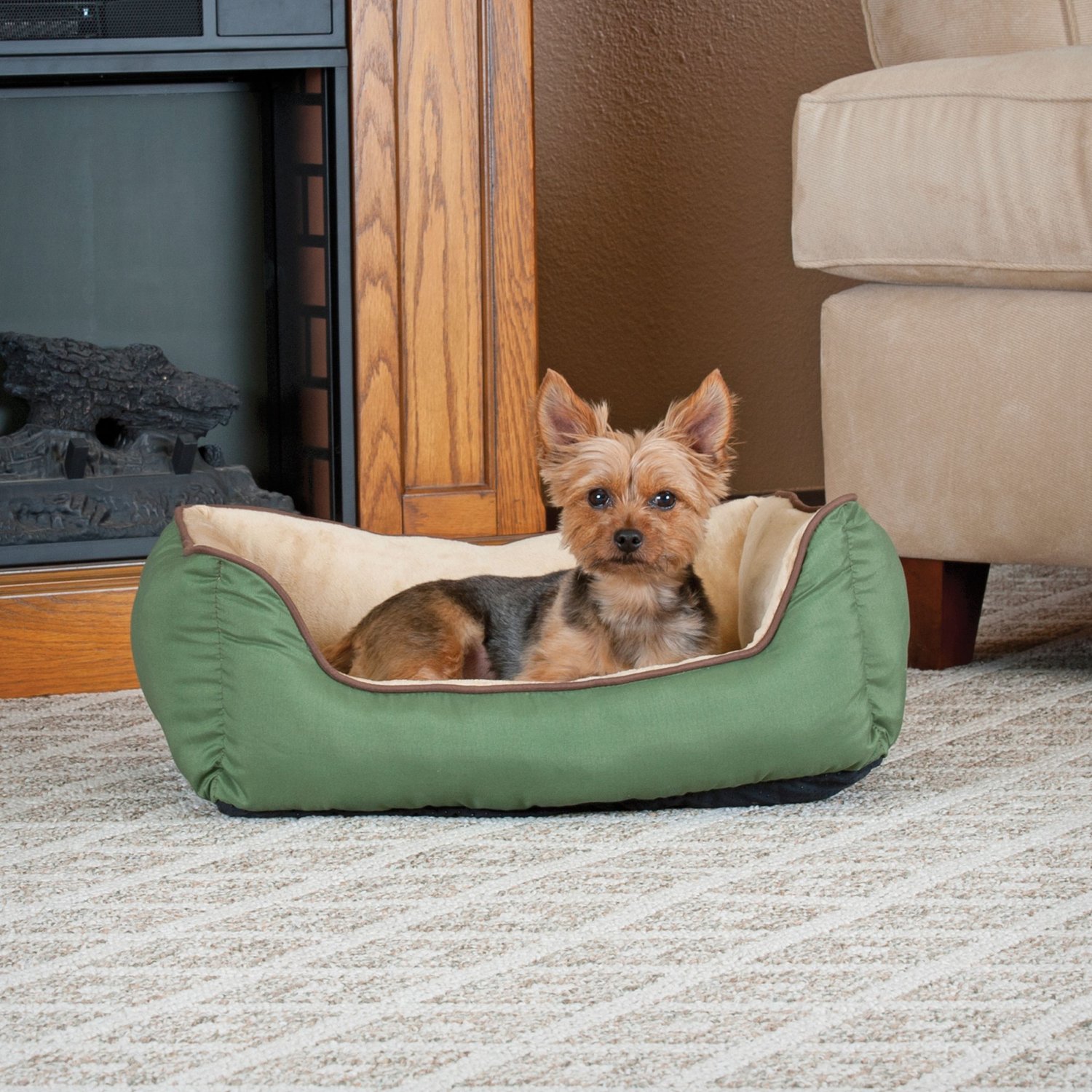 2. Best Outdoor: K&H Pet Products Lectro-Soft Outdoor Heated Pet Bed
The K&H Pet Products Lectro-Soft Outdoor Heated Pet Bed is the best outdoor bed for warming your dog during winter. It can maintain a steady 102 degrees Fahrenheit temperature. Its soft orthopedic foam and fleece cover provides your dog with support and extra comfort.  
The bed requires inflating before use. We used our lungs instead of a pump (someone forgot to bring one), but we were able to get the bed ready for use in a matter of minutes. The fleece cover felt soft to the touch and was able to hold heat in well enough. It only took 20 minutes or so to get the bed warm enough – 95 degrees Fahrenheit. The temperature increases when a dog (or our pillow) lies on top of it. However, we did notice that the cover wasn't designed to stay on the bed. It tended to slide off whenever our pet changed his position on the bed. 
For pet parents who are concerned about the safety of this bed, worry no more. The K&H Pet Products Lectro-Soft Outdoor Heated Pet Bed has been tested and certified by MET Labs to exceed USA/CA electrical safety standards. In addition, the steel-wrapped power cord protects it from the elements and chewers. Plus, the bed itself (without the fleece cover) is water-resistant (not waterproof) making it suitable for outdoor use as well as easy to clean. 
Because there's no on/off switch, this bed is always "on" when plugged in. It didn't seem to affect our electricity bill much. Then again, any change will only be noticeable over time. Overall, this is the best heated dog bed for outdoor use that we've ever come across.
Best Outdoor
K&H Pet Products Lectro-Soft Outdoor Heated Pet Bed
Designed to maintain a steady 102 degrees F
Features soft orthopedic foam covered with fleece for extra comfort and support
Must be inflated prior to use
Tested and certified to exceed USA/CA electrical safety standards
The power cord is steel-wrapped to protect it from chewer and the elements
Check Amazon
3. Best Heated Dog Bed with Bolster: K&H Pet Products Thermo Snuggly Sleeper
Yes, we have another K&H Pet Product on our list. And yes, like our first pick, it has a bolster-style design. But there's a reason why we love the bolsters of the K&H Pet Products Thermo Snuggly Sleeper better – they are 2 inches thick and a lot stiffer in comparison. Our dog could lean on it and feel protected as he snuggles deeper into the bed. He can also get the proper support his head needs should he wish to use the bolsters as a pillow.
Of course, these "walls" are not the only good thing about this heated dog bed. The Thermo-Snuggly Sleeper is a bed that's suitable all year round because it has a removable 6-watt heater. This heating element automatically controls the temperature of the bed. It maintains a temperature that's 10 degrees higher than the ambient temperature when not in use. 
Of course, we couldn't take their word for it. So we convinced our friend's Jack Russell Terrier to test it. When he laid down on the bed, we noticed that the heating element did warm up to reach our dog's natural body temperature which was around 38 degrees Celsius or 100.4 degrees Fahrenheit. Because this bed is so energy efficient, we didn't mind leaving this bed plugged in all day, every day.
We loved that the heating element was removable and comes with a five-foot-long cord. Should the bed need replacing, we can just put the heating element into another dog bed and get a similar result. That alone made this bed well worth its price. In addition, we had no problems washing the entire bed. We just needed to remove the cover and pillow, then into the washing machine they go. 
Best Heated with Bolster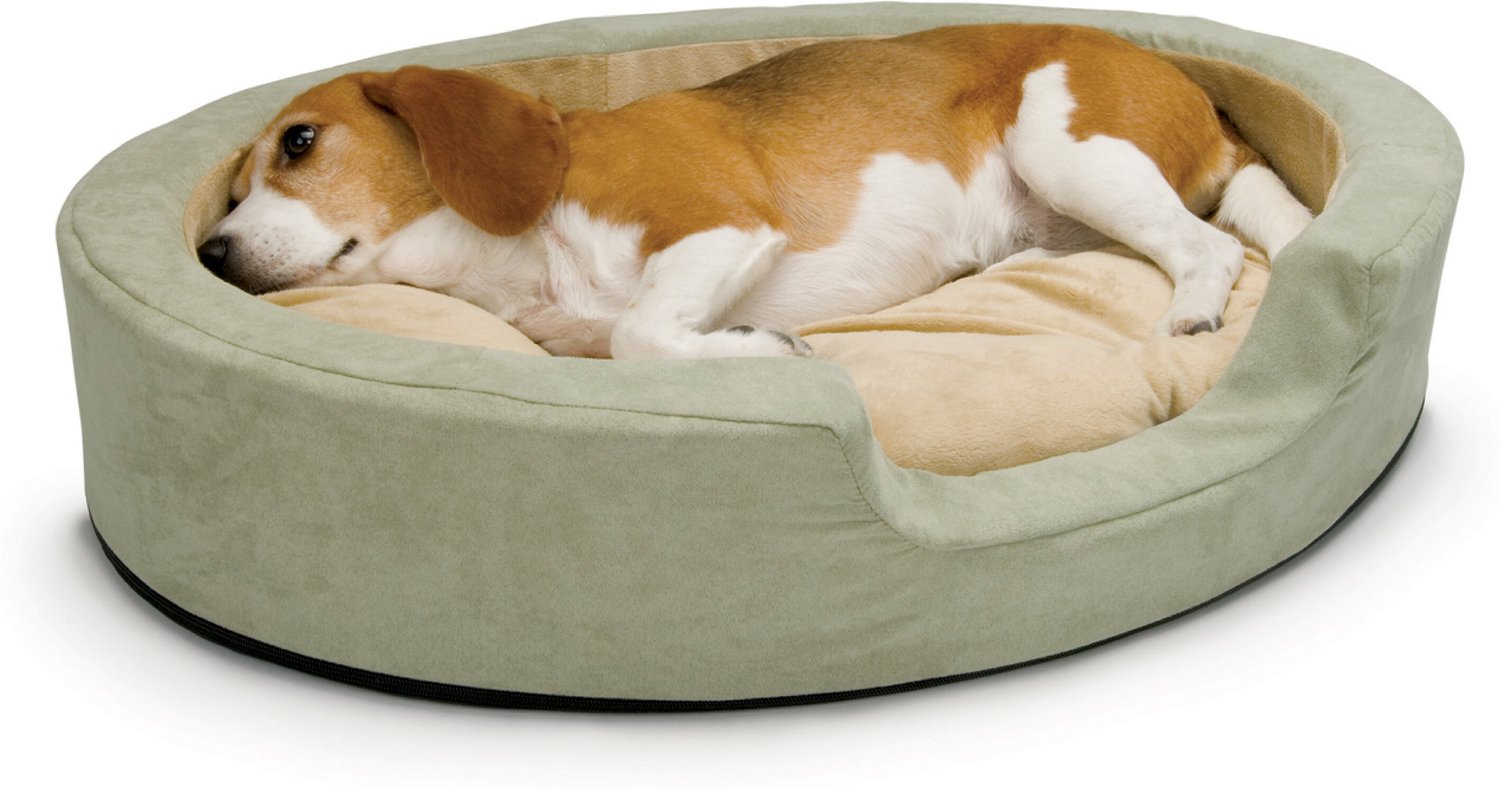 4. Best Heated Flat Pad for Dogs: RIOGOO Pet Heating Pad
You don't need to buy an entire bed to keep your dog warm during the cold winter months. With the RIOGOO Pet Heating Pad, you can warm up any spot in the house including his current bed. 
This electric heating pad features a flat design that allows you to lay it flat on the floor or any type of surface such as your dog's crate, his bed, or even his favorite spot on your sofa (like a heated furniture cover). It's ideal for senior dogs and those with mobility issues because it doesn't require them to climb higher than usual just to keep their body warm. 
Among all the other heating pads we came across, the RIOGOO is the only one that had so many safety features installed. There's a controller that comes with the bed, allowing you to set the temperature and how long it should run (0 to 12 hours). More importantly, it has an auto power-off function. We didn't have a problem setting the time and temperature. Of course, there was a little trial and error to find out what temp our staff's Frenchie wanted the bed to be. But after we figured that out, he seemed content to stay there all day. Only getting out of the pad to eat, drink, or go outside. 
Another safety feature is the temperature sensor inside the mat that prevents the pad from overheating. The mat also has a 7-layer structure to protect your dog from getting burned by the heating wire. It has a removable cover made of polyester. Underneath it is the IP68 waterproof PVC material. The UL-approved heating wire lies between two layers of refractory wool. The last, but not the least, of the safety features is the stainless steel chew-resistant cord.
There are three sizes available – medium, large, and extra-large. Take note that the medium is just big enough to comfortably fit an adult cat. Though that's not really a complaint. The heating pad works extremely well based on our testing. The price is very affordable too. So, if a heated bed is not in the books for you, this is the next best thing.
Best Heated Flat Pad
Summary of Best Heated Dog Beds
| Ranked | Best For | Product |
| --- | --- | --- |
| 1 | Overall | K&H Pet Products Self-Warming Lounge Sleeper Pet Bed |
| 2 | Outdoor Heated Bed | K&H Pet Products Lectro-Soft Outdoor Heated Pet Bed |
| 3 | Heated Bed With Bolster | K&H Pet Products Thermo Snuggly Sleeper |
| 4 | Heated Flat Pad | RIOGOO Pet Heating Pad |
Up Next…
The Best Heated Dog Beds: Ranked For 2022 FAQs (Frequently Asked Questions) 
What is the best heated dog bed?
The best heated dog bed is the one that suits all your dog's needs perfectly. It keeps him warm and provides additional support. It's comfortable and allows him to sleep in his preferred position. The bed is made of durable materials. It is easy to clean. Based on our tests with our own dogs, the heated dog bed that fits all of those requirements is K&H Pet Products Self-Warming Lounge Sleeper Pet Bed. As an added benefit, this bed does not require any electricity to operate.
Are heated beds good for dogs?
When the temperature drops, some dogs need something extra to keep warm. While they may have a layer of fur, not all breeds have a coat thick enough to prevent them from feeling the cold during winter. Dogs with thin fur or no hair at all won't be able to keep themselves warm. Puppies and small dogs lose body heat more quickly. Senior dogs as well as those recovering from surgery need warmth and comfort to soothe their pain. For all of these dogs, a heated dog bed is a good thing.
Do self-heated dog beds work?
Self-warming or self-heating dog beds rely on your pet's body heat to work. The beds absorb the heat and radiate it back to your dog. By doing so, it prevents cold from seeping in and creates a warm surface for your dog to lie in. It also enables your dog's internal temperature to rise.