You're not the only one who needs to sleep comfortably every night. While your pooch may seem to be quite happy snoozing on the floor or on the couch, that doesn't mean he won't be happier with a spot to call his own. 
Of course, beds offer more than just comfort to dogs. They are also a good source of security and orthopedic support, specifically for pets that have aching joints. That's not to say that any ol' bed will do, especially if you have a large breed at home. In fact, big dogs tend to suffer problems in their hips and joints such as hip dysplasia and osteoarthritis. This is especially true as they age because many large dogs become overweight as they grow old.
Aging aside, large dogs, in general, need a thick enough bed to keep their bodies from sinking to the floor. And don't forget their strength! A large dog bed should be made of "sterner stuff" to withstand the wear and tear a large dog can inflict on it. So, with so many beds to choose from, how do you make sure that you get the best overall dog bed for your pooch that meets all of his needs? 
What to Look for in a Dog Bed
Size
Dog beds come in all shapes and sizes. Since you're looking for one that suits your big dog, the key feature you need to consider is size. You need to make sure that your pooch can fit his entire body comfortably across the bed with a couple of extra inches to spare. In addition, you should also consider the amount of space you have available. The size of the bed should easily fit where you plan to put it.
Padding Thickness and Material
Your pooch is likely quite heavy which means you need to choose a bed that would be able to handle their weight. A bed that won't sag or flatten in the middle after some use. Look for a bed that is thick enough to provide support to your dog's pressure points to ensure his comfort. Generally, padding thickness should be at least 4 inches.
The type of material is also important. Even just two inches of top-quality memory foam can provide better support than four inches of cheap polyester filling. In addition, memory foam can maintain its shape for a long time. It might seem like a luxury, but the comfort your dog gets is priceless.
According to the experts, if you are able to squeeze the bed and feel your fingers touch, then the material is not going to be able to provide adequate support to your dog.
Easy to Clean
You'll need to look for a bed with a removable cover that you can just throw in the washing machine for quick and convenient cleaning. This is especially important if your dog has skin problems that require you to clean his bed more frequently.
Durability
Replacing your dog's bed once a year is not only frustrating, it can be costly too. You'll want to find a bed that's durable enough to support your dog. In addition, his weight can wear down furniture faster. It's important to look for a dog bed that is made of high-quality materials so that it will last a long time. 
For dogs who are chewers, beds made out of foam or a similar type of cushioning might not be advisable. You'll want something sturdier. It might be best if you choose a bed that is made of PVC pipes or a steel frame and high-density polyethylene fabric. While nothing is absolutely chew-proof, that kind of material would be hard for a "gnawy" dog to destroy.
Our Criteria and Experience–How We Chose the Best
Several variables are at play when choosing a large dog bed. We took into consideration the quality of the materials used, the support the bed offered, the challenge in cleaning a larger bed, and the durability required to withstand wear and tear from man's best "big" friend.
We can't be happier with our overall best ranked bed, which is actually the envy of many adult customers who have bought it for their dogs, yet found it to be very comfortable for human use. It's orthopedic support is top notch, it comes in a variety of colors to easily blend into the home decor, and the protective cover easily slips off for washing. And you can't beat a 10-year warranty–this bed will last most of your large dog's life, so it's well worth the initial investment.
Our #2 recommendation also has a machine washable removable cover (as does #4) for ease of cleaning, and has some other great features like the no-slide bottom, the pre-filled bolsters for easy assembly and extra comfort, and the water-proof inner liner to protect the orthopedic memory foam in case of accidents. One product tester found the memory foam to be dense and soft, and said her bull terrier loves it. In comparison to three other bolster beds, she found the size and positioning of the bolsters to work exceptionally well, which made a big difference in her dog's ability to fit comfortably in it.
The collapsible feature in our #3 pick comes highly recommended, as well as the fact the tough, durable mesh fabric is removable for machine wash, as well as cleanable with a hose outside. The fabric allows airflow while withstanding mold, mildew, and odors. Customers love the fact that this bed is half the price of the typical large dog beds they have invested in, yet holds up well against the elements outdoors.
The Top Picks for Best Large Dog Beds: Ranked
1. Best Overall: Big Barker 7-Inch Pillow Top Orthopedic Dog Bed
When it comes to large dog beds, the undisputed best overall choice is the Big Barker 7-Inch Pillow Top Orthopedic Dog Bed. This uber-comfortable bed features three layers: a top and bottom layer made of comfort foam 2 inches thick, and a 3-inch middle layer made of support foam. It is specifically designed to provide comfort and support for big dogs. 
Of course, we couldn't take their word for it. So, we decided to give the bed a try with our favorite Rottweiler, Brigham. We chose the extra-large size which is 52 inches long. There are two other sizes, a large measuring 48 inches and a giant XXL which is 60 inches long. During testing, we decided to lie down on it before letting our pooch try it. And it was awesome. As for our pet tester, he wasn't so sure about it at first. But after some treats and snuggles, he was convinced that it was the best dog bed ever.
Aside from comfort and support, we also loved that the Big Barker came with a 10-year warranty that will retain 90% of its shape and support. If not, you'll get a  replacement for free. Plus, the bed has a removable cover made out of microfiber. It's not only machine washable, but it's also very durable too. 
Of course, nothing is perfect in this life. The Big Barker has one huge downside – the price. The cost of one makes it seem like a luxury item instead of a necessity. It certainly isn't going to be easy to fit in everyone's budget. But if you think about the amount you spend on dog beds every year, the Big Barker is well worth it.
Best Overall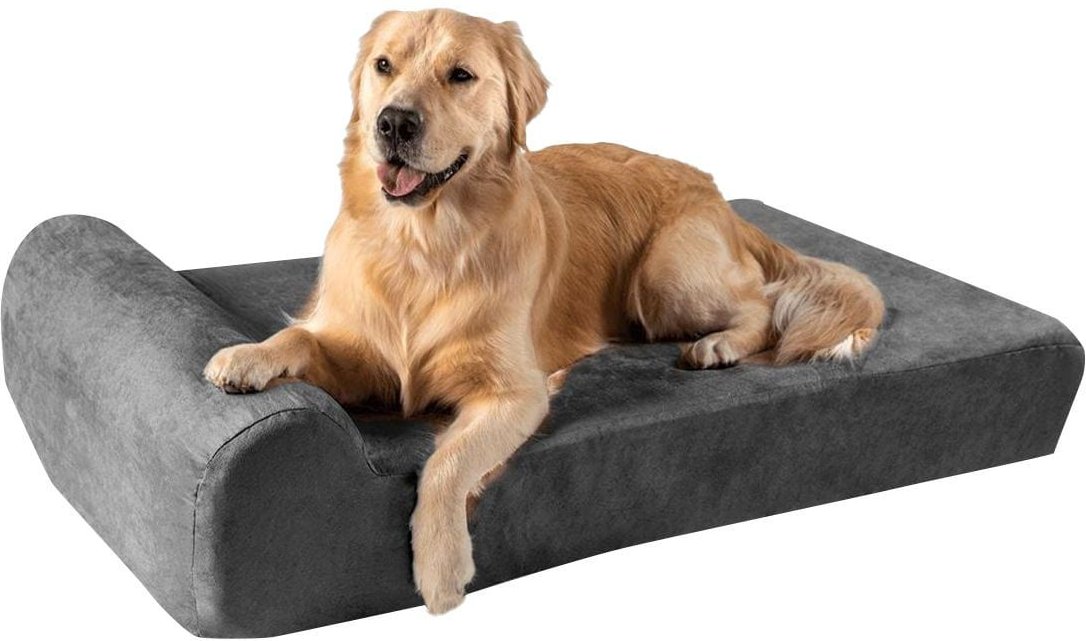 2. Best Bolster Dog Bed: PetFusion Ultimate Dog Bed
Does your pooch require snoozing in a bolster bed? Our research suggests there can be only one choice – the PetFusion Ultimate Dog Bed. Like our first pick, this one is also an orthopedic bed. It features a 4-inch thick memory foam which, when tested by our favorite Chocolate Lab, was thick enough to provide comfort while reducing joint pain and improving mobility. 
The size ranges from small (21 x 16 inches, inner dimension) to jumbo which measures 42 x 33 inches (inner dimension). Compared to the Big Barker, the PetFusion Ultimate Dog Bed is a tad smaller. For really large dogs (those weighing more than 100 lbs), we recommend getting the extra-large or jumbo size, so they can stretch out without using the bolster. This way, your pooch will have the option of whether or not to use his "pillow" while snoozing.
The bed comes with a removable water-resistant cover made out of cotton and polyester blend. as well as waterproof liners to help keep any messes from seeping into the foam. The bolsters, by the way, seemed to be quite soft. It is made of recycled "green" polyfill. While it doesn't compare to the comfort of lying on memory foam, it did get the job done. At least, we didn't get any complaints from our dog.
However, we did notice that the cover tended to get fur and dirt stuck in it. It's easy to remove and clean, but you might find yourself washing it frequently. In addition, this bed is also quite pricey. It's definitely not budget-friendly. However, with everything else it has going for it, our pooch didn't seem to mind the cost.
Best Bolster Bed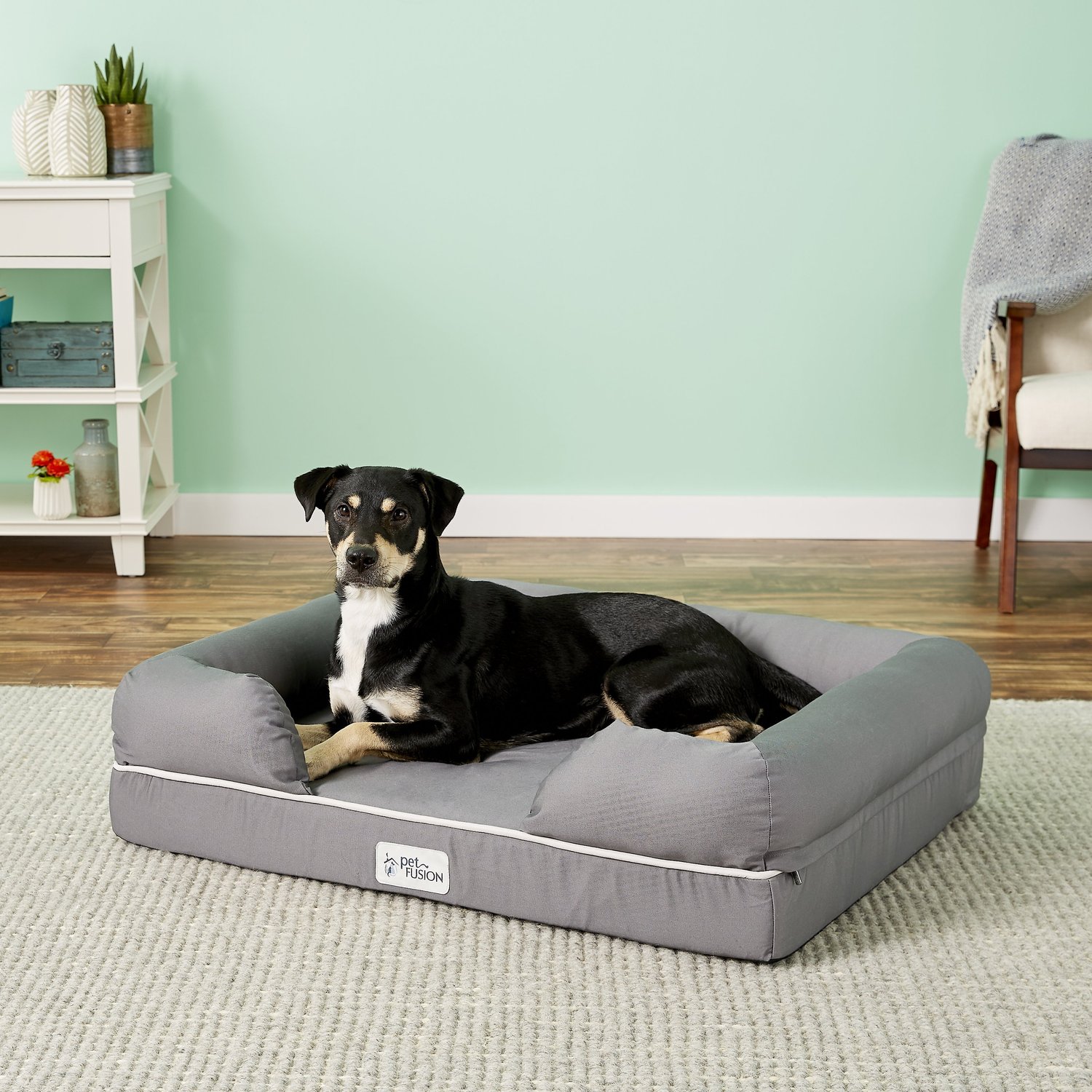 3. Best Elevated Bed: K&H Elevated Pet Cot
Based on our research, the best-elevated dog bed is the Coolaroo. However, its largest size isn't suitable for large breeds. It can only handle dogs less than 100 lbs. If you have a big dog on your hands, then we recommend the K&H Elevated Pet Cot. 
This elevated dog bed is available in 4 sizes including extra-large which measures 32 x 50 x 9 inches and is rated to hold up to 200 lbs. It can easily fit a mastiff. The cot also comes in 4 different colors, so you can choose which best suits your decor.
The beauty of getting an elevated bed is that it allows your pooch to stay cool in hot weather. The K&H Elevated Pet Cot takes this a step further. It features a breathable mesh center for improved airflow. The rest of the bed is made of a waterproof, heavy denier fabric that repels moisture, mold, mildew, and bacteria.
The bed itself felt incredibly comfortable. At least, that's the impression we got from our volunteer Great Dane. You can use it indoors and outdoors. Aside from comfort, we gave the bed another point for being easy to assemble. Cleaning was also not difficult at all. We tried wiping it with a wet cloth. We also tried just hosing it down. Both ways work well. The cot is also very durable. And unlike our other picks, this one definitely fits the budget. 
Best Elevated Bed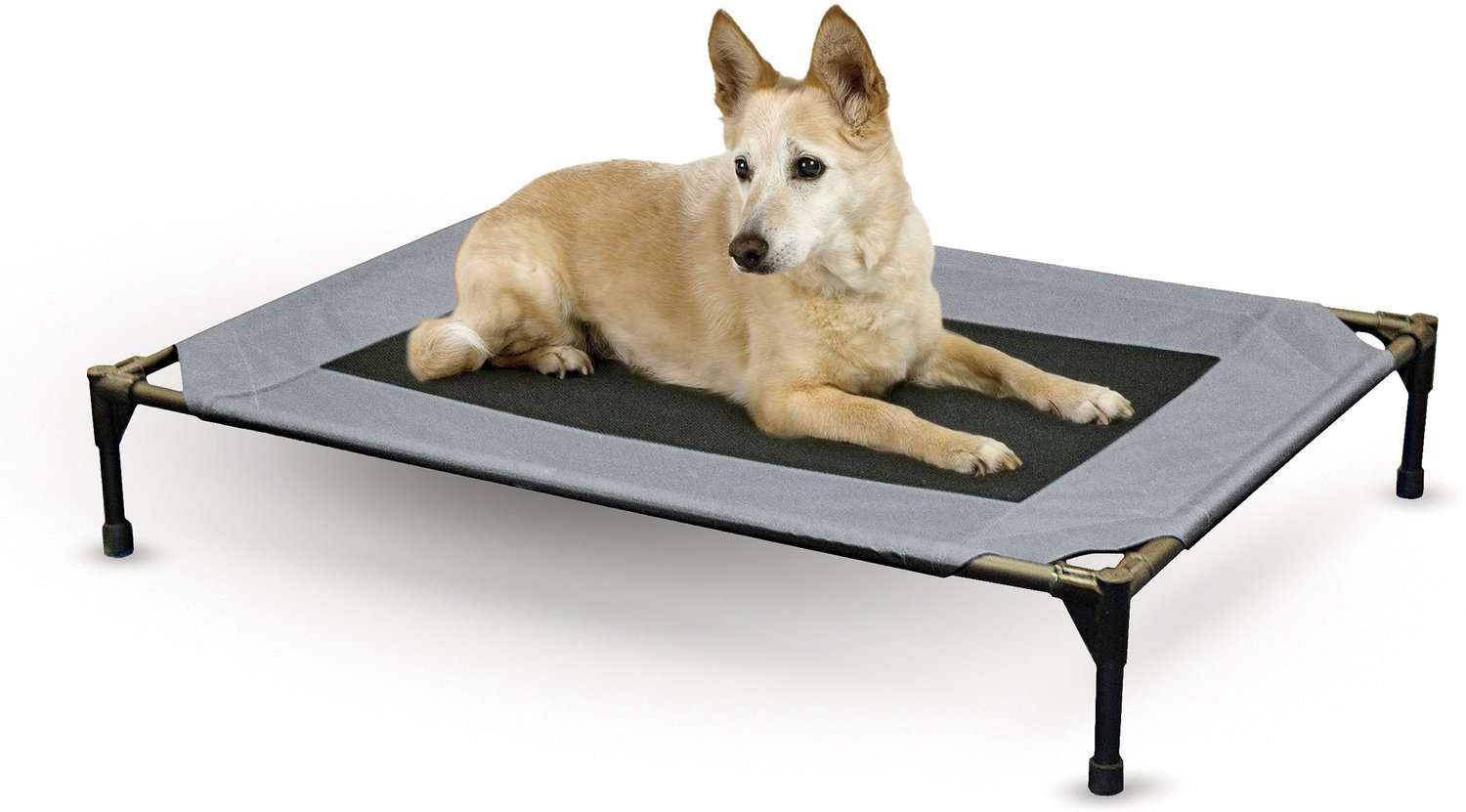 K&H Pet Products Original Pet Cot Elevated Pet Bed
Available in 4 sizes
The largest size can easily -- and comfortably -- fit a mastiff
Available in 4 colors
Elevated beds are particularly useful in hot weather, and this one features a mesh center for breathable airflow
The rest of the cot is constructed from durable, waterproof, heavy denier fabric
Check Chewy
Check Amazon
#4 Best Budget Dog Bed for Large Dogs: Majestic Pet Poly-Cotton Sherpa Pillow Pet Dog Bed
Top-quality large dog beds tend to be incredibly expensive. This is because most of them use memory foam. But for those who are on a limited budget, there's another option – the Majestic Pet Poly-Cotton Sherpa Pillow Pet Dog Bed.
When we first got this bed, we were a bit concerned about the level of comfort and support that it can provide large breeds. Unlike memory foam, premium high loft polyester fiberfill tends to flatten over time. This means that you might end up with a bed that has a pet-shaped depression in the middle. 
Fortunately, this budget-friendly bed isn't just 3 to 4 inches thick like all the others. It's "overstuffed" which gave it a thickness of 8 inches. So while it may flatten a bit, your dog won't be feeling the ground. Plus, you can easily fluff it back to And it's what made a difference between a nice bed and an awesome one. One of our staff even plans on buying one for herself for lounging in the living room while she reads or binges on Netflix. That's how good it is.
Another reason we loved this pillow/bed was that it was one of the biggest we've ever come across. The extra-large size measures a whole 60 x 42 inches. It's big enough to comfortably fit a St. Bernard. It can even fit a human snuggling with his best friend (though the best friend would have to be a golden retriever or something of a similar size). 
The sheepskin slipcover is incredibly soft and machine-washable, so cleaning is a breeze. There's no assembly required. You just open the box and viola! Plus, it's quite portable. You can easily take it on road trips with your best bud. The only drawback we saw was that not all dogs like this kind of fluffiness in their bed.
Best Calming Dog Bed for Large Dogs
Majestic Pet Poly-Cotton Sherpa Bagel Dog Bed
This durable option is suitable for large dogs
Includes thicker padding and higher bolsters
The oval shape is better than round for large dogs that like to stretch out
Made of Poly/Cotton Twill
Stuffed with high-loft polyester fiberfill that maintains its shape after multiple uses
Check Amazon
Summary of Best Large Dog Beds
| Ranked | Best For | Product |
| --- | --- | --- |
| 1 | Overall | Big Barker 7-Inch Pillow Top Orthopedic Dog Bed |
| 2 | Bolster Bed | PetFusion Ultimate Dog Bed |
| 3 | Elevated Bed | K&H Elevated Pet Cot |
| 4 | Budget | Majestic Pet Poly-Cotton Sherpa Pillow Pet Dog Bed |
Related Images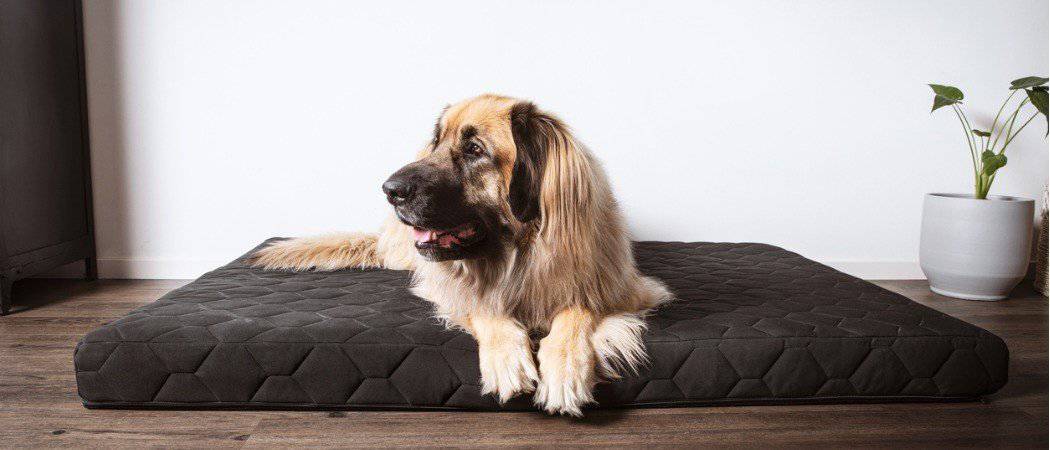 Up Next…
The Best Large Dog Beds: Updated for 2022 FAQs (Frequently Asked Questions) 
What is the best dog bed for large dogs?
The best dog bed for large dogs is one that provides both comfort and support. It should help relieve pressure points and aching joints. It should also allow your dog to comfortably lie down in all his natural positions – curled up or sprawled across the entire bed. The best overall dog bed should also be easy to clean with a removable cover. More importantly, it should be made of materials that will retain its shape for a very long time. In our humble opinion, only one dog bed fits all those requirements – the Big Barker.