Key Points:
Fromm dog food is a quality controlled, USA brand. You may need to order it online or in a specialty store.
Protein is usually listed as its first, with chicken at the helm. Fromm offers others proteins such as red meat for those dogs with allergies.
Food containing grains and grain-free options are available.
Find a Fromm food for the specific life stage of your pup.
Fromm food contains important fats to promote coat, skin, eye, brain, and joint health.
Fromm dog food is one of the better premium dog foods on the market. It is owned by a US family and all their recipes are made in their own facility in the USA. Therefore, they have very strict quality control standards and can be a bit more sure of their quality – unlike brands that outsource production.
The brand does craft a few different dog foods lines. However, not all of them are widely available. Fromm is more of a boutique brand, which means that you can't find it just anywhere. For the most part, you'll need to order it online or visit a specialty store near you (if you have one).
However, different dogs will do best on different Fromm diets. In this article, we'll take a look at a variety of different Fromm dog foods to help you decide which one is best for your canine. They truly do make a lot of different options, so you have quite a few to choose from.
A-Z-Animals Top Picks for Fromm Dog Food
Choosing the Best: What to Look For
Fromm produces many different dog foods. It can be hard to sort through them all! Luckily, there are only a few different factors that you really need to pay attention to – proteins, grains, life stage, and fats. Let's take a look at each of these factors in turn.
Proteins
Any dog food you purchase should have animal protein as the first ingredient. Primarily, Fromm utilizes chicken as the primary protein in most recipes. As a digestible protein, chicken is great for most dogs. However, some dogs may develop an allergy to chicken. In these cases, you will want to choose a Fromm dog food that is chicken-free.
Luckily, Fromm also produces red meat and fish-based dog food. Dogs with allergies to chicken will do best on this dog food.
Grains
Many dog food companies have advertised against grains heavily over the last few years. However, while some commercials may tell you otherwise, grains are generally a good option for dogs. Grains provide a digestible and low-fat way to get carbohydrates into your dog's food. Plus, many whole grains are high in fiber, which is vital for your dog's digestive system.
There is some real harm to taking grains out of a dog's food. For instance, the FDA has linked grain-free foods to DCM, which is a serious (and often deadly) heart condition.
However, some dogs are sensitive or even allergic to grains. In these cases, you'll need to choose a grain-free dog food. However, otherwise, it is typically best to choose a grain-inclusive dog food.
Life Stage
Dogs need different nutrition at different points in their life. Generally, puppies need more protein and fat than adults, for instance, since they are growing. Senior dogs may need increased protein, as they often lose their ability to absorb much of the protein in their food (which is one reason they often lose muscle mass).
Therefore, you should select a food that matches the stage of life your dog is at. if they are grown and in their prime, adult maintenance food is likely all they need. Alternatively, if they are still growing, you'll need puppy food.
Fats
All dogs need fats to thrive. In fact, dogs rely heavily on fats for much of their nutritional needs. However, the type of fat matters. Different fats are used for different things inside the body. For instance, omega fatty acids are utilized for skin, coat, joint, eye, and brain health. Without them, your dog may suffer in all these areas. (And puppies need even more of these fatty acids, as their brain is growing.)
Good sources of omega fatty acids abound, though Fromm usually uses salmon oil and flaxseed. Any sort of fish typically has a higher omega fatty acids content as well.
The Different Types of Fromm Dog Food: Pros and Cons Compared
There are two primary types of Fromm dog food: dry dog food and wet dog food. While most people feed their dogs dry food, wet food is a better choice in some situations. We'll take a look at the pros and cons of each to help you decide.
Dry dog food – This is widely considered "traditional" dog food, as it is what most people feed their dogs. Most foods on this review are in this category for this reason.
Wet dog food – The primary benefit of wet food is that it has a higher moisture content. It is also easier to feed than raw or fresh food.
Dry Dog Food
Pros:
Widely accessible
Easy to feed
Many different options
Cons:
Wet Dog Food
Pros:
Higher moisture content
Tastier
Cons:
More expensive
Can't be left out
Our Criteria: How We Chose the Best
From protein as the first ingredient to minerals and nutrients, Fromm dog food is a winner. We were extremely pleased with this dog food. Many pickier dogs seemed to like it, so we highly recommend it for your picky eaters. Our pups loved it; even those opposed to dry food seemed to take to it.
On top of this, many dogs seem to have better bowel movements with this food. It seems to be highly digestible, as it decreased stool size.
However, it is on the expensive side. This is really the only negative thing we could find!
Overall, we think this food is great, but it is expensive. If you can afford it, it is one of the best dog food brands out there.
#1 Fromm Gold Adult Dry Dog Food – Best Overall Fromm Dog Food
If your canine is an adult and doesn't have any health concerns, this is probably the food that you need to choose, which is why it is our best overall. It is their "standard" formula, which means that it is designed for the average, healthy adult dog in mind. Most people reading this article probably have dogs that fit into that category.
The ingredient list starts with a variety of chicken sources, ranging from whole chicken to chicken broth. All of these ingredients help provide the protein and fat that your canine needs to thrive. Chicken is lean meat, so it is often best for adult dogs that have low to moderate activity.
Very active dogs may need something with more fat content, though.
Probiotics are included in this food to help improve your dog's gut health. Most dogs will benefit from probiotics, though some will benefit more than others. In this same vein, salmon oil and flaxseed oil have been added to improve your dog's skin and coat health.
Because this food is grain-inclusive, it includes a variety of different grains that are mostly whole. Whole grains are better than refined grains, as they provide more nutrients and extra fiber. Both of these are vital for your dog's health.
Of course, if your dog is sensitive to grains, this food may not be the best. For others, though, it is one of the best formulas that money can buy.
Best Overall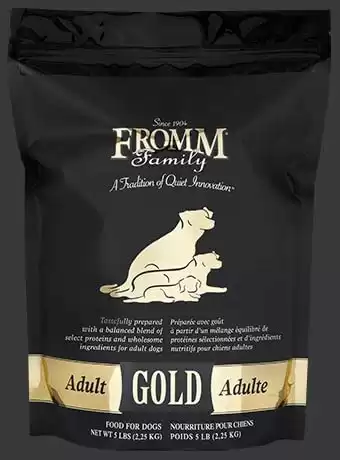 #2 Fromm Gold Dog Food Weight Management – Best Diet Fromm Dog Food
Many dogs are overweight today. If your dog is, you aren't alone. This Fromm dog food is designed specifically to help overweight and obese dogs lose weight, so it is likely the best dog food that you can choose in this situation. It still provides all the nutrition your dog needs, while providing lower calories.
Because of the lower calorie density, this food features extremely nutritionally-rich items, such as turkey liver and chicken meal. These foods are extremely high in protein, which will help keep your dog full.
Also included are a variety of other nutritious items, such as fish meal and salmon oil. Both of these ingredients help support your dog's skin and coat, since they are high in omega fatty acids. This food contains probiotics for extra gut support as well, which may be particularly necessary for some overweight dogs.
While this food is mostly meat-based, it also includes a variety of grains, such as pearled barley and oatmeal. These grains provide some much-needed nutrients and added fiber, which can help your canine stay full.
Best for Weight Management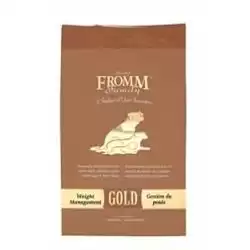 #3 Fromm Puppy Gold Dry Dog Food – Best Fromm Dog Food for Puppies
While they are growing, puppies need very specific nutrition. Compared to adults, they need more protein and fat because they are growing. This dog food by Fromm is particularly designed for puppies, with high nutrient content.
The main ingredients in this dog food are chicken, chicken meal, and chicken broth. As you likely know, chicken is quite high in protein – an important nutrient for a growing puppy. Chicken is also widely tolerated by most dogs.
This food also includes a few different grains, including oats and barley. Both of these grains are whole, which increases the fiber content of the food. Fiber is vital for a dog's digestive system, so its addition is very important for a growing puppy.
Salmon oil, fish meal, and flaxseed are also added to up the amount of healthy fat. Puppies need a lot of DHA and omega fatty acids to grow. The brain is made up of 80% fat, after all.
This recipe appears to have a longer list of added vitamins and minerals than other Fromm dog foods. Overall, it is likely more nutritious to promote healthy growth.
Best for Puppies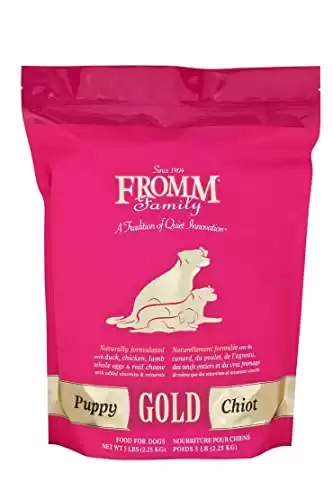 #4 Fromm Gold Senior Dry Dog Food – Best Fromm Dog Food for Seniors
Senior dog foods are mostly designed to help with problems that are common to senior dogs. For instance, a dog's ability to absorb some nutrients is affected as they age, so they may need these nutrients increased in their food.
This Fromm senior dog food is specifically designed to provide all of these added nutrients that older dogs need to thrive. It includes duck as the first ingredient, which provides extra fat. Because senior dogs often have a hard time maintaining weight, this extra fat can be particularly helpful. Chicken and chicken meal are also included, which provide easily accessible protein.
Oatmeal and brown rice are added for their nutrients and fiber. Older dogs may need extra fiber to regulate their digestive system, which is exactly what these ingredients provide.
This food includes omega fatty acids in many different forms. These fatty acids provide support for all sorts of things, ranging from cognitive function to skin health to joint pain. Many senior dogs have problems with all of these categories, so omega fatty acids are vital for their overall health.
For extra gut support, Fromm has added probiotics to this senior dog food. Most dogs benefit from probiotics, and they rarely cause side effects.
Best for Seniors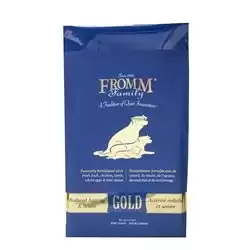 #5 Fromm Gold Chicken Pate Wet Dog Food – Best Fromm Wet Dog Food
Some dogs do better on wet dog food, even if it is more of a handful for their pet parents. This Fromm wet dog food has only a few ingredients and features chicken as the primary protein, so it is easily digestible for most canines out there.
Fromm uses chicken broth for this food instead of water, which helps improve the nutritional value and taste of the food. After all, broth is simply tastier than water, especially when you're a dog!
This formula appears to be completely grain-free, as it utilizes potatoes as the primary protein. A few other veggies are added as well, such as peas and carrots. These provide extra nutrition to the food, and they don't appear to be added in excessive amounts.
Picky dogs may prefer this food, since it has more moisture in it than other formulas. More moisture typically makes the food tastier and more appetizing.
With that said, this food is missing a few features that we've come to expect from Fromm's food, such as probiotics.
Overall Best Wet Dog Food
#6 Fromm Gold Reduced Activity Dry Dog Food – Best Fromm Dog Food for Laidback Canines
Some dogs simply aren't as active as others. If your dog tends to spend most of its day sleeping, we recommend this formula, as that's exactly the kind of dog it's designed for. It isn't exactly a weight management formula, but it is more low-calorie than regular dog food. It may prevent low-activity dogs from becoming overweight, to begin with.
The primary protein in this food is chicken, which is included in many different ways ranging from chicken broth to chicken liver. Chicken is fairly high in protein and quite digestible, making it a good choice for most dogs. Fromm has also included whole eggs for an extra nutritional boost without adding too many calories.
Grains appear in multiple places throughout the ingredient list, including oats and barley. Fromm only uses whole grains for the most part, which are significantly healthier than refined grains. They add nutrition and fiber to the food, helping your dog feel full even if they are eating less.
On top of being suitable for low-energy adult dogs, many seniors may also benefit from this food. Dogs tend to slow down as they age, and this food takes that into account.
Best for Reduced Activity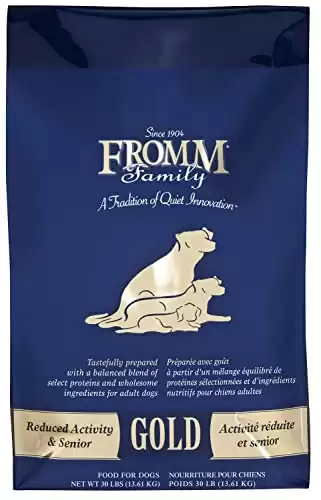 Summary of the Best Fromm Dog Food
| Rank | Best For | Product |
| --- | --- | --- |
| 1 | Overall | Fromm Gold Adult Dry Dog Food |
| 2 | Diet | Fromm Gold Dog Food Weight Management |
| 3 | Puppies | Fromm Puppy Gold Dry Dog Food |
| 4 | Seniors | Fromm Gold Senior Dry Dog Food |
| 5 | Wet | Fromm Gold Chicken Pate Wet Dog Food |
| 6 | Laid Back Canines | Fromm Gold Reduced Activity Dry Dog Food |
Related Images
Up Next