Key Points:
Fromm Adult Gold Dog food is the brand's most popular line.
Grain or no grain? Decide what is best for your dog. Fromm has both options.
While most foods in this line contain chicken as their main protein, duck and red meat are also available.
In this Fromm Adult Gold Dog Food Review, we'll take a look at this company's most popular options. Their gold line is typically grain-inclusive, making it suitable for most dogs out there. Out of all their foods, this line is likely what the typical dog should be eating.
However, that doesn't make all of the recipes perfect, as we'll explore below.
As you'll find, most of these foods are poultry-based, which does mean that they aren't necessarily the best option for dogs allergic to chicken. However, there are some options that are based on beef instead.
Overall, this line of dog food takes a holistic view of nutrition. Each recipe is made at the company's facility in Wisconsin, though the company doesn't state where the ingredients come from.
We'll take a look at some of the top recipes in this category to help you select the best dog food for your dog.
A-Z-Animals Top Picks for Fromm Adult Gold Dog Food
Choosing the Best: What to Look For
Selecting the best Fromm Gold dog food for your adult dog food depends on a few factors. These include grain inclusion and proteins. It is in these two categories that these foods differ the most, so that is where we will spend our time comparing.
Grain Inclusion
Grains have gotten a bad reputation over the last few years. Many companies have advertised that dogs cannot digest grains since that isn't what they're naturally made to eat. However, this just isn't true. Dogs have evolved next to people for hundreds of years and most of them can eat grains just fine.
While wolves are their genetic ancestors, dogs differ from the widely today.
The majority of dogs will do just fine on a grain-inclusive diet, therefore. However, some dogs do have grain sensitives. These dogs will likely need a grain-free diet, though being truly allergic to grains is considerably rare.
In fact, grain-free foods have been associated with some health conditions in dogs. The FDA is currently looking into this problem, but it appears that it is caused by the large amount of peas commonly found in these dog foods.
However, if your dog is sensitive to grains, then you don't have much of a choice but to choose a grain-free food. If your dog isn't allergic to grains, then you should likely choose a grain-inclusive food.
Proteins
Another feature that the Fromm Gold dog foods commonly differ on is the protein they use in their food. Their standard formula is poultry-based, with either duck or chicken as the first ingredient. Duck is similar to chicken nutritionally, but it is higher in fat. Therefore, for dogs that need the higher fat, duck is likely wanted over chicken.
However, those who are overweight or have a sensitive stomach likely benefit from chicken instead.
The Heartland Gold line is red-meat-based, with beef as the main protein in most cases. This recipe is best for dogs that are sensitive to chicken, which does occur from time to time. Chicken is a very common dog food ingredient, so many dogs develop an allergy to it.
However, even dogs that aren't sensitive to chicken can eat beef, as it is a nutritious protein.
The Different Types of Fromm Gold Adult Dog Food: Pros and Cons Compared
There are many different kinds of dog food out there, ranging from prescription food to dry dog food to raw food. However, Fromm only produces dry and wet dog food, so those are the two options we'll be talking about in this article. Let's take a look at each type below:
Dry dog food – Most people feed their dogs dry dog food. it is widely available and easy to feed, since you can leave it out. It also has a much longer shelf life.
Wet dog food – With an increased moisture content, this food is a great option for dogs that need a little extra moisture. However, it decays faster once opened and cannot be left out.
Dry Dog Food
Pros:
Widely available
Much longer shelf life
Cons:
Wet Dog Food
Pros:
High moisture content
Tasty
Cons:
More expensive
Cannot be left out
Our Criteria: How We Chose the Best
Fromm Gold dog foods are made in small batches with the best of ingredients. Their protein choices provide variety to fit your pups' needs. We have found that this food is great for most dogs' stomachs – even if they are a bit more sensitive. One particular dog owner has raised all of her German Shepherds on this food and has reported that "this brand is wonderful." Others reported that this is a "great quality natural dog food."
Because Fromm is a premium dog food, it is much more expensive than other dog foods on the market. Many users complained about the price, especially since it tends to vary. This food only comes out of a single factory in the USA, so its availability varies more than with other dog food, affecting its price.
#1 Fromm Gold Adult Dry Dog Food – Best Overall Fromm Gold Adult Dog Food
While most of the Fromm Gold dog foods are designed with a particular purpose in mind, this one is not, and it is our best overall pick. It is the "standard" diet, and therefore the food that most canines will likely need. If your dog doesn't have any dietary concerns, then you probably want to start with this food.
The first ingredient is duck, followed by chicken meal and whole chicken. Both chicken and duck are the primary proteins and deliver much of the protein and fat content of this food. Because duck is the first ingredient, the fat content is a bit higher. Plus, chicken fat is also included to increase the overall fat content – and make the food a bit tastier.
This food is not grain-free. In fact, it includes brown rice, pearled barley, and oatmeal pretty high on the ingredient list. The use of whole grains adds nutritional value to the food, and grains are an important source of carbohydrates and fiber.
Various kinds of probiotics are also added, which help improve your dog's digestive system. These probiotics are helpful for many breeds, but they are specifically useful for dogs with digestion problems.
As is the case with most of their dog foods, this recipe also includes yucca schidigera. While this ingredient is known for having digestive benefits, it also improves stool quality.
Salmon oil is added for both flavor and omega fatty acids, which is vital for skin, coat, and joint health.
Best Overall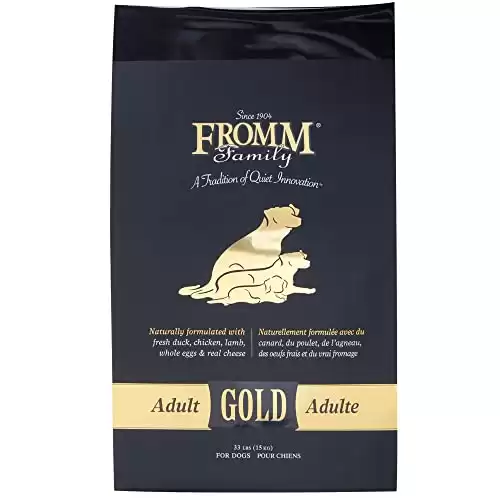 #2 Fromm Gold Small Breeds Adult Dog Food – Best for Small Breeds
As the name suggests, this formula is specifically designed for smaller breeds. Therefore, not only is the nutrition designed for small dogs, but the kibble size is also rather small, allowing small breeds to eat it easier.
The ingredients are fairly similar to the standard Fromm Gold recipe. It starts with duck, which is then followed by chicken meal and whole chicken. All of these ingredients add much-needed protein to the recipe, which helps support your dog's health. Dogs need quite a bit of protein to thrive, and this recipe gives that to them.
Furthermore, there are several sources of omega fatty acids as well, which may improve your dog's skin and coat. As you might imagine, most small dogs have longer coats, so they need this extra support. Both fish meal and salmon oil are included in this recipe, making it a bit richer in fatty acids than others.
Of course, this formula also includes probiotics. While small dogs aren't necessarily prone to stomach issues, many of them do experience digestive complications. Probiotics are there to help support your dog's digestive health and hopefully less their GI problems.
Best for Small Breeds
#3 Fromm Gold Heartland Adult Dry Dog Food – Best Grain-Free
While most dogs do just fine on grains, some of them do not. If your dog falls into this latter category, you may want to consider trying this grain-free Fromm Gold dog food. Most foods on this list do include grain, but this is one of the exceptions.
Furthermore, instead of featuring poultry as the first ingredient, this food uses beef instead. It is completely red-meat-based, which may make it suitable for dogs that are sensitive to chicken – one of the most common dog allergies. Pork is included as well in various forms, including some pork fat and organ meats.
Instead of grains, this food leans heavily on veggies of all sorts. Peas are included as the second ingredient, and lentils, chickpeas, and potatoes follow shortly after. All of these different veggies are high in protein, which, in turn, increases the protein content of the food.
However, this plant-based protein may not be as digestible for our canines, which means they won't be able to utilize quite as much of it. Therefore, it is not nearly as high-quality as meat-based proteins.
Best Grain-Free
#4 Fromm Gold Large Breed Dry Dog Food – Best Grain-Free Diet for Large Breeds
For bigger dogs that are sensitive to grain, this is one of the few foods on the market suitable for them. It is in the heartland line, which means that it features red meat instead of the usual poultry base.
True to its name, this food features beef as the first ingredient, followed by pork meat meal. Both of these red meat sources are very high in protein and fat, which makes them a good option for most dogs. If your canine is sensitive to chicken, this use of beef instead of poultry is absolutely vital. You don't want to feed your dog something that they're sensitive to, after all.
However, with that said, because this food is grain-free, it does lean heavily on starchy veggies. While all dogs need carbohydrates to thrive, many of these ingredients are sub-par. For instance, peas in particular have been associated with heart conditions in dogs, and they are the third ingredient on this list.
However, if your dog is large and sensitive to both grain and chicken, then this food is one of your few options. You'll need to weigh your dog's needs when deciding whether this food is correct for them or not.
Like most foods, this recipe also includes yucca schidigera, which is an ingredient commonly used to treat digestive problems in dogs. Probiotics are also added for this same reason, as they are vital for supporting your dog's gut.
Of course, this food is nutritionally complete for larger dogs, though it is not designed for puppies. Therefore, it should only be fed to your canine after they are done growing.
Best Grain-Free
#5 Fromm Gold Large Breed Adult Dry Dog Food – Best Grain-Inclusive Large Breed Dog Food
Most large canines can digest grains perfectly fine. Therefore, most canines do best on a gain-inclusive dog food like this one. It includes a poultry base and a variety of grains. Most of these grains are whole, which ensures that they provide the fiber that your dog needs to thrive.
Like most recipes in the Fromm Gold line, this food starts with chicken, chicken meal, and chicken broth. We like that they added chicken broth instead of water for processing, as this helps increase the nutritional content of the food and make it tastier.
Behind the various chicken ingredients come oats, barley, and brown rice. These provide necessary fiber for your canine, which can help their digestive system tremendously. Plus, many dogs can digest grains very well, helping them avoid GI problems.
White rice is included as well. However, this is so low on the ingredient list that it likely doesn't have a huge impact on the food. it does come after all of the other major ingredients, which is the important part.
Plus, this food also includes all of the other benefits that this line is known for. Probiotics are added for gut health, and the inclusion of salmon oil helps up the omega fatty acids content of the food. While these features aren't necessary for every dog, they do work to support every dog's health.
Best Overall Grain-Inclusive
#6 Fromm Adult Gold with Ancient Grains – Best for Dogs with Sensitive Stomachs
For dogs with sensitive stomachs, the typical dog food ingredients may not be enough. Instead, you may need to consider an ingredient list that is very plain, which this dog food delivers on.
The first ingredient is chicken, which is the primary protein source in this dog food. In fact, it is practically the only source. While chicken is a relatively common allergen, it is easy for most dogs to digest, since it is very lean. Therefore, those with sensitive stomachs may find that this protein settles easier on their stomach.
After the main protein source, various types of grain are used, including whole grain sorghum, whole barley, and whole oats. All of these grains are whole, which means that they retain much of the nutrition and fiber. As you likely know, fiber can help greatly with digestive health.
Probiotics are also included, which is vital for your dog's gut health. While we believe that all canines need probiotics, those with sensitive stomachs absolutely need one.
Of course, this formula also includes salmon oil, which provides added omega fatty acids. Mostly found in fish, these fatty acids support various parts of your dog's health, including their coat, skin, and joints.
Best for Sensitive Stomachs
Summary of the Best Fromm Adult Gold Dog Food
| Rank | Best For | Product |
| --- | --- | --- |
| 1 | Overall | Fromm Gold Adult Dry Dog Food |
| 2 | Small Breed | Fromm Gold Small Breeds Adult Dog Food |
| 3 | Grain-free | Fromm Gold Heartland Adult Dry Dog Food |
| 4 | Grain-free Diet, Adult | Fromm Gold Large Breed Dry Dog Food |
| 5 | Grain-free, Adult | Fromm Gold Large Breed Adult Dry Dog Food |
| 6 | Sensitive Stomachs | Fromm Adult Gold with Ancient Grains |
Related Images
Up Next