Key Points
The best overall Tylee's food product is Tylee's Human-Grade Beef Recipe Frozen Dog Food.
Check out frozen dog food, freeze-dried meal toppers and treats, and even a dog jerky that'll get your pup's tail wagging!
Consider the ingredients, calorie content, and flavors of the available options before making your final selection.
Dogs offer incredible emotional support that you can't even fathom unless you've experienced it. They seem to have a sixth sense and know when you need them close. Whether you have a big family, and your dog is a part of it or you're living solo and your dog is your companion, you know that your home just wouldn't be the same without your furry pal. Of course, you want them to have all of the best items. That goes from the best dog bed to the best food that has all the nutrients they need. You've probably checked out a couple of different food brands, but have you heard about Tylee's?
In the list below, we highlight some of Tylee's best food products on Chewy today. The first one is an awesome frozen dog food that's made with all human-grade ingredients. It's super easy to serve. All you need to do is defrost and let your dog enjoy it. We also incorporate some freeze-dried options, including a mixer that doubles as a topper and a treats bag. These foods are great because they don't contain any preservatives or harmful ingredients like artificial flavors and colors. They're pretty straightforward, always incorporating real meat, and are quite tasty and worth trying if you haven't already.
Top Picks: The Best Tylee's Food Products on Chewy Today
#1 Best Overall: Tylee's Human-Grade Beef Recipe Frozen Dog Food
Best Overall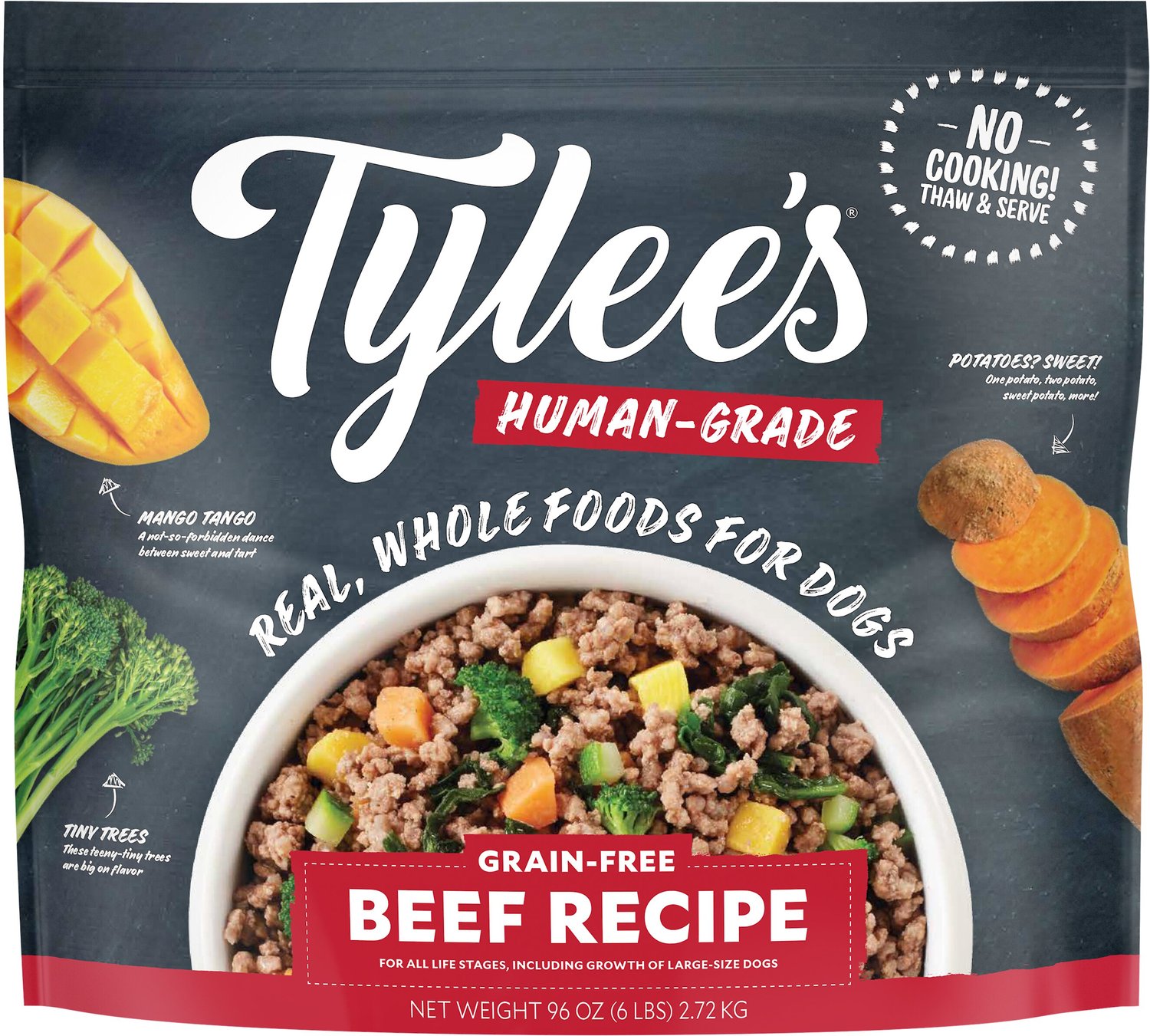 The best overall Tylee's food product is Tylee's Human-Grade Beef Recipe Frozen Dog Food. This recipe offers real and whole food for your pup. It incorporates all human-grade ingredients like some of the items you might find in your own kitchen. The very first ingredient is USDA beef. When a recipe starts with a solid protein, you know it's going to be good stuff. Along with this animal protein, the recipe incorporates vitamins, minerals, and omegas. You don't have to worry about artificial flavors, colors, preservatives, corn, wheat, or soy ingredients. Instead, each bite your pup takes is packed with nutrients that support their whole body's health. To serve, all you need to do is let it defrost and pour it into your dog's favorite bowl.
Customers rate this frozen dog food 4.4 out of five stars. 89% of them would recommend it. One dog mom shared that she has a boxer mix that loves this food. She had been trying different raw and fresh, human-grade foods over the last couple of years. She finally landed on Tylee's because her dog takes to it the best, and enjoys the small bits of food. As a dog mom, she has spent countless hours reading through labels to find a well-balanced and nutritious meal for her favorite fur bestie. She also notes that it doesn't have any gross smell like some other brands do. The only bummer is that sometimes the food goes on backorder because it's become so popular. Aside from that, customers seem quite pleased.
| PROS | CONS |
| --- | --- |
| First ingredient is USDA beef | May go on backorder on occasion due to popularity |
| Includes vitamins, minerals, and omegas |   |
| No artificial flavors, colors, or preservatives |   |
2. Best Freeze-Dried: Tylee's Freeze-Dried Meals for Dogs
Best Freeze-Dried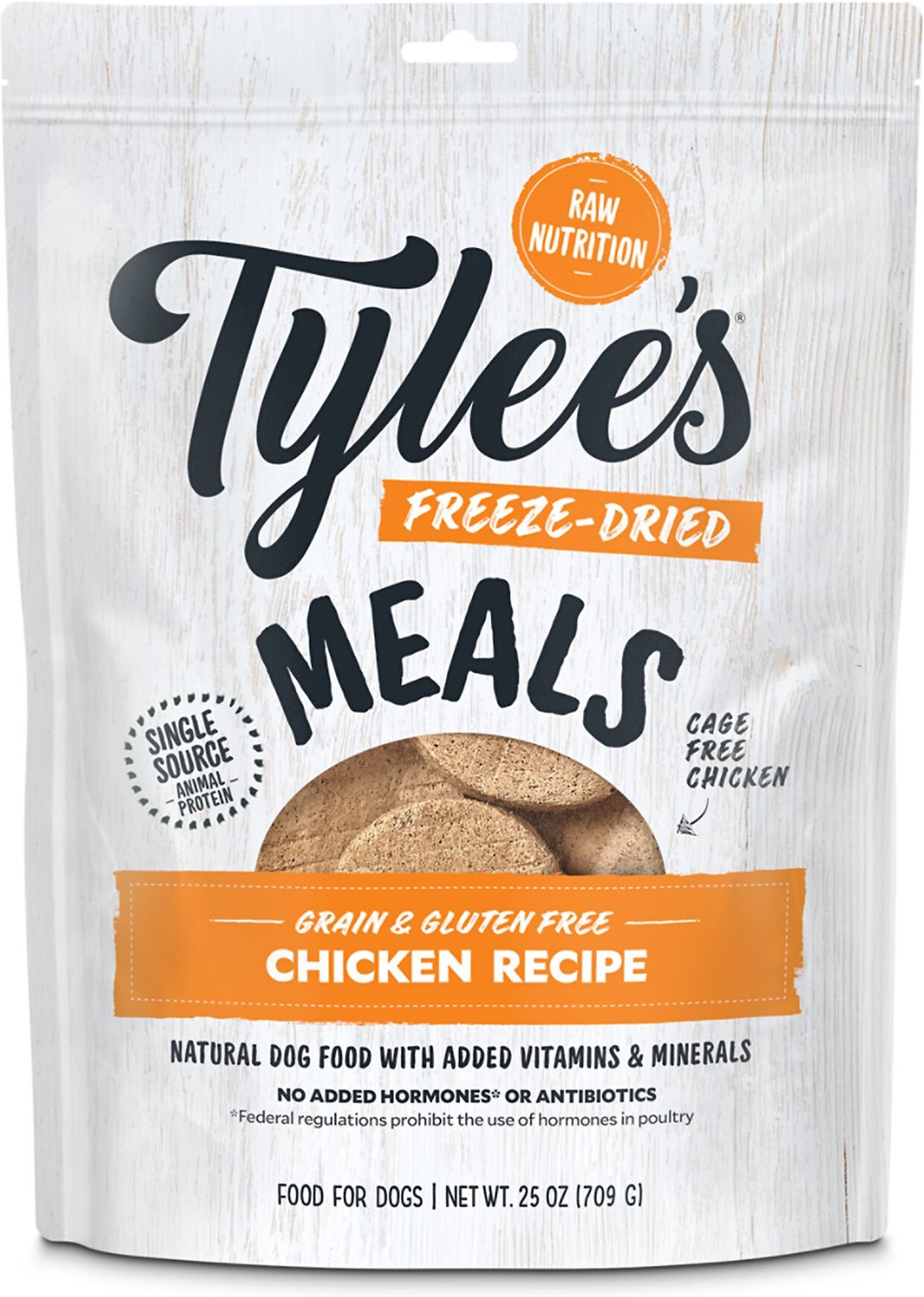 If you're looking for a good, freeze-dried option, check out Tylee's freeze-dried meals. These are grain-free and gluten-free and come in different flavors like chicken, beef, and chicken with salmon. You can pick up a 14 oz bag or go bigger with a 25 oz bag. This recipe incorporates raw nutrition that comes from cage-free chicken. It also includes organ meat like liver and heart for extra nutrients. Your pup also gets to enjoy organic blueberries, organic broccoli, organic kelp, and organic pumpkin. There are a couple of superfoods incorporated like flax seeds and chia seeds. Since this is a freeze-dried food, it locks in all of the incredible nutrients.
Customers rate this freeze-dried food 4.3 out of five stars. 89% of them would recommend it. They appreciate that they're easy to break apart and that they hydrate so quickly. They feel good about giving their dogs something healthy although they note that these patties are a bit higher in calories than most freeze-dried foods. Keep that in mind, especially if you are working on weight management with your pup. It's up to you if you want to feed this by crumbling it and mixing it in or if you want to just use it as a topper!
| PROS | CONS |
| --- | --- |
| Made with cage-free chicken | A little higher in calories than other freeze-dried food options |
| Includes nutrient-rich organ meat |   |
| Incorporates organic ingredients and superfoods |   |
3. Best Low-Calorie: Tylee's Salmon Human-Grade Freeze-Dried Dog Treats
Best Low-Calorie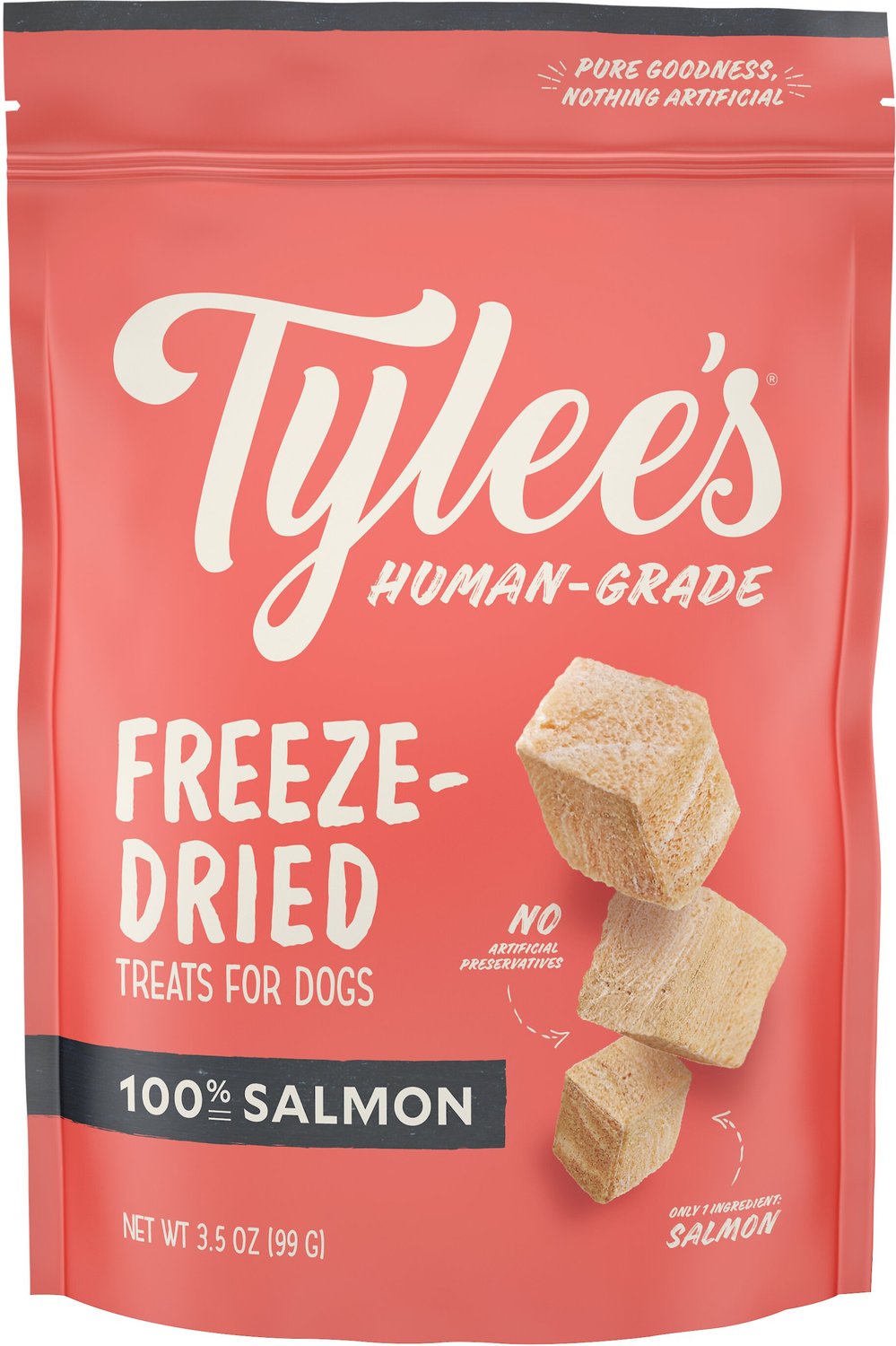 These yummy treats come in either beef or salmon flavors. They're made with whole foods that are both natural and human-grade. Since they're freeze-dried, they lock in all the nutritional value that makes you feel good about giving your pup a fun treat. With each treat, you're only giving your dog four calories. It's a perfect anytime snack. If your dog has any food sensitivities, this is a perfect option because they contain a single protein and are 100% grain free. There are no artificial preservatives; only the best of the best to support your dog's health while giving them something to drool over.
Customers rate these freeze-dried treats 4.6 out of five stars. 94% of them would recommend them. One customer says that when she's fed her dog salmon before, she can usually smell the fish oil through her dog's coat. However, not with these. The treats themselves do have a little bit of a fishy smell which she expected but she appreciates the quality. Instead of feeding a treat whole, she likes to crumble them into a little dust to give to her pup as a food topper. She and her dog both love them and she's already ordered the next batch.
| PROS | CONS |
| --- | --- |
| Natural and human-grade | Customers would prefer the option to buy a larger bag |
| 100% real salmon or real beef |   |
| Only four calories per treat |   |
4. Best Jerky: Tylee's Chicken Jerky Dog Treats
Best Jerky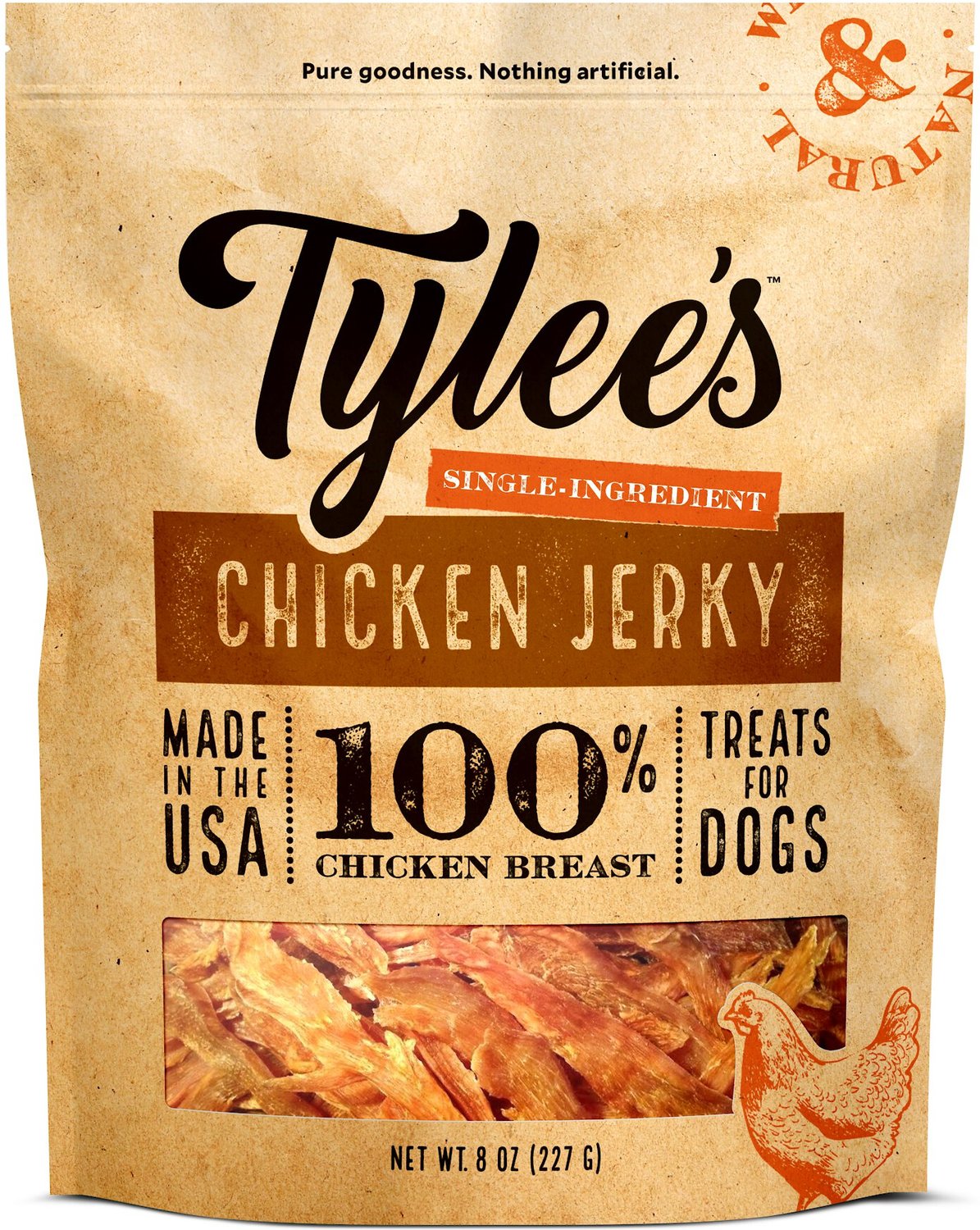 Tylee's Chicken Jerky Dog Treats, 8-oz bag
Chicken jerky made with chicken breast as the sole ingredient.
Also available as a pork jerky that is made only with pork sirloin.
No added preservatives.
Dehydrated and thinly sliced.
Easy to break into smaller pieces.
Check Chewy
These jerky treats are a fun change in texture. They're available in chicken and pork and come in an 8 oz bag. This is high-quality dog jerky it is very much like the jerky that you might gravitate to. It's just as mouthwatering for your pup! It doesn't incorporate any chemical preservatives and instead just has a single ingredient. Either 100% chicken breast or 100% pork. It's a really great treat for training that delivers 76% protein along with essential amino acids. It's thinly sliced and dehydrated which makes it simple to break up and serve in smaller bits when traveling. To keep it as fresh as possible, just reseal the bag and keep it in your refrigerator.
Customers rate these jerky treats 4.3 out of five stars. 90% of them would recommend them to a friend. One customer calls these a keeper. Her Chihuahua, Lily, has taken to these since the very first day. She likes that the slices are really thin, which makes it easy to feed to her small, four-legged bestie. Lily knows as soon as she hears the crinkle of the package that it's time for a wonderful treat. Some customers did say that the packaging may get tossed around during shipping, which results in crumbly bits at the bottom of the bag.
| PROS | CONS |
| --- | --- |
| 100% real protein | Treats may crumble a bit during shipping |
| Dehydrated and thinly sliced |   |
| Includes essential amino acids |   |
5. Best Treats: Tylee's Sweet Potato Treats
Best Treats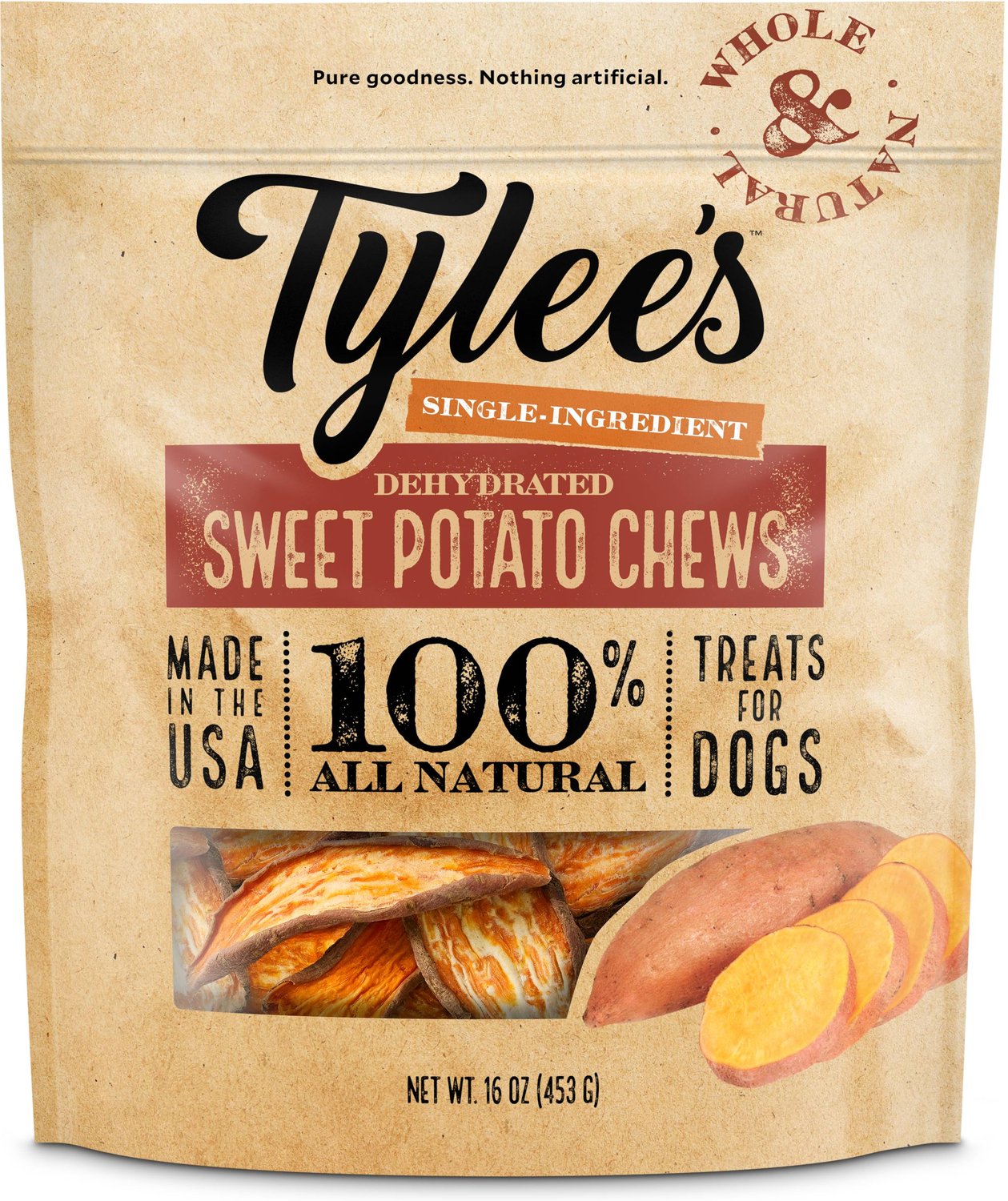 Tylee's Sweet Potato Treats
Single-ingredient treats made 100% from sweet potatoes.
Provides natural fiber to support healthy digestion.
Serves as an alternative to rawhide.
Tough texture keeps dogs entertained.
Check Chewy
For a different flavor, you can try these sweet potato treats for your dog. It's a dehydrated, single-ingredient treat. You don't have to worry about any other ingredients incorporated into these treats. The texture is both tough and satisfying, which keeps your dog busy as they gnaw through the treat. This is a natural source of fiber that supports your pup's digestive system. if you're looking for a rawhide alternative, this is the perfect option.
Customers rate these sweet potato treats 3.9 out of five stars. One customer shared that he has a 116-pound pup named Scooby and these have easily become his favorite treat. Another customer shared that she has a 10-year-old mixed-breed dog, and she absolutely loves these. She does say that it's probably not a good idea if your dog has sensitive teeth but otherwise, these are an awesome find!
| PROS | CONS |
| --- | --- |
| Single-ingredient treat | May be too tough for pups with sensitive teeth |
| Perfect rawhide alternative |   |
| Provides a natural source of fiber |   |
Criteria: What to Look for in Tylee's Food Products
Clean Ingredients
As a dog parent, you already know to check through the ingredients to make sure that the first ingredient is always 100% real meat. The cleaner the ingredients list, the more healthful the food is for your pup. Tylee's does a great job of providing foods that don't contain any artificial colors, artificial flavors, or preservatives. They take a unique approach either offering frozen or freeze-dried meal options for your pup to keep it 100% human-grade and packed with nutrients that benefit your dog.
Calorie Content
We did mention that one of the freeze-dried options in the list above is a little bit higher in calorie content than some other similar foods. Be mindful of calorie content, especially if you have an older dog or one that doesn't exercise as often as perhaps a different type of breed. Just because something is tasty and technically healthy doesn't mean it's the best for your pup. Keeping all of these factors in mind helps you make the best choice. We also included a great treat option that's super low calorie and that still offers your dog mouthwatering delight and healthy nutrients.
Flavor
Although some dogs will gobble up pretty much anything you present to them, other dogs develop more sophisticated palates. If your dog has a preference for chicken over beef, for example, then you know to gravitate more toward those chicken options instead of investing in a beef option that your dog may or may not like. The same thing goes for salmon. Some dogs may really appreciate the salmon flavor while others may take a single sniff and walk away. When you know your dog's preferences, you can pick up items that you know they'll enjoy.
Up Next, Explore More Dog Food Options…
The 5 Best Tylee's Foods on Chewy Today FAQs (Frequently Asked Questions) 
Where is Tylee's dog food made?
Tylee's dog food is made in the United States, using ingredients found throughout the world.
Is Tylee's dog food raw?
No, Tylee's dog food recipes are all completely cooked. The difference is that they are either frozen or freeze-dried to preserve the nutritional content.