Border Terrier
Canis Lupus
Last updated: April 11, 2021
Verified by: AZ Animals Staff
Small, rough-coated breed of terrier!
---
---
Border Terrier Scientific Classification
Kingdom

Animalia

Phylum

Chordata

Class

Mammalia

Order

Carnivora

Family

Canidae

Genus

Canis

Scientific Name

Canis Lupus
Border Terrier Conservation Status
Border Terrier Locations
---
Border Terrier Facts
Temperament

Affectionate, brave and intelligent

Training

Should be trained from an early age due to their hyperactive nature

Diet

Omnivore

Average Litter Size

6

Common Name

Border Terrier

Slogan

Small, rough-coated breed of terrier!

Group

Terrier
Border Terrier Physical Characteristics
Colour

Skin Type

Hair
Border Terrier Images
Click through all of our Border Terrier images in the gallery.
View all of the Border Terrier images!
---
---
These dogs originated from fringe areas of England and Scotland along the border between the two countries, where they were meant to aid hunters and larger hounds in their pursuit of foxes, vermin and local game. Unlike other dogs in the terrier group, everything about this breed is geared towards practicality and work rather than appearance. Border terriers tend to get along peacefully with other dogs as well as people, which makes them a solid choice for many households.
The border terrier is a staunch and sturdy companion animal that makes up for its somewhat awkward, otter-like appearance with an endearing personality and friendly demeanor. Owners will find that these dogs are receptive to training, mix well with other dogs and don't require all that much grooming or maintenance.
See all of our expert product reviews.
3 Pros and Cons of Owning a Border Terrier
Pros!
Cons!
Very family friendly and social with other dogs.
One of the key personality traits that sets border terriers apart from other members of the terrier group is their sociability. They tend to accept other dogs and are typically good around people as well, even when encountered in larger gatherings.
Needs regular exercise.
One of the biggest drawbacks of border terrier ownership is the obligation to contribute to their substantial exercise needs. These dogs enjoy outdoor activities that test their endurance, agility and intelligence, so owners need to find ways to add layers of challenge.
Stocky and tough enough to handle the country.
Don't let their small size fool you, their thick hides and high natural endurance makes them tougher than they seem. Border terriers are born to traverse rugged terrain and do the tough, dirty tasks that many other working breeds are too large to handle.
High pursuit drive
Another key concern for border terrier owners is making sure their dog doesn't chase cats and other animals. The breed has a high pursuit drive that can put other smaller animals in danger and may even compel them to run away from owners or cross dangerous streets impulsively.
Not much grooming or coat maintenance required.
While the breed does have a double coat and goes through some seasonal shedding, they don't need all that much maintenance and are considered hypoallergenic. In fact, breed experts recommend sticking to weekly brushing and avoiding fancy grooming altogether.
Independent and curious
Border terriers don't mind taking matters into their own hands and tend to be actively curious about their environment. These traits aren't always a bad thing, but they can encourage these dogs to wander off or get involved in things that they shouldn't.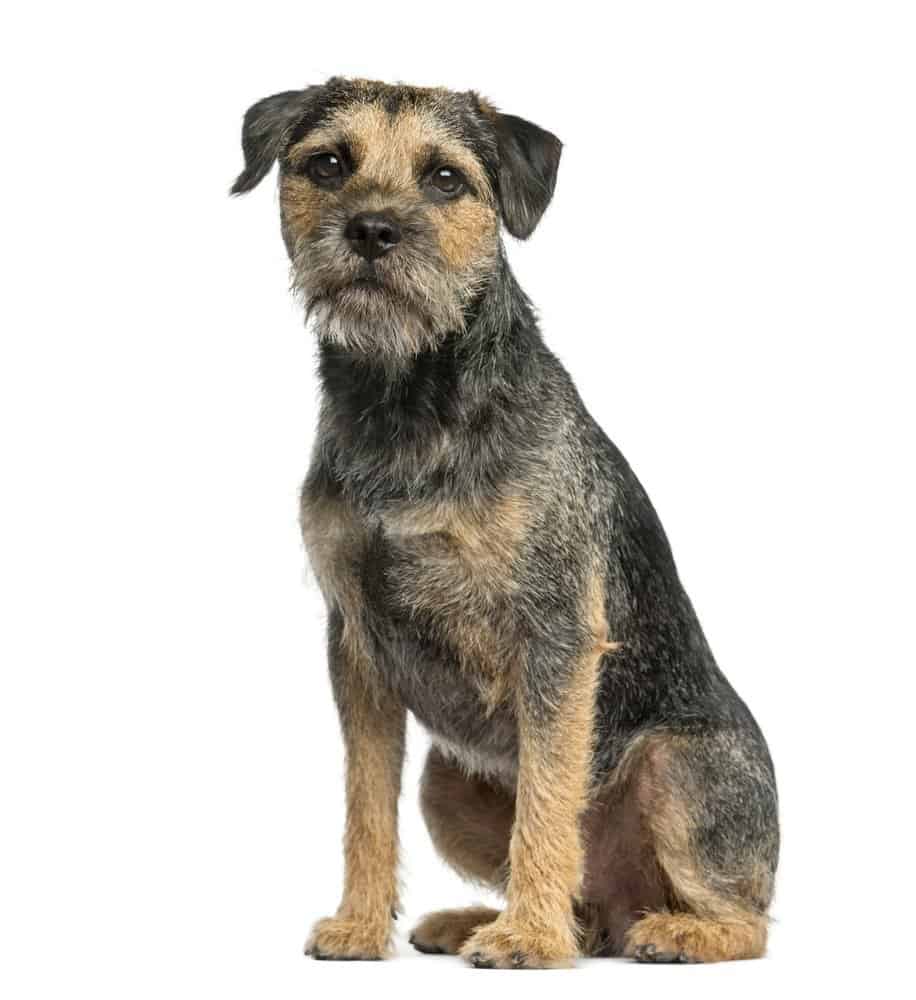 Border Terrier Size and Weight
These terriers have a sturdy medium build with relatively narrow shoulders and bodies. Grown adults weigh in between 11 and 16 pounds. Height at the withers should be a little longer than the distance to tail. Measured height for adults should be 11 to 14 inches for females and 13 to 16 for males.
| | |
| --- | --- |
| Height (Male) | 14.5' Tall |
| Height (Female) | 12.5' Tall |
| Weight (male) | 14lbs, fully grown |
| Weight (female) | 12.5lbs, fully grown |
Border Terrier Common Health Issues
These terriers are usually healthy animals and most substantial health issues can be screened out through responsible breeding. Hip problems are among the chief complaints of the border terrier, including general hip dysplasia and Perthes disease. Significant or total loss of eyesight through progressive retinal atrophy is another breed-related health risk and juvenile cataracts are also possible. These dogs can have an elevated risk of seizures and have a chance of developing a rare disease called canine epileptoid cramping syndrome (CECS), which is relatively new and unique to the breed.
Hip dysplasia and Perthes disease
Cataracts
Progressive retinal atrophy
Seizures
Canine epileptoid cramping syndrome
Border Terrier Temperament
Border terriers have plenty of desirable personality traits for all kinds of prospective owners and families. They were reared specifically to accompany and aid other dogs in the hunt, so they are general quite peaceful with their canine brethren compared to most breeds in the terrier group. They are alert and energetic, but not particularly territorial or aggressive towards people. Their outgoing, playful and affectionate behavior combined with smaller stature makes them a great fit for families with small children. They are also considered a great breed for city living.
Health and Entertainment for your Border Terrier
See all of our expert product reviews.
How To Take Care of Border Terrier
Even though these dogs are considered low maintenance compared to many other breeds, there are still a lot of things owners need to consider before choosing one. As working dogs, border terriers need and deserve an environment that maximizes their unique mix of personality traits and characteristics.
Border Terrier Food and Diet
Good quality puppy food with balanced ingredients is usually fine for border terrier puppies. Puppies should be switched over to an adult blend, or veterinarian-supervised homemade diet, as they age. Owners should be careful to avoid overfeeding and minimize fat content to avoid excessive weight gain, which can aggravate the breed's common hip problems.
Border Terrier Maintenance And Grooming
Border terrier owners don't need to worry much about maintenance and grooming. In fact, excessive washing and trimming can reduce their coat's natural dirt repellent properties. Wiping off dirt and mud with a moist towel is usually sufficient along with weekly brushing sessions to catch loose hairs.
Border Terrier Training
These terriers are bred to serve alongside man and animal, so they are usually very receptive to training. They do have an independent nature, but they are still generally obedient and reliable with some work. Obedience and self-control are important aspects for independent-minded border terrier to make your life easier on walks and protect them from impulsive activities that could put them in danger.
Border Terrier Exercise
Their origins as a working dog to aid hunters in rough terrain means they really do need and benefit from regular exercise. Owners should expect at least 30 minutes of rigorous exercise each day, preferably combined with activities that go beyond simply running. Chasing, catching and traversing rough terrain are all skills bred into the border terrier and they enjoy exercising these natural talents.
Border Terrier Puppies
Border terrier puppies don't have any notable issues or care requirements aside from a need for supervision. They like to explore and investigate, which can create difficulties when mixed with natural athletic ability and high energy levels. Pens and baby gates are necessary for keeping them under control when they are old enough to start moving around.
Border Terrier And Children
While border terriers aren't the best choice for cat owners, they do make excellent companions for children. They are observant, friendly and rarely adopt an aggressive attitude towards people. They are also relatively small, so are unlikely to cause accidental injury to young kids. Owners should train their dog to stick to its own toys as they are prone to chewing and may start destroying a child's favorite stuffed animal if they don't know better.
Dogs similar to Border Terrier
Australian Terrier – Very similar temperament with a mixture of confidence, stoicism and energetic interactions. They also respond well to frequent and challenging training exercises and are about the same size.
Bedlington Terrier – Despite the distinctly different head shape and overall appearance, the Bedlington shares many similarities with the border. They hail from the Northumberland, which is in the same region where the border terrier was first developed.
Airedale Terrier – Another terrier breed from Britain that was also originally bred to aid local hunters in their outdoor pursuits. They are friendly towards people and have an intelligent and independent personality, much like borders.
Popular Names for Border Terriers
Incy
Nipper
Dash
Stumpy
Pumpkin
Bonsai
Simba
Famous Border Terriers
Their rising popularity and general approval by canine and lifestyle publications has propelled the breed towards stardom. There are several notable celebrities who own a border terrier and they have also been featured in several major films, including Anchorman.
Baxter is a border terrier owned by the fictional newsman Ron Burgundy, who was the main character in Anchorman.
Actress Eva Green had a border terrier companion named Griffin.
American actress and producer Glenn Close isn't just famous for her many films, but also for her little border terrier named Belle.
View all 109
animals that start with B
---
Border Terrier FAQs (Frequently Asked Questions) 
Are border terriers good pets?
This breed is generally considered a great pet choice for almost any kind of home. They are great with kids and have a friendly disposition, although they do require regular exercise and may not get along well with cats.
Do border terriers shed?
Border terriers have a double coat and occasionally shed. However, their maintenance and grooming requirements are minimal and the breed is considered hypoallergenic.
Is a border terrier a small or medium dog?
Border terriers have a narrow frame and are certainly smaller than hounds and other larger mid-sized breeds. They have a small to medium build when fully grown.
Are border terriers easy to potty train?
Border terriers are receptive to training and are generally obedient as long as they are given clear expectations that are reinforced through experience.
What's the lifespan of a border terrier?
These terriers have a decent life expectancy of around 12 to 15 years. With minimal hereditary health issues to worry about, most owners can expect their dog to life out its natural span in good condition.
How much does a border terrier cost to own?
In the United States, purebred border terrier puppies can cost anywhere from $800 to $1500. Fortunately, they don't need professional grooming or have special dietary concerns, so upkeep costs are typical for a dog of their size.
Is a border terrier good with kids?
These terriers have sociable personalities with plenty of energy to spare, so they are willing participants in all kinds of activities and rarely display aggression. These traits combined with their small stature makes them a fitting companion for kids.
Are Border Terriers herbivores, carnivores, or omnivores?
Border Terriers are Omnivores, meaning they eat both plants and other animals.
What Kingdom do Border Terriers belong to?
Border Terriers belong to the Kingdom Animalia.
What class do Border Terriers belong to?
Border Terriers belong to the class Mammalia.
What phylum to Border Terriers belong to?
Border Terriers belong to the phylum Chordata.
What family do Border Terriers belong to?
Border Terriers belong to the family Canidae.
What order do Border Terriers belong to?
Border Terriers belong to the order Carnivora.
What genus do Border Terriers belong to?
Border Terriers belong to the genus Canis.
What type of covering do Border Terriers have?
Border Terriers are covered in Hair.
How many babies do Border Terriers have?
The average number of babies a Border Terrier has is 6.
What is an interesting fact about Border Terriers?
Border Terriers are a small, rough-coated breed of terrier!
What is the scientific name for the Border Terrier?
The scientific name for the Border Terrier is Canis Lupus.
Sources

American Kennel Club, Available here: https://www.akc.org/dog-breeds/border-terrier/
Britannica, Available here: https://www.britannica.com/animal/border-terrier
Border Terrier Club of America, Available here: https://www.btcoa.org/
Wikipedia (1970) https://en.wikipedia.org/wiki/Border_Terrier Jump to top
Latest Product Reviews
Latest Animal Blogs
Newly Added Animals
Most Recently Updated Animals