What dog breeds are the best is absolutely subjective. It depends on what you're looking for and what role that dog will fulfill. You shouldn't select a German Shepherd for hunting, for instance. However, they can make excellent guard dogs.
Still, some canines tend to be more valuable than others. Often, these dogs are some of the most popular worldwide; they're popular for a reason, after all. However, this isn't always the case. There are also very even-temperament, healthy dog breeds that don't enjoy much popularity.
Which dog breed gains popularity is partially based on luck.
This article will rank 15 of the best dog breeds overall. These dog breeds are decently healthy, not expensive, and suitable for a range of families.
1. Border Collie
Border Collies enjoy a decent amount of popularity, ranking as #45 in the United States. This breed originated along the British-Scottish border, hence the name. Initially, this breed likely came from Rome, developing from the Roman herding dogs that were left behind after the attempted Roman invasion of Britain. However, the breed bred with local dogs and was genetically cut off from the mainland, leading to an entirely new breed.
Today, this canine is utilized primarily for companionship and herding. They're widely known for their high intelligence.
Due to their herding background, these canines are extraordinarily energetic and athletic. They require a lot of exercise and do their best in an active family. Their intelligence also makes them bored easily, so extra mental stimulation is recommended. Puzzle toys, games, and training can prevent them from becoming bored and potentially destructive.
The main downside of the breed is that they try to herd everything – including cars, children, and other pets. This behavior can be annoying and troublesome. They may snip at children in an attempt to "herd" them. Therefore, their suitability for homes with small children is low.
2. Border Terrier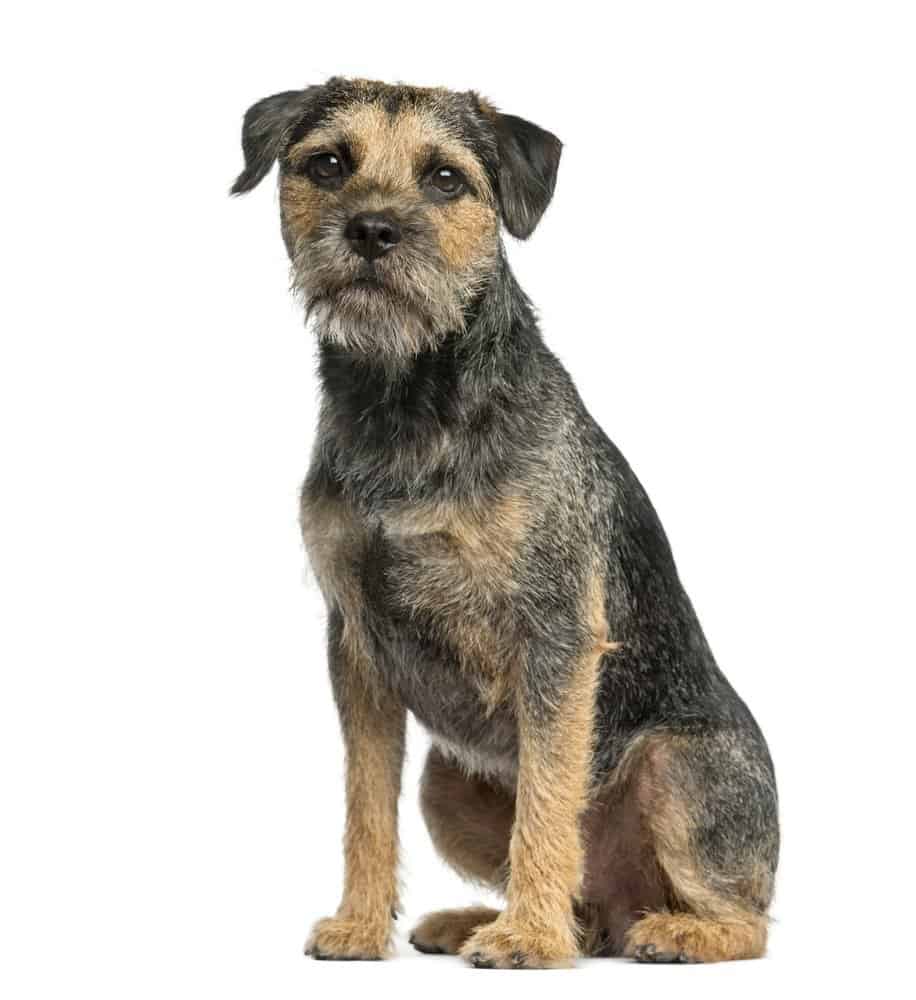 If you live in the United States, you may not have heard of Border Terriers before. These canines rank #80 in the United States, so they are understandably harder to come by than other dogs. However, they are very suitable as companion animals for many families.
This tiny dog only grows to be about 15 pounds maximum, with males being quite a bit larger than females. They come from the British-Scottish border, just like the Border Collie. However, they are incredibly different, as they were traditionally used for fox hunting. They have long legs to keep up with the horses and other dogs but more petite bodies that could fit in fox burrows.
They are a pretty hardy breed, though they are prone to a few health problems. These dogs aren't the most intelligent, making them harder to train. They were bred to hunt independently – not listen to commands. However, they are often well-behaved. You'll pay a bit more to get your hands on a puppy due to the rarity, though they aren't that much more expensive than average.
Border Terriers have a rough, weather-proof coat. Therefore, you can expect them to require little brushing. They're very suitable for kids due to their smaller size and playful nature. They do require a decent amount of exercise, though (but little kids are perfect candidates to fulfill that need).
3. Brittany
The Brittany originated as a breed of gun dog primarily utilized for bird hunting. While they are often called Brittany Spaniels, they aren't Spaniels. Therefore, the kennel club changed the dog breed's name to "Brittany" after some consideration.
As their names suggest, Brittanys come from the Brittany region of France. They started popping up around the 17th century, though the breed as we know it today wasn't around until the 19th century.
This breed remains popular in the US, where it is still used for hunting. They cost a bit more than other dogs to purchase and upkeep. However, they're healthier and less prone to genetic problems than other dogs, lowering your potential vet bills. They are some of the easiest-to-train hunting dogs. However, they can be shy if not socialized when puppies.
Brittanys are often great with children, as long as they are socialized. They have hunting instincts, so they should not be left alone with cats and other small animals.
4. Cairn Terrier
Most dog owners in the US don't know what a Cairn Terrier is. They rank number #59 in popularity, though they seem to be getting more popular. This breed comes from Scotland, like many on this list. Their main job was to chase small prey. This original job translates to a strong prey drive and high energy requirement today.
They do best in an active family for this reason. Otherwise, it can be challenging for families to meet their energy needs.
Cairn Terriers are easily trained, and obedience classes are often recommended to take advantage of these natural skills. Training is particularly needed for dogs that will be hunting, as the owner needs to maintain control of the dog in the field.
These terriers will follow prey whenever they see them. Therefore, it is recommended that they be kept on a leash or in a fenced-in yard all the time. They cannot be let roam.
5. Welsh Springer Spaniel
The Welsh Springer Spaniel is easily among the rarest dog breeds on this list. However, for those who track down a breeder, this breed can make an excellent hunting or companion dog. This canine likely developed out of English and Welsh spaniels that had existed on the Isle for centuries. The breed developed naturally – not through purposeful breeding.
They were relatively unknown until recent victories in dog trials and shows. They were accepted in the American Kennel Club way back in 1902, though, so they aren't a new breed.
They're known for being very affectionate and loyal. They tend to attach themselves firmly to their family members. However, they are often pretty aloof with strangers. Therefore, socialization at an early age is necessary to prevent future problems.
For the most part, this breed is healthy. They may be prone to some conditions that affect most other breeds, such as hip dysplasia. However, as a working breed, they tend to be healthier than most.
6. Cocker Spaniel
The Cocker Spaniel is much more popular than the Welsh Springer Spaniel. However, both dogs are pretty similar. This breed originated in England, though it likely originally came from Spain. When settlers came to America, the Cocker Spaniel was one of the first breeds to be imported.
However, the American Kennel Club didn't recognize the breed until 1878.
This breed maintains a pretty even temperament. They have decent intelligence and are often pretty trainable. They're particularly good at showing restraint, which helps with hunting. However, they aren't very good at manipulating things with their paws.
These dogs tend to be highly people-oriented. Therefore, they don't do good when left alone for long periods. Instead, they are best suited to families that are home for much of the day. When properly socialized, these dogs get along with just about everyone. They are a bit sensitive, though, responding poorly to stressful situations like loud noises.
Sadly, this canine doesn't make a good working dog anyone. The current breed standard has pushed towards them developing a long coat, which has made them less-than-optimal hunting dogs.
7. Papillon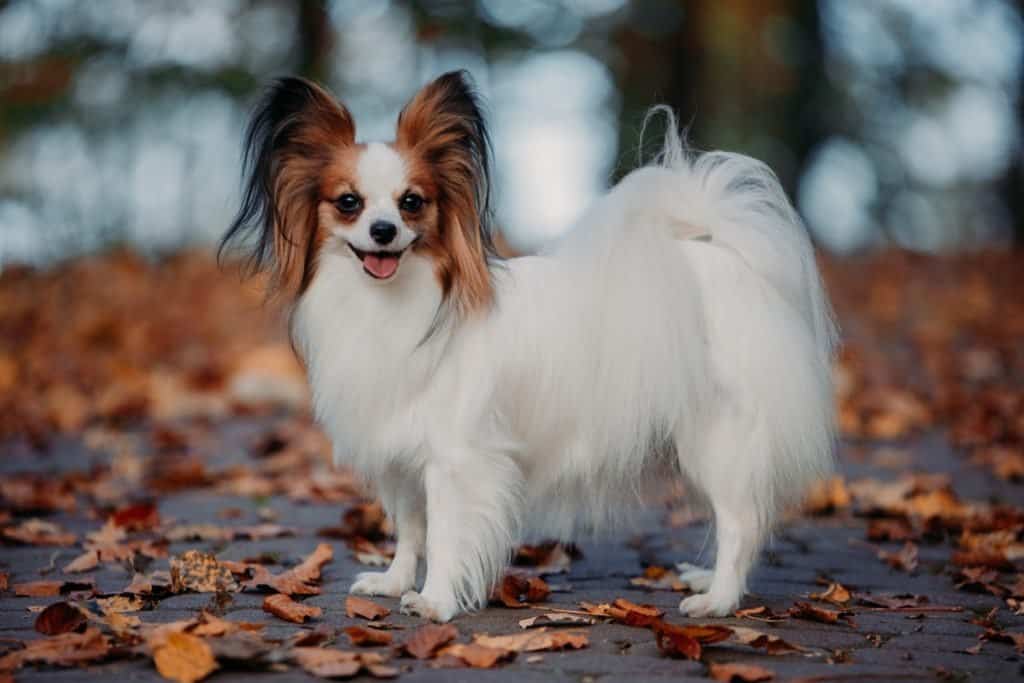 The Papillon is another type of spaniel. However, they are much smaller than most spaniels; often, they are placed in the "toy spaniel" category. Their name comes from their butterfly-like ears.
These canines tend to be quite intelligent and confident. They do well in families of all sorts. However, they are not often friendly toward strangers. Socialization is required to make them as comfortable around new people and situations. Otherwise, Papillons may become aggressive and overly protective of their family.
They are often very affectionate and friendly toward their family. Often, they enjoy long cuddles with their owner. However, they are more active than other toy dog breeds, requiring a decent amount of exercise. It is vital to have them on a suitable exercise schedule.
While these dogs are generally tolerant to most weather, they have a thin, single-layer coat. Therefore, they shouldn't be left outside in cold areas.
8. Australian Cattle Dog
As their name suggests, Australian Cattle Dogs were developed in Australia to drive cattle over long distances – and often rough terrain. They often have either black or red hair spread pretty evenly through a white base coat.
These canines are energetic and have a lot of endurance. They require a strict exercise regime, or they can become bored and destructive. Furthermore, while they are intelligent, they tend to be very independent. Therefore, it is recommended that you start them in obedience classes as early as possible.
Because they are herding dogs, they may try to herd everything, including children. In an attempt to "herd," these dogs may snip, which can lead to a dangerous situation. Therefore, these dogs aren't best in homes with smaller kids. Children around the dog should be taught to freeze when the dog begins displaying herding behaviors – not running away.
This breed is relatively healthy. They have a longer lifespan of up to 16 years. However, they are prone to both deafness and blindness. Accidental injury is pretty standard, too, but this is likely due to many Australian Cattle Dogs still being used for herding purposes.
9. Shetland Sheepdog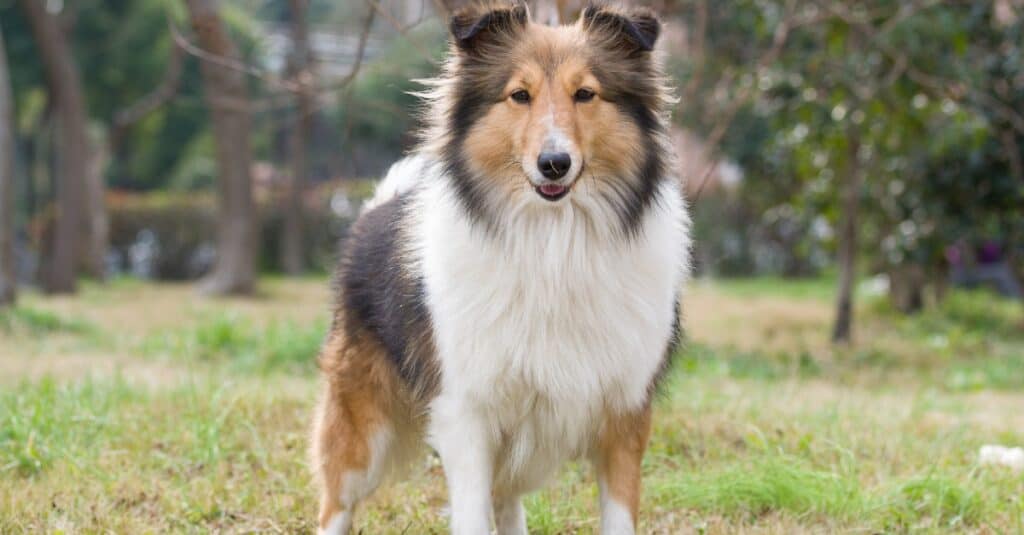 The Shetland Sheepdog originated from the Shetland Islands, hence the dog's name. Many dog owners describe this canine as loud, energetic, and intelligent. They're amusing dogs to be around and become very attached to their owners. Many owners describe them as a "shadow," as they tend to follow people around the house.
Of course, this intense people-oriented behavior also makes them prone to separation anxiety. They don't do great in families that are gone for much of the day.
Like most animals from the Shetland Islands, the Shetland Sheepdog is very hardy but small. The island isn't big enough to provide the animals with many resources, so many native breeds are noticeably smaller than average.
Shelties have a thick, double coat. Therefore, they shed all the time. Brushing can help prevent this fur from ending up all over your furniture. However, this shedding cannot be controlled entirely. We don't recommend shaving these dogs, as it may cause their coat to grow back incorrectly.
10. Siberian Husky
Most people know what a Siberian Husky is – if only due to their unique, wolf-like appearance. They have a thick double coat and distinctive markings. Many also have blue eyes, which makes their appearance even more striking. They look similar to the Alaskan Malamute, though they are much smaller.
Initially, these dogs were bred for sled pulling and companionship. Today, they are mainly utilized for this latter purpose. They retain their energetic nature, though, requiring hours of activity every day. These dogs are highly food-driven, so overeating isn't uncommon. In competitive mushing, Siberian Huskies are still often utilized.
Siberian Huskies only have a lifespan of 14 years – max. They are prone to quite a few genetic conditions. Surprisingly, hip dysplasia is not one of these.
Huskies have a unique way of communicating that sounds like a howl and a growl. Therefore, they can be frightening for those that don't know about their vocalizations, as they can sound aggressive. However, these dogs aren't hazardous. They can make good dogs for families and be often kept with families in traditional settings.
However, they can display high energy indoors, potentially leading to children getting knocked over. Therefore, supervision is still recommended.
11. Lhasa Apso
The Lhasa Apso was bred in Tibet as an alert dog. However, the breed we know today developed mainly in India, where it was bred with other canines. This breed stands under 10″ tall and has a long, flowing coat. They aren't brilliant, but they weren't meant to be a companion breed.
Instead, this breed remains one of pure companionship – with some alerting thrown in the mix.
The Lhasa Apso is pretty healthy – much more so than similar breeds. Therefore, we recommend them over the Shih Tzu, which tends to have various health issues.
12. Dachshunds
Many dog owners know what a Dachshund is, primarily due to their unique appearance. These canines were bred to chase badgers into their burrows, which is why their legs are so short. This canine currently ranks #12 in the United States, so it isn't particularly rare.
The Dachshund is a hunting dog at heart, requiring quite a bit of exercise. They are intelligent, but this doesn't translate into trainability. Instead, these dogs tend to be stubborn and difficult to train.
They are often known for their fierce hunting instincts, which cause them to chase just about everything. They bark a lot – and loudly. However, they are very loyal to their family and often described as great personality dogs.
13. Miniature Schnauzer
The Miniature Schnauzer is a smaller version of the larger Schnauzers developed in Germany. They are a cross between the Standard Schnauzer and smaller breeds, likely the Miniature Pinscher and Poodles. Originally, they were designed to be ratting dogs and were even sometimes taken on boats for this purpose.
This dog makes a great family companion due to their smaller size and temperament. They're spirited and fun to be around but also intelligent and trainable. Therefore, many consider these dogs to be the best of both worlds. These dogs are in the Terrier group but are much more laidback than your average terrier.
14. Whippet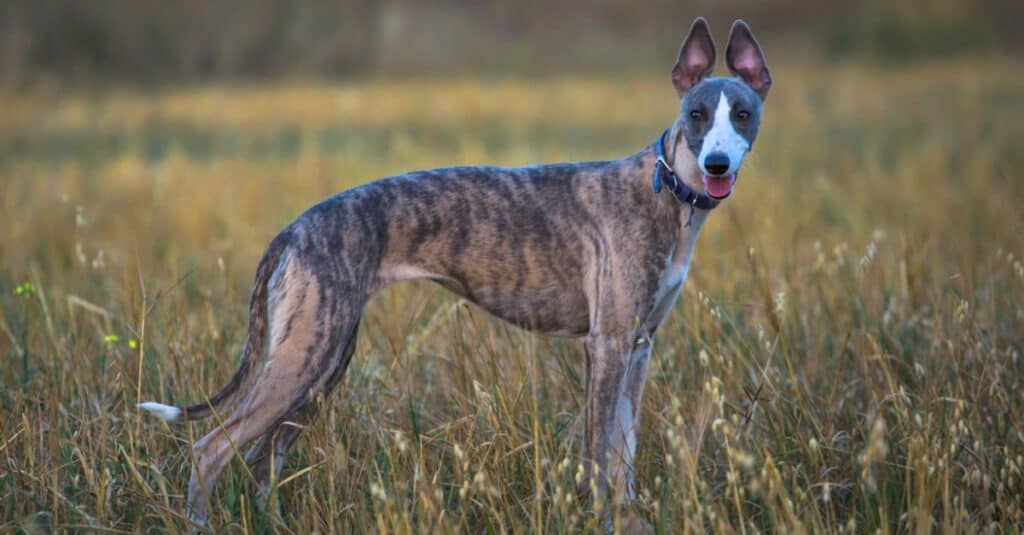 A Whippet is a tiny Greyhound. They're sighthounds, which means they were bred to chase things. Today, they still have these strong hunting instincts, so they will chase just about anything.
These dogs are prone to very few health issues and often live for a long time. They were mainly bred for practical purposes, so they don't have many of the health issues other breeds face.
The Whippet has a playful side and requires some exercise. They were designed to run, after all. However, their endurance is less than most people expect, and they will spend much of the day lying around. For this reason, they make great house dogs. They're just content with very little.
However, these dogs can be prone to separation anxiety, so early crate training is recommended. Families that are home for much of the day make the best homes for these dogs.
15. West Highland White Terrier
The Westie is a small white dog from Scotland. They belong to the terrier group and act accordingly. They were originally designed to chase rodents out of farms and homes. Today, they still love to chase things and have a high energy level. Regular exercise is required, though their playfulness makes this easy to fulfill.
These canines vary somewhat in temperament. Many are good with children, but they won't tolerate rougher handling. They tend to be quite sensitive due to their smaller size. Regular training and socialization are vital. When properly raised, though, these canines can make excellent family dogs.
These terriers are extraordinarily social and love to be around their family. They're independent and don't take to training well, though. Still, they relatively behave inside when appropriately exercised.
Summary of 15 Best Dog Breeds
If you are trying to choose a dog – start your search with these great dog breeds:
| Rank | Dog Breed |
| --- | --- |
| 1 | Border Collie |
| 2 | Border Terrier |
| 3 | Brittany |
| 4 | Cairn Terrier |
| 5 | Welsh Springer Spaniel |
| 6 | Cocker Spaniel |
| 7 | Papillon |
| 8 | Australian Cattle Dog |
| 9 | Shetland Sheepdog |
| 10 | Siberian Husky |
| 11 | Lhasa Apso |
| 12 | Dachshunds |
| 13 | Miniature Schnauzer |
| 14 | Whippet |
| 15 | West Highland White Terrier |
Summary Table of 15 Best Dog Breeds
The photo featured at the top of this post is © Dora Zett/Shutterstock.com
Ready to discover the top 10 cutest dog breeds in the entire world?
How about the fastest dogs, the largest dogs and those that are -- quite frankly -- just the kindest dogs on the planet? Each day, AZ Animals sends out lists just like this to our thousands of email subscribers. And the best part? It's FREE. Join today by entering your email below.
---